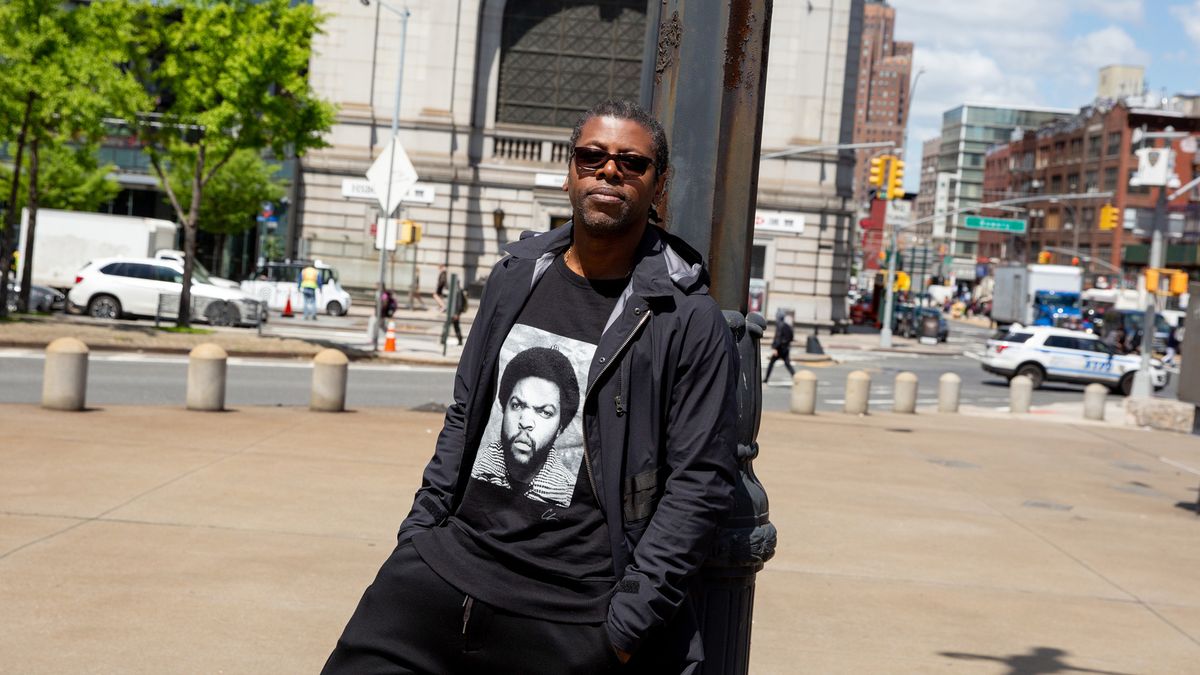 Culture
He's arguably the most important photographer in hip-hop history, and we were lucky enough to spend some time with him.
Alec Kugler
"It started with what everybody today calls selfies,"
Chi Modu
, a famed photographer who has lensed greats like Tupac and Nas, tells me on the other end of the line. "I call them self-portraits, but they were done on a timer," he continues. "My first work was putting a camera on a tripod and taking pictures of myself, trying to learn what a camera is, you know? I played around a bit in high school, but it was in college where I really started to take it seriously. It was always very natural to me." Modu's calling all the way from Finland, where he's busy running his photography show, Uncategorized (on until September 1st), and is recounting the story of how he first got into photography. Even if his name doesn't ring a bell, you've definitely seen his work. You know that photo of Biggie in front of the Twin Towers? Or the one of a young, shirtless Tupac tugging at his bandana? How about the photo of
Nas
posted up on his bed in Queens? All of them are Modu's works. Those and hundreds of other iconic shots.
Modu has an air about him that's hard to pinpoint. He's over six feet, but it was his affirmative handshake and captivating demeanor that made me pay a little bit closer attention. It wasn't until after our exchange that I truly realized the magnitude of Modu's work. Self-taught in his craft, he always knew that he wanted to work in photography and that he was good at it. Really good. One gig at
Amsterdam News
led to another at
The Source
in 1990. He quickly became hip-hop's go-to photographer, capturing culturally significant moments and casual hangs with the likes of Biggie, Tupac, Diddy,
Mary J. Blige
, Nas—we could go on for days. "I was in the middle of the movement," Modu tells me. "Not just the middle of it, I was one of the catalysts. To be able to be there at that stage [of
The Source
]—it defined my career." He continues, telling us about his relationship with these artists, how he became so close to them, and the story behind a few of his favorite photos. Keep scrolling to read it all.
---
Did you have anyone in your family that was into photography? What originally drew you to it?

"My dad used to always take family portraits after church on Sundays. We would go to a little park. He had a 35 mm camera, so I was around a good camera until I could buy my own in college. My whole career is only on film. All of those pictures you see are all wide films or negatives. I wanted to be good at it, I liked it, I thought it was a cool thing to do, but I never thought it was glamorous like a lot of people think. I always thought it was grind work. I think what we produce is glamorous, but the work is sweaty, heavy bags, you know?"

People forget that sometimes. So tell me, how did you go from playing around with self-portraits to your first gig with Amsterdam News?

"When I had my first camera, I bought a little darkroom for like, $200 from the classified pages in the newspaper, [and] I taught myself how to print. I got pretty good at printing. I made a little portfolio, and the editor at Amsterdam News gave me a shot. He said, 'I can pay you $15 a photo if it runs.' It was quite an accomplishment for me, it was a start, and when I was there, The Source was starting out in New York, it had just come down from Boston. They didn't really have a photo crew, so it was pretty easy to get in there, and I'm pretty aggressive in some situations, so I figured it out [laughs]. They didn't really pay me anything, but eventually the artists saw me as 'the guy,' and they knew if they showed up to my camera, they'd show up in the magazine. That's how I became 'the man,' but being the man wasn't enough, you had to be able to deliver. You have to be strong technically, and you also have to be able to make people comfortable. You can imagine the neighborhoods that my subjects come from, it's not so user-friendly, you know? But I have a personality that makes people comfortable, no matter who you are or where you're from. That's probably my greatest skill. I have genuine curiosity of people, and I want to look into their soul a bit and see what's there. That's what I try to do with my camera."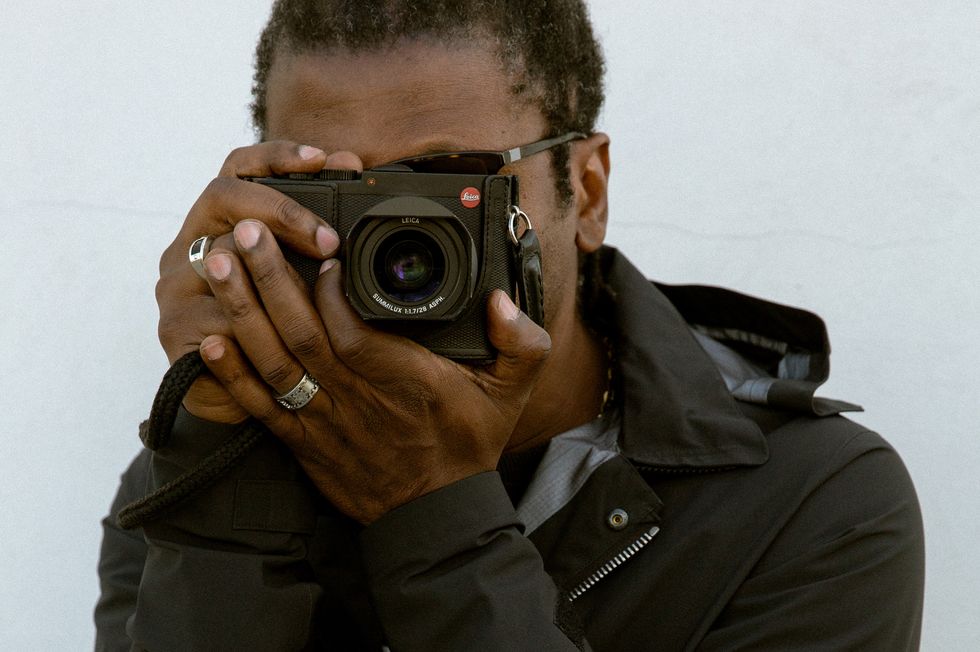 I feel like that's exactly what made you able to capture such intimate moments with these artists. You're really one of the only ones to have such iconic photos of both Biggie and Tupac. Were you friends with both of them?

"Biggie and I were pretty close because he's from Brooklyn and I'm a New Yorker, so we had a natural connection. I mean, I could call Big on his cell phone, you know what I mean? While Tupac and I were down with each other, I wasn't around Tupac all the time. Since we were both professional, he knew that whatever he gave me was going to go to the world, and we protected it. He saw the future. I can't say he knew he was going to live a short life, but the way he moved, he knew that he had to focus to get it all in, and that's why our photo sessions were so extensive. My pictures kind of keep him here, even though it's been 23 years since he's been gone. There are simple pictures; him with no shirt on, a white singlet on—it almost feels like he's still here today. Even though some of [my photographs] are 25 years old, I use them in a modern way."

You're helping to tell a story that will live on forever:

"Exactly, and I feel a certain amount of responsibility. Sometimes people come on my page, these smart-asses, asking, 'What are you doing next?' and it makes me laugh in a way because no one says that to Picasso [laughs]. But that's sort of the disposable generation that we live in. I ignore that because this iconic stuff will be here. I don't have to take another photograph again, and I'm still solidly in the history of the generation's iconic work."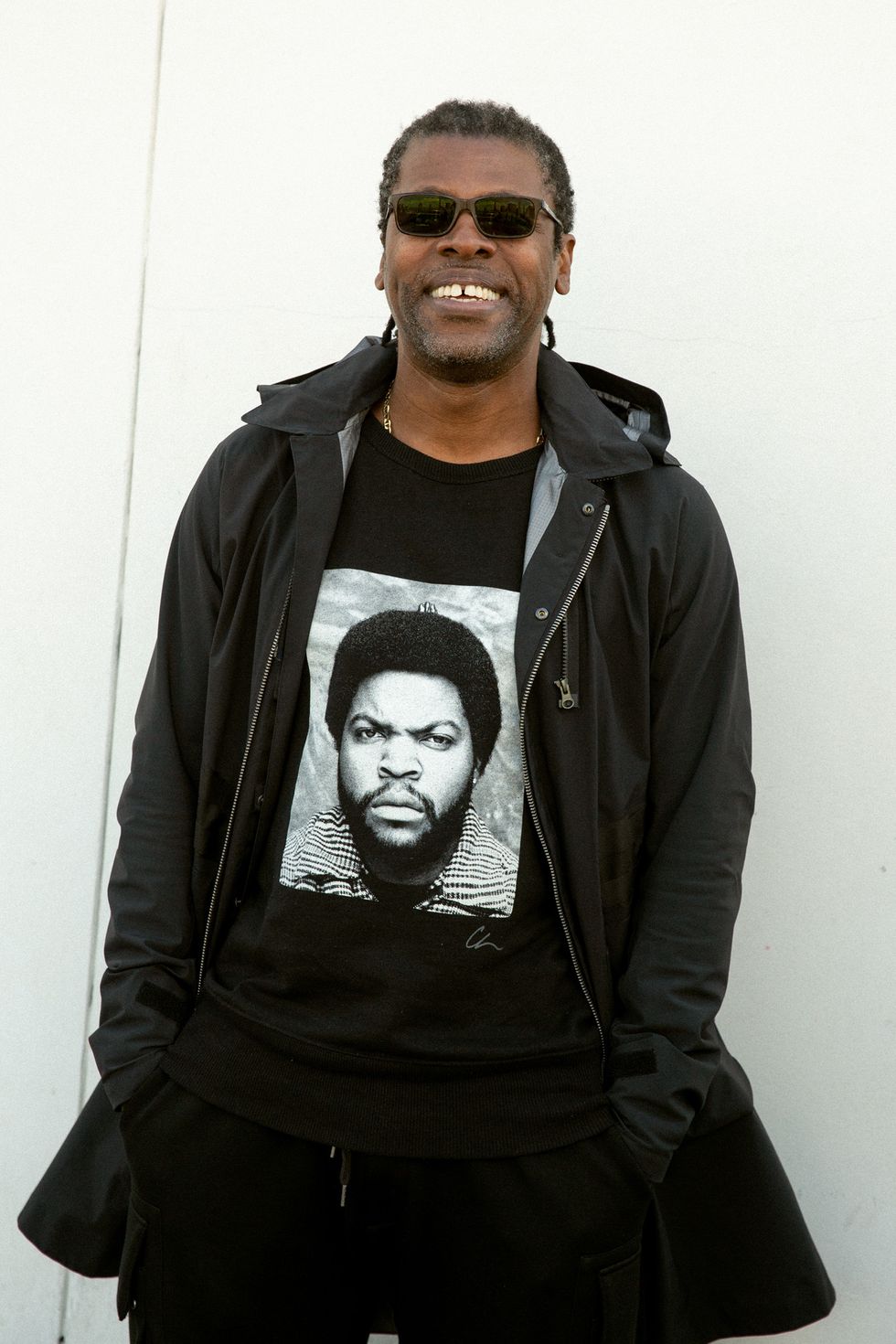 So you had these amazing jobs with
Amsterdam News
and
The Source
; how did you know when it was time to move on to the next thing?
"I'll be honest with you, I didn't move on on my own. What happens is people stop calling you [
laughs
]. I had those decades of no phone calls, of figuring out how to survive off the work that I did. I did a lot of licensing and different things. I always knew my work was important, so I knew that once it came back, it would come back to stay.
"I made a decision about six years ago to get in front of the public in a very aggressive way. I felt that it had been long enough, I was starting to hear a lot of other photographers
'
names passed around, and I'm not a competitive person, but it was starting to piss me off. I was like, all right, how I am going to change this narrative? Go directly to the fans, ignore the middleman—I thought the best way to do it was with billboards. It's a crazy concept for someone who doesn't have any money, but that's kind of how I am [
laughs
]. I called the billboard company up, and once they Googled me and figured out who I was, I had a meeting, and within 15 minutes we had a five-billboard deal in place. My point was, I'm coming to take my stake and that's it."
Do you feel it's important for artists and photographers like yourself to step out from behind the camera and introduce themselves to the world?
"Only now. When I was 30 years old, absolutely not. In my role I'm support, and support doesn't come in front of the camera until everyone looks at the body of work and they start to wonder who was that person. [Then] it makes sense for me to come in front of the camera. A lot of youth today come in front of the camera too early, and it puts too much pressure on them, because once you're in front of the camera, you better be perfect—that's how it goes.
"I had a pretty extensive conversation with
Gunner Stahl
recently. I've never met this kid, but we've always gotten along because he understands the idea of a long-term plan. I support him any chance. Twenty years from now, he's going to have the same abilities that I've had if he stays at it. He's photographing in a different era, and there's no way for the era to be as iconic as mine was because we were the first, but it still has relevance."
Tell me a little bit about what else you want to get up to in 2019, what can we expect from you?

"I'm looking at London and I'm looking at Amsterdam, those are two things. I will also touch Finland again, and tell the folks in Toronto I'll come there! Canada is my number four market in the world; it goes U.S., Brazil, UK, Canada, Germany. So Canada's there—we'll figure out something cool for the people."

I have one more question for you, Chi. I feel like so much of your story has been sharing other people's, but for yourself specifically, what do you want to be remembered by?

"I want to be known as someone that can look at something and bring the truth out without injecting their point of view into it. For me, that's very important. As long as I do that and I do my job well, then people remember me. It only works in that order, you know?"
1 / 7
Tupac Shakur, Atlanta, GA, 1994
"This image was an outtake from the cover shoot. I was shooting 4x5 portraits, and in between takes I grabbed my 35 mm camera and took this photograph. It was not my main shot but ended up being one of the most famous images of Tupac from the session."