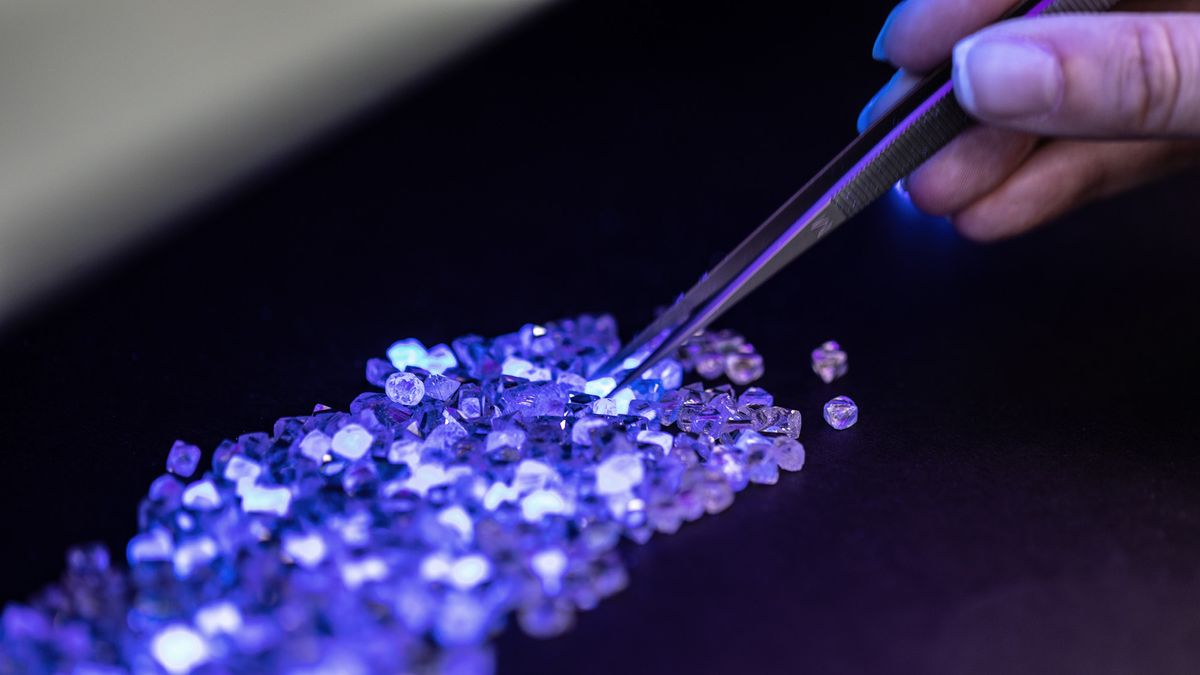 Fashion
From Antwerp to Mauritius and back with Tiffany & Co.
Take it from me
—
there's nothing quite like submerging your hands into a pile of diamonds. It's slightly stressful when a single stone drops to the floor and an eagle-eyed security guard watches you make a big show of returning it to its compatriots. But then you obviously go right back to burying your fingertips under the weight of a few dozen carats. Such was the scenario I found myself in a few weeks ago at Laurelton Diamonds Antwerp, the heart of
Tiffany & Co.
's diamond business. Situated in a nondescript corner of the Belgian city, few might ever guess that this sleepy block is the epicenter of international diamond trading.
To get a sense of the scale of Tiffany's operations, consider this: Roughly 10,000 diamonds pass through this facility each month, and of those, less than 1 percent are considered high enough quality to become a Tiffany diamond. Stones must pass a rigorous series of grading tests, including fluorescence (did you know diamonds glow in the dark?), color (they reject anything lower than a J grade), and internal stress (for which you test using rainbow refraction). All of this is handled internally by the Antwerp-based team before sending the diamonds to Cambodia, Vietnam, Mauritius, Botswana, or New York to be cut and polished. There are a *lot* of moving parts, even more so since the company became vertically integrated over the last twenty years, which means that it might take anywhere from 12 to 24 months for a diamond to travel from the mine to the factory to that powder-blue box in the Fifth Avenue flagship.
---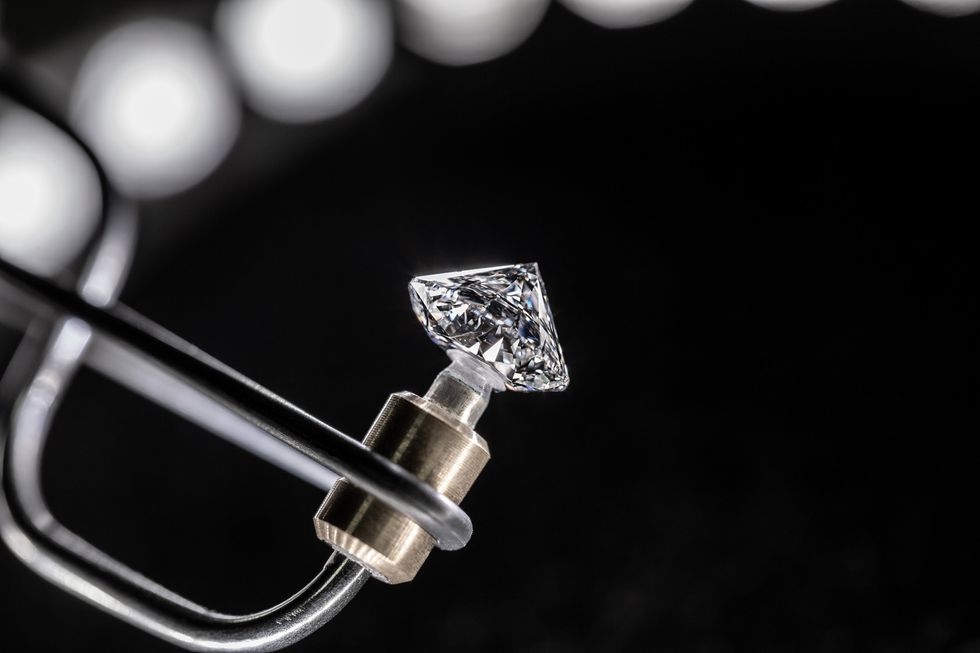 Photo: Martin Crook
When we asked why the grading standards are so rigorous, Andy Hart, the senior vice president of diamond and jewelry supply for Tiffany, put it quite simply: "Tiffany diamonds are the most beautiful in the world." And indeed, as we spent an afternoon inspecting piles of rough diamonds, learning to determine the grade and potential carat weight, it became impossible to deny the exceptional quality. And after a week of swooning over various cuts—including the new Tiffany True, which debuted in April of this year—it was tough not to feel like we'd ruined all other diamonds by comparison.
Since joining the company 20 years ago, Hart has overseen Tiffany & Co.'s vertical integration initiative, which extends to social and environmental responsibility. In 2000, the
Tiffany & Co. Foundation
was founded to help preserve land and seascapes, and the company has since awarded $80 million in grants—much of which goes towards responsible mining and coral preservation. (The company stopped using coral in its jewelry in 2004.) They source the majority of their rough diamonds from five mines—in Botswana, Russia, Namibia, South Africa, and the newest in northern Canada—and visit them regularly to ensure ethical practices.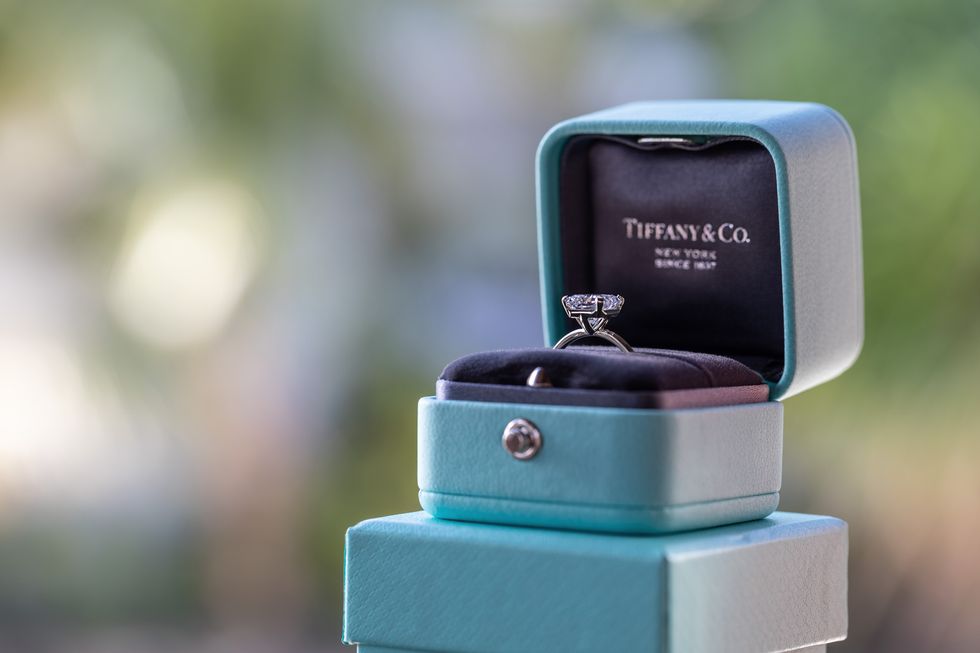 Photo: Martin Crook
By purchasing 80 percent of their stones from the miners directly, the company has cut out the middleman, ensuring that each and every one of their diamonds will be Tiffany quality. That requires a highly skilled workforce, an asset Hart and his team have prioritized by improving workplace conditions in their international cutting and polishing locations. "Because the brand is ethical and [focused on] social and environmental responsibility, I think we've attracted employees that have that same mind-set," he explained. "We have a really committed workforce that is involved and interested in the way you do business."
To witness this final step in the journey of a Tiffany diamond, we traveled to Mauritius, a tiny island off the coast of eastern Africa and the location of one of the brand's newest cutting and polishing facilities. Although round brilliants—which are arguably the most popular engagement ring cut, thanks to Tiffany's signature six-prong setting—make up 90 percent of their business, the Mauritius staff has started to cut more fancy shapes to keep up with demand, including the Tiffany True. The newest design is an elegant blend of an asscher and brilliant cut diamond, created to expose the stone to more light and highlight the main facet. That means sparkle—less than the fire of a brilliant, but more than an emerald or rose cut. A perfect marriage, so to speak (pun intended).
We inspected several of these diamonds in various stages of their cutting (there are ten in all to make the True), and while they were all painfully gorgeous, it was the new initiative behind them that impressed me most. Through the Diamond Source Initiative, Tiffany can trace registered diamonds over 0.18 carats via a laser-etched serial number, thereby providing customers with provenance information (such as the mining location), and by 2020 they will begin sharing the craftsmanship journey, as well. That means you'll know exactly who handled your diamond from the moment it was graded, plus where it traveled to be cut and polished. This will ensure, to the highest degree possible, that your diamond was ethically sourced, in addition to being one of the most beautiful that money can buy. I wouldn't travel halfway across the world for anything less.
Photos: Martin Crook
Want more stories like this?
How to Make Your Old Jewelry Look Like New
Why Fashion's It-Girls Are Flocking to This L.A. Piercer
Exploring the Link Between Our Mood and How We Dress