Makeup
She also happens to be Miranda Kerr and Gisele's preferred makeup artist.
Alec Kugler
Alicia Cesaro
As far as cult beauty products go,
RMS's Living Luminizer
and "Un" Cover-Up are forever staples in the bags of beauty editors everywhere. But the
RMS Beauty
brand as a whole—and, more important, it's founder, Rose-Marie Swift—are worthy of cultish following separately. Yeah, Rose-Marie is known for the aforementioned products and her 35+ years in the industry with the best of the best: the top magazines (basically every
Vogue
), top models (Gisele,
Miranda
), and top photographers (Annie Leibovitz, Patrick Demarchelier). But it was the catalyst for starting her brand—a cosmetic-industry-related illness—and her modern-day approach to health that sticks out. After purging her life of everything she deemed toxic, she created her cult line of organic color cosmetics and skin care. Needless to say, Rose-Marie has a lot of experience and knowledge to share, so we were more than excited to sit down with her at home and chat freely about
all
of it, plus rack her brain on what she does daily to stay healthy (just wait till you see her fridge situation; we were taking serious notes) and the one product she urges everyone to try.
---
On how a

"

fake it till you make it

"

outlook jump-started her career:
"I pretended to be a makeup artist in the
'
70s—my sister was an aesthetician, and she knew a guy who owned burlesque hotels; she asked me to teach the girls how to do their makeup. I said,
'
Sure, I'm an Aquarius! Jill-of-all-trades, fake it till you make it,' and that's exactly what I did.
"All of a sudden my career started taking off. I made a little brand, I would make pots of makeup and sell it to the [dancers]. A magazine featured me on the cover, everybody loved it, and I kept getting jobs. I went to Europe and ended up in Miami, where I got sick. The lab asked, 'Do you work in the cosmetics industry?' I freaked; I had chemicals [in my system] that they see in a lot of people who work in the industry."
On changing all her habits on the path to health:
"I became a raw-foodist to purge everything from my system. I've done every healing modality, fast, cleanse, colonic, ozone therapy. I'm not blaming it all on the cosmetics industry, but they're a contributor. I started studying and created
Beautytruth.com
. Everyone said,
'
You'll never work again if you put that site up.' It exposed the cosmetic industry, FDA, and self-regulation. But it catapulted me to a higher level; I was a makeup artist with brains who had something to say, even though it was controversial."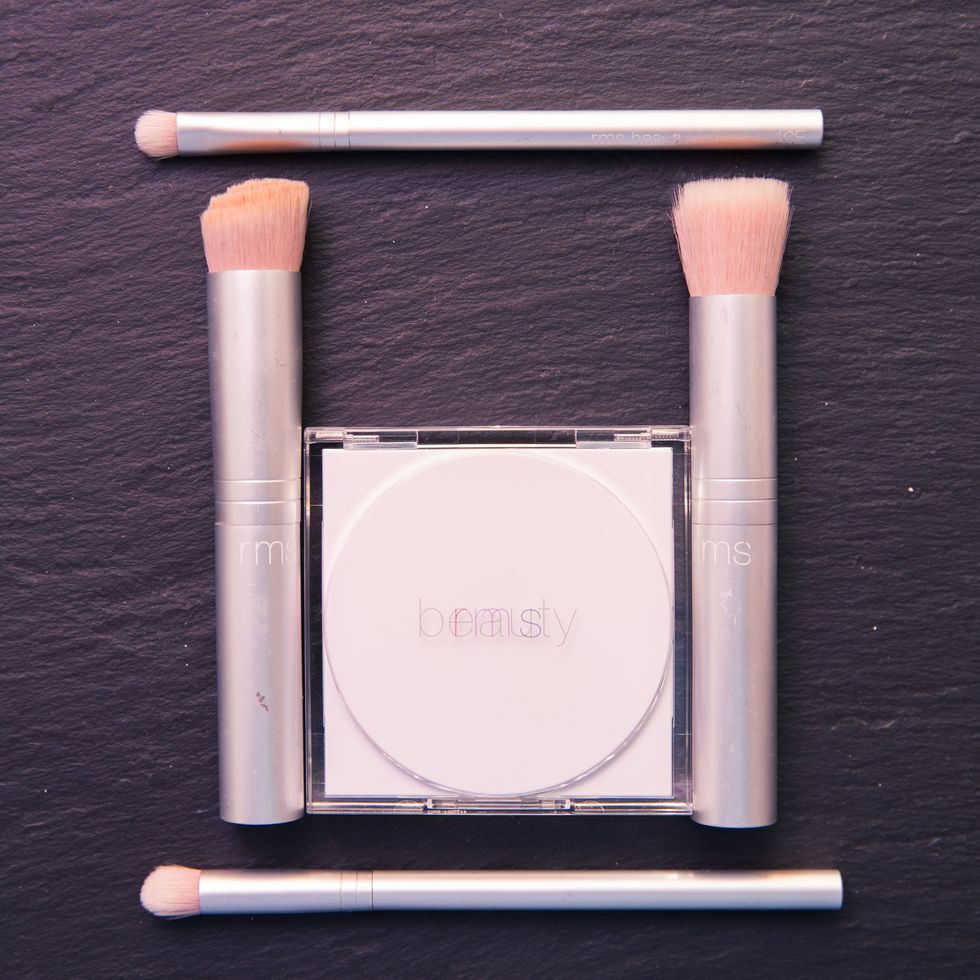 And subsequently founding RMS because of it:

"I started studying what was out there, got pissed off, then started my own brand. I was lucky the models I worked with embraced it wholeheartedly. And here I am today! I learned a lot about the raw food industry, like if you take coconut oil and hydrogenate it, you're taking a living organism and turning it into a dead chemical. I realized the cleaner the product and ingredients, the less that has been done, the more healing properties it will have.

"I encourage people to research the ingredients on the label, put it into the cosmetics database, and find out what it is. It is not a pretty picture. What I've done with RMS is take the concept of skin care and put mineral color into it, rather than the typical green, hippie, granola makeup that originally was out there. I'm a fashion person making a hippie brand, but I'm making it modern and fashion-forward."

The holy grail products in her line:

"The first product was eyeshadow. I saw models who were 15 years old on set, and after a few hours their skin would look dry. I hate using primers or anything with drying agents around the eyes. I want to look at skin and see sheer, glowy, light-reflective skin without drying frosted crap.

"My Living Luminizer put me on the map, then Master Mixer, a rose-gold product you can mix into anything, like lipsticks, to give a wearable, semi-iridescent look. I want people to try the Raw Coconut Cream first—you've got to take your makeup off with it. Your skin will feel so beautiful and look better the next day. It nourishes the eyelashes and eye area, it's food-grade, it's not typical store-bought coconut oil."


Her decidedly simple skin-care routine:
"I use Coconut Cream all over, then wipe it off and put my Beauty Oil on top. That's it. Skin produces its own bacteria, and we're washing it off, so I'm a real proponent for less-is-more. All these cleansers and steps we're doing aren't saving our skin, it's aging it.
"
The staples in her strictly healthy-everything regimen:
"I would literally die without green juices. If I don
'
t have anything really healthy, I turn into a bitch. Too much meat, sugar, coffee, and tea is acid. You want to
reach alkalinity in your system
. Green juice alkalizes everything, and you feel better instantaneously. Some people feel sick after drinking green juice because they
'
re detoxing all the crap.
"Probiotics in the morning on an empty stomach are a must; your skin is a mirror to your gut. Alternate them, don
'
t go with the same brand for months. Eat live probiotics like raw sauerkraut, apple cider vinegar, kimchi. I drink a lot of water; I haven
'
t eaten meat in over thirty years (I started to eat a bit of chicken a year ago, but very rarely). I love fish, but only when I
'
m down in the Caribbean and it
'
s right out of the ocean."
Why Gisele and Miranda are favorite clients:
"Back in the day I did makeup for Renee Simonsen in Germany; I did it at arm's length because I was so nervous. I
'
ve done Paloma Picasso, she's amazing; Tilda Swinton, she
'
s so intelligent and cool. I love working with Gisele [Bundchen] and Miranda [Kerr]—we're friends. They have healthy lifestyles and want healthy makeup, so there
'
s a click that goes beyond just doing somebody famous, there
'
s substance there.
"
Her advice for aspiring makeup artists (hint: put down Instagram):
"My advice for aspiring makeup artists is stop trying to copy Pat McGrath. You will never get anywhere unless you
'
ve got a drop-dead gorgeous famous model sitting in front of you, famous photographer with amazing light, and famous hairdresser, because it looks stupid if it isn
'
t in the right element. If you want to make it as an artist, learn to master beautiful makeup, know your craft. There
'
s a reason famous makeup artists aren
'
t on Instagram giving makeup lessons."