Celebrity
Maya Erskine Answers the Age-Old Question: *NSYNC or Backstreet Boys
We talk life's awkward moments and "squidding."
Alec Kugler
Kenny Wu
Life is strange. And awkward. And weird.
Maya Erskine
doesn't shy away from any of it. All those moments that make you want to curl up so tight into yourself you disappear like a sci-fi-flick black hole, she embraces them and puts them on the big screen for the world to see. It's her inimitable comedic spin that makes you oscillate from cringe to uncontrollable belly laugh. Take, for example, her hilarious breakaway hit,
Pen15.
Erskine stars in the Hulu original alongside friend and co-creator 
Anna Konkle
, where they play their 13-year-old selves amongst actual high-schoolers in all the early-aughts glory. Her most recent role is in the soon-to-be-released
Plus One
, which follows two best friends (Erskine and
Jack Quaid
) who make a pact to be each other's sidekicks for wedding season. Both share a thread of realness wrapped in humor. When I sat down to talk to Erskine about real-life stuff like sleepovers, the Spice Girls, and periods, it induced the same aforementioned reaction. Just watch and read on to see what I mean.
---
Did you always want to get into acting?

"I was always playing pretend from a young age. We all do as kids—I think it's sort of a natural means for us to express ourselves. My dad was a musician, so I think he thought that I was going to go in that route and would place me near drums or piano, and I would just sort of fade away and start talking to flowers as if they were people [laughs]."

Did you experience any struggles at the beginning of your career?

"Constant failure. I went to NYU and studied theater there, and I think I was under the naive impression that as soon as I graduated I'd get an agent and start doing theater and Broadway, and it just did not happen. I had no tools with how to get represented or how to fend for myself, so I would just submit on Actors Access and do off-off-off-Broadway—I shouldn't even put the word Broadway in there, just theater. That was unpaid for many years. Anna [Konkle] and I created a web series together—we were tired of not having control and not really feeling like we could express ourselves through our work. So it was our first attempt at seeing if we wanted to create, produce, and write, and we loved it."


What drew you to the script of
Plus One
?
"I loved the script. Because I was just getting into writing, I was blown away by the ease of [the] structure and dialogue and how it wasn't too joke-heavy. I loved the character of Alice and the transformation from sort of this lost, lonely, heartbroken person—like a Tasmanian devil just running wild through weddings—to then becoming this swan by the end, sort of."
There are similarities between
Pen15
and
Plus One
—they cover those awkward moments in life:
"[
Laughs
] I'm definitely drawn to reject characters
—
characters that feel on the fringe of society, in some way. Whether it's because they act out or they're weirdos, or, you know, just any character that really is a fully multi-dimensional human. That's what I am drawn to, which you don't get to come across very often. I think a lot of times the female roles, at least that I encountered up until
Plus One
and
Pen15
, were tools in the story to either forward this one part or to prove that the guy was straight. I mean, Jennifer Jason Leigh said this once in an interview for
Backdraft

—
she was saying that the fire was more of an interesting character than her character."
Do you think things are changing?
"Oh, totally, I think it's changing a lot—it still has a ways to go. But I think what's exciting is that there's more opportunities for women to create their own roles, to make decisions as producers and directors and just create more opportunities."
Was there an episode of Pen15 that was challenging to portray?

"In the episode, Posh, when we're playing the Spice Girls and the girls push Maya down and basically call her a servant and make her play this character, Guido. Some of that has stemmed from my real life, but it's a bit fictionalized with how we wrote it. That was a surprisingly traumatic thing to film. I remember while writing it, we thought, This is going to be a humorous take on this complicated subject, and it ended up turning really dark, really fast, and I just broke down on the set because it brought up all these memories that I thought I had gotten over. But it was just as present as something that would've happened yesterday. I got to A) relive that, but then, B) write an end to that story as a means of healing. I never got to hear from my friends, 'I'm sorry, you're right, I don't know what it's like to be you,' I never got really that acknowledgment."

How do you remember all of the nuances of how you stood as a teenager and these little moments?

"I think because it's such a formative time and it's such a traumatic time, that a lot of people say, 'Oh, I can't remember anything because I just push it all down.' When you're that age, your brain is forming into who you're going to become as an adult, and it's a time of so many firsts, so all those memories are really strong and stay in your body, whether you realize it or not. All the trauma doesn't fully go away. So I think once you sort of start to open it up, it can come flooding back."

Are there other moments in life you think would make a really good comedy?

"Oh, so many! Every day there's moments with people that can turn into a comedy of errors. Even yesterday, I was at JetBlue, and I left my stuff on the plane because I was just so out of it. When you go into the room where I guess JetBlue employees help you figure out how to get your stuff back, there were three women, and they looked up and no one said anything. I was like, 'Hi,' and they were just completely dead-faced. [Laughs]"


What's your favorite '90s or 2000s song?

"Oh, I thought you were going to say movie. I have so many. I mean, I loved 'Back that Ass Up,' that was my favorite freak-dance song. I loved Mariah Carey—these aren't songs, these are artists. And then like, 'I'm So Lucky'? Is that what it's called? 'Lucky'? 'She's So Lucky'? Britney Spears? Just 'Lucky,' right?"

Best sleepover activity? Back then, not now:

"Mmm...back then. I just have this one memory, this isn't what is best about a sleepover, but I was hiding my period, and I was at a sleepover with all the popular girls. I didn't use pads, I just used rolled-up tissue paper...and you can't flush that down the toilet. This is too much information [laughs]—you have to wrap it in more toilet paper and then put that in the trash can. I just remember that happening at a sleepover and having so much panic about it."

Did you ever prank-call?

"We squided a house once, of a boy that my friend gave a blow job to. Instead of doing eggs, we put raw squid on his house."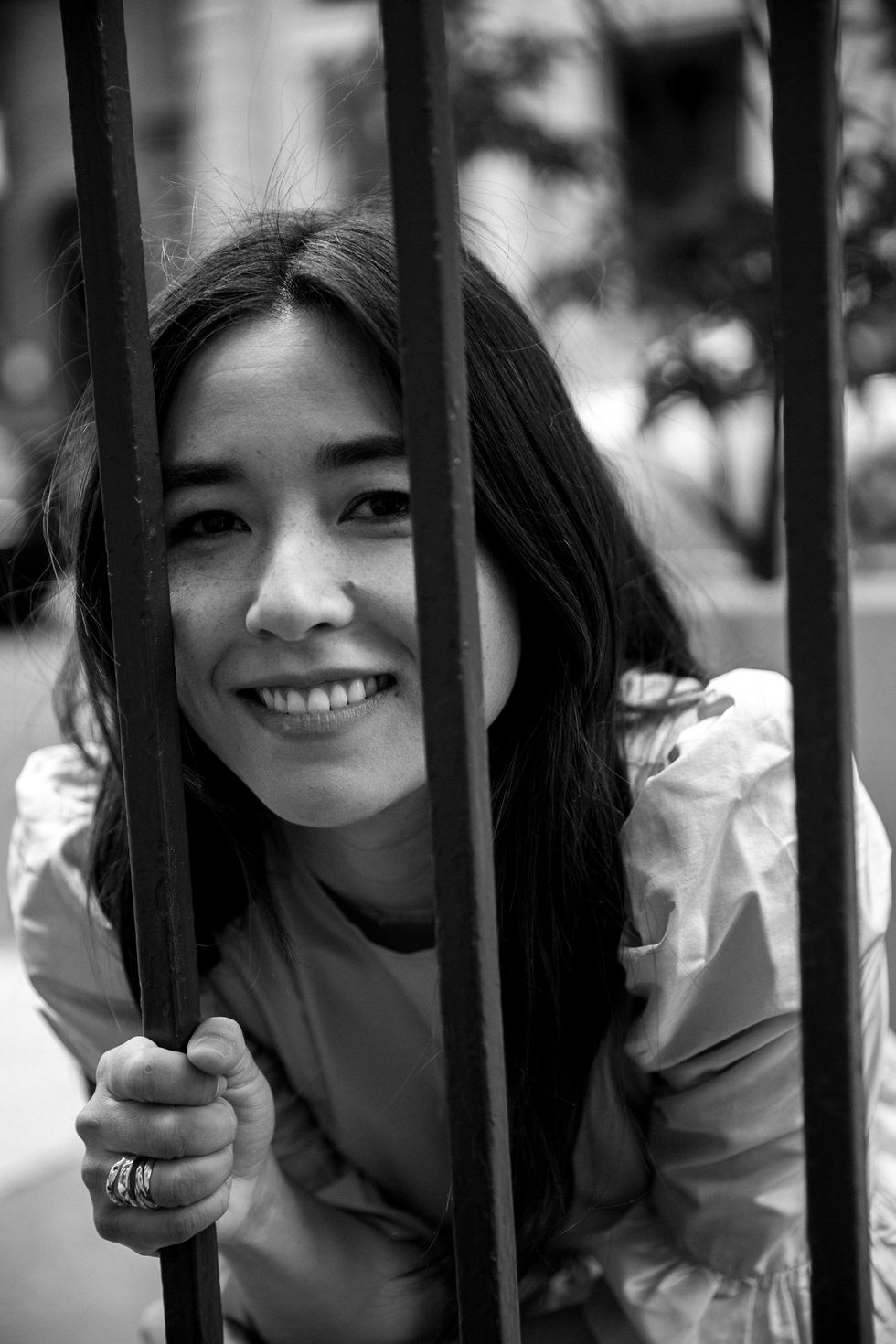 I've never heard of that [
laughs
]!
"It's not a real thing. I'm like, we squided the house, you know... And that's actually really fucked up because the smell."
Oh, his poor parents...
"I know! That was really bad—see, I was a monster too. [
laughs
]"
What was your teenage room like?
"OK, it was very weird—it went through different phases. I collected Got Milk? ads and I collected the Absolut vodka ads. It was just fun because there were variations, and I think that was what I held on to. I would just paste those all over the wall, and then I would do a door of old movie stars. I had the biggest crush on people like Brad Renfro and Brendan Sexton III from
Welcome to the Dollhouse
."
I don't know them:
"No one knows them [
laughs
]."
Want more stories like this?
Chace Crawford's New Roles Are a Far Cry from Gossip Girl
You Can Blame Marianne Rendón for Your Binge-Watching Habit
On the Brink of Her First Major Role, Sydney Sweeney Has Hollywood Hooked