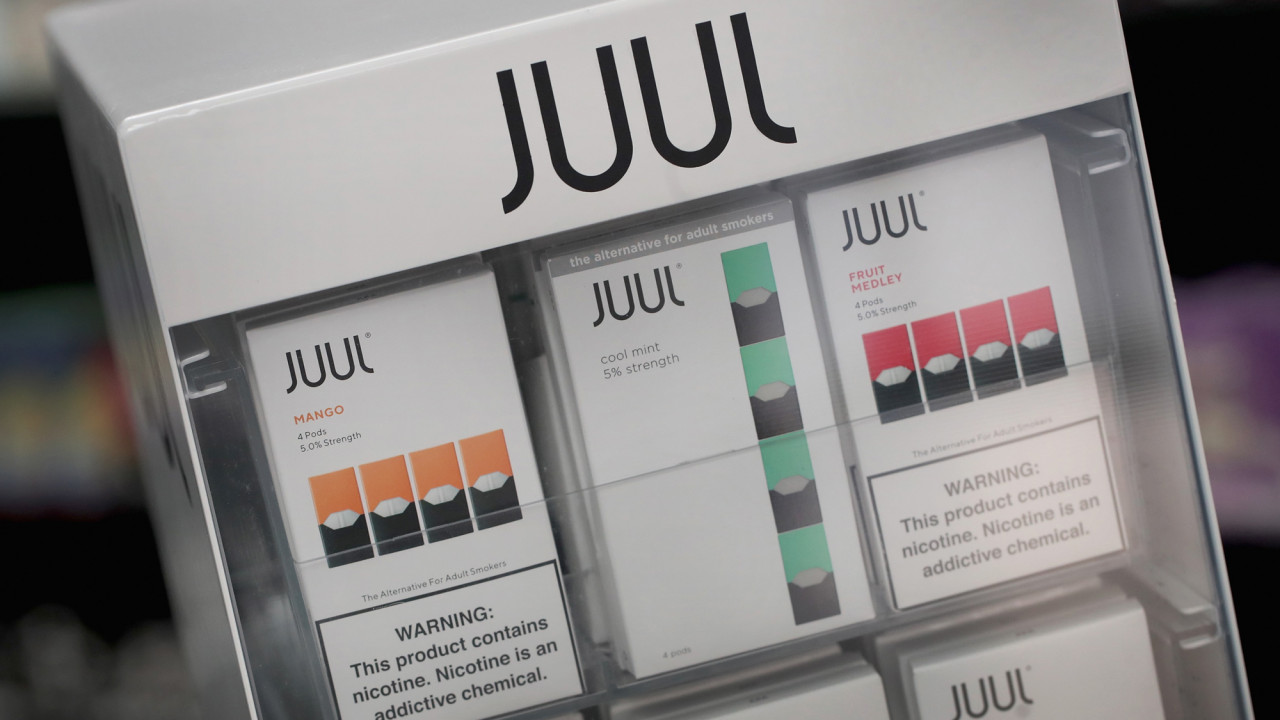 Alert: The Juul May Be More Harmful Than We Thought
It's probably not just a sleek way to stop smoking.
Remember when e-cigarettes first hit the market, touted as a convenient way to quit smoking? Those bygone days have long since passed, now that Juuls have become ubiquitous among teens and vapes have proven themselves to be more of a nuisance than an aid. E-cigs aren't among the methods approved by the FDA for smoking cessation, and "research shows there is limited evidence that e-cigarettes are effective for helping smokers quit," according to the government website SmokeFree.
What's more, new research has linked vaping with higher risks of seizures, heart disease, and lung disease. And this is all preliminary—since e-cigarettes are still relatively new, it'll take years to fully understand their effects on health.
Just last year, for example, it was found that there was "insufficient" evidence that nicotine vaping has long-term effects on heart rate and blood pressure, according to the National Academies of Sciences, Engineering, and Medicine, as Vox reports. But in a new study, cells that line human blood and lymphatic vessels were exposed to six e-liquid flavors with varying nicotine levels. As you might guess, the liquid harmed the cells, which showed signs of "endothelial dysfunction," an issue that is often present prior to cardiovascular disease.
Plus, even if you opt for a vape device that emits no nicotine, you still may be putting yourself in harm's way. All e-cigarettes release microscopic particles and toxic chemicals, which have been shown to be absorbed into our cardiovascular system and lungs and tied to heart attacks, high blood pressure, and coronary artery disease.
There's also some initial findings linking vaping with seizures. There have been at least 35 cases of people suffering from seizures after using e-cigarettes, which is a small number at first glance, but the FDA has warned that this calls for a closer look. "We believe these 35 cases warrant scientific investigation into whether there is in fact a connection," the FDA said in a statement last month. "We can't yet say for certain that e-cigarettes are causing these seizures." Though the FDA is "concerned by these reported cases," there's nothing conclusive yet.
In what may come as the least surprising finding, vaping is likely not great for your lungs, as Vox reports. In a new study to evaluate the effects of e-cigs on wheezing, 28,000 adults were broken into four categories: current e-cigarette users who had never smoked; smokers who had never vaped; those who vaped and smoked; and nonsmokers. Vapers were twice as likely to experience wheezing as nonsmokers.
The only foolproof way to avoid these hazards is, of course, to quit smoking altogether. It's a tall order, but it can be done. Phone counseling is available at 1-800-QUITNOW or 1-800-LUNGUSA, and there are tons of other resources online. And you'd be in good company: Every year, about 1.3 million smokers quit.
Photo: Getty
Want more stories like this?
Teenage Vaping Is Out of Control
Is Burning Sage Good for Your Health?
You Can Actually Pronounce This Wellness Trend