Career
How Jemma Wynne became one of the most-wanted (and most copied) jewelry lines on the market.
Alec Kugler
Listen. I look at
a lot
of jewelry. I
love
jewelry—I love diamonds, interesting intricate things, expensive things, things that have weight and history—I love literally everything about jewelry. That said, and fully prefaced by the fact that I scroll through obscure designer websites at night the way others might swipe through
Bumble
, I have a few favorites—one of them being
Jemma Wynne
.
The first time I saw one of their
gold and emerald signet rings
, I was cruising through Bergdorf Goodman and was literally stopped in my tracks. I took a picture on my phone, and would occasionally stare longingly at it. The line is modern, but feminine and classic—it's everything you could want if you, like I, lust after heavy
'
70s-style gold. Anyway, cut to about a year later when I wound up at
Jemma Wynne
's midtown showroom with designers Stephanie Wynne and Jenny Klatt touching
literally
every expensive thing in sight. Yolo. Life is but a dream.
But because the purpose of my visit wasn't
actually
jewelry try-ons and Instagram opps, I sat down with the pair, who met at their very first job out of college, and heard all about being the "cashmere hoodie of fine jewelry" (literally all I've ever wanted), and why starting a business during a recession can actually be a good thing.
---
What launching a fine jewelry collection during a recession was like:
Stephanie Wynn:
"We launched in 2007 when the economy crashed. Awesome timing. But launching during that time gave us space to find our way and to figure out who we are. If you launch in a peak time, you feel really rushed, and it's not true to who you are. I don
'
t think you always have the luxury of time, especially in the fashion industry where you're constantly trying to catch up. Launching during that time gave us more time to work on our brand and create a really organic relationship with stores, whereas sometimes in a busier, booming time you don
'
t have that."
On trusting your instincts:
Jenny Klatt:
"I would say the foundation of our business was based off of casual luxury. We always say we're the cashmere hoodie of jewelry. You may be wearing this huge stack of gold and diamond jewelry, but it
'
s not supposed to feel overdone, it
'
s supposed to feel more casual but with a really rich material.
"One of the major things for us are our open bangles. At the time we designed them, no one else was doing them. We showed them to every store and no one was interested. No one liked it. They didn
'
t understand what they were, and they didn
'
t see their customer liking them. But we just kept pushing them and designing new versions and designing colored stones in many different ways and over time they caught on. We became known for our bangle stacks and then we
'
ve kinda branched out since then. And other people are doing them...[
laughs
]"
How it feels to be copied:
JK:
"Listen, it
'
s flattering. Imitation is the sincerest form of flattery."
SW:
"Ours are definitely different. People do recognize that we kinda pioneered that a little bit. I think that it is nice to hear when you meet with different people, like the top buyer of Bergdorf's or Net-A-Porter for them to be like,
'
Oh, you guys really started that.
'
It
'
s definitely a good feeling to be recognized for it, and we know that our customers keep coming back to us for the originals."
About that *right hand ring*:
JK:
"A lot of the jewelry we sell is self-purchased. It
'
s funny because you would think a lot of it is the guy buying something for a woman but we find that our clients are self-collectors or self-purchasers, and they're picking the things that they love. Everyone kinda wears it in a different way, but we find that it really is the women coming in for themselves. We hear that from the stores also. It
'
s interesting!"
Tips for investing in jewelry for yourself:
SW:
"Sometimes we have people who come in like,
'
I'm such a bracelet person, but I wanna do something different. Maybe I
'
ll do an earring—but I don
'
t really wear earrings, or love earrings...' I'm like, 'No!' Get what you love. Get what you really wear because our pieces are made to be worn. We don't want you to just put it on for one occasion and have it just sit in your jewelry box. I always tell people to go with your gut of what you are really drawn to and what you love."
JK:
"Also don't go too trendy when you're investing in a fine jewelry piece because you want to be able to look back at it 5 to 10 years from now and say 'I'll still wear this.' Or, 'I'll give this to my daughter, and I know she'll wear it.'"
And what's happening in the engagement ring world:

SW: "People are definitely interested in having something different. Coming to us you know something that it's going to be a little more special. A little more unique, like our open ring. Our open rings and the pieces that have two stones, for example, can have two meanings. One stone can be for a wedding and one can be for an anniversary. People like to mix an emerald and a diamond or a sapphire and a diamond or a ruby and a diamond."

JK: "We just did an engagement ring for a client, and it was a hexagon shaped diamond, and we didn't even realize how hard it would be to find a diamond like that. But people come to us for really different-looking things."


The first piece of jewelry they fell in love with:

JK: "I remember when we were little the Tiffany's charm bracelets were a BIG deal."

SW: "My mom has a bracelet that she wore, that was passed down from her mother, that was maybe from the '50s? It was a big woven-looking chain and then there were charms. There was a calendar with the birthdates and the birthstones on the date in the calendar, and a little box with a little dollar folded up inside. Everything meant something. I remember looking at it and thinking, 'I want that, give it to me!' I have it now! I also think it's so special and meaningful to wear your family history around your wrist so I always remember seeing that and just loving it."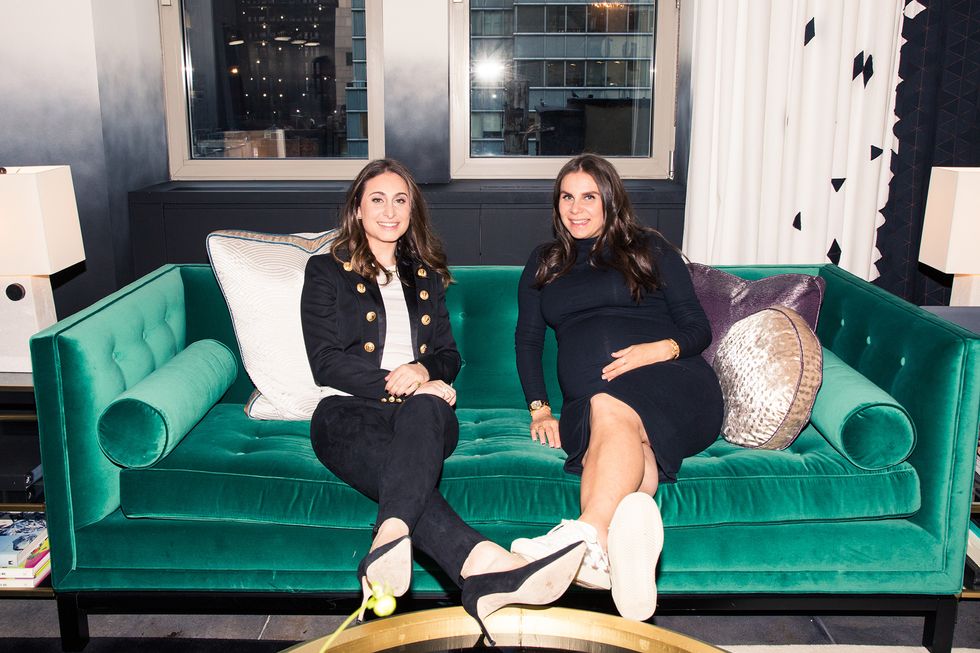 Their best advice for starting a jewelry line:
SW:
"Definitely have a clear idea of what your design aesthetic is. And if people don't like it at first and you feel strongly about it, keep pushing with it. We felt really strongly about our bangles at first and no one liked them, and we got discouraged a little bit but we really believed in it so we kept designing with them and they eventually took off."
JK:
"With starting a business in general you have to be so passionate about what you do. Starting a business is like a rollercoaster of emotions. Some days are super awesome and then you have some days where things don't go as planned. When you're really passionate about what you're doing it pushes you through all that."
SW:
"Also fine jewelry is a very expensive hobby so you'd better love it!"
Want more stories like this?
How to Buy a Diamond
I Got My Best Jewelry from a Pawn Shop
15 Necklaces Our Editors Can't Stop Thinking About