WWWRN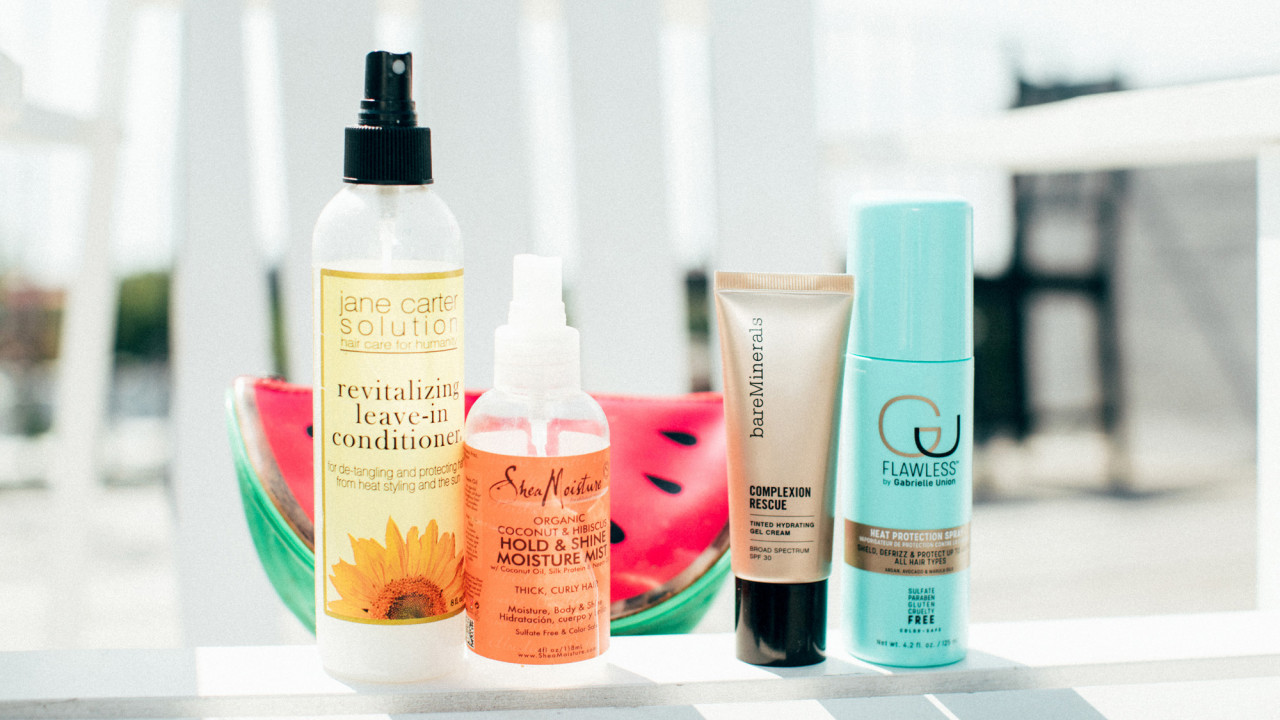 Our 15 Summer Beauty Essentials
From sunscreen and cheek tints to exfoliating scrubs and deodorant.
You've heard us wax poetic about summer skin care before, but considering that most of you will soon be spending long, blissful hours out in the sun, it bears repeating here: This season is all about protection and hydration. That means wearing SPF to block harmful UVA/UVB rays—which can lead to premature aging and skin cancer—and providing your skin with adequate moisture (sweaty city blocks can take their toll). Since you're already drinking your recommended 2.7 liters of water a day (you are doing that, right?), we've assembled our must-have summer beauty essentials to keep your complexion soft and glowy. Plus, a few low-maintenance makeup products so you spend less time in front of the mirror and more hours at the beach with your friends. Priorities! Check out our top 15 below.
---
Hannah Baxter
Editor
1. Beautycounter Countersun Mineral Sunscreen Mist SPF 30: First and foremost, a quality sunscreen is a must. I'm one of those people that chastises my co-workers for not wearing SPF on the daily, so you better believe I keep a handy mist in my bag at all times. This one from Beautycounter doesn't leave me feeling greasy, and has a pleasant, not overpowering scent.
2. IGK Mixed Feelings Leave-In Blonde Drops: As of last week, I have exceptionally light blond hair—not quite platinum, but toeing the line. To keep the color from turning brassy in the sun (or the pool, yikes), I add a few drops of this IGK formula to my favorite hydrating shampoo and conditioner. It's super concentrated to counteract any yellow undertones in my hair. I swear by it, especially for travel.
3. Shiseido Oil Control Blotting Papers: When you descend into a boiling hot subway station and wait ten minutes for a train, you're going to want a stack of blotting papers to wipe away the grease. Shiseido's are my favorite for eliminating unwanted shine—plus, they're cute and pink.
---
Ivanna Martinez
Social Media Associate
1. Ilia Beauty True Skin Serum Foundation: This serum foundation is perfect for the summer. I actually use it all year round. It's the only product I really stock up on. The formula doesn't just sit on your face; it melts in for a smooth finish, and it hydrates for a full, glowing complexion. And my favorite part: They use natural dye! No need for random chemicals.
2. Maude Burn Massage Candle: A candle…that turns into a massage oil. Two in one! I burn this candle when I get back home from work, and by the time I'm settled in, it's ready for me to use it as a body oil. I especially like the scent—nothing overpowering, warm notes of amber, cedar leaf, and more. Perfect for the summer, it locks all the great moisture in.
3. Onomie Boosting Lip and Cheek: I've been using this for a full year now, and it's the gift that keeps on giving. I got it last summer, and it's been my happiest discovery so far. I absolutely love that it works as both a cheek and lip tint, and the color is so natural, it gives be the perfect flush. If there's anything I always have in my bag/purse/pocket, it's this.
---
Jodi Taylor
Editor
1. Caudalie Crushed Cabernet Scrub: Exfoliation is key in the summer, especially if you're someone like me, who spends a lot of time in the sun. This Caudalie scrub has been my go-to for years now. It's 99 percent natural and leaves my skin feeling silky-smooth.
2. Summer Fridays Jet Lag Mask: Who doesn't enjoy that just-showered glow 24/7? That's essentially what this Summer Fridays mask is. In the colder months, I use it as a primer, but for summer I'll be using it as an overnight mask. Its versatility is what made me fall in love with it in the first place.
3. Sigma Tint + Tame Brow Gel: The less makeup in the summer, the better. Some moisturizer, sunscreen, a quick brush of my eyelash extensions, and a swipe of this Sigma brow gel, and I'm good to go. This gel is super lightweight but still manages to keep my brows in place all day long.
---
Monique Kamargo
Editorial Producer
1. Belief Moisturizing Eye Bomb: Summertime is all about hydration, and this lightweight cream from Belief does just that for my under-eyes. The cooling texture feels amazing after I apply a small amount in the morning after cleansing.
2. Tangle Teezer: Not to be dramatic, but this tangle teezer truly changed my life. While I use this brush year-round, it especially comes in handy in the summertime, as my hair often gets extra tangled after a swim. It's also super small and compact and fits easily into my beach bag.
3. Glossier Soothing Face Mist: As the product description states, there is no wrong time or place to mist. I love spritzing this Glossier spray midday for extra hydration, especially during the summer months. I'll also spray it whenever I'm feeling under the weather to help refresh my whole system. It feels amazing on the skin!
---
Rachel Pickus
Social Media & Affiliate Coordinator
Part of the series:
WWWRN