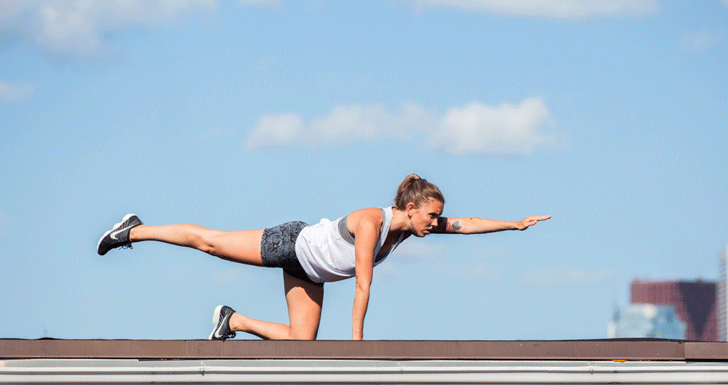 A Rooftop Workout So You Can Tone Away from Crowds
Fresh air in your hair.
How about this for a plot twist, friends: For once, we're not laying out a small-space workout; we're changing  up the scenery. After all, in the middle of the city, what's just as abundant as a cramped living room (and also happens to be equally fit for a cheap workout)? A rooftop. (Full disclosure: Up till now, rooftops were pretty much exclusively for downing after-work gin and tonics until the sun sets. Not that we're not still doing that, too.)
Until, of course, trainer Jennifer McConnell from Academy of Lions had us climb up top to do her cross-fit-style workout against the city skyline. It actually made us not hate the whole sweating thing. It's nice out (and we're determined to savor every last day), there's bound to be no one up there (so we can work out wearing our Céline Dion concert tee in peace), and the scenery beats maneuvering between the couch and TV stand.
---
Move #1
Superman Squats
"This is a one-legged squat that will help your legs, butt, and hips be their strongest and will teach you how to be stable and find balance."
How it's done:
"Extend your arms straight out in front of you. Plant one leg, and lift the other leg back, heel up and foot flexed. Bend the knee while you simultaneously bend at the hips forward; lower yourself straight down. Touch your raised knee to the ground and then travel back, pushing into the ground with your planted foot.
"Do 3 sets of 5 reps on each leg."
---
Move #2
Bird Dogs
"One of the best body-weight stability drills that will activate your glutes while helping you maintain a strong and beautiful posture.
"On all fours, tuck your head down and elevate your back. Extend one leg and the opposite arm back. Draw your extended limbs together, and touch the knee to the elbow. The key is to keep the core stable during motion.
"Do 3 sets, 10 reps on each side per set."
---
Move #3
Single Leg Hip Bridges
"Simple body-weight movement that can be done anywhere to keep those glutes high and active.
"Lay on your back with your legs at about a 45-degree angle, feet flat on the floor. Extend one leg straight out; keep knees at the same height. Lift your midsection up, squeezing your glutes and flexing your abs as you do. Exhale on the way up, and inhale as you lower your body.
"Do 3 sets of 10  bridges on each leg."
---
Move #4
Hollow Rocks