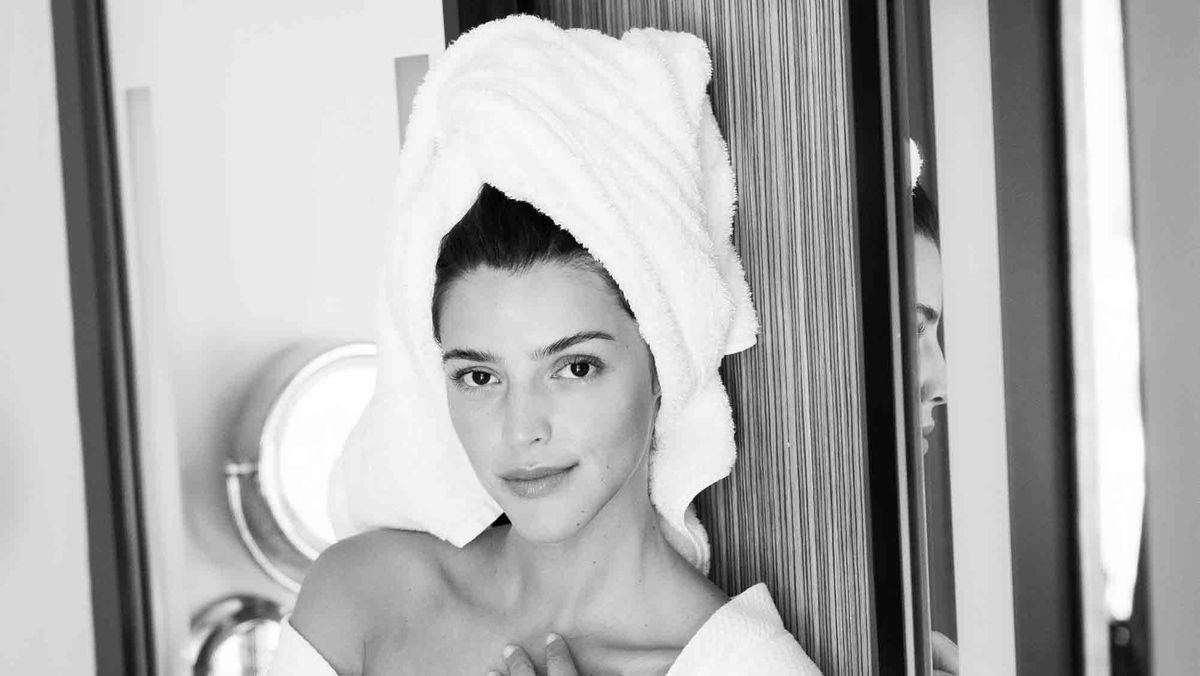 Skin
Cynthia Franco's Head-to-Toe Glow is a beauty lover's dream.
Meagan Wilson
L.A.-based aesthetician
Cynthia Franco
didn't design her signature treatment, Head-to-Toe Glow, in one sitting. The skin connoisseur with a celebrity roster that includes
Amber Heard
, Mia Goth, and
Salma Hayek
earned an education in massage, neuromuscular therapy, and paramedical treatments (think dermaplaning, microneedling, and deep peels) to curate the ultimate detox that starts with your French face—meaning the complexion, neck, and décolleté—down to your extremities.
Situated in a West Hollywood Spanish-style bungalow (conveniently on the upper level of jewelry designer Jacquie Aiche's studio) is Franco's airy, serene suite where the Head-to-Toe Glow is administered. After two hours in a far-infrared-heated body wrap—which warms up to 185 degrees Fahrenheit—you will have successfully burned 1,000 calories and gained a
glowing complexion
in the process. But Franco doesn't just do a deep cleanse and slap some oil across your face. The two-hour nurturing detox comes with an array of modalities and newfound energy. Keep scrolling to learn more.
---
DRAIN
Before your treatment, Franco recommends drinking plenty of water. "You do not want to do this treatment when you're dehydrated," she says. "You won't sweat that well, and it's not doing you any good, because it burns up a lot of electrolytes."
Franco always starts the Head-to-Toe Glow with a full-body exfoliation utilizing a dry brush, which she gives to her clients to take home post-treatment. Then she applies her signature oil blend (a mix of castor oil, coconut oil, shea butter, and seaweed extract). The elixir is great for eczema and psoriasis, and acts as a dietetic to shed any water weight. After the oil application, Franco uses silicone cups to perform lymphatic drainage. "To empty out the lymph nodes, I do pumping actions," says Franco. "But it's not like the traditional Chinese medicine [methods]. You won't see any bruising or red marks."
DETOX
After the exfoliation and lymphatic drainage, Franco drapes you in an infrared heated body wrap for 50 minutes. "It's a far infrared deep heat. So it's not a light," she explains. "The deep heat is so good for people who have issues with their joints or pain. Essentially, it heats up to the point where you're sweating the entire time."
TIGHTEN
After you're swaddled and while wrapped up, Franco begins the facial. "You don't want to do needling or major peels while sweating because there's too much heat and energy going on in the body," she notes. "The heat from the body is opening up the pores nicely, so everything comes out really well." After cleansing, she evaluates the skin and does a few extractions, making sure you don't leave her studio with a slew of red spots where she withdrew any buildup. She follows the extractions with an enzyme peel to brighten the complexion and uses microcurrent to lift and tone.
MASSAGE
Fifty minutes later, Franco unwraps the infrared pack and has you hop in the shower and rinse off. After she has changed the sheets, you pop back onto her bed, and she finishes up the facial with a mask, leaving it on while you sit under an LED light for 20 minutes to soothe the skin.
To bring in some movement, Franco uses a buffer on the whole body to get the lymph moving. "It's super important after melting all the lipids not just to lie around," she says. "A brisk 20-minute walk would do it. But obviously I want to make it a comfortable and relaxing treatment. Then I finish off the front of the body with a massage using a green coffee bean cream."