We Tried It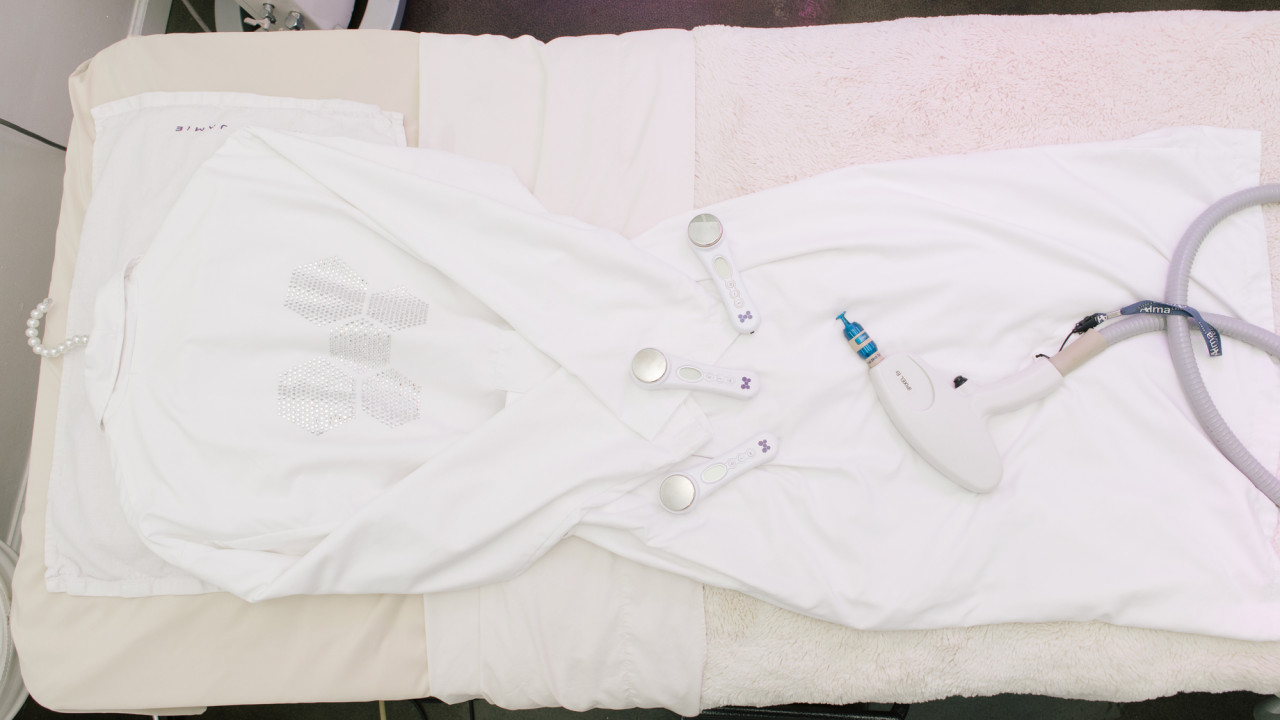 Lady Gaga's Facialist Sculpted My Cheekbones to Perfection
All the details on her pre-Met Gala skin-care treatment.
It's apparent to anyone who's paying attention that Lady Gaga has been crushing the red carpet lately. (Remember that 128-carat Tiffany diamond necklace she wore to the Oscars? Swoon.) Amazing fashion aside, though, it's her out-of-this-world beauty looks that always stand out, and a good chunk of that enviable glam can be attributed to her facialist, Joomee Song. Song has been working with the Grammy- and Oscar-winning artist since 2014, traveling all over the world with her. So imagine my joy when I found myself lying on her table yesterday, awaiting a treatment of my own. By god, if it's good enough for Gaga, it's good enough for me.
While Song usually works out of her newly opened Santa Monica studio, Face Works, she made the trip to NYC to see a few clients at TenOverTen and, of course, to treat Gaga before the Met Gala on Monday. Her technique, as I soon came to realize, is part of her signature KAIKA Facial Massage, rooted in promoting overall skin health through calming inflammation, activating your cells, and allowing your body to better repair itself.
To start, she gently cleansed my skin, explaining that while she often does a deep cleansing followed by extractions in L.A., this particular treatment would focus on brightening and reducing tension in the face. After a brief skin assessment, she singled out what areas needed the most attention—my eyes, which are generally dry and puffy, my right cheekbone, which is misaligned with the rest of my face (cue internal freak-out about bone deformities), and a lingering bit of tension in my jaw (despite the recent Botox). The massage began with medium pressure over a thin coat of oil for slip, loosening the fascia—the connective tissue beneath the skin that stabilizes your muscles—and promoting relaxation.
Next she placed two patches connected to a Japanese microcurrent machine on my upper arm, with another two patches attached to her shoulder. I could hardly tell once she turned everything on, but she explained that the current was flowing throughout my entire body, and that once she placed her hands on my skin, our connection activated another river of current, aka alternating current. "It's like sitting in a high-frequency chair," she said. I imagined the purple electricity of a Tesla coil zooming through my muscles, depuffing and lifting everything it touched. "He used one, and that's why he lived so long." (For the record, Nikola Tesla died at 86, a shockingly old age for someone born in 1856. I also wager that his skin looked incredible.)
But it was the massage itself that deserves the most recognition. Song combines an ancient form of Japanese deep facial massage to sculpt and brighten the skin with a chiropractic Shiatsu technique—that's where the realignment of the facial structure comes in. She explained that, because I hold more tension in my right shoulder (I'm a righty), it transferred to my neck and eventually pulled my cheekbone back, causing slight facial asymmetry. To correct it, she slowly slid her hands from joint to joint, stretching each of the surrounding muscles to increase blood flow. Better circulation means more oxygen, and more oxygen means reduced redness, detoxification, and a bright, glowing complexion. Exactly what you would want before walking the red carpet—or down Sixth Avenue, for the less famous among us.
Roughly 45 minutes later, the massage and microcurrent portion was complete. Song removed the patches from my arm and applied Cosmetics27 Essence 27 and Huile 27 to hydrate my skin, and CyberDERM Simply Zinc Ultra SPF 50 to protect it. A day later, and my face still feels remarkably soft and dewy, my jaw has released a week's worth of anxiety, and when I glance in the mirror, I notice that my cheekbones are carved to within an inch of their life. Essentially, I look as good as I feel, my ideal ending to a thoroughly relaxing facial. I suspect we'll see a similar level of glow-up—plus a touch more drama—from Lady Gaga when she glides down the red carpet on Monday.
Want more stories like this?
How to Use a Gua Sha Tool
The 36 Best Beauty Products That Launched in April
Everything You've Ever Wanted to Know about Tuning-Fork Facials