In the Kit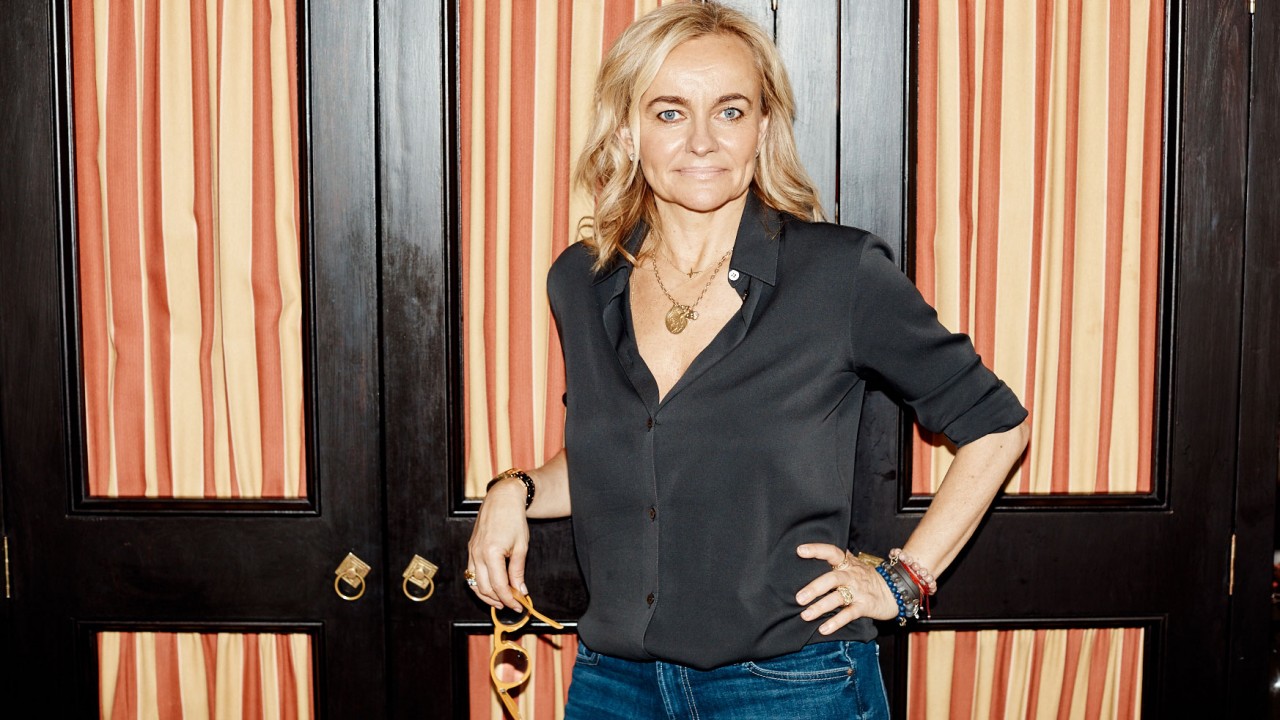 This Facialist Knows the Secret to Aging Gracefully
Joanna Czech is a master of the facial massage and a Biologique Recherche brand ambassador.
When you think of getting a facial, do you still imagine lying on a table in a dark room, listening to the sounds of a babbling brook and wind rustling through a bamboo forest while a hush-voiced esthetician does...things...to your skin? You've clearly never met Joanna Czech, a beauty industry veteran with an infectious and seemingly boundless energy who promises that it's only pop music playing inside her Texas-based spa. After greeting us at her Bowery Hotel room with a cheery smile and a quick horoscope check—she's an Aquarius through and through—it was hard to imagine she was at the end of a nine-day New York visit, prepping various clients for the Met Gala, among other things. To be clear, this is the woman behind Kim Cattrall's iconic skin-care adventures as Sex and the City's Samantha Jones, who counts both Uma Thurman and Christy Turlington Burns as longtime clients. In other words, she knows what she's talking about.
Czech laughs that while she moved to Dallas for her husband's job—"We're both in oils; I'm in essential, and he's in petroleum!"—she's a true New Yorker at heart. She often returns to the city for various work-related projects, gamely hauling the bulk of her equipment with her, and we couldn't resist taking a look inside her custom-made cases to see what products and tools made the cut. Although not every one of her cutting-edge machines can travel, we still found plenty of Biologique Recherche (she's one of only four national brand ambassadors!), La Mer, and the holy grail, Vintner's Daughter serum.
Aside from her knack for discovering the best of the best when it comes to skin care, it's Czech's zeal for customized beauty treatments and thorough knowledge of human physiology—we've never heard the term stratum corneum used so effortlessly—that make her one of the most impressive facialists we've had the pleasure to meet. Luckily, we picked her brain about everything from anti-aging and fillers to the biggest mistakes she sees her clients make every day with their skin.
How she got her start in the industry:
"I was born and raised in Poland until I was 25. Education was so important always—I think [it's] a cultural thing—so I applied for medical school. I did great with biology and chemistry, but physics was my weakness. Around the same time, there were tests to the beauty institute, because you don't just decide to go to beauty school and you go. At the end of school, we all had to write a paper, and mine was 117 pages about framing of your eyes, starting with Cleopatra. For two years I had a studio in Poland, and then I came [to New York]."
Her unlikely favorite tool for a facial:
"My hands! I'm into deep-tissue massage. It's so important. I started a series of 9-12 massages with seven minutes growing to nine, 14, and so on, increasing the amount so that your final massage is 45 minutes for the face, neck, and décolletage. Skin is just tight, bright, and amazing at the end of the series. I always put emphasis on the front, the biggest muscle of the face, because when this is stimulated and tightened, that automatically creates the lift. If you start playing with your cheeks, then nothing much happens. I love stimulating the frame, which is about an inch or two inches into your hairline, where your plastic surgeon would be cutting."
How she feels about fillers and cosmetic surgery:
"I notice an inconsistency. People are into gluten-free, people are in amazing shape—it's all fantastic, and they are so clean, so why would they put a neuron-paralyzing agent into their system? When you look at [their skin] under a microscope, the skin of someone who does Botox every three months, at least for five to eight years, there are basically micro-cuts underneath. The skin isn't falling apart because there are still collagen fibers and so on, but it's very weakened. Restylane and Juvaderm—at least they will go away. If you can't live without it, if you really think it's so important and it changes your life and you are happier, maybe do it every 18 months. Create the relaxation for three months, and then be alive for a little while. Try it. I've had it done three times. For me, it felt awful. I knew that I would never rush into [doing it every] three months because I have too big of an understanding. So, balance. When I'm at home, I'm gluten-free, but as soon as I'm on a plane, I have my first croissant."
The best way to approach anti-aging:
"Consistency in everything. Seventy percent of how we look and feel is what we put in our mouth. Thirty percent is everything else. Facial massages, workouts, body massages—taking care of your face as equally as the body. The skin is the largest organ. Twenty-five percent of your immune system is within the skin, 60 to 70 percent within the digestive system, and we only have 5-10 percent left in your lymph nodes. If your skin is unbalanced, you will have rashes, so it's very important to take care of this organ."
Her absolute favorite product:
"[Biologique Recherche] Lotion P50. It's a micro-exfoliator—it controls the pH of the skin. It's sort of like taking a probiotic on a daily basis for the digestive system—it's the same idea. If the pH of your skin is 5.5, slightly acidic, you won't have a breakout, and you won't have dehydrated patches. Your skin will be calm and have the most even tone. If you fly, if you ate something different, when you apply it, that's your barometer—it stings one day, and the other maybe not. If it stings, that means the pH is probably a little bit off."
On the best in-flight skin-care routine:
"I make an idiot out of myself on the plane with masks. I've been doing a lot of La Mer hydrating masks towards the end. When I know it's an international flight and I have two hours until landing, I start my routine. I'm going to brush my teeth, and I wake up and wash my face. I occupy the bathroom—they hate me. [laughs] I travel all over, so I need to have my mists always. One of them is Biologique L'Eauxygénante, the traveling size, and it's full of vitamins. I do, of course, my P50, and then I do my serums. If I don't have anything else, it's going to be Vintner's Daughter [serum]. It's really amazing."
What she brings to treat clients on the road:
"[When I travel,] everything comes with me. I work with the Biologique line. I work with Environ skin-care line. And Meder Beauty, a Swiss line. I travel with the [Meder] mask, because it has the hoops for your ears, so you can be walking with it—you don't have to lay down. This suitcase was built to carry a form of the LED Microcurrent and Ultrasound machine with Diamond Peel. There is an Ultrasound Water Peel, and there is an Oxygen Infusion. We found a company that builds professional cases for photographers, and they created one for us. Then [another suitcase] with all the products."
The biggest skin-care mistakes we all make:
"Doing what your girlfriend does. Two skins are never the same. Word of mouth is important—going to the same esthetician, to the same doctor—but not necessarily begging for the same treatment. Allow a professional to decide what's good for you. Another mistake is forgetting about your neck and décolletage and hands during skin care. We have so much environmental exposure; that's why it's important to protect and treat [them]. Also, over-exfoliating, over-treating your skin with anything—with chemical peels, with lasers, with twice-a-day Clarisonics, or with scrubs. I would say those are the three major things."