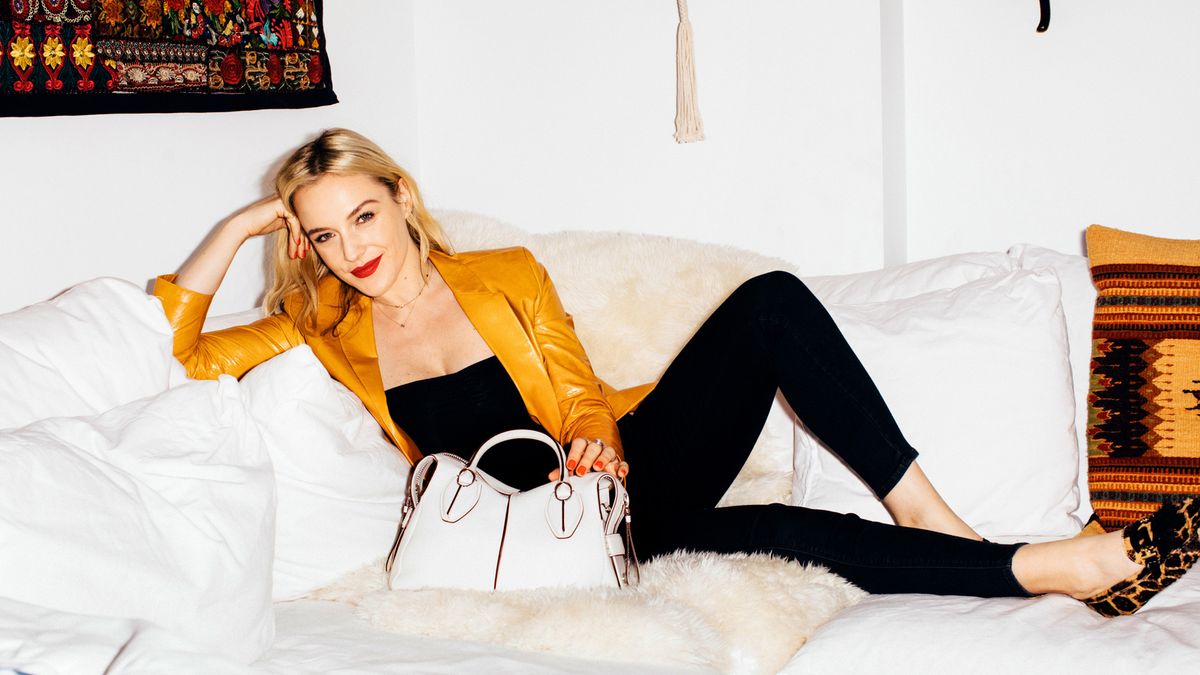 Fashion
Plus, everything you'll find inside her bag, from breast milk pumps and the best natural fragrance to mini meditations. In collaboration with Tod's.
If you and your friends having to bail on drinks for the 590th time doesn't indicate it, the modern woman is
bu-sy
.We all accomplish a dizzying, dazzling number of things in one day, and the very best way to set one's self up for success is, naturally, to be prepared. Of course, we like to interpret that maxim liberally—which can translate into backups for our backups and the occasional oddity (what, you've never needed a pizza cutter on the fly?), all in the trusty catchall that takes us from morning to midnight. We're not kidding when we say our lives are inside our bags.As for the bag of choice that's found a permanent spot in the crook of our arms? Tod's D-Styling bag—architectural but understated, in the softest Italian leather imaginable. Here, where and how two of the busiest women we know (like chef Stephanie Nass) carry theirs.
Sakara Life
's
Danielle DuBoise
is exactly as we'd imagined. And if you're familiar with the wellness brand at all—even if it's just through their high-vibe Instagram presence—you'll know exactly what we mean. The food may be plant-based and immaculately styled, but their plans accommodate—insist on, even—the idea that you can actually
live
while eating Sakara, too. Margaritas, dark chocolate, all of it. By which we mean that, in person, DuBoise is every part the perfect poster girl for the approach she spearheaded alongside co-founder and co-CEO Whitney Tingle.
Picture this: Her Chinatown apartment is all sun-drenched white walls studded with leafy green plants and woven textiles that belie her Southwestern upbringing. She greets us in the middle of expertly applying a red lipstick, her adorable pup at her feet, with new baby Star cooing as she wakes up from a nap in the other room. That's not to say DuBoise is unrelatable—she keeps it incredibly real about her experiences with entrepreneurship and running a company as a first-time founder, too. As for how she does it all? Whether she's developing recipes or flying back and forth from L.A. as the brand expands, it all comes down to a handful of daily essentials toted around in her trusty D-Styling bag. From diapers to mini meditations, here's what you'd find inside (and why).
---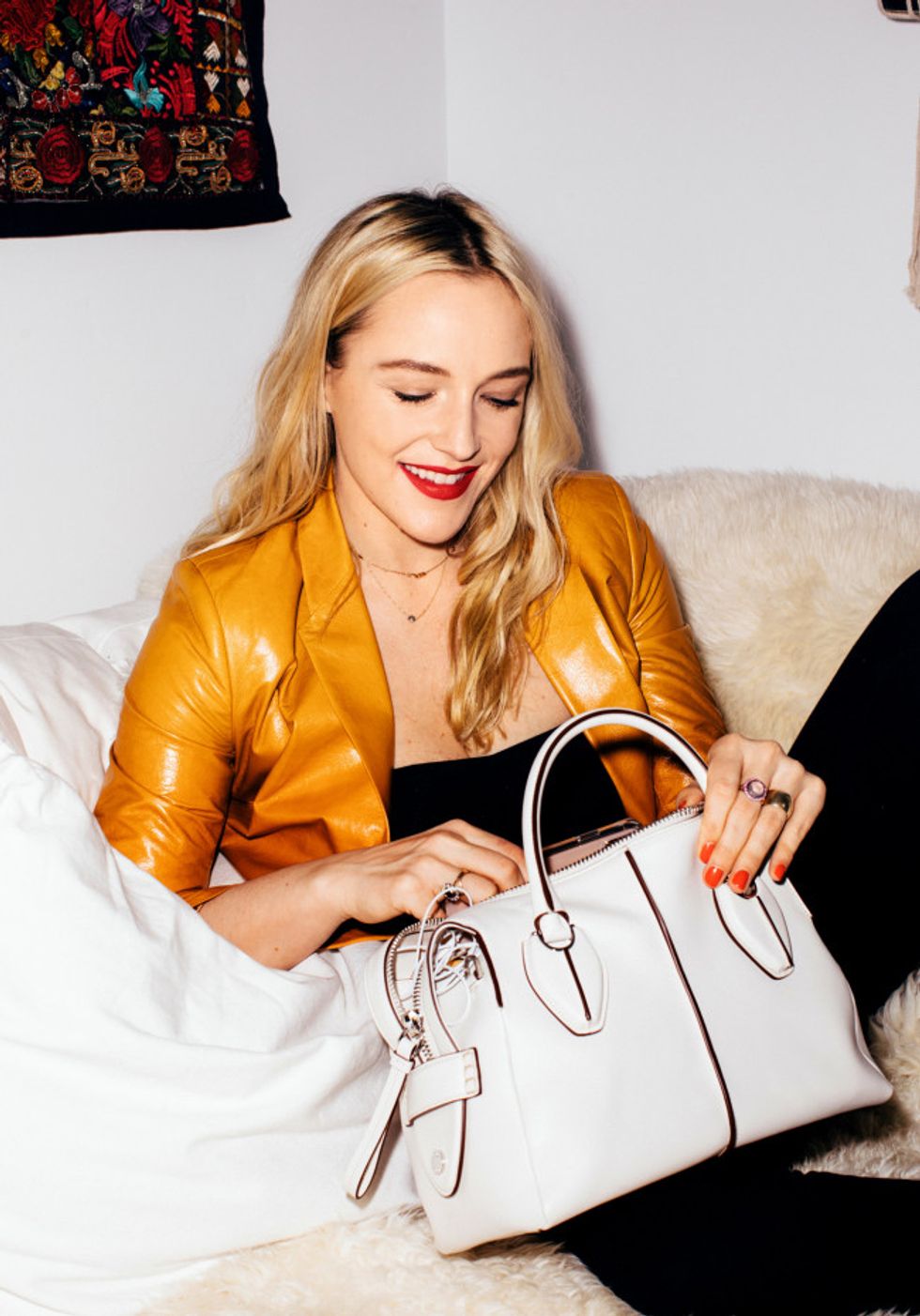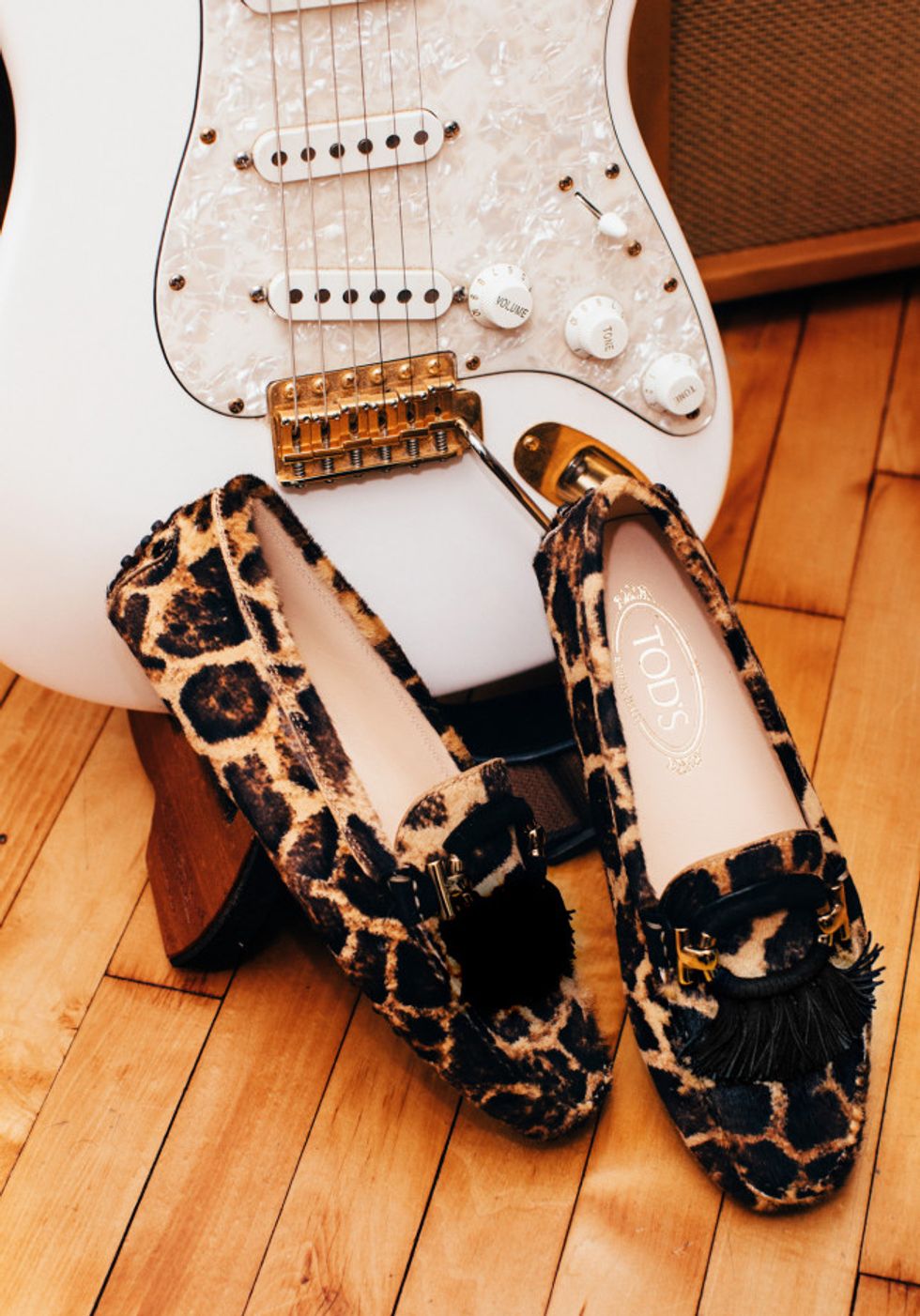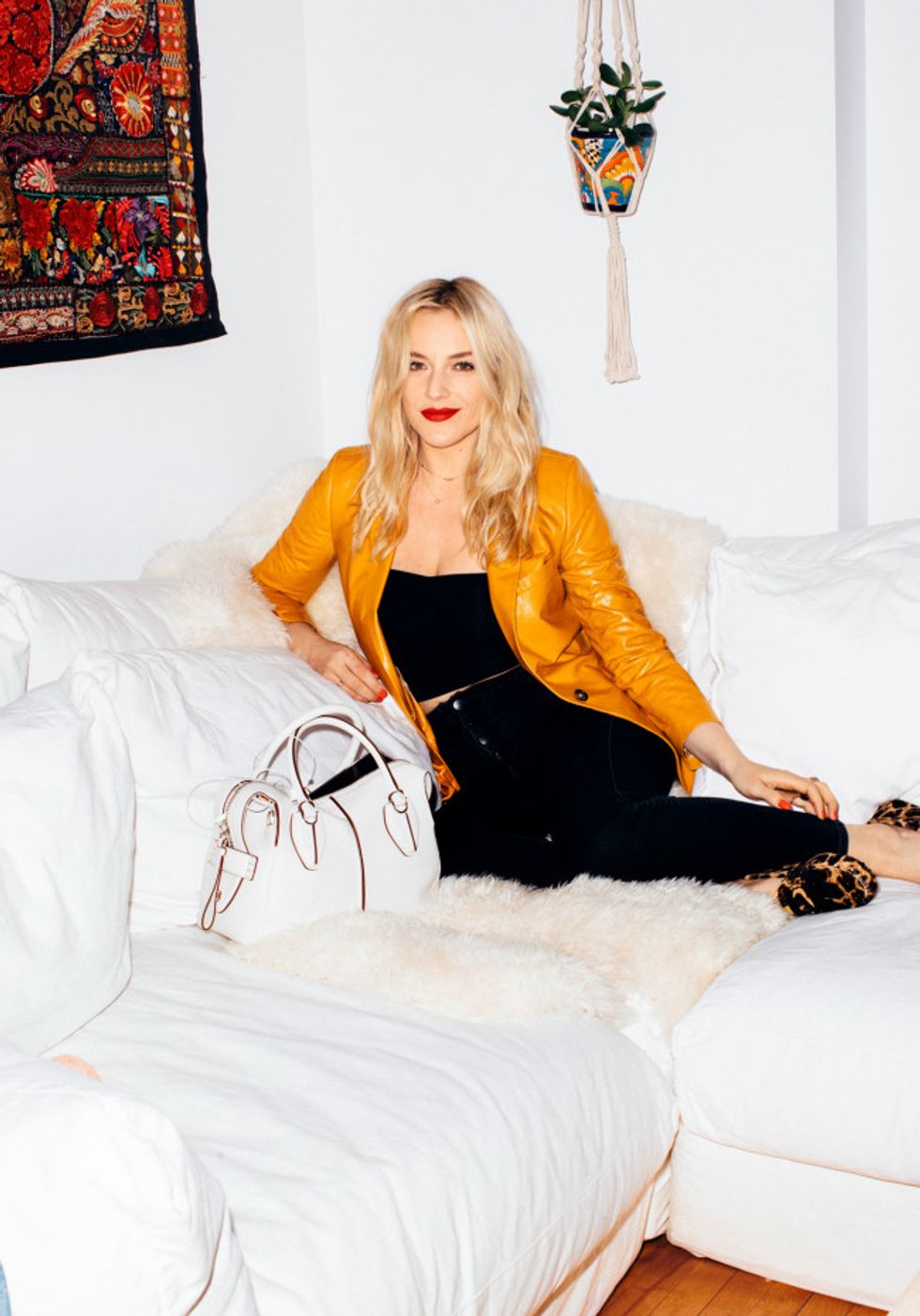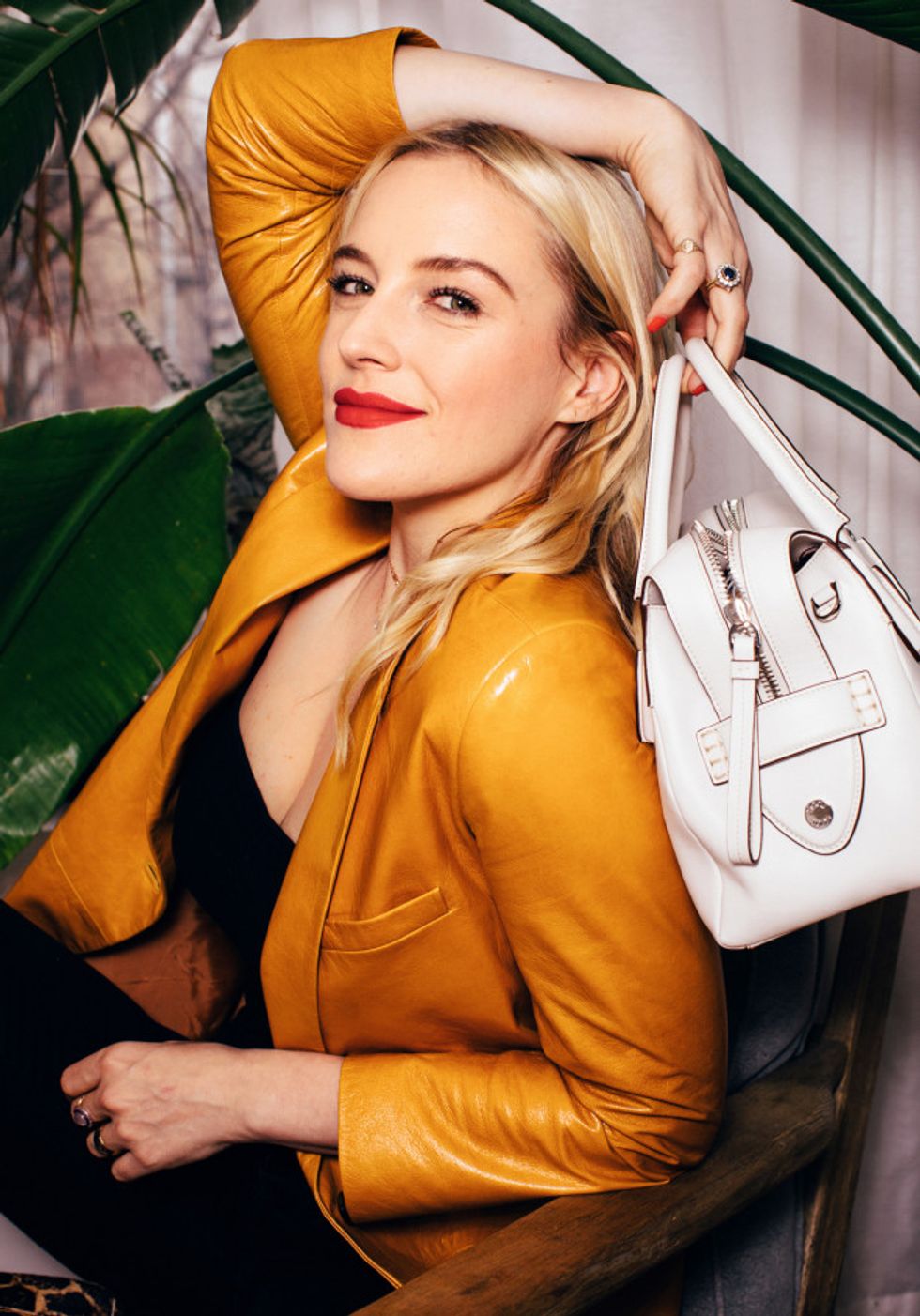 HOW SHE FIRST CAME TO STUDY NUTRITION:

"I came to New York City working with a cardiologist, seeing patients with lifestyle diseases—diabetes, heart disease—and realized that after five years of training, I had never taken a nutrition course. After all my training, I couldn't help myself, either. I had been on my own journey battling body image issues—at that point, I had probably been on a diet every single day of my life since the age of nine. That's when I decided to study nutrition and eat in a way to create a body that I would feel really good in—in a way that was really empowered and energized, but also never made me feel like I was on a diet."

HOW SAKARA LIFE FIRST GOT ITS START:

"Whitney and I created Sakara not as a business, but as a solution to our own needs. We both hit rock bottom. Whitney was working crazy hours on Wall Street and dealing with really bad cystic acne. We had our own transformations after only a couple weeks of eating this way and realized it was too big to keep to ourselves.

"I always tell people wanting to start their own businesses to solve the problem in front of you. When we started, it was really like, 'OK, if we can change one other life, then that's success.' I think people now are scared to start with one client. They want to see a success from day one. What worked for us [was] to really understand our business and create a sustainable model."

ONE OF THE HARDEST LESSONS SHE'S LEARNED AS AN ENTREPRENEUR:

"I feel like I'm learning something new every day. One of the scariest lessons was hiring our first assistant. We weren't paying ourselves yet at the time, and so the being responsible for someone's livelihood felt really scary. But it made us professionalize and allowed Whitney to not have to do everything ourselves and actually grow the business. You can't sail without help. Even though it's scary, I tell people, hire before you are comfortable, because it will force you to grow."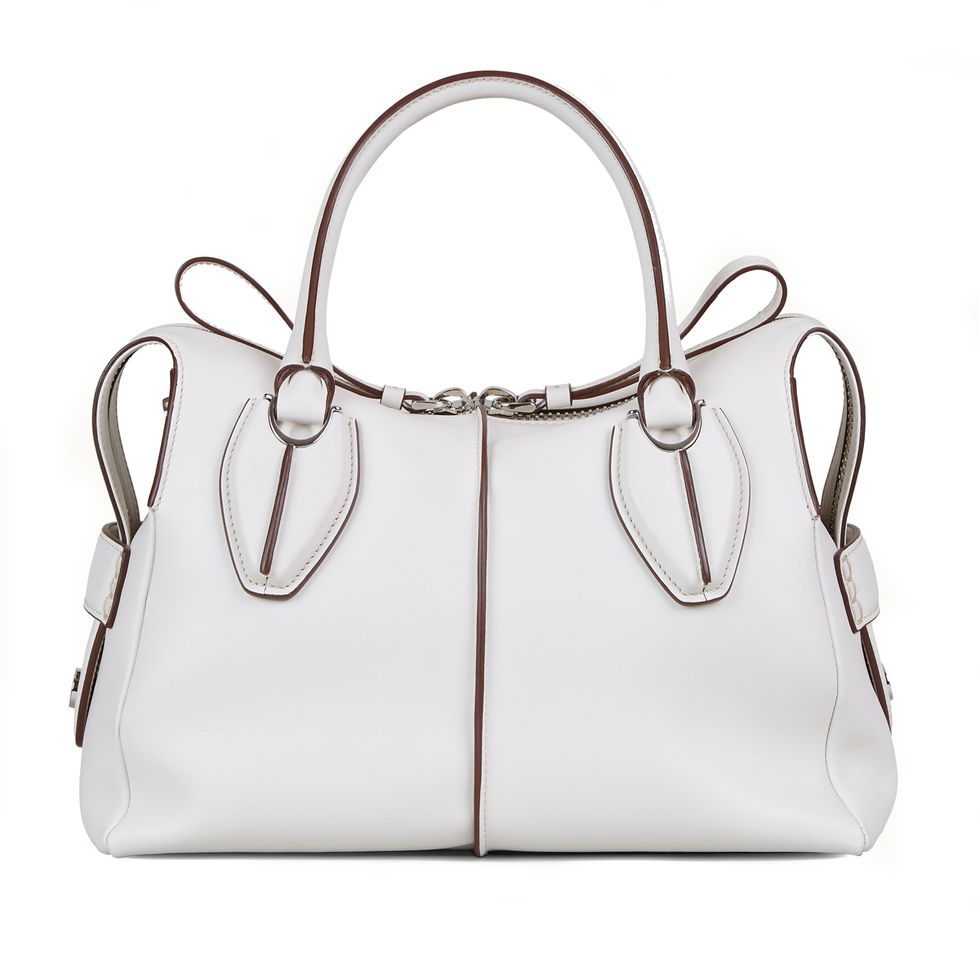 Tod's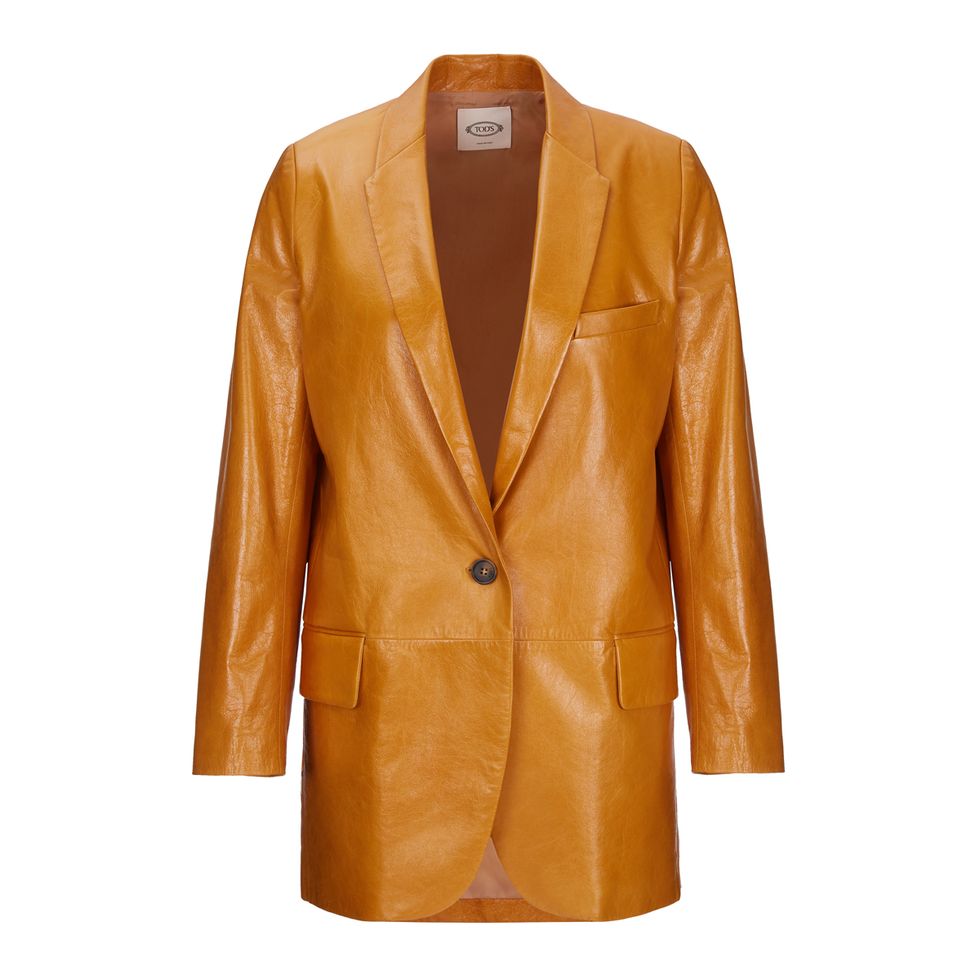 Tod's
"I like to call [the inside of my bag] a creative mess."
ON HER ANTI-MORNING ROUTINE:

"I actually try not to set expectations for myself. When I say 'This is my morning ritual and I have to do this,' on the day that I don't, I feel off. If I get out of the house and to work on time, feeling good and not rushing, then that's success. If I work out beforehand or grab a cup of coffee, those are bonuses. Putting pressure on ourselves to do all of these things stresses me out quickly, so now when I try to set up my day, I make sure none of the things I'm adding to my plate stresses me out. One thing that I do every morning is have my husband and my dog walk me to work."

WHAT AN AVERAGE DAY AT SAKARA MIGHT LOOK LIKE:

"We work on everything that has to do with Sakara products and innovation, making sure that everything you see that is Sakara out in the world is through us first and represents Sakara core values. Which is a lot! We also have an incredible team. We really focus on the menu and everything that goes into our meals. We're also really the only ones on the team focused on growing out in the world and speaking about Sakara itself. I had a photo shoot this morning, I did an interview for a podcast. And then we also focus on the menu and everything that goes into the meals."

WHAT YOU'LL FIND INSIDE HER TOD'S BAG:

"I'll usually have a tinted moisturizer. I don't really wear makeup, so that's kind of all I wear. And then Vintner's Daughter just came out with an essence that I love. I always carry around perfume by Douglas Little, the master of fragrances. He does all-natural essential oils, nothing synthetic, which is incredibly rare. There's one by Heretic called Dirty Lemon that I'm obsessed with.

"I always have the Sakara Beauty Water drops. I always have Honest diapers now, which is really exciting. [laughs] I always have wipes, lavender and orange oils, some Kosas tinted lip moisturizer. I have a book by Ashley Neese, How to Breathe: 25 Simple Practices for Calm, Joy and Resilience, tucked in my bag for the past week. She is an amazing meditation and breath coach in L.A. She has random little practices that you can do that are really easy, and I'll just open it up anywhere."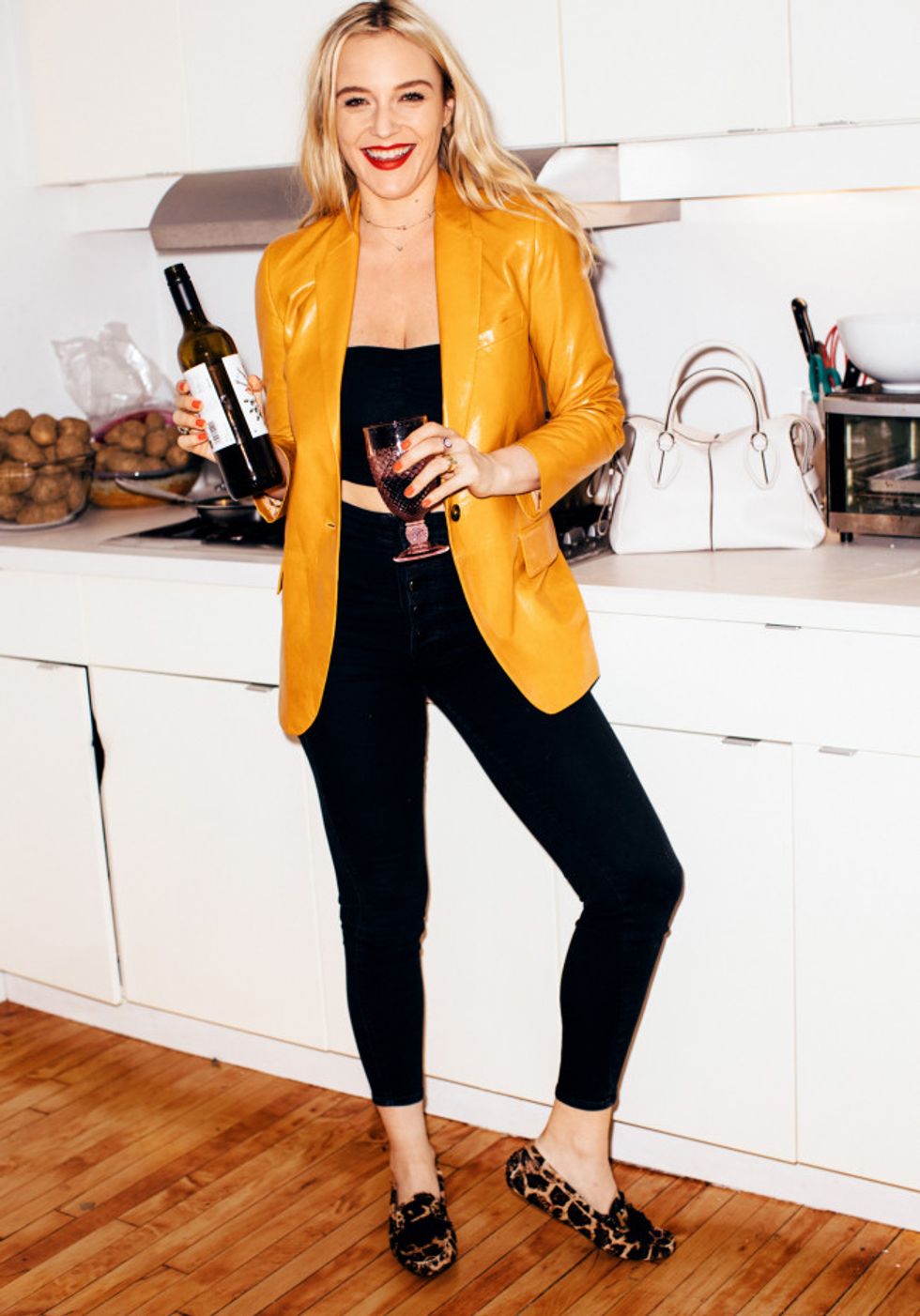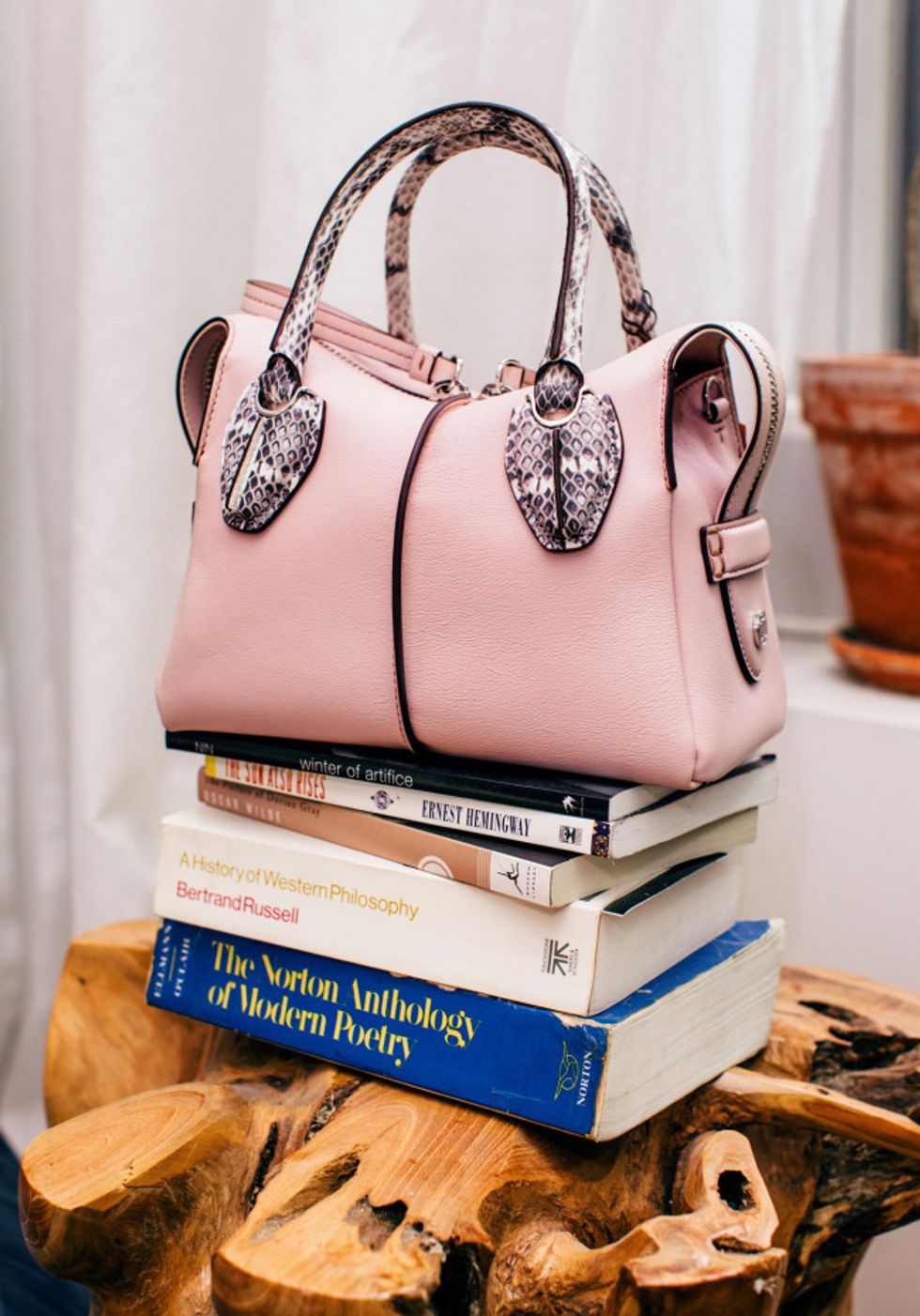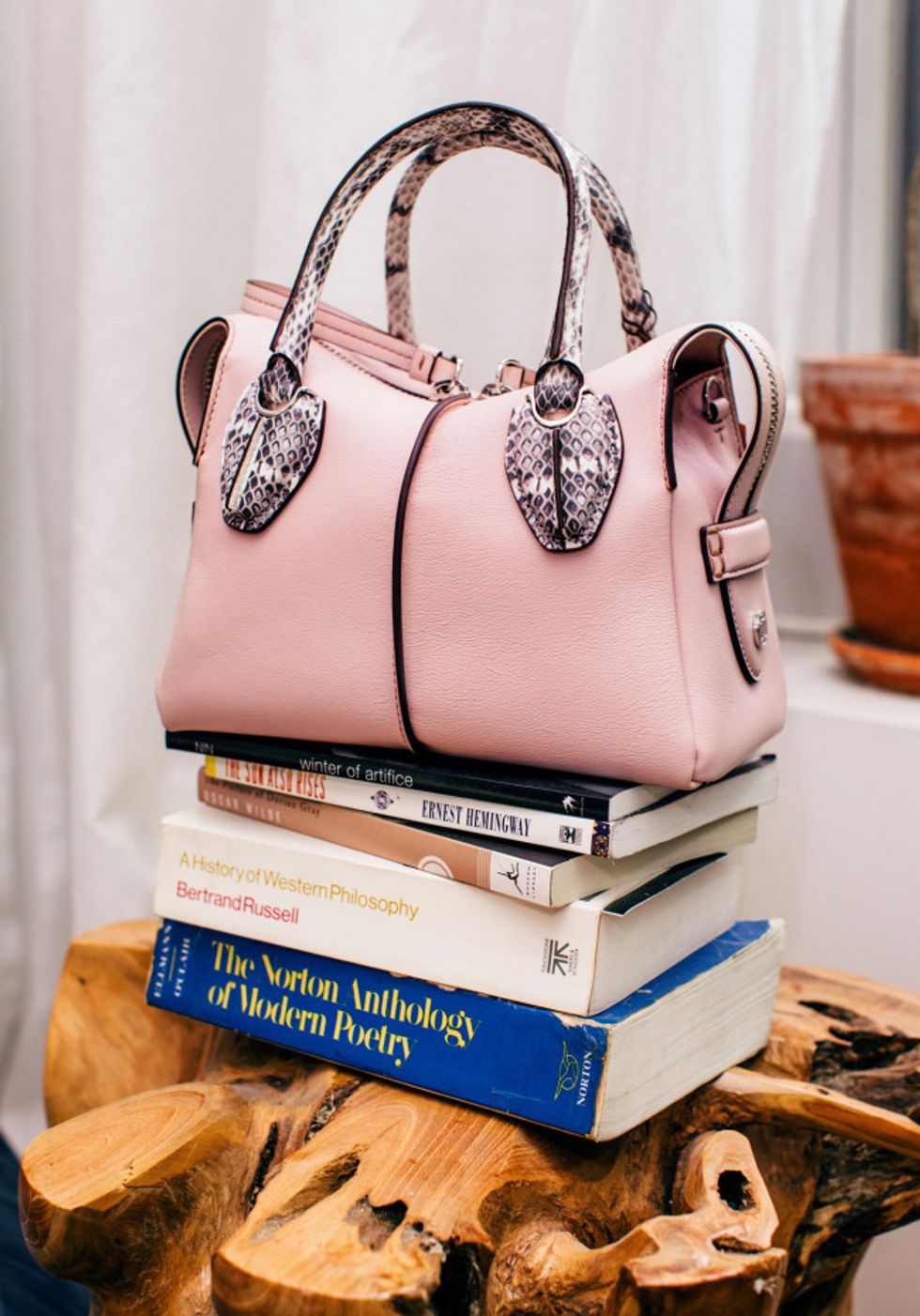 ON HOW SHE KEEPS HER BAG ORGANIZED:

"Yeah, no. I like to call it [a] creative mess. [laughs]"

THE MOST UNEXPECTED ITEM IN HER BAG:

"I sometimes have a breast milk pump in there. And my probiotics, so I don't forget to take them!"

HER IDEA OF THE TOD'S WOMAN:

"I've always thought of Tod's as very classic New York. It's not downtown…but it can be! Kind of Upper East Side, but with a downtown twist."

HER PERSONAL STYLE:

"I love Old Hollywood glam meets vintage 1960s. I'm always wearing a New York City black boot that I can stomp around in all day. I'm usually in something vintage or high-waisted with a crop top. So much that our chef got Whitney and I chef coats that are cropped short."

THE RELATIONSHIP BETWEEN FOOD AND FASHION:

"There definitely is one, especially with our brand. I feel like people used to think food was just there for energy, but just like fashion, it's there to inspire and to make you feel really good. More and more people are understanding that, just like fashion, the more you know where your food is coming from and really invest in your plate—not just the fast-fashion version of food—the better off you will be."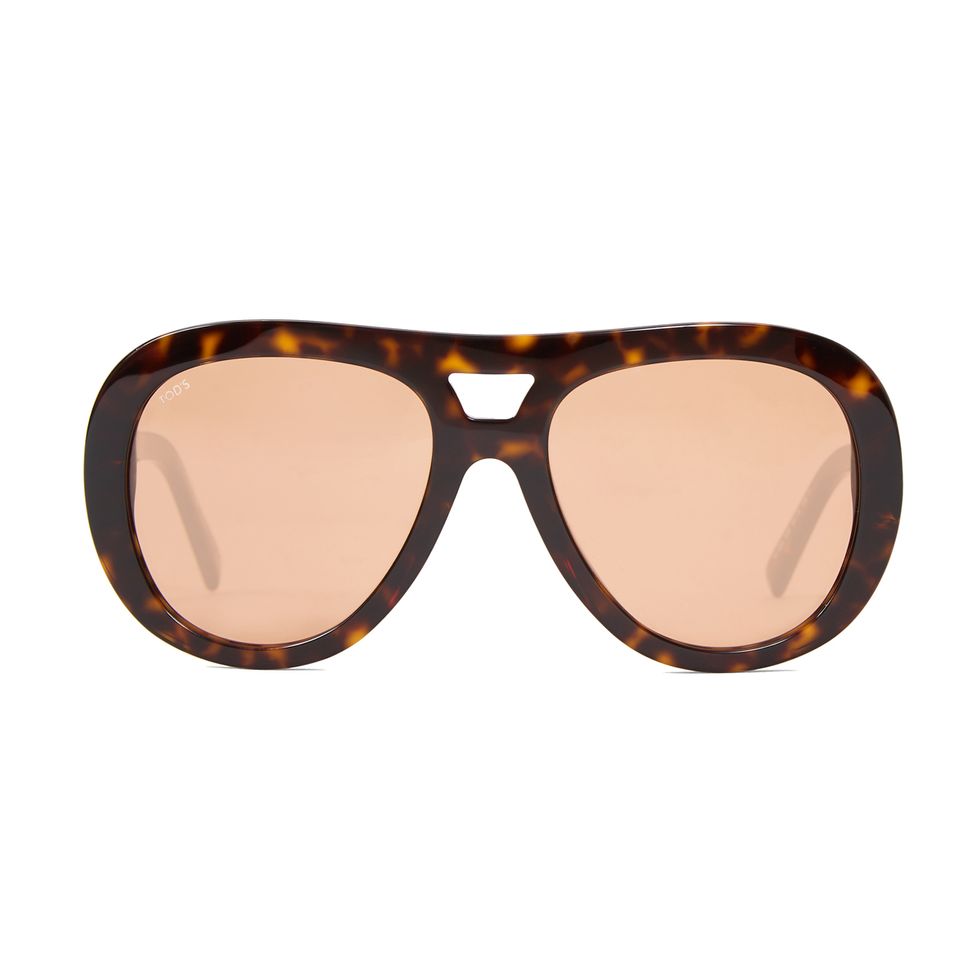 Tod's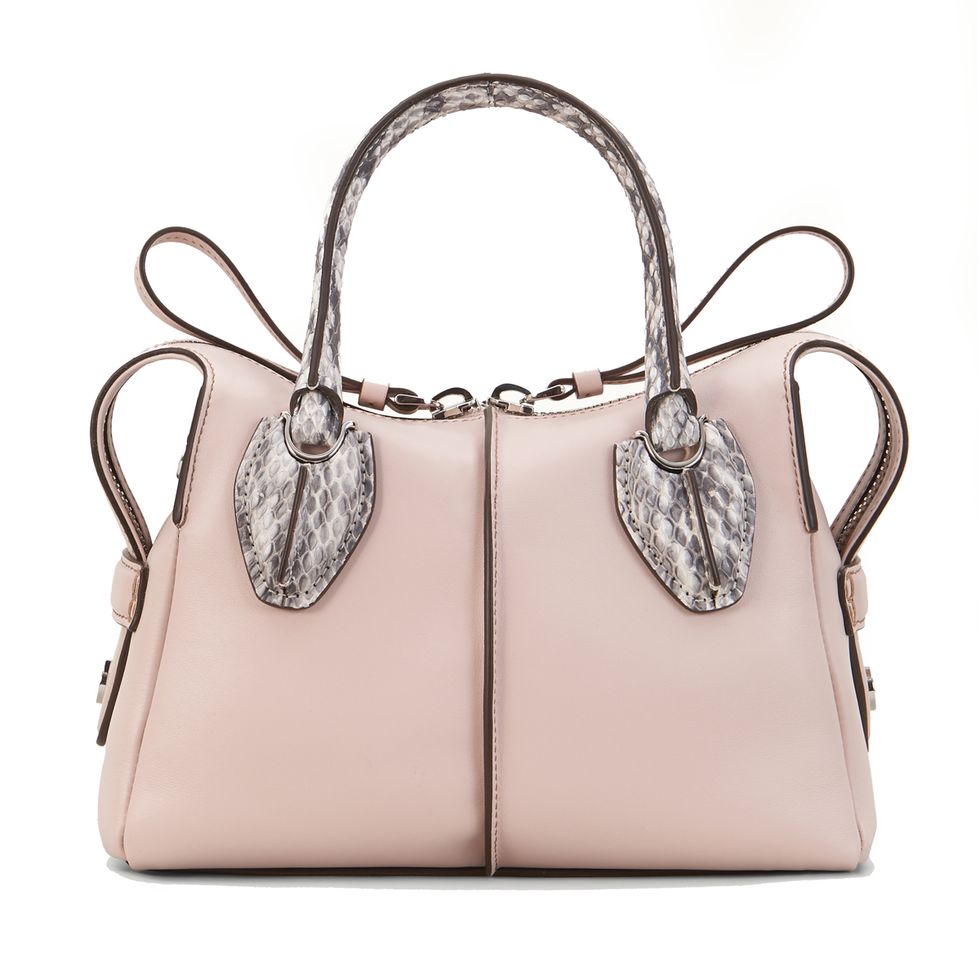 Tod's