Wedding Week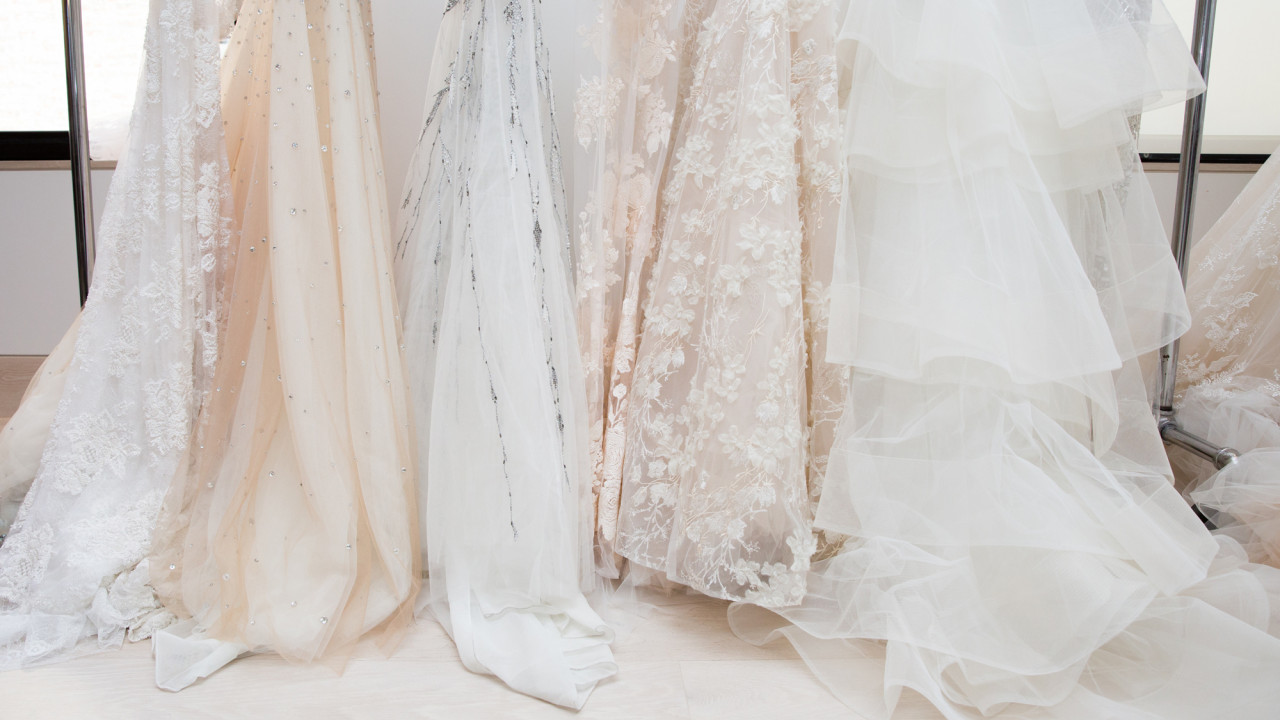 Everyone Thought I Would Have the Bride Gene, But I Don't—and That's OK
It's your day, your way.
One day, when my twin sister and I were in high school, we were chatting with our English teacher about her upcoming wedding, and she revealed that she'd chosen her dress—a stunning Valentino number. I was planning on pursuing a career in the fashion industry, and she correctly assumed I'd want to chat about it. I craved every last lacy detail, but when she offhandedly mentioned that I would likely be a high-maintenance—and expensive—bride, I was surprised. My sister laughed. I was particular about what I wore, sure (I would spend months looking for the perfect swimsuit), but I didn't need an overflowing closet to be happy. Even now, years later, I still can't seem to shake my teacher's image of me as a picky, difficult fashion person.
Case in point: When I first got engaged, everyone assumed I would love wedding planning. A friend mentioned she worried I would stress myself out trying to make the day perfect. But I knew I could never plan or afford one of those weddings you see splashed all over Instagram. Acknowledging that fact was freeing. All I wanted was for my loved ones to have a good time. I was ready to go with the flow.
We also got engaged two months after I quit my full-time job to launch a freelance writing career. The timing felt perfect. I'd convinced myself I would have ample time on my hands to wedding-plan, since I thought I wouldn't find enough work to fill the days. I was beyond wrong. Less than a year after leaving my last job, I'm in the most thrilling stage of my career. I'm busier than I've ever been, but also the happiest. I don't want to scale back on my work so I can plan a wedding, especially a "traditional" one.
My fiancé and I wanted to find a special way that works for us to celebrate this day. For many people, that means a big wedding full of dancing and a much-appreciated open bar. However, we can both be very private people and each had our doubts about many of the traditions our family and friends expected us to partake in. Frankly, we couldn't fathom saying our vows in front of a hundred people. The anxiety was mounting.
My parents generously offered to cover the costs of our wedding, which racked my fiancé and I with guilt. When the time came to book a venue, I just couldn't bring myself to do it. Even with an under-100-person guest list, getting married on a weekday, and skimping wherever possible, we were spending at least $20,000. Some will view that cost as an inexpensive wedding. To others, it's an unimaginable amount. For us, it just felt wrong.
I had a few days to make a decision or risk losing our venue options. After a night of hysterically screaming at my fiancé that I was a "chill bride," I knew planning a traditional wedding was not worth it for us. After I told my parents that I no longer wanted a big ceremony, I slept through the night for the first time in a week. We've since decided to plan an intimate elopement with close family and friends instead. It just feels more like us.
You know that infamous episode of Sex and the City where Carrie breaks out in hives while trying on a wedding dress? When I first watched that, I couldn't relate to her, but now I get it. You can love fashion but not love wedding planning. The two don't necessarily go hand in hand, no matter what anyone assumes about you. I don't have the bride gene, and I'm OK with that. The day will be special no matter what it looks like, and that's all that matters.
Want more stories like this?
A Fool-Proof Guide to Beautiful, Timeless Bridal Makeup
Inside One of NYC's Most Luxurious Bridal Salons
31 Dreamy Wedding Dresses You Can Buy Online