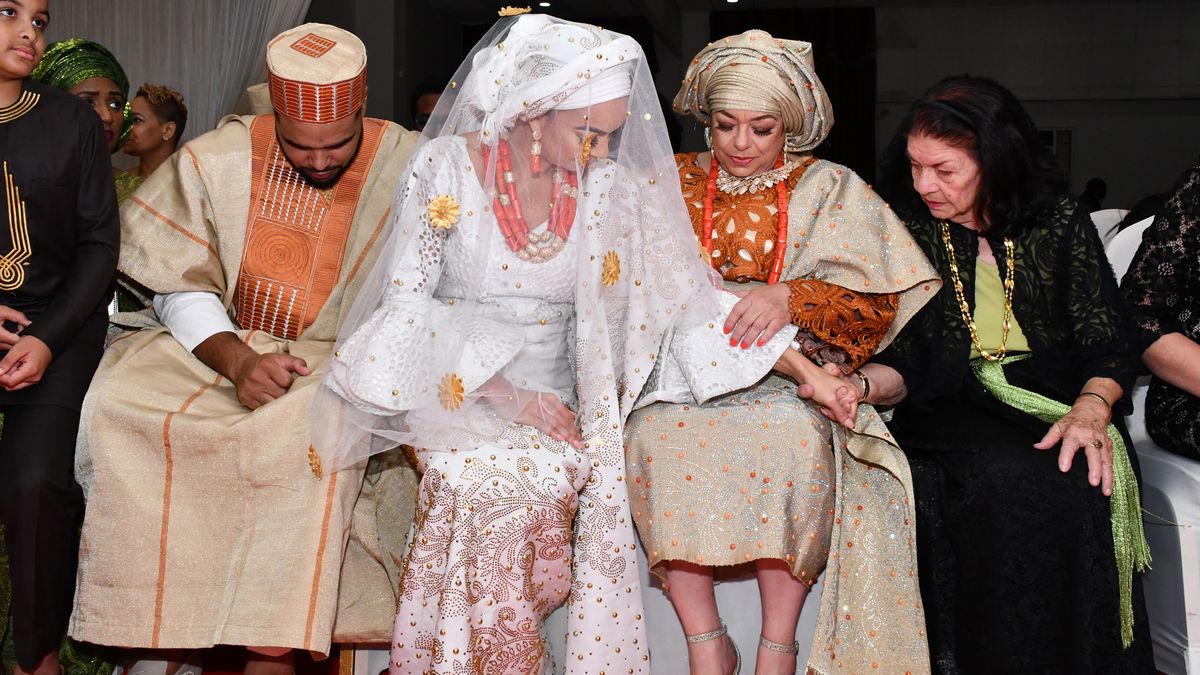 Weddings
A Bride Who Had 2 Weddings to Celebrate Her Husband's Heritage
The newlyweds also left with $20,000 in cash.
In the grand scheme of wedding traditions, typical American weddings aren
'
t all that over-the-top. Have you ever been to a 
Latin wedding
, where they dance until their feet are sore and ditch the bouquet toss in favor of pulling ribbons out of a cake? And don't be alarmed when attending a typical 
Russian wedding
, where the bride and groom smash the crystal glasses gifted by the newlyweds
'
parents to pieces. So what happens when you
'
re American and your fiancé is from another country? Do you have a more traditional wedding with American customs, or blend the two cultures? For blogger and author 
Courtney Brand
, it was important to have two ceremonies—one celebrating her American traditions, and the other celebrating her husband Nate
'
s, who happens to be first-generation Nigerian.
We got a chance to speak with Brand about the importance of highlighting the customs of both her family and her husband's, as well as what it meant to completely submerge herself and her guests in her husband's culture, and how to prepare for a Nigerian wedding (hint: it involves being sprayed with money). 
---
Why was it important to have two weddings?
"Nate was raised in a traditional Nigerian household, and tradition is incredibly important to them. Shortly after we got engaged, his mom began giving us a little push to decide on a date for the traditional [ceremony,] since so many [family members] were going to want to celebrate us. Typically most couples will have their traditional Nigerian wedding the Thursday before their American wedding, or what they call their "white wedding," since the bride wears a white dress. We decided to have our weddings months apart, with our Nigerian wedding being in December and our American the following March. With about 900 guests at our Nigerian wedding, we used that as an opportunity to extend an invitation to everyone we'd ever known to celebrate with us."
What is the proper attire for a bride and groom at a Nigerian wedding?
One of the most beautiful parts of the traditional Nigerian wedding is that brides get to choose from so many stunning and elaborate colors and fabrics. The bride wears an
aso oke
 in the color of her choice, which is a thick fabric that is typically detailed in design and beading. The pieces consist of
iro
and
buba,
 which is a top with sleeves that broaden at the wrist, and an ankle-length wrap skirt. I chose white and gold to still maintain a bridal feel. The groom wears a
buba
, which is a matching pant and top, and he is covered in an
agbada
, which is similar to an oversize robe with open sleeves. His look is topped off with a
fila
, a hat specific to Yoruba attire. The female guests wear
aso ebi
s, which are just as elaborate in detail.
What were some differences between your traditional American wedding and traditional Nigerian wedding?
"Realistically, everything is different between the two! Essentially, the Nigerian ceremony is a traditional engagement. It goes back to being in Nigeria, where the couple would bring their two families together—often from two different villages—to meet one another and approve of their engagement so that they could be married. During the ceremony, the groom will beg, literally on the ground, for the bride's hand in marriage, where the bride
'
s family is typically gifted heavily in exchange for their daughter. The bride is the prize, and the groom must prove that he will love her and take great care of her before her family gives her up. In the end, the two families become one, and you dance the night away in celebration."
What is money spraying, & why is it so important to the Nigerian culture?
"Money spraying is a gesture used in Nigerian culture to show your happiness for someone. It is done at baby showers, graduations, weddings, and even celebrations of death. It's similar to showering your loved ones with blessings. Guests come to weddings with as little as $20 and as much as several thousand. Spraying is all dependent on what you
'
re comfortable giving, so no pressure. The more you dance, the more money you tend to make. There was easily about $20,000 circulated in dollar bills the night of our traditional [ceremony]."
What was the most special moment about your Nigerian ceremony?
"Having my Mexican grandmother there. She had just had a mastectomy only three weeks prior, and it was truly a blessing to have her experience that with me. Before sending me over to Nate's family to be accepted, she grabbed my hand and insisted that we pray. That is a moment that will stay stamped in my mind forever."
Photos: Courtesy of Courtney Brand
Want more stories like this?
6 Nigerian Creatives Fueling AfroModernism
When Fashion Editors Get Married
Welcome to Wedding Week