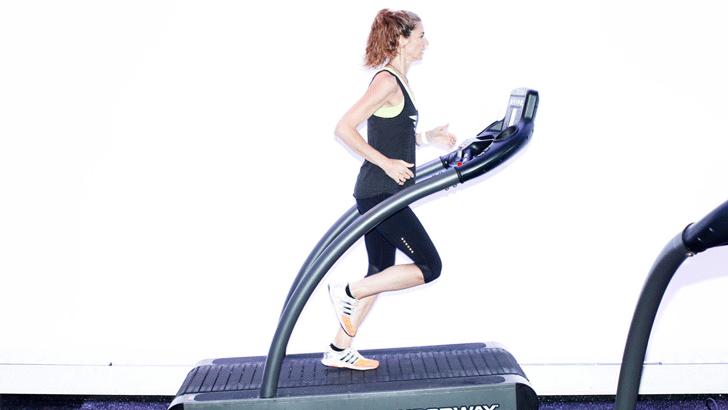 Fitness
The new-era devices do pretty much everything except make you put one foot in front of the other.
For years, exercisers have viewed treadmill running as a specific kind of torture—one that pays off in terms of fitness but feels like a total slog. They're not so far off: "It's been well ­reported that the tread­mill originated as a punishment tool for prisoners in England in the 19th century," says Colleen Logan, the vice president of marketing for ICON Health & Fitness, which owns the treadmill brand NordicTrack. Yep, the treadmill was an
actual
torture device. And it still has that bad rap, mostly thanks to the boredom people associate with running in place.
"Traditionally, treadmills have taken the fun out of running, making time stand still," says Rich Velazquez, COO and Coach at Mile High Run Club. "Throw in the fact that you're not really going anywhere, and you have a perfectly unmotivating environment." And yet—research shows that treadmills have the best combination of highest calories burned with the lowest RPE rate of perceived exertion according to
a study published
in the
Journal of American Medical Association
.
Luckily, as technology has advanced and fitness has become more and more personalized, the treadmills themselves have become more exciting, and the way people think about treadmills has changed. Today treadmills are—dare we say it?—
cool
.
Treadmill workouts
were the single fastest-growing category of workouts in 2018,
according to ClassPass
, the fitness class booking app; they found that there was an 82 percent increase in classes that incorporated treadmills over 2017. They're also the most popular single piece of fitness equipment, with 55 percent of all home fitness sales, according to Logan. (FWIW: Stationary bikes are a distant second at 10 percent.)
So what exactly brought about the treadmill renaissance? First and foremost, treadmills
feel
better (aka less torturous). "There are less springs under the treadmill belt, which is safer for your joints, and rubber slats versus a thin belt encourage proper muscle recruitment and a softer landing," explains Velazquez. For example, the $3,995 Peloton Tread, which debuted in 2018, has 59 individual shock-absorbing slats to lessen impact, and certain NordicTrack models feature adjustable cushioning that allows runners to alternate between softer and firmer decks depending on personal preference.
This new generation of treads is also inherently more engaging, with live classes, direct connections to trainers, and simulated courses that are a hell of a lot more exciting to look at than the gym wall.
Peloton boasts a 32-inch HD touchscreen to immerse runners in a studio experience even when they're at home. The company streams up to eight live classes every day from the Tread studio, and there's a library of more than 11,000 on-demand classes ranging from 10 to 60 minutes long and covering hill runs, fun runs, interval runs, and fastest miles, says Master Tread instructor Rebecca Kennedy. "Our content is really what makes the treadmill an incredibly appealing way to start and continue exercising, because it's always new, fresh, and exactly what you're looking for, no matter the day or time," she says.
---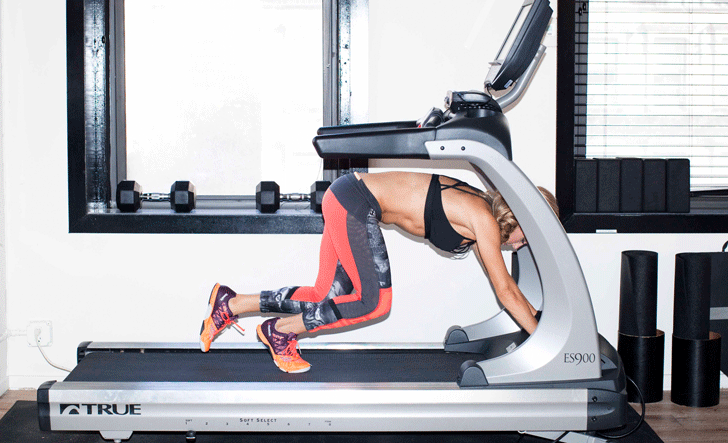 Meanwhile, Technogym's SKILLRUN treadmill, which debuted at the end of 2017, incorporates interactive technology that tracks and monitors your performance (including cadence, step length, ground contact time, and more) and provides real-time feedback to help you improve. "It's the only treadmill on the market that can make runners more efficient, which reduces the chance of injury from running," says Marco Zambianchi, the president of Technogym North America.
NordicTrack treadmills—which have been on the market since the mid-90s—can now incline up to 40 percent and decline down to 6 percent, allowing runners to vary their workout intensity and challenge their cardio without needing to run faster, says Logan. And all their treadmills come with iFit streaming capabilities, which gives users access to a library of 15,000-plus workouts, many filmed on location around the world (fancy a run in Bora Bora?). Plus, "iFit allows the trainer to control the speed and incline of your treadmill remotely," says Logan. "The treadmill automatically adjusts incline to mimic the terrain shown in the streaming workout. It's a 'hands-free' experience."
For those who
still
can't stomach the idea of running solo at home, that same level of personalization extends from your at-home cardio equipment to the IRL experience of running indoors with other people, at studios that use the same kind of high-end devices.
In early 2019, Equinox announced its first standalone studio devoted solely to its signature Precision Run program. The studio, which will be based in New York City and is set to open in spring 2019, will feature Precision Run's signature 50­-minute format and custom Woodway-­made treadmills. There's also
Mile High Run Club
in New York,
Stride
in Los Angeles,
Runn
in Chicago,
RacePace
in Houston, and
MyStryde
in Boston.
But what's bringing people to brick-and-mortar studios isn't just the prohibitive price of high-end equipment, but the community vibes of exercising outside your home. "Very few people will do the type of running they do in a class on their own," says David Siik, the creative director of Precision Run. While you can get coaching through a screen at home, "running in packs is a powerful motivator. It's deeply personal and yet electrifying to feel other runners' energy at the same time."
Treadmill companies are even striving to recreate that community through their devices, for people who can't make it to a studio. Peloton's live classes include leaderboards that show you how you stack up to other riders. "From your very first class, whether it's a live class you take at a studio or if you're getting on your Tread at home, you're automatically immersed in this community—and that's a huge draw for a lot of people," says Kennedy. Even if you don't own the hardware, a subscription to Peloton Digital gives you access to all of their content and their amazing community. "I think that alone makes people want to hop on any treadmill that they have access to, even if it's not our Tread," she adds.
Running doesn't necessarily get any
easier
as treadmills evolve, but at the very least, these high-tech devices have eliminated the torturous boredom that comes with running in place.
Want more stories like this?
7 Exercises to Do on a Treadmill
8 Moves That Are Better Than Running
Cursing While You Work Out Can Make It More Effective