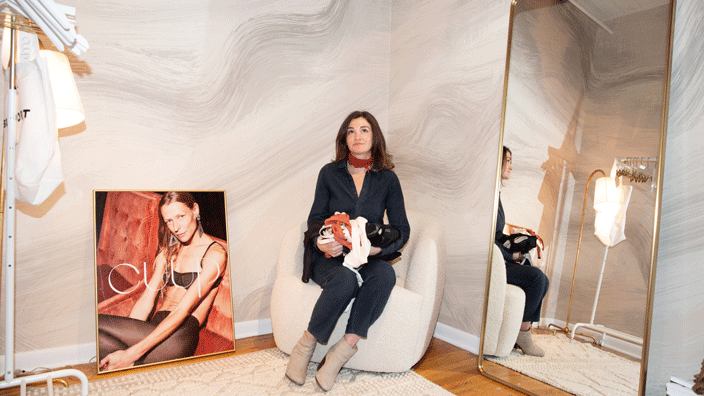 Career
The CUUP founder on finding the perfect fit, her career, and more.
Alec Kugler
Of all the garments in your wardrobe, we imagine that the one you enjoy shopping for the least is your bra. An everyday necessity for most women around the world, finding a style that is not only comfortable and supportive but also attractive feels impossible at times. Such was the mind-set of Abby Morgan when she and her two co-founders created
CUUP
, a line of simple, elegant bras that range from size 30A to 38G. The New York
–
based brand is seeking to upend the lingerie industry by offering four bra styles in a handful of neutral colorways
—
plus two bottoms options—all in an ultra-soft breathable fabric.
A veteran of the entertainment industry, Morgan spent the early part of her career in film working for the William Morris Agency in L.A. and later a production house in Santa Monica, California. Eventually Vimeo came calling, and she moved east to New York City before transferring her love of connecting storytelling and business to Free People as the director of brand marketing. Surrounded by the company's signature cotton bralettes, she and her eventual co-founder, Lauren Cohan, discovered that they each wore the incorrect size and thus began to dive deeper into the world of lingerie. They soon saw an opening in the market for well-made,
beautiful bras
for sizes D and above, and the rest, as they say, is history.
Below, Morgan reveals how she and her team are not only building a new bra brand from the ground up, but changing the conversation around fit, comfort, and sex appeal.
---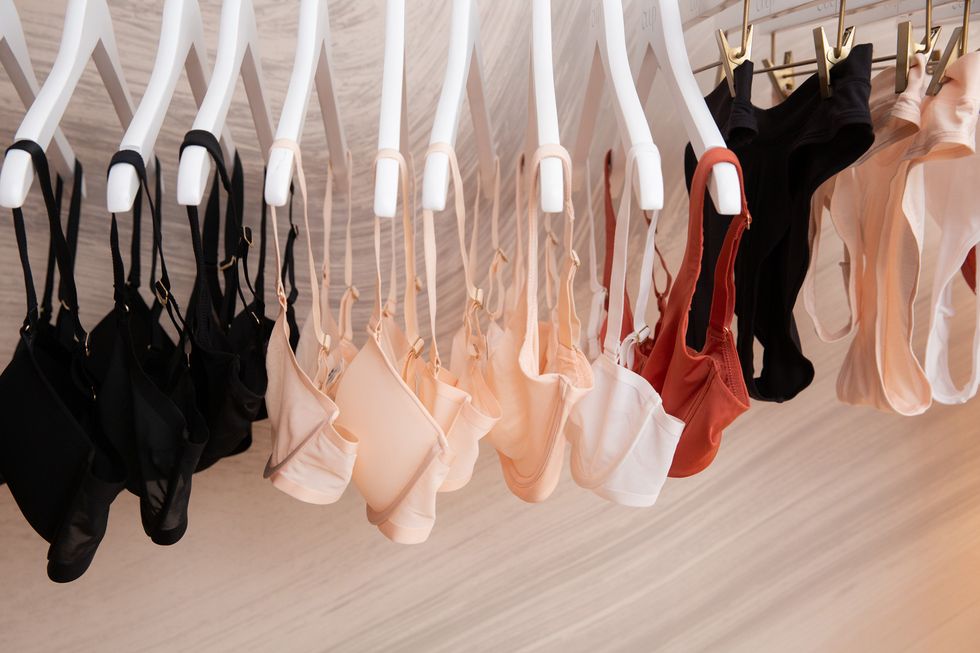 Proper fit is so crucial to the core of the CUUP brand—why did you decide to focus on that?

"The size stigma. You have these terrible perceptions of yourself, and that was something that [we felt] we need to break down and educate those people who are being fit into 17 sizes, because that's what the industry currently offers. That was a big thing for us. How can we offer consistent product that fits well, looks incredible, and functions across a wide variety of sizes?"

What about your business separates you from other brands on the market?

"We are supply-side integrated, meaning one of our lead investors owns the factories, which is why we are able to make 35 sizes versus the 17. Most companies do about 12-17 fittings. We did about 80, which is pretty crazy. Also, from a design perspective, we wanted to make sure that we stayed consistent for all different sizes, so minimal, unlined. Most people, when they grade, they start with a 34B and then they grade up and down on a linear scale."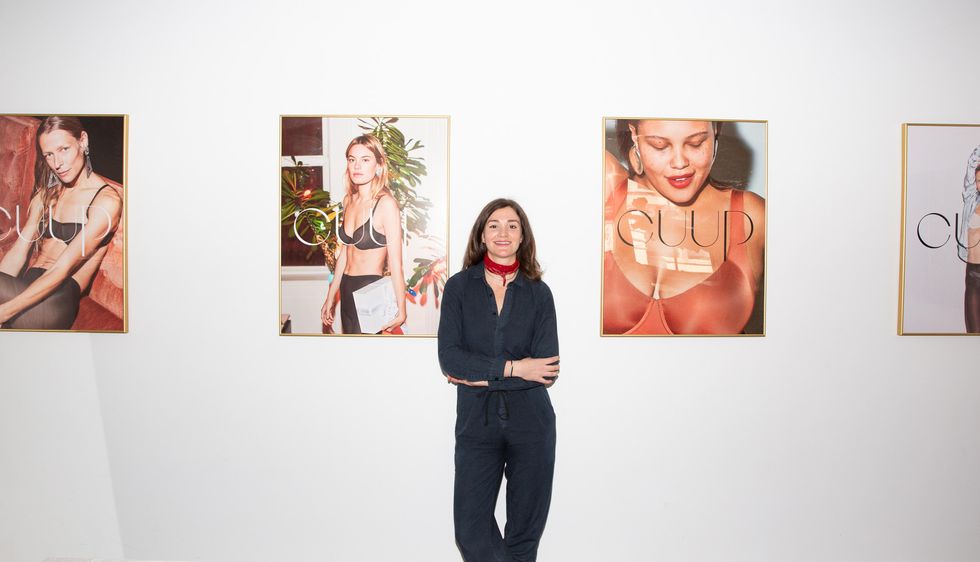 What do you mean by "grade"?

"When you grade, you take every piece of the garment and say, for one band up, I'm going to add two centimeters to all of these different pieces and then one cup up, I'm going to add a centimeter to all of these. It's like a computer algorithm that pretty much all bra companies use to measure. When we were doing our research, we found out that in 20 years the average woman's size has changed from a 34B to a 34E. More people need support and bigger cups, yet we're starting at a medium of a B-cup. That doesn't seem right. And a woman's body is curved and complex. Why are we using this linear algorithm when so many dimensions change? So we fit on eight different sizes and created something that looks more like a scatter graph for the algorithm versus this linear one."

What do you think about the current state of the lingerie industry?

"We see these three pillars that you need [in a bra]. You've got fit, so actually fitting multiple sizes past the 17; you've got function—not bouncing when you're walking down the street; and then you've got style. We don't want to be squeezed. We want our clavicle to show. We want to be separated, but sculpted versus pushed up. We wanted to embrace our natural shape in a bigger way. We felt everybody out there could hit one, or maybe two, but nobody could do an uncompromising approach to all three. And then on the brand side, it's the whole conversation playing out between sexuality and how we perceive ourselves. I think it's getting as polarized as politics. You can be feminine and sensual and strong and beautiful. It doesn't have to be these two polar opposites."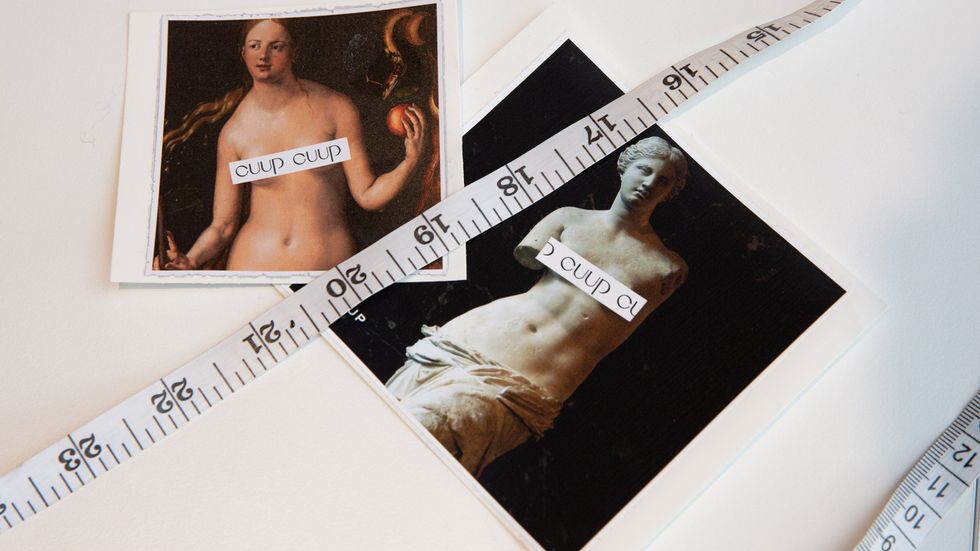 How would you classify your approach to CUUP and making all women feel sexy?
"I want CUUP to be known for sensuality, because to me sensuality is how I feel and my perception of what makes me feel sexy. If you look at the images, of course we're shooting every size and we're inclusive, because why wouldn't we be? But does it need to be a message that we go out with? Absolutely not. We're going to shoot these [campaigns] in a really sensual, beautifully art-directed way that feels elevated, because I think that's something that the current industry is really lacking, too. We want to make sure that you don't have to go to one side [of the spectrum] or the other. You should be able to define it for yourself."
So would you say the brand is trying to cultivate a community, rather than just sell bras and underwear?
"We're launching this series because of it. We're trying to get to this place where we're talking about how happiness is a skill and a choice, and it comes from self-awareness, emotional intelligence, and empathy. There are so many women, especially younger women, in our communities that have these vulnerabilities that hold us back. It might be something to do with our body or it might be a speech impediment. It could be whatever, but it's something that's really defined us. So we are creating this concept called Body Talk. We're going to have a conversation that starts around women's perceptions of their bodies and how we can normalize the topics that we feel are very taboo. It's a body of women in support of a woman's body, and it's going to be real stories of real women."
What advice do you have for the women walking around who have no idea what bra size they're supposed to be wearing?
"Come and get fitted! We want to fit everyone. We can fit via video, we can fit via email, and we have open hours in our showroom, too. There are statistics that if you're wearing the right bra size and feel supported, that you're going to be better in an interview; you'll get the job that you want. When you feel supported and confident, from underneath, it just makes you carry yourself so much differently. Also, you want to feel sensual and sexy. That's why I think with these styles, we really wanted to lean into something that is what we want to wear."
Want more stories like this?
24 Bras Our Editors Love
12 Pieces of Lingerie We Want to Wear Everyday
2 Friends Ditched Corporate America to Make You Better Underwear