Wellness
It's definitely not like the movies.
This story is part of Coveteur's Women's Health series. For more on this topic, head here.
If you're like me, the closest you've come to childbirth is watching that epic water delivery scene from
The Back-up Plan
or cheering on Rachel Green during her 21 hours of labor in
Friends
. But of course, no cinematic pursuit could ever really capture the miraculous bundle of pain, magic, emotion, and superhero-status strength that is childbirth. The physical transition from pregnancy to real-life parenthood is something only a woman can know, and there is so much more to it than what we observe from the comfort of our own living rooms: the months of preparation (yoga, doulas, lamaze classes), the mantras ("
Welcome the pain!
"), the creation of a personalized yet realistic birth plan as the due date draws near (meds or no meds? vaginal or C-section?).
As part of Coveteur's Women's Health series, we spoke to seven impressive women in the beauty, fashion, and media industries (among them some of our favorite Coveteur alumns) about becoming mothers. From the unexpected role of a questionable Jamaican beef patty to the story of an at-home water birth, we've compiled their honest and varied perspectives on what giving birth is really like. And while many of these fierce females agree that no book, anecdote, or course can fully prepare you to push life into this world, each account proves that no two birthing experiences are alike. Read on for more from these lady warriors. 
---
Bestselling author, beauty editor, and copy director at Bumble and bumble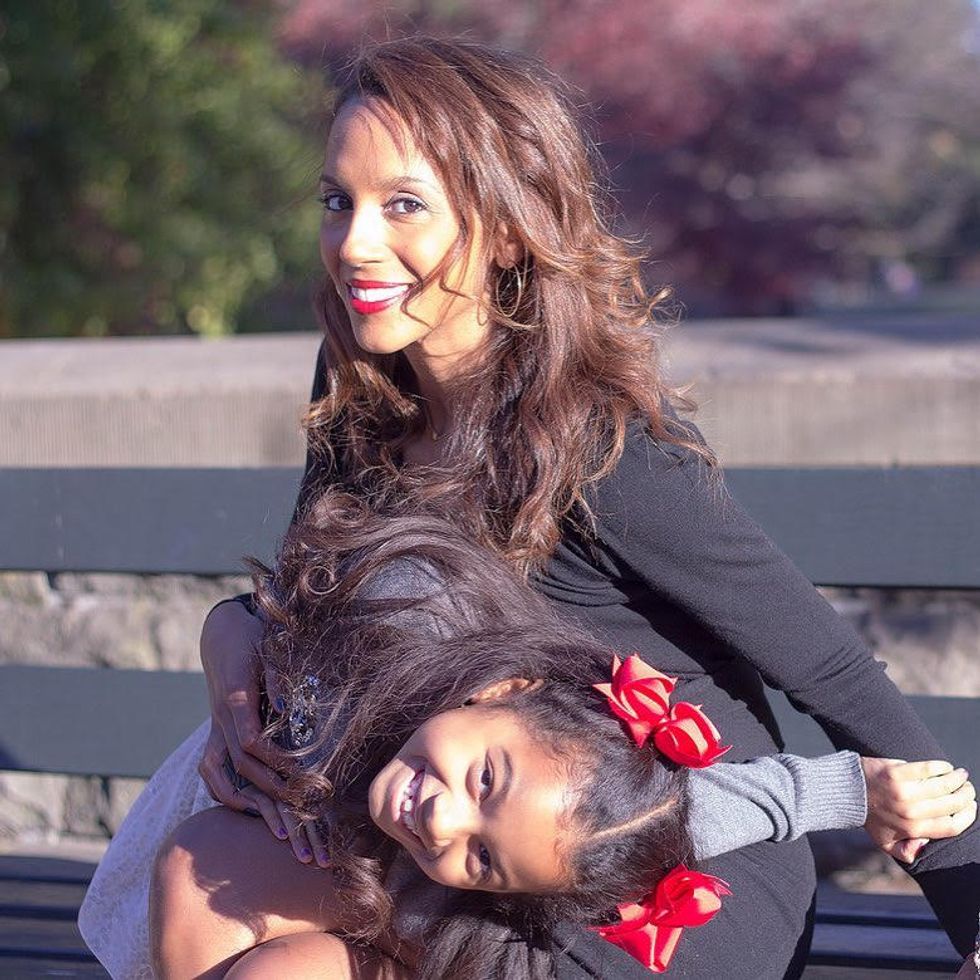 Photo: Keeth Smart
Giving birth was not as advertised. I expected drama. But cinematic drama. As a movie-obsessed kid, I'd always pictured it involving a frantic cab ride to the hospital, a few shriek-y pushes on a cushy cot, and at the end of the scene, you're handed a not-bloody cherub (suspiciously robust, because it's two months old, due to SAG laws), with whom you instantly bond. I so wanted this. I was even excited about the chaotic contractions! But lo, I never felt the faintest cramp. Eight weeks before my due date, I got violent food poisoning from a risky Jamaican beef patty (long story) and underwent an emergency C-section. Lina was no robust cherub. She was an itty-bitty preemie—so petite, her skin hung off of her tiny bones, like that of a wizened great-grandma. There was no instant bonding, either. I couldn't properly cuddle her for two days, because I was attached to a zillion IVs, she was sequestered in the NICU, and neither one of us could move. This wasn't my birthing experience fantasy. But it was perfect. Lina came into the world the way she moves through it now: on her own time, willful, unexpected, and as a force of nature who can't be contained by the laws of God, man, or past-its-expiration-date West Indian food.


Co-founder, Shoppe Object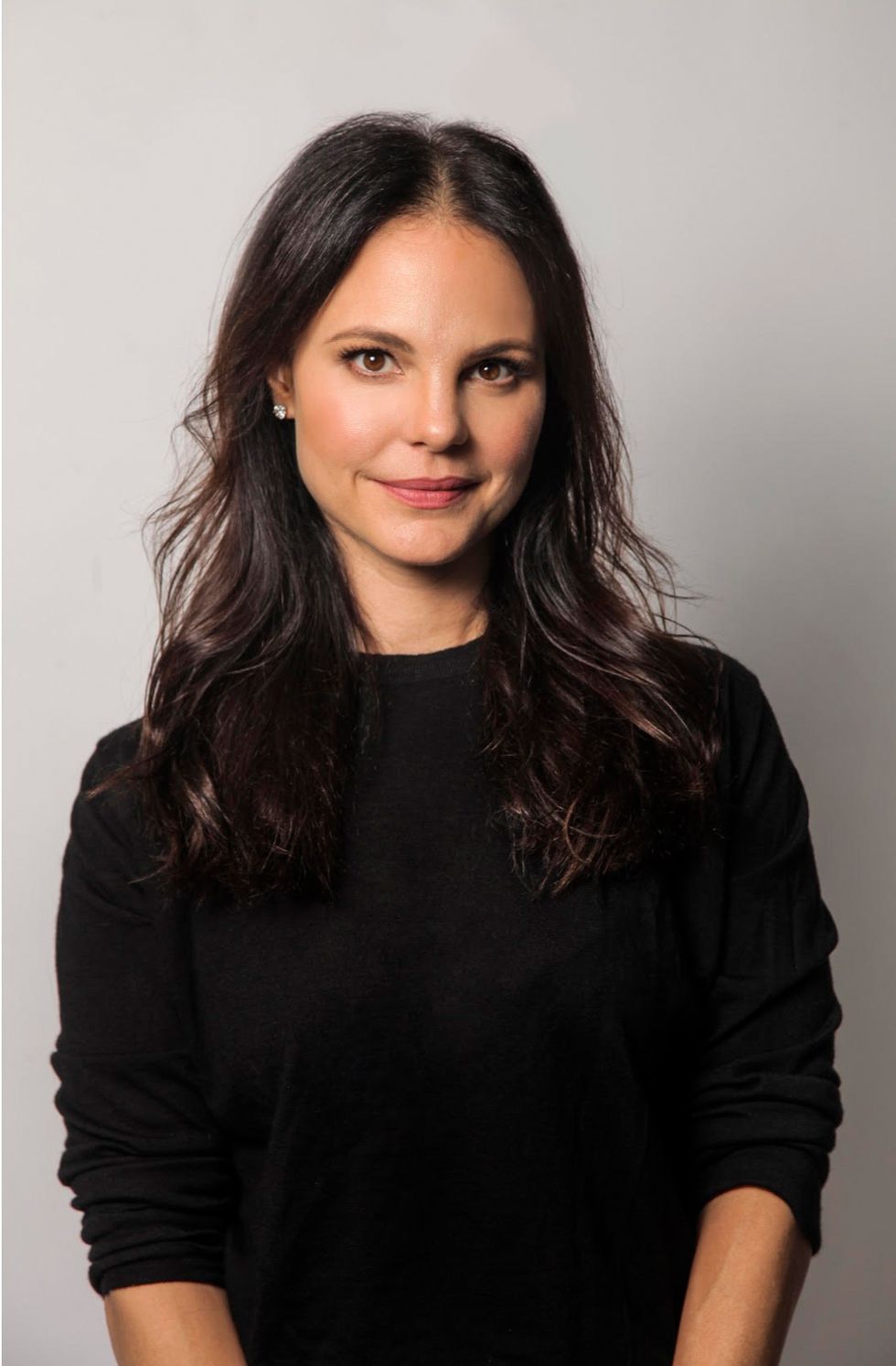 Photo: Glynis Carpenter
I really glamorized pregnancy and motherhood, but never gave much thought about the actual childbirth until I was pregnant with my first daughter, Lennox Grae. I read some birth books about how pain is a state of mind, how you can will your body to float through pain, or how, if you tap into your female power, you will open up like a flower. After 27 hours of labor, delirious and mentally broken from pain and lack of sleep, let's just say that I was neither floating nor opening up like a flower. But I was finally sufficiently dilated. After a few pushes, requiring energy I didn't think I had left, she was out and crying on my chest. I was engulfed in relief and joy and ready to forget the previous day of pain. But that was far from the end.

One minute later there was a horrible pain in my abdomen as my doctor was applying pressure to try to stop excessive bleeding. Additional doctors and nurses came rushing in, and a new IV was placed in my arm, readying it for a blood transfusion. The delivery room looked like crime scene, my husband looked scared, and I was in more pain than I had been the previous 27 hours combined. All I could think of is that I wanted Lennox off me, but I couldn't even speak. The doctor eventually stopped the bleeding and, with it, the pain, but I was traumatized. The next day we were scheduled to have visitors, but I didn't feel like I could face anyone. I felt depressed and scared, to which my doctor said: "You should be scared, you almost died yesterday." Not comforting! It took me months to be able to discuss childbirth without crying. I actually am tearing up as I write this. But I did it again two and a half years later, with the birth of my second daughter, Locke, and this time I was guided by an OB armed with a significantly better bedside manner. It went a whole lot smoother (although I almost had her in an Uber, which is a story for another day). I love my girls so much I would go through that again and again for them.

Childbirth is impossible to imagine or plan, so try not to set high expectations for yourself or the experience, and pick an OB you like and trust implicitly (you can DM me for the one I have now—she is the best)!


Journalist, author, and media consultant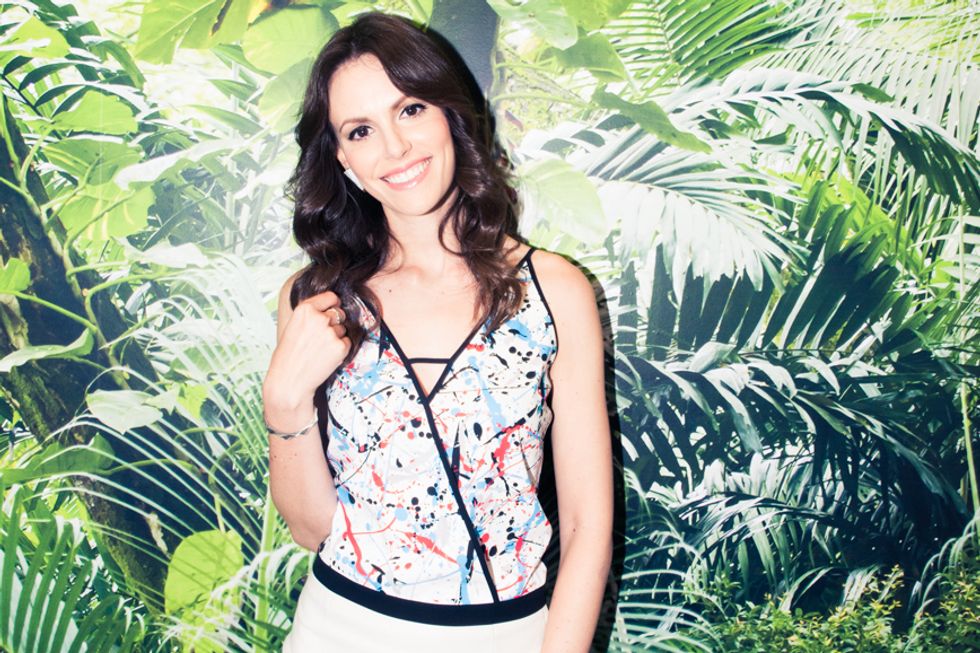 Photo: Jake Rosenberg
The thing I wish I had a better understanding of going into childbirth was how difficult the recovery can be, even if you have a pretty textbook birth experience (which is not to say textbook = easy, because birth is NOT EASY, no matter what kind of birth you have). It's OK if you need to rest at home for a month. You don't have to be up and walking a mile a day as soon as you leave the hospital. And when you get home, it's OK to ask for help. If help is available to you in the form of family or friends or even a postpartum doula, take it! Taking care of a newborn is a lot of work on its own, and even harder when your body is healing and your hormones are going haywire. Just remember that each week it gets a little easier, and eventually you'll be out taking your baby for walks, running errands, going to Starbucks, and doing all the things you used to do before you gave birth.


Stylist and brand consultant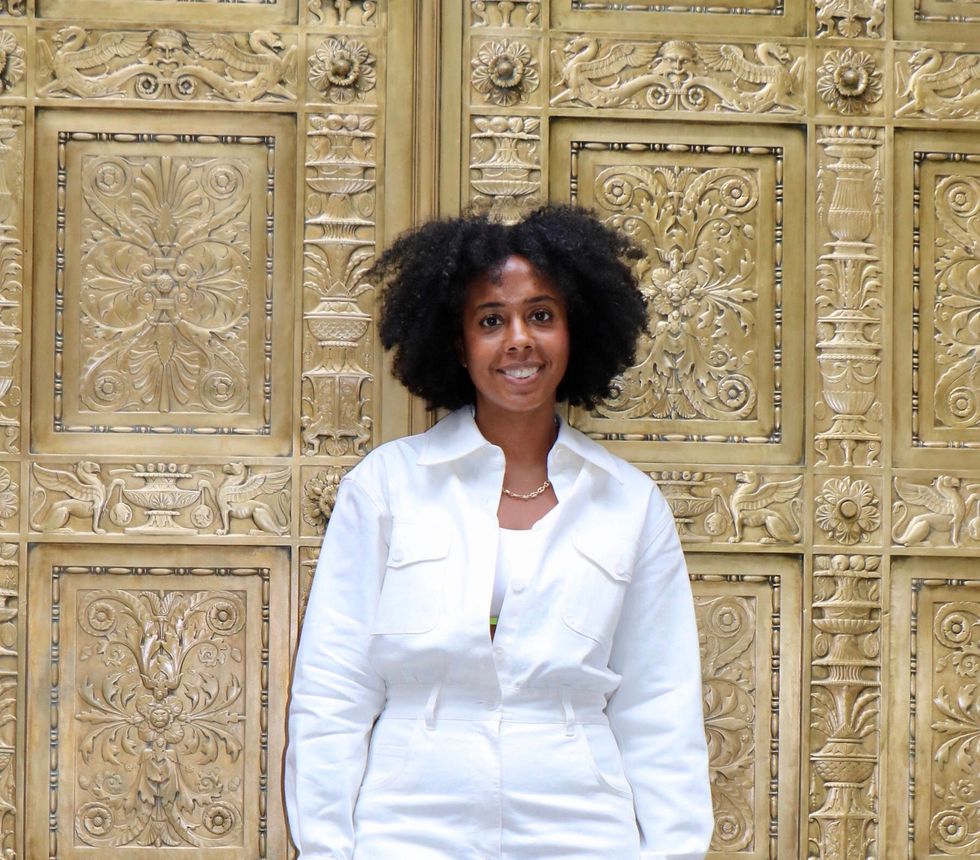 Photo: Melanie Wainwright
Giving birth is every emotion and physical feeling you could possibly have, all at once. I had two very different childbirths: With my first daughter, I had a mild epidural. I waited until the very last moment and got the epidural out of fear that I would not be able to manage the pain. My doctor was so encouraging and told me that I was handling the pain so well and didn't need the epidural, but my mind and the stories I had heard from friends convinced me otherwise. Your body is a lot stronger than your mind will let you believe! And we are women, we are warriors—"this women's work is hard on a man" is one of my mantras—but I had a pleasant birth with my eldest and would not change a thing. My mom and husband were there, and it was perfect.

For my second daughter, I went all-natural and gave birth at Mount Sinai West's Birthing Center. I swore I would not give in to the pain this time, which turned out to be more psychological than physical for me. Yes, it hurts (I usually compare it to the burning sensation of a tattoo, painful but manageable), but we are stronger than you can imagine during birth. I found it important to take a natural route, and I was also convinced that the baby blues and hair loss I experienced with my first child had been due to the epidural. I do remember saying at one point, "I'm scared, I change my mind, I want drugs!" but it was too late. Her head was out, and the team of women in the room, my doctor, my nurse, my bestie, and even the energy of the baby girl I was about to meet guided me, and I did it. The endorphins and emotions that kicked in wiped away all the fear and all the pain.


Beauty expert and consultant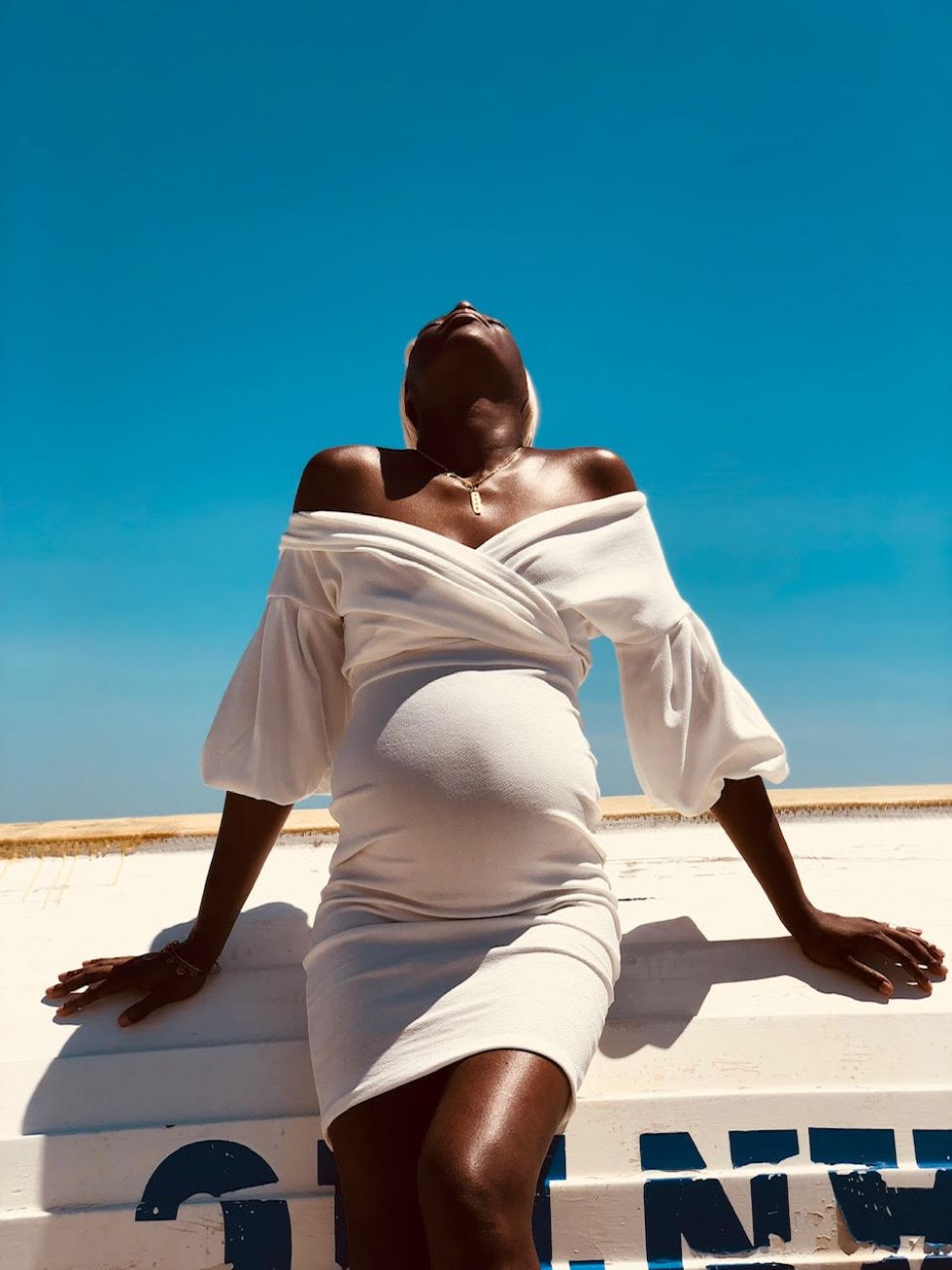 Photo: Courtesy of Dana Oliver
During my pregnancy, I made sure to make self-care a priority to ensure that I would have a healthy and natural birth experience. This included soaking in the knowledge of black women who were mothers, nurses, and caregivers. I knew that I wanted to avoid medications that would induce labor, assisted delivery by forceps, or intervention that could potentially harm myself or my child. I've read way too many headlines that tell tragic stories of the rising black maternal death rates in this country. And ultimately, I wanted to be in control of the experience.

Maintaining a calm, zen-like attitude undoubtedly led to me having a natural birth. In fact, I didn't realize I was actually in labor until I started counting contractions using an app my doula recommended and noticed they were four to five minutes apart. My labor only lasted five hours, and I had the luxury of doing so in the comfort of my home. I used soothing techniques—sitting on an exercise ball, reciting positive mantras, and lots of breathing—to get through it. By the time I reached the hospital, I was fully dilated. I recall being rushed immediately to the delivery room—my doula barely made it in time! But my child's father was by my side with every push, and I was also fortunate to have the very first doctor I met with who was on my OB/GYN team there to deliver my son. And after pushing (and getting very tired) for only 20 minutes, J. P. was born. Everything happened so fast. To other mothers, especially black mothers, I will say: Consider adding a doula to your support team. Trust your instincts, take care of your mental well-being, and when you're in the moment of actually delivering your baby, never allow anyone to force you to make a decision that you aren't comfortable with.


Editor-in-Chief, The COOLS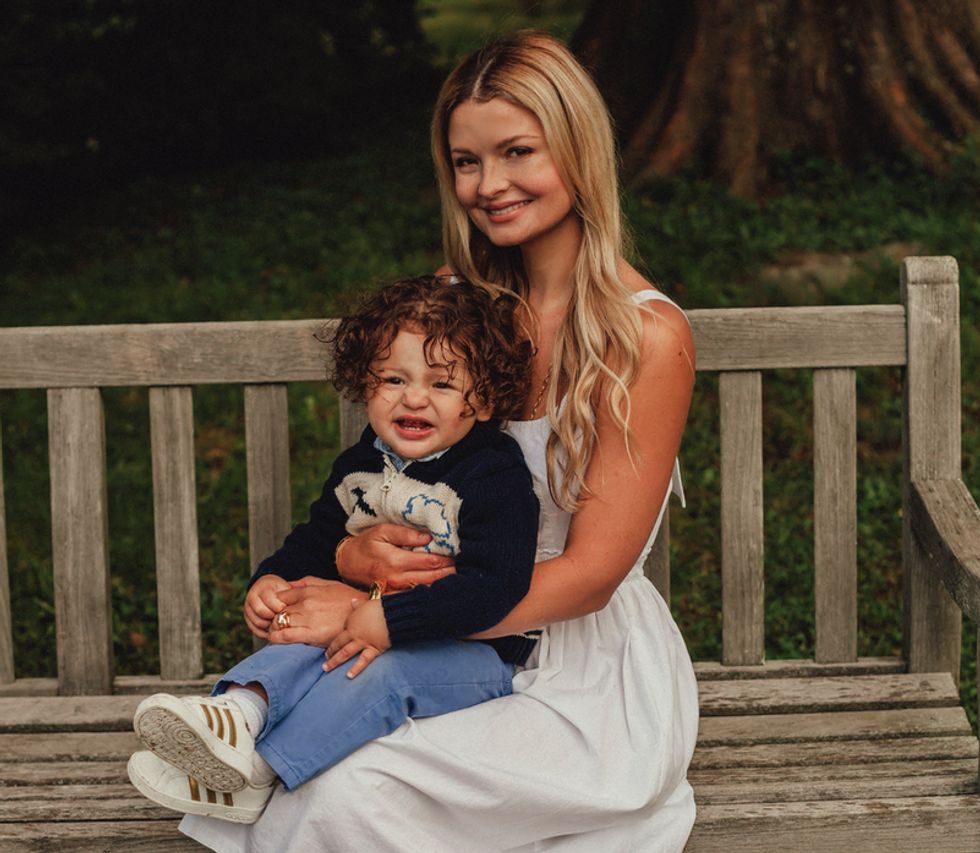 Photo: Audra Brown
Every twist and turn of being pregnant and labor was wrought with scary moments and things I could not control—I could have chosen to look at all of it as negative (heavy hemorrhaging, bed rest for several months, and a crash C-section) but it was, in fact, just the opposite. They were lessons early on that parenthood is not going to be a perfect journey, I will not always have control, I had better roll with it, and most important, enjoy every last blessed second.

My son is about to turn two, and he has taught me what true, unconditional love is, how to really give more of myself—more than I ever thought possible—and how much influence we truly have over shaping the next generation of strong, kind, and intelligent humans. I am fortunate to have a really tight-knit network of family and friends that have been there to support me when I feel like I'm about to put my head through a wall (yes, it happens). My husband frequently tells me, "Deep breaths," and I get to work with a creative group of editors who challenge my mind on the daily. A good workout is also God's gift (tennis, in particular). With that, here is my biggest piece of advice: Be wary of all the people who think they know it all. Being prescriptive about parenting only leads to feeling like you are failing—it is your journey with your child, so educate yourself and go with instinct and love, first and foremost.


Multimedia artist and consultant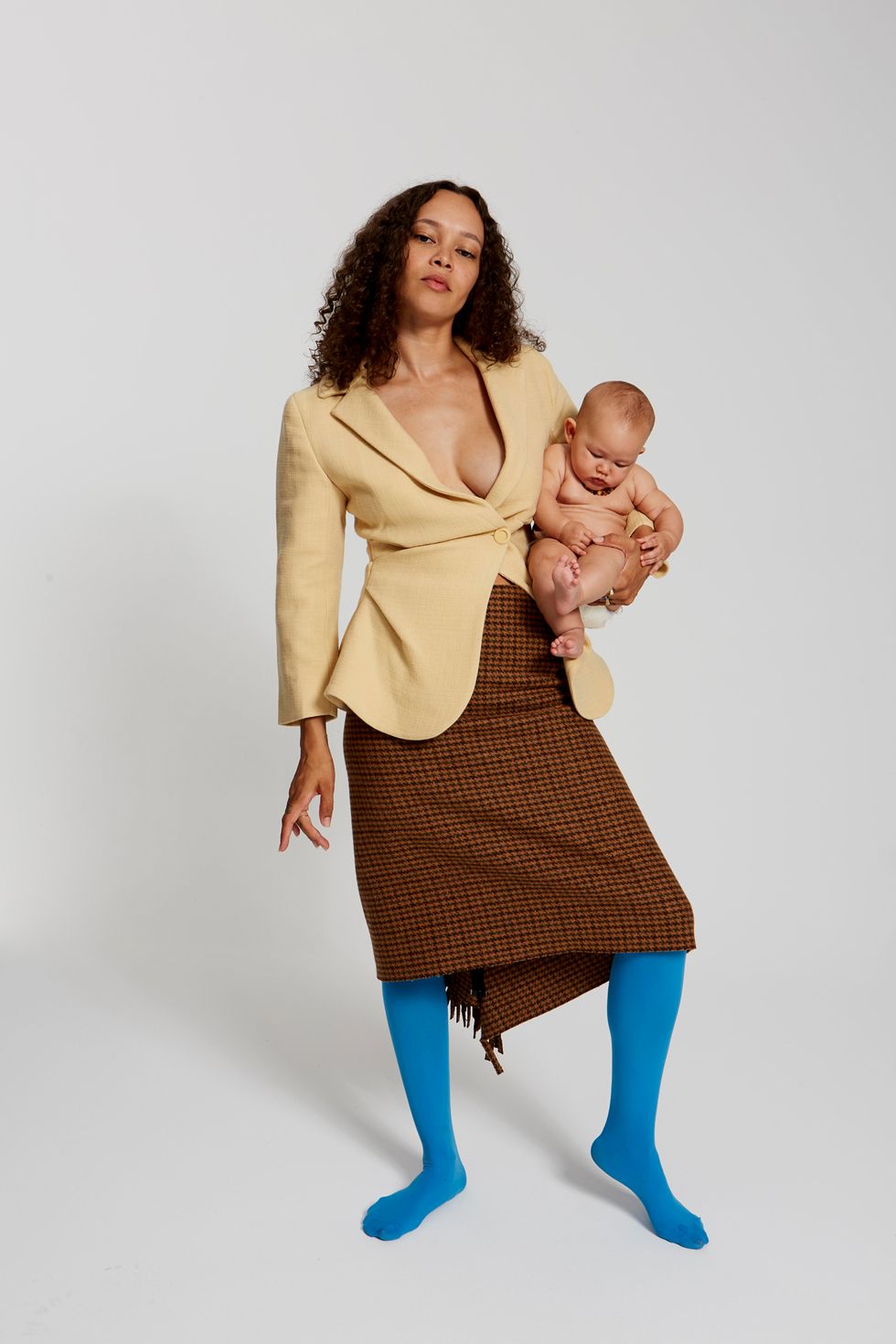 Photo: Sarah Stenfeldt
Contrary to popular belief, the 10 (not nine) months of my pregnancy were a beautiful experience for me, and I was super blessed to travel, work, and become inspired all while creating life. The last three weeks seemed to be the hardest, and on the day Nomi was predicted to come (4/26/2018), I ate some spicy Thai food and channeled all of my energy to get Baby out. It worked. By 2:00 AM, I was starting to feel the shift. I sent a text to my mom, grandparents, best friend, aunt, uncle, and photographer Tyrone Lebon (who documented the whole experience):
Baby is on the way
. I was having an at-home water birth, so tubs needed filling and beds needed extra lining!
Looking back, I don't know how I did it. I guess sheer determination and a supportive team got me through. But nothing, and I mean
nothing
, could fully prepare me for the eight hours of excruciating contractions I endured. I have the utmost respect for doulas and midwives. My love for women skyrocketed. Children, and not just mine, are now the meaning of life to me. And my husband, Simon, is a gem. The pain was indescribable, but I was mentally and spiritually prepared. It's nothing like the movies—I'm sure many women do scream or get loud—but I was peaceful and focused. As long as there was silence and low light, I could maintain during the twenty hours of labor, eight hours of painful contractions, and no meds—just lots of focus and repetition of my mantra: "Welcome the pain." Nomi was born on April 27, nine minutes before my 27th birthday—the best birthday gift. I am a fucking warrior. I am incredible.
It should be noted, being able to have children does not make you a woman. However you identify, whatever you
'
re physically capable of, you are magic.
Want more stories like this?
My Struggle to Get Pregnant, & What I Learned Along the Way
A Few Things I Wish Someone Told Me Before I Got Pregnant
I've Never Wanted to Be Pregnant