WWWRN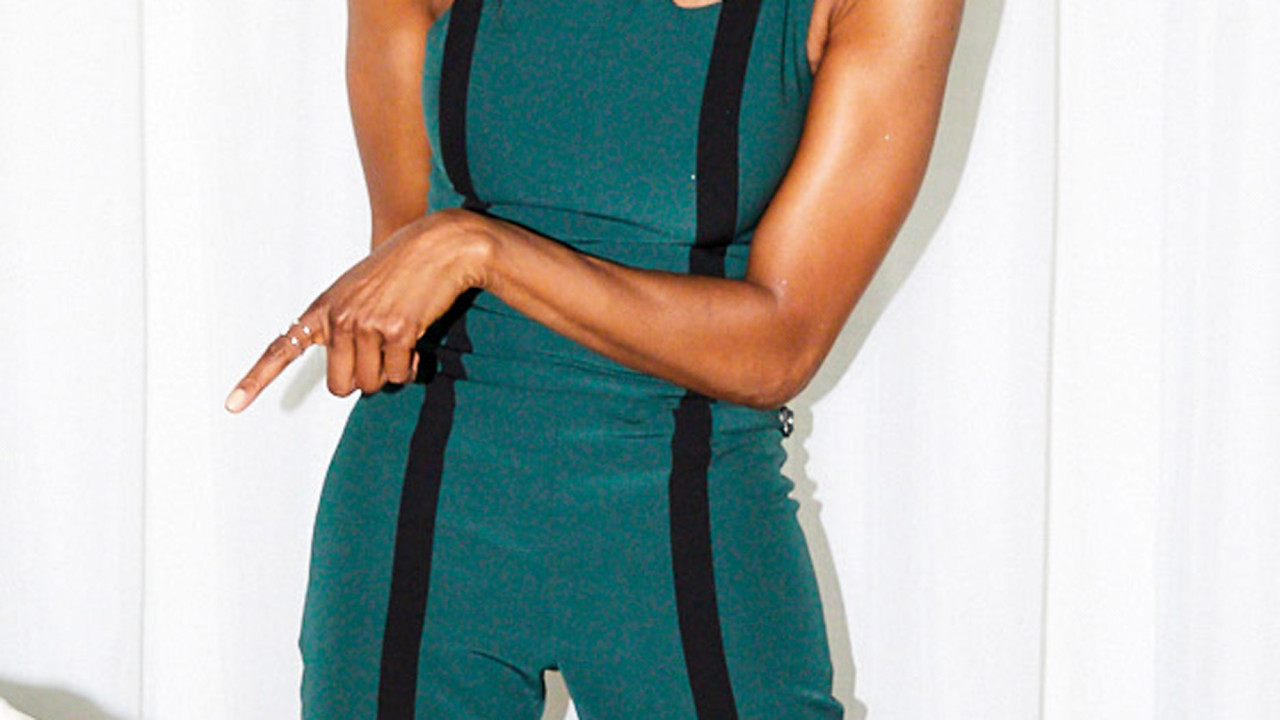 21 Jumpsuits We're Ready to Spend Our Paychecks On
A very sound investment, if you ask us.
Whenever a large number of people get dressed up for an event, be it a wedding or a red carpet or a big party, there's always one person who stands out: the woman who said "no, thank you!" to a dress and instead wore a jumpsuit. When the fit is right and the person wearing it is *really* feeling themselves (as one should!), a jumpsuit is an incredibly powerful look. It's refined. It's fun. And, added bonus—it's comfortable! Even those that aren't meant for a formal event are good look, like overall and and utilitarian styles. From a shimmery pink number to a design that'll have you mistaken for a very glamours astronaut, here are 21 jumpsuits Coveteur editors are dying to wear.
---
Leah Faye Cooper
Editorial Director
1. Missoni Shimmer Knit Jumpsuit: I dare you to tell me I'm not off-duty Diana Ross circa 1970-something in this! Add some metallic platforms and shades, and I'm ready to hit the downtown streets in this look.
2. Anna Mason Bay Cotton-Corduroy Overalls: I haven't owned a pair of overalls since middle school, but I'm fully on board with their recent comeback. I love the wide-leg silhouette on these, and the button details are perfection.
3. Cushnie Open-Back Silk-Chiffon Jumpsuit: I saw this float down the Cushine runway and was immediately transported to St. Tropez. In this fantasy I slept late, had mimosas and cheese eggs by the pool for breakfast, then slipped into this for a day full of shopping, pampering, and drinking cocktails on the beach. The first step in making this come true is finding a way to buy this dreamy piece.
---
Hannah Baxter
Editor
1. Nanushka Yuma Jumpsuit: Nanushka can do no wrong, in my eyes—case in point, this satin lilac confection. I'll use any excuse to wear pajamas in public, and this roomy jumpsuit is basically that, but it'll keep me looking professional enough to wear it to the office.
2. 3x1 Mila Denim Jumpsuit: A good denim jumpsuit is almost impossible to find, but leave it to 3x1 to whip up my ideal version. Dark wash, cropped flare, and sinfully soft cotton. Hello, I love you.
3. Simon Miller Oruro Jumpsuit: Will I look like a spacewoman in this jumpsuit? Yes. Is that my heretofore unknown fashion goal forever and ever now? Double yes. Thank you, Simon Miller, for blessing us with this tinfoil dream.
---
Nandi Howard
Editorial Production Fellow
1. Givenchy Grain De Poudre Wool Jumpsuit: Utility suit, but make it fashion? And would I wear it with sneakers or stilettos? Either! This Givenchy gem is ready for whatever.
2. Gucci Wool Silk Belted Jumpsuit: A girl can only Gucci dream. From fashion to makeup, bright slimey colors seem to be making a huge presence, and this '70s-inspired jumpsuit is right on trend.
3. GDCS Lame Sheer Jumpsuit: GDCS was introduced by premiering at the annual Vfiles show during fashion week to now killing it overseas in the streetwear market. While I am patiently waiting for the company to open a store in the U.S., I can browse online in the meantime. This sheer jumpsuit is everything I need right now, especially considering spring is around the corner. I can layer it up or wear it as is and still pull off a complete look.
---
Rachel Pickus
Social Media & Affiliate Cordinator
1. L.F. Markey Danny Longsleeve Boilersuit: There's something about a jumpsuit that gets me super excited. Boilersuits especially seem to be THE answer to the lazy girl's morning routine. I can't wait for days when I'll be able to zip into an L.F. Markey suit and dash out the door in no time.
2. Jesse Kamm Cork Overalls: My love for overalls really knows no bounds. While my expansive collection covers the usual bases, I'm looking to invest in a more unusual color. This rust-brown pair is the right amount of unexpectedness while keeping it neutral and clean.
3. Ulla Johnson Gigi Jumpsuit: My ideal brunch attire includes pieces that provide pj-level comfort with the decency to enter the public eye. This Ulla Johnson number checks both boxes with a flirty shoulder and a billowy silhouette that'll permit an extra pancake or two.
---
Ivanna Martinez
Social Media Associate
1. Sandra Weil Studio Ritz Jumpsuit: This blue jumpsuit is definitely going to be a spring staple. The strapless design lets you pair it with a light jacket for spring, or with a light linen shawl in the summer. This bright blue is going to be everywhere!
2. Maria Elena Villamil Utility Jumpsuit: This utility jumpsuit is so lightweight! The black color gives it a bit of edge, so you can wear it straight from work to an evening event. You can also cinch your waist with the belt, a plus if jumpsuits make you look boxy.
3. Paolita Navy Jumpsuit: This jumpsuit is getting me excited for the summer! I love the lightweight fabric and the muted blue color. You can wear these with sneakers, a pair of sandals, anything goes with this one. Another plus? The cinched waist!
---
Valeriya Chupinina
Beauty Fellow
1. Maje Pindy Belted Plaid Jumpsuit: This jumpsuit is a direct representation of my saved photos on Instagram. It's so versatile, the perfect color, and can be dressed up or down. Even if I only wear it once this spring, it won't be out of style come this fall.
2. PISTOLA Grover Field Suit: Ever since I watched Maluma's "Mala Mia" video, I've been trying to copy the mechanic chic jumpsuit look he rocks throughout Miami in the clip. Pistola, thanks for making my dreams come true—I just need a pair of clear aviators and white sneakers, and I'm basically a copy of Colombia's greatest treasure.
3. And Other Stories Long Sleeve Leopard Print Jumpsuit: There will always be room for leopard print in my closet. This gives me Hugh-Hefner-in-female-form vibes. With all of that breathability, I'll easily be able to take this flowy piece into my summer wardrobe.
---
Camille Freestone
Editorial Fellow
Part of the series:
WWWRN