Health
How to Eat Healthy on Vacation (and Still Enjoy Yourself)
According to Kelly LeVeque, it's possible.
As someone who strives to maintain a healthy diet but also loves food and likes to indulge, my approach to eating while traveling usually goes like this:


---
Day 1

Pack healthy snacks for the plane, have salads for subsequent meals, drink tons of water, avoid alcohol.


Day 2 and beyond
Drink five mimosas at breakfast, say to myself,
I'm on vacation!
, proceed to order fries with every meal, drink multiple cocktails throughout the day, pretend like I don't want dessert but then crush the crème brûlée ordered for the table.
While I make it a point not to feel guilty about enjoying delicious food (life is short, and access to wonderful meals is a blessing), I often return from trips bloated, dehydrated, and completely stuffed, which isn't the best way to end a vacation. The only exception in recent memory was my trip to Maui. I stayed at
Montage Kapalua Bay
, which worked alongside nutritionist Kelly LeVeque to create a Be Well by Kelly menu featuring meals that are delicious and satisfying, but also packed with nutrients, healthy fats, and anti-inflammatory ingredients.
"I love a little indulgence on vacation," LeVeque tells us. "The trick is to be careful and not over-indulge." This is, of course, easier said than done, but the options on the Be Well by Kelly menus help. And even if you're not vacationing at a Montage property (though we *highly* recommend that you do at some point), LeVeque has some great tips for maintaining a healthy diet on vacation. Here's what she recommends.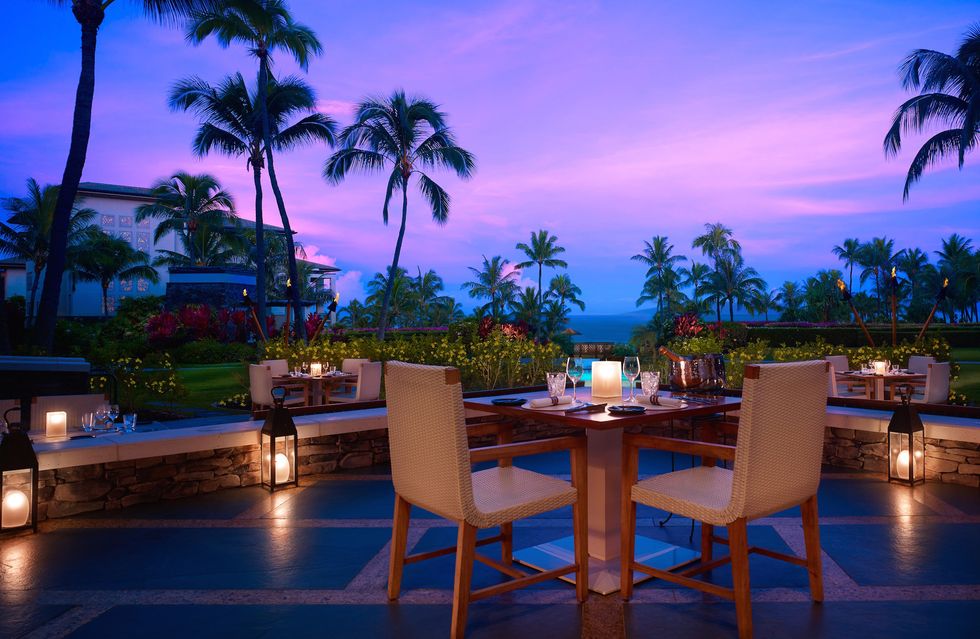 Photo: Leah Faye Cooper
One of the challenges of maintaining a healthy diet while traveling is navigation options at the airport and in-flight, which generally leave much to be desired. What are some good snacks to pack for the plane? What are some good options you can find at most airports?

"When it comes to eating clean at the airport and in-flight, protein and fat-based snacks are key to fueling up during a busy travel day. Hard-boiled eggs and raw almonds and nuts at the airport's concession stands are great picks. However, if you have time to plan ahead, preparing a homemade salad or even just cut veggies, like cucumber, celery, and peppers, is a great way to stay hydrated and support your digestion with fiber while traveling."

People often want to indulge on vacation, which isn't necessarily a bad thing. How do you strike a balance between indulging and still maintaining a healthy diet?

"Instead of ordering an appetizer, wine, and dessert, just choose one. Another great option is to lock in at least one healthy meal a day; vacation is not about being perfect, but choosing a healthy smoothie or a big salad for lunch as one of your meals helps with maintaining clean eating habits."


How did you approach your collaboration with Montage? What culinary and wellness influences did you pull from or look to?
"In designing the Be Well by Kelly wellness menu, I wanted to include meals that were low in sugar, anti-inflammatory, and full of healthy fat. Each menu has fresh seasonal produce incorporated into each meal, and to take it a step further, the menu also includes fresh local ingredients when available."
Tell us your dream meal plan for a day at Montage Kapalua Bay? What would you have for breakfast, lunch, and dinner?
"My dream day includes a morning yoga class, followed by a spa smoothie, and then heading over to Cane & Canoe for eggs over greens. I'd spend the day by the pool and have a turkey burger with roasted fries for lunch. Then, for dinner, I'd have the chicken coconut cauliflower rice bowl."
How can alcohol be incorporated into a healthy diet? Is it possible?
"It's important to enjoy alcohol in moderation. Give your liver a break by avoiding high-sugar mixers if possible, and instead, enjoy a cocktail with fresh citrus, veggie juice, or ginger. Clean and clear alcohol is key, since there are less congeners
—
toxins that can cause a hangover. Sticking to red wine is also a great option, as it's a source of resveratrol, an antioxidant that fights oxidative stress."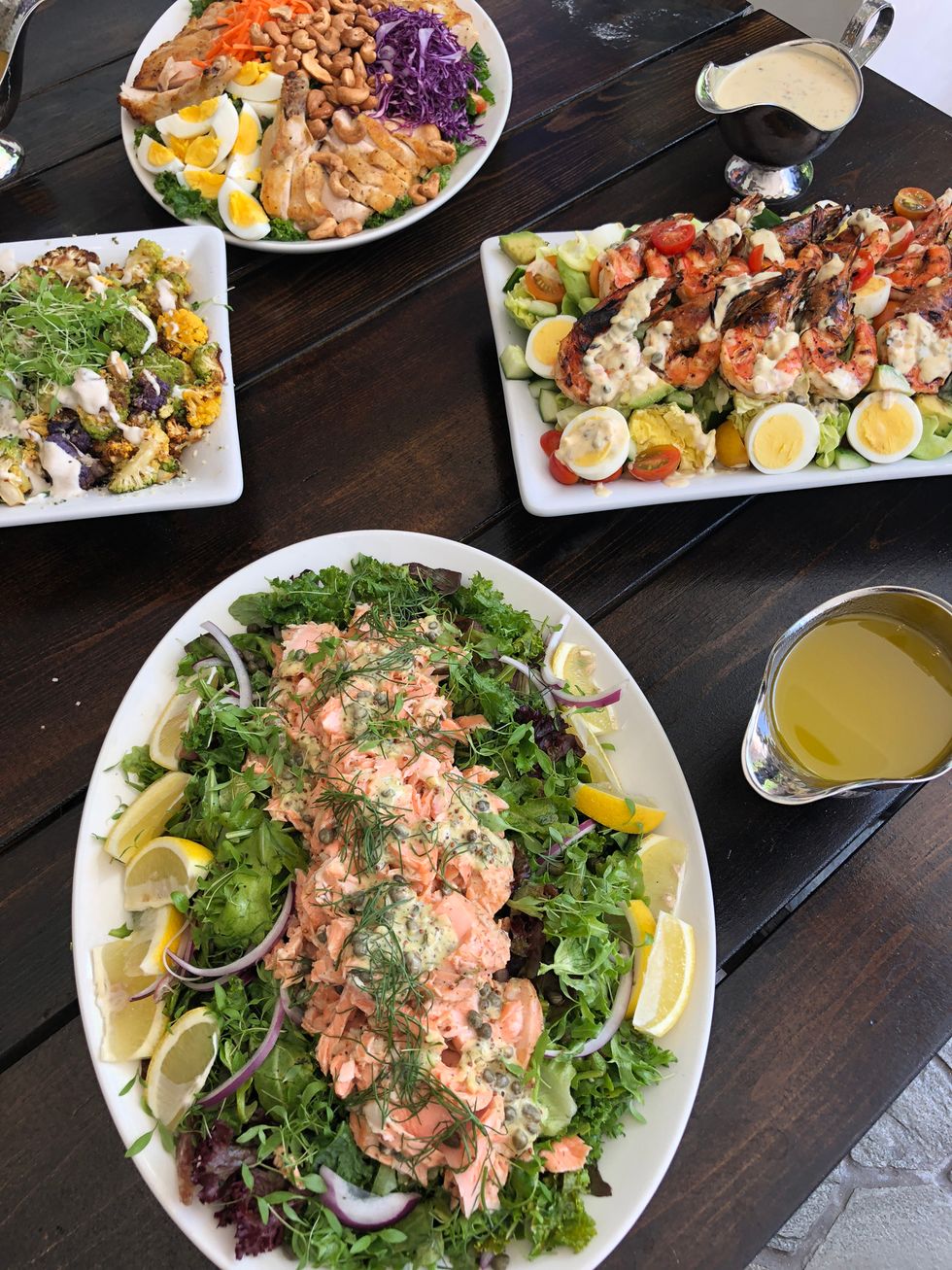 Photo: Courtesy of Montage Kapalua Bay
Are there any ingredients you cook with that have historically gotten a bad rap over the years but you believe can be part of a healthy diet?

"Saturated fat has received a bad rep in the past, but coconut oil and pasteurized animal fat, like ghee, is actually very good for you. Saturated fats are a more stable cooking oil that can help your body produce ketones and allow for a crisp sear on a steak without releasing carcinogens."

What foods should you be eating if you're spending a lot of time in the sun?

"I recommend a leafy green salad if you're spending the day poolside and in the sun, or even ordering a side salad with your meal. A salad can help keep you hydrated and is loaded with the antioxidants lutein and zeaxanthin, known for protecting against UV damage."

What foods do you recommend if you're having a very active vacation with lots of physical activity?

"Consume enough protein! Your body will always respond better being fed and fueled. I have clients who want to work out and eat light, and then have poor muscle recovery, low blood sugar, cravings, and irritability. It's important to have a balanced meal with a good source of fat, protein, and greens. Protein is paramount for muscle recovery and feeling satisfied after a meal."