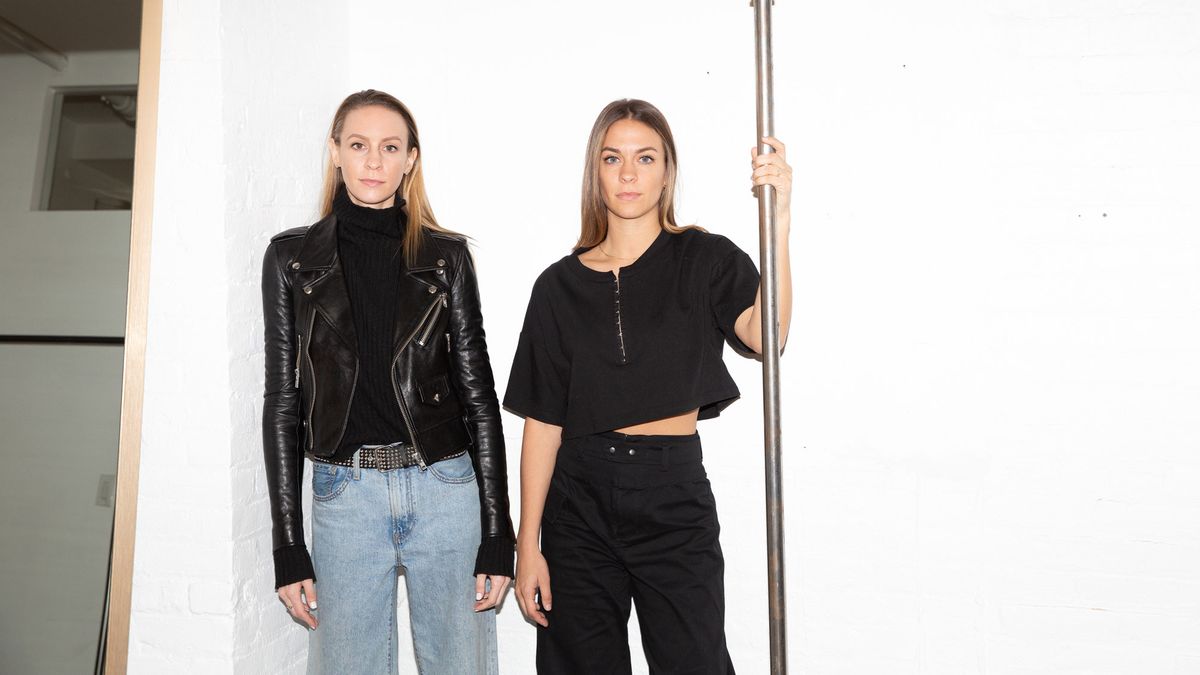 Career
This Brand Makes the High-Quality Basics You've Been Waiting For
Not only are The Range pieces high-quality, they're next-level soft, too.
Alec Kugler
Ask Brittney and Mia Rothweiler what it's like to start a company with your sister, and they'll both start to gush. "It's a really, really special experience that we've always wanted to have," Brittney explains, with Mia adding, "Growing up with each other, you become good working partners because you are always coexisting." The two launched effortlessly chic basics brand 
The Range
in the fall of 2017 alongside their good friend 
David Helwani
of Twenty Montreal. Brittney handles creative, and Mia focuses on wholesale and sales direction, while David is in charge of manufacturing, operations, and strategy work. Of the line itself, think figure-hugging dresses, satin-trimmed bodysuits, perfectly relaxed sweaters, and casual trousers and tees. In others words, it's the brand you want to have on hand to easily dress up or down on the fly.
---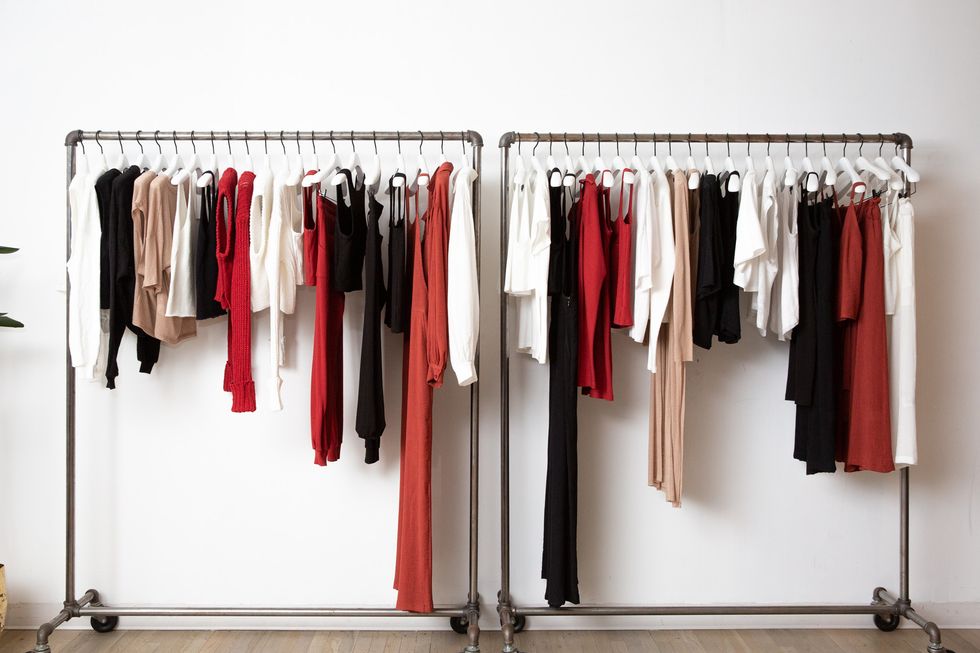 They both worked throughout the industry before launching The Range:
Mia Rothweiler:
"Brittney's two years older than me. She graduated from college and came right to New York City and started doing sales for a denim company. When I was still in college, I would come to the city in the summer [and] intern for her; then I did an internship at Bergdorf Goodman for their buying program. When I graduated college, I got a job at a showroom that had Joe's Jeans, Torn by Ronny Kobo, Nightcap Clothing. I really worked my way up at that showroom, and I ended up staying there for eight years and becoming the sales director and sales manager."
Brittney Rothweiler:
"When I was in college, I was just trying to do as many internships in the industry as possible, trying to get my foot in every single door. I ended up doing an internship at Atrium, doing their buying; I worked at Miss Sixty in their PR office; I worked at Catherine Malandrino in their sales office. I ended up getting [the] sales job at [the] denim company, but shortly after, the best store in Boston needed a women
'
s buyer. I moved to Boston, and I ended up there for 10 years. It was an incredible experience; I really got to curate and run the store how I wanted to, introducing emerging designers and bringing in established designers. After the 10 years, a new opportunity of starting our own brand came about. Mia using her sales experience, and me using my retail and product experience, we took all that knowledge and put that together to launch the line."
On their third partner, David Helwani:
MR:
"David is a good friend of ours. We would grab lunch a couple times a week, and I got to understand the inner workings of the factory that his family owns up in Montreal and their amazing capability. David and I realized we wanted to work together; Brittney and I had been wanting to work together. It happened to come together really fast."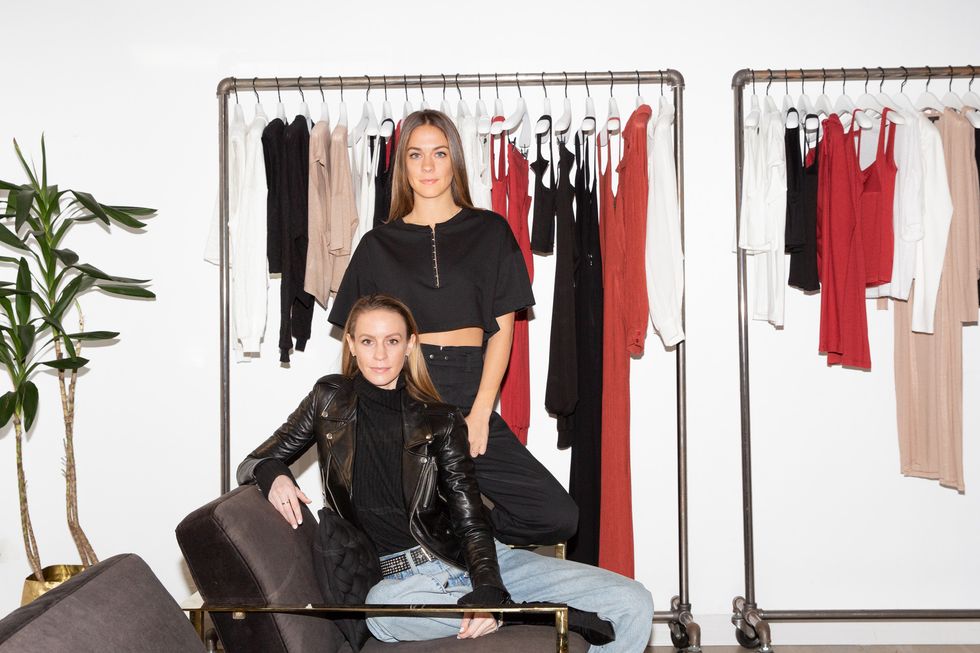 What they're currently working on:

BR: "We just shot our fall lookbook. Right now designing spring 2020, which sounds super futuristic and far off. We're in production of holiday samples; we're selling fall '19, and stores are about to launch spring'19. We're juggling all these dates right now."

MR: "We spent the first year and a half really on the business end, making sure the product was right."

BR: "We took the old-school approach of building relationships with stores. Mia and I got on the road, and we drove from New York to Chicago and back. We drove to Austin, Texas, and back. We've driven to California. It was to see the actual stores that we wanted to place the brand in instead of blindly emailing people. We really wanted to make sure the foundation of our business was right, both in sales and product, before we took the brand to the mass market PR-wise. Now we are getting the name and the story of the brand out there."


They know their consumer well:
BR:
"I would say our consumer is someone that wants value out of their piece. Something that can transition them from day to night, from season to season. They're looking for pieces that are unique and maybe a little bit edgy. There's always some sort of design element in each garment, whether it's in-your-face or it's a little bit more subtle. They're looking for something that's a little bit more stand-out-ish, but still classic and chic."
The most surreal moments of the brand so far:
BR:
"We still have them every single day because, honestly, this is a dream. We get to work together, and we have this brand that we love that totally encapsulates what we're all about. But it was definitely some of those moments when really key retailers picked up the brand. We walked into [FRWD by] Elyse Walker, one of the first boutiques we ever took the collection to, and by the end of the appointment, the buyer said, 'OK, I want it.' We packed up our stuff quickly and ran out the door, turned the corner, and we looked at each other and we screamed. We've had a lot of those. When Net-a-Porter picked it up, we were running around the apartment screaming."
MR:
"We cried."
Want more stories like this?
At Work with a Luxury Watch Expert
Meet the Shoe Designer Whose Creations Broke the Internet
Sarah Ahmed Is the Founder of Our Favorite Sustainable & Size-Inclusive Brand