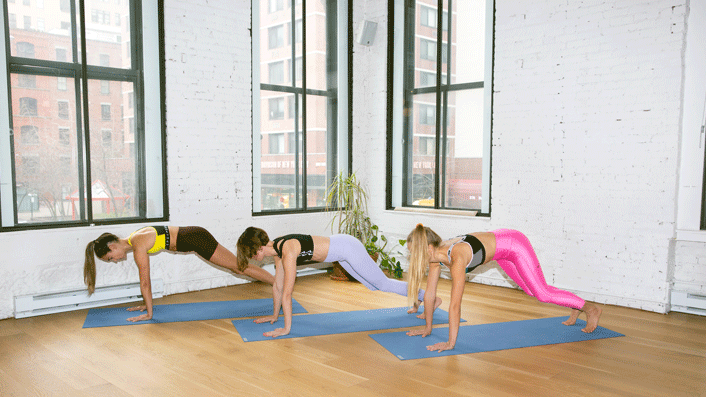 Fitness
A 30-Day Workout Challenge You Can Do from Your Living Room
Consider Krissy Jones, Kirsty Godso, and Chloe Kernaghan of Pyro Tings your virtual trainers this month.
Alec Kugler
"The triple threat that is
Krissy Jones
,
Chloe Kernaghan
, and
Kirsty Godso
bring you New York
'
s hottest workout,
Pyro Tings
. Build up your mobility, cardio capabilities, and core and glute strength with some of our favorite exercises."
—Krissy Jones, Chloe Kernaghan, and Kirsty Godso
---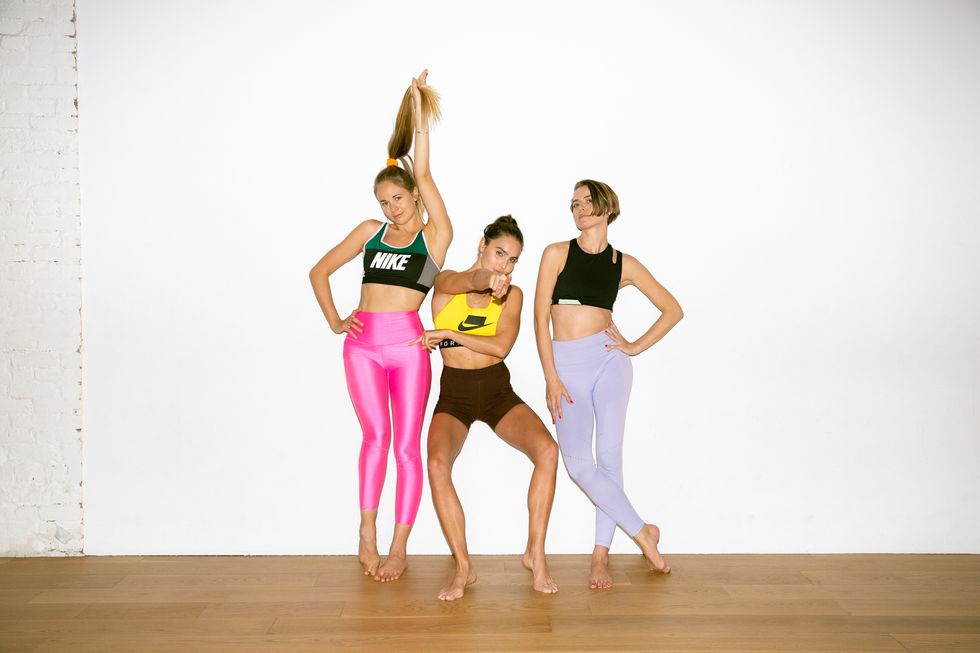 We're always up for a challenge, and this 30-day workout plan is
exactly
that. If you've ever attended a Pyro Tings workout, then you know what we're talking about. And if not, well, brace yourselves. Jones, Kernaghan, and Godso have put their heads together to create some of the most challenging workout moves we've ever done, and all you need to pull them off at home is a yoga mat and block. If you've been waiting for the perfect moment to get back into your fitness routine—or for a chance to change things up—the time is now. Stick to this for 30 days, and you
'
ll be sure to reap some benefits.
EQUIPMENT
Yoga mat
Yoga block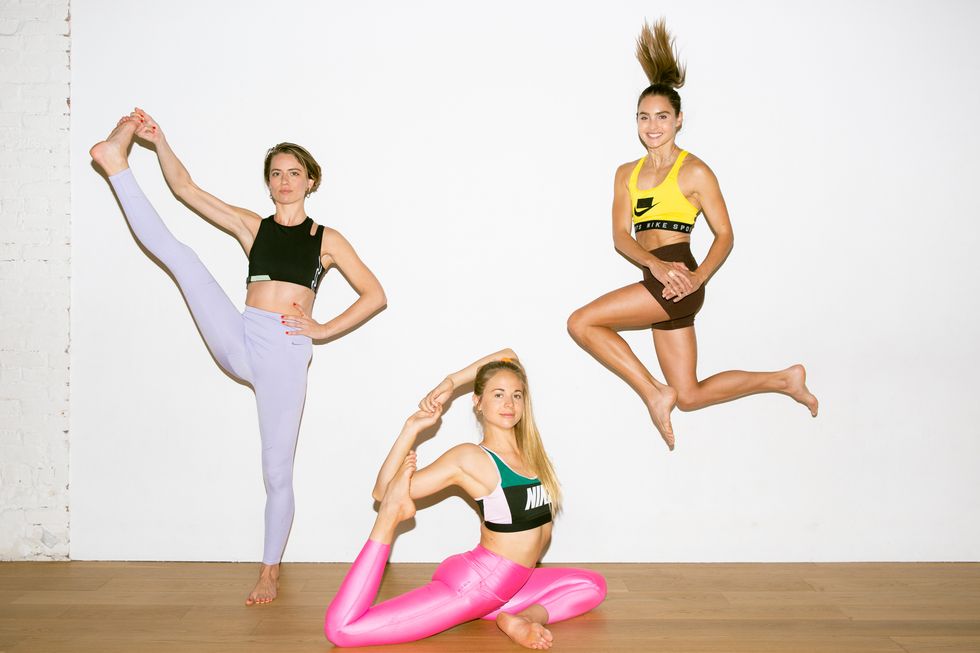 ---
HIIT MOVES
---
1. DONKEY KICKS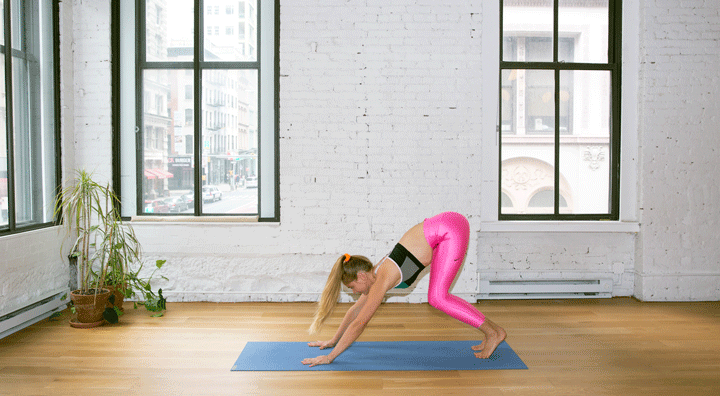 "Start in a bear hold position: hands under shoulders [and] knees under hips, hovering just off the ground. Push off the balls of your feet and drive weight into your hands to kick your bent legs up so they stack above your hips, heels stay close to butt. Land softly back in your starting position, and repeat."


2. PYRO TING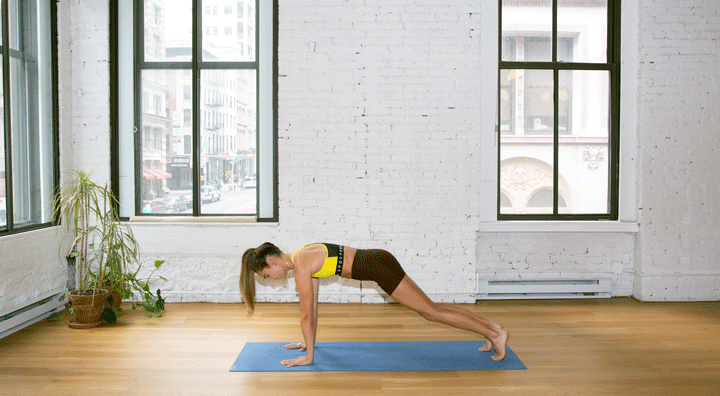 "Start in a high plank position with hands under shoulders, back long and flat, [with] your core and legs engaged. Drive left knee towards left elbow as right leg floats into the air, coming to hip height. Land back through high plank, and switch. Keep your body weight forward with shoulders over wrists the entire time, and go for speed and lightness. Engage your core, and lift your hips higher to give you more time to switch the legs and intensify the ab work."


3. SINGLE-LEG HIP BRIDGE TO LEG LOWER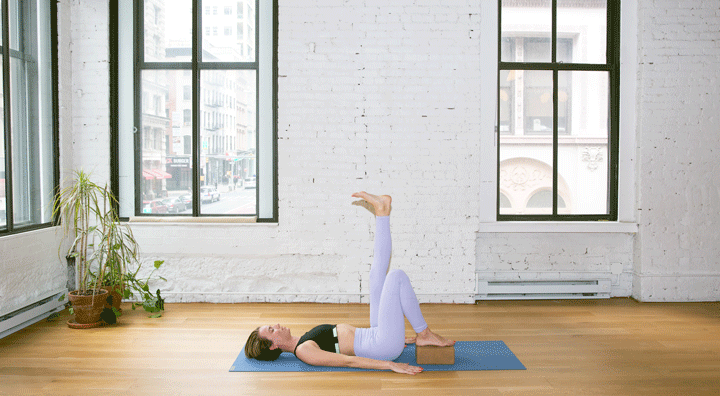 "Place one foot on a block, and set up so your fingertips graze your heels. Lift into a hip bridge, and extend your other leg straight into the sky with your foot flexed. Press your weight down through the block and your arms strongly into the floor alongside your body as you lever the other leg long towards the ground, keeping hips high. Exhale to draw your leg back to 90 degrees before lowering hips all the way to the mat. Repeat."


4. SINGLE-LEG SQUAT TO WALKOUT WITH PUSH-UP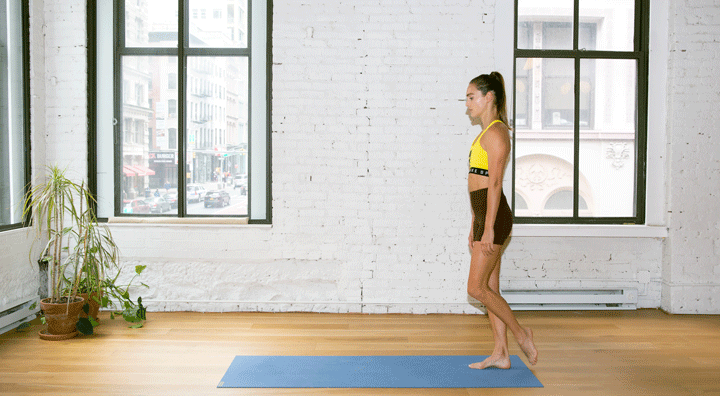 "Start standing, and lift your left foot just off the floor, pushing your weight into your right foot. Focus on driving weight down through the right heel as you lower down into a single-leg squat, keeping a tall spine, knee tracking out slightly towards your right pinkie toe. When you get to your max, place hands on the floor and walk out into a high plank position. Hands stop under shoulders, lower into a tricep push-up with elbows grazing past your ribs, neck stays long with eye gaze just forward of your fingertips. Push back up to high plank, and walk hands back towards feet. Plant right heel into the floor, and perform a second single-leg squat to stand. Keep left foot off the floor for all of the reps on the right side, then switch legs. Modification: Lower to your knees for the push-up."


5. CORE LEG EXTENSION TO LIFT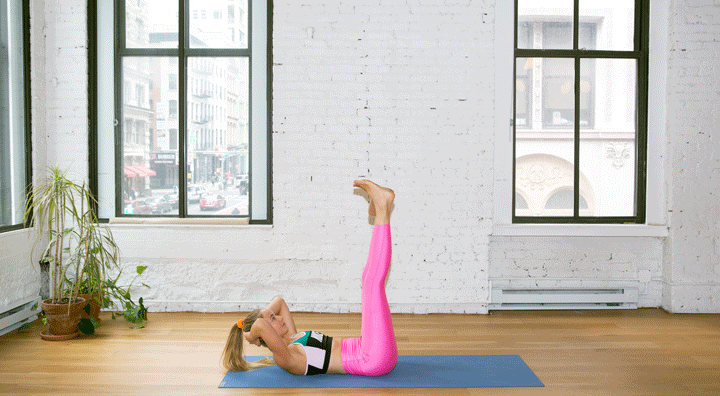 "Start lying on your back with knees bent and a block between your ankles. Extend your legs, and place hands behind your head. Drop the weight of your head into your hands, and roll up to where your shoulder blades are lifted off the mat. Squeeze heels into the block as you lower legs to 45 degrees, then bend them back in towards you, stopping when knees are over hips. Lift legs back to 90 [degrees], and perform a mini hip lift using your lower abs to lift hips just off the floor. Shoulder blades are off the floor the entire time. Go slow, and move with control."


---
YOGA MOVES
---
6. HANDS FLIPPED CAT/COW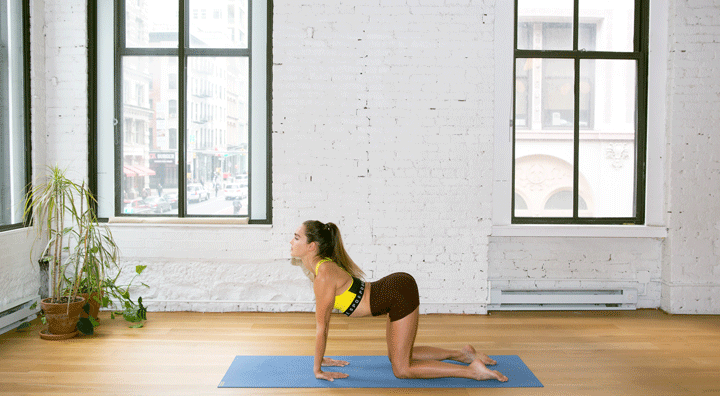 "Start in a tabletop position, hands under shoulders, knees under hips. Flip both hands to point back to your knees. Inhale, drop the belly, lift your seat, and look up towards the ceiling (cow pose). Exhale, tuck your chin to the chest, drop your tailbone, and puff up your back to round the spine (cat pose)."


7. DOWN DOG, UP DOG, CHATURANGA, UP DOG, DOWN DOG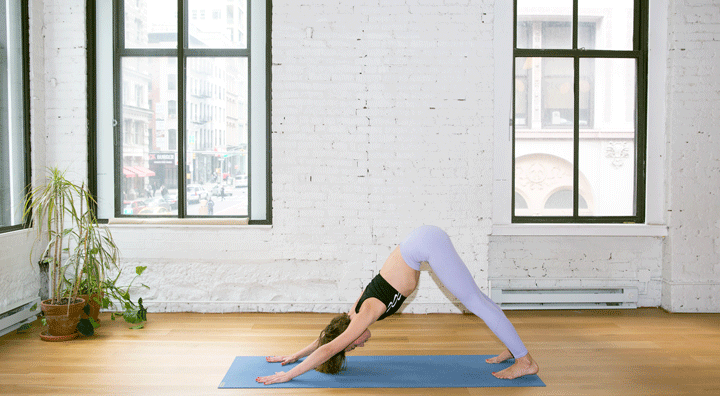 "Start in a downward-facing dog. On an inhale, wave forward to up dog. Keep your thighs lifted off the floor, arms straight, [and] look up toward the ceiling. Exhale, and bend your elbows 90 degrees to chaturanga dandasana (push-up position), reaching the heels back and keeping your legs strong. Inhale back up to up dog, exhale, hips high to down dog."


8. PIGEON TO QUAD STRETCH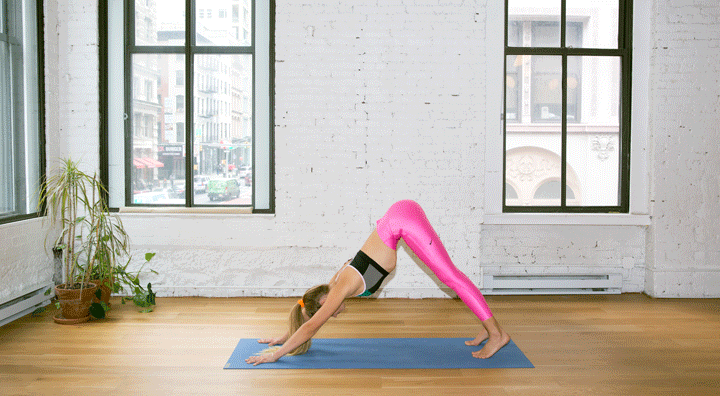 "Start in a downward-facing dog. Lift your right leg up, slide your right shin forward to pigeon pose with your right knee set behind your right wrist, left leg straight behind the left butt. Walk your hands forward, and let your chest release to the floor. Walk your hands back, lift your chest, and bend your left leg 90 degrees, [reaching] back with your right hand to hold on to your ankle. Release, and press back to down dog. Repeat on the left side."


9. KING OF THE MOUNTAIN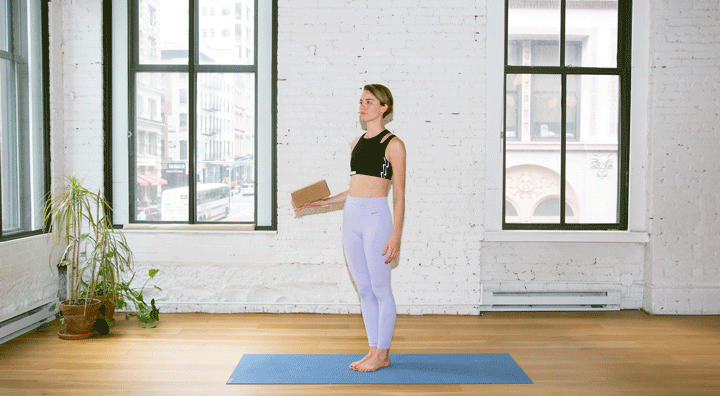 "Interlace your hands around a block, and flip your palms above your head. Make sure your arms are in line with your ears, elbows are straight, and palms face straight up to the ceiling. Your arms won't fall off! Keep them straight and overhead!"


10. KICKSTAND HAMSTRING STRETCH