WWWRN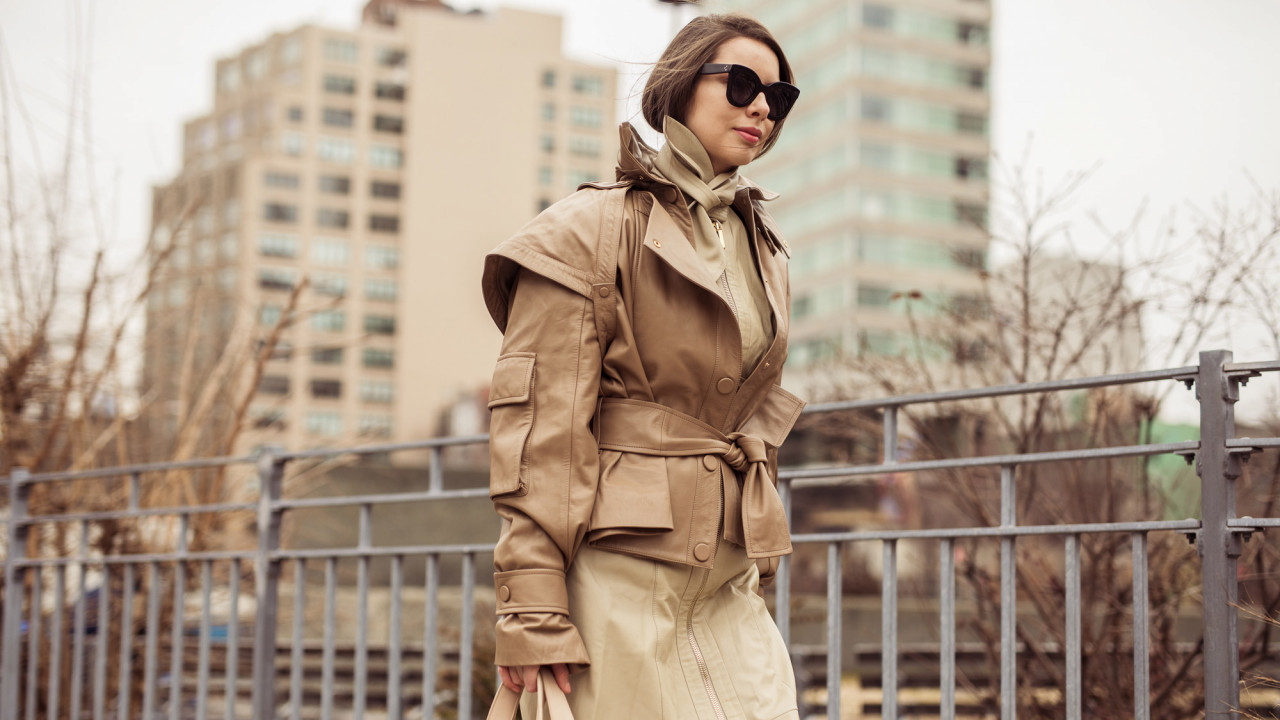 6 Editors on How They Style a Leather Jacket
Find some inspiration for wearing spring's most versatile staple.
Leather jacket weather is coming, and we could not be more excited to shed the puffy coats we've been wearing for the past few months. If you haven't added the perennial staple that is a leather jacket to your wardrobe yet, consider this an intervention. There are a million different ways to wear one, a few of which our editors have highlighted below. Check out the six different outfits we're wearing with our leather jackets for spring.
---
Hannah Baxter
Editor
1. Ganni Angela Fringed Leather Jacket: I've been hunting for a vintage fringed biker jacket for YEARS, and I still haven't come across the right one, but this Ganni style is very, very close. I'm obsessed with the fitted Western-style cut and that it looks just as good buttoned all the way up as it does open.
2. Rodebjer Pant Hall: The perfect wide-leg jean needs to have the right balance between a high waist and  snugness through the butt and top of the legs, then billow out in a structured silhouette. I never thought I'd find it until I slipped on this pair of Rodebjer pants during fashion week. They're also the perfect indigo wash and will look insanely good with my leather jacket of choice.
3. Proenza Schouler Black Lug Sole Boots: If the jacket is Western and the jeans are '70s, then it only feels right to add a whole other era to the mix with these futuristic hiking boots. The hardware is to die for, and it's the ideal height while still feeling comfortable. Sorry, bank account, these are coming home with me.
---
Ivanna Martinez
Social Media Associate
1. Dan Cassab Black Leather Jacket: Dan Cassab has perfected the leather jacket. It's not too stiff, molds to your shape, and is super lightweight. I love the fun detail on this one—it's truly one of a kind. And my favorite part? All the brand's pieces are handmade in Mexico.
2. Waimari Camila Lace Cotton Dress: Yes, it is still freezing in NYC, but I am already planning my spring/summer outfits, and no one can stop me! This dress from Waimari will be a key piece in my wardrobe when the weather turns. I love the classic cotton lace detail, and it's super lightweight. You can see the attention to detail with each stitch (it's handmade!), and it's Colombian luxury swimwear, so you'll feel like you're on a vacation every time you wear it.
3. Palma Canaria Valam Bag: I'm pretty sure there isn't a shape in this world Palma Canaria can't create with natural palm fibers. I am obsessed with the intricate detail and design of each piece and equally impressed by the quality of the material. This one is perfect for any season and a good way to tone down the edginess of a  leather jacket, which is a look I often go for.
---
Leah Faye Cooper
Editorial Director
1. DSTLD Biker Jacket: I've been looking for a leather jacket in the *perfect* shade of dark blue for ages, but haven't been able to find one and have no interest in settling. Patience is a virtue, friends—this is it.
2. Anna Sui Ruffle-Trimmed Printed Gauze Turtleneck Mini Dress: If I had to live in one outfit forever, it'd be a leather jacket over a mini dress. Suffice it to say, The Outnet will be hearing from me and my credit card, as I'd like to see this adorable gauze dress in my closet.
3. Aeydē Leandra Patent-Leather Ankle Boots: Add a comfortable bootie with a chunky heel, and voilà—you have the perfect leather jacket outfit.
---
Nandi Howard
Editorial Production Fellow
1. Supreme Uptown Studded Leather Jacket: This Supreme baby has been on my wish list since it dropped. If you're familiar with the streetwear market, then you know this jacket is sold out everywhere and being re-sold for triple the price. If you find it, cherish it—or email me because I might buy it from you.
2. Nike Sportswear Windrunner: I am my best self when I am the coziest, and these swishy pants are just up my ally. This Texas girl is still not used to New York winters, and these pants are perfect for sneaking some tights under.
3. Carrots Smoking Kills Long Sleeve: Anwar Carrots has been around since 2007 among designers at the forefront of the contemporary streetwear craze. Often mimicked by larger companies, his brand Carrots has managed to keep their buzz going for 12 years and counting. This "No Smoking" long-sleeve tee happens to be my favorite out of his new releases, and I honestly can never turn down a good graphic tee.
---
Camille Freestone
Editorial Fellow
1. AllSaints Estae Leather Biker Jacket: This jacket epitomizes what a classic leather jacket should look like (no frills or unnecessary details). I've had this one in my closet for just over a year now, and no lie, I wear it ALL the time, and for all sorts of occasions—work, brunch, a night out, you name it.
2. Anna Quan Anne Silk Satin-Trimmed Cotton-Twill Shirt: When layering with a jacket of any sort, I like to wear a shirt with a really great cuff that will stick out of the jacket sleeve. This button-down achieves that effect while still retaining a classic silhouette. Disclaimer: While these XL cuffs may look super cool, they are not practical for everyday life, i.e., be careful eating (I learned from personal experience).
3. Isabel Marant Étoile Noah Checked Cotton-Blend Slim-Leg Pants: A tailored pair of pants provides a really cool contrast effect against a moto jacket. In my mind, Isabel Marant can do no wrong, and these grey plaid pants of hers are versatile enough to go with anything from a blouse to a sweatshirt. Plus, the tapered leg is perfect for sneakers and booties alike.
---
Jodi Taylor
Editor
Part of the series:
WWWRN