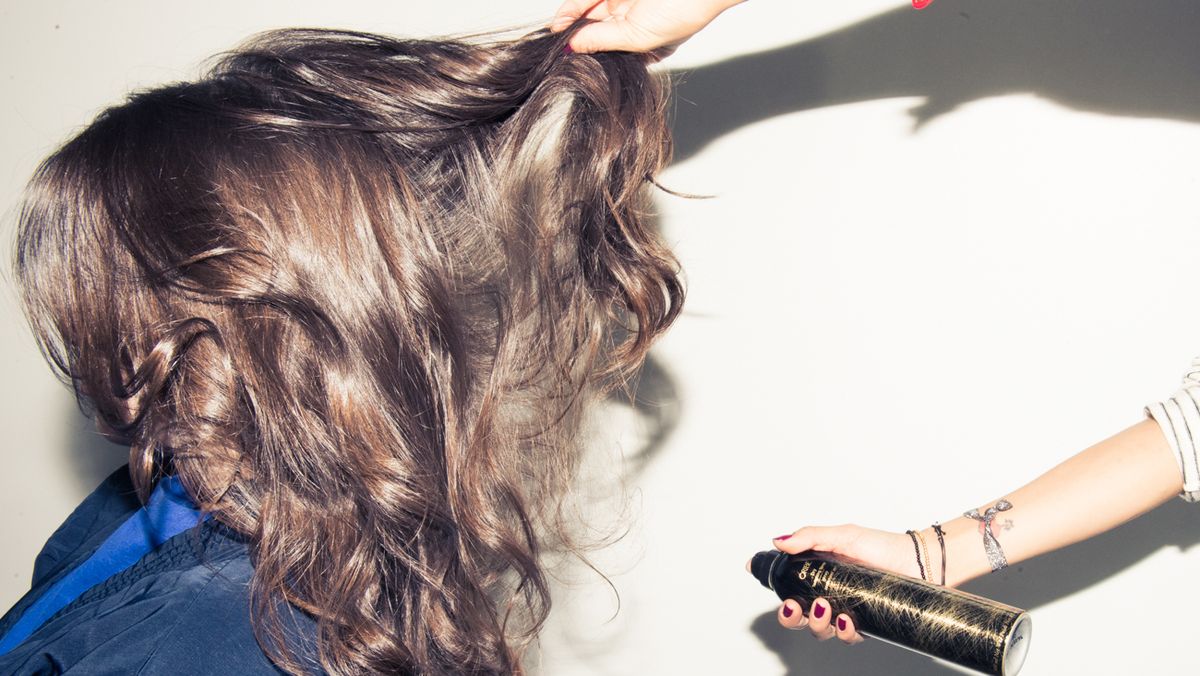 Hair
Courtesy of the hairstylist behind an entire host of Kardashian-Jenners.
In case you haven't gotten on board just yet, there's
a multitude of benefits to skipping daily shampoos
in lieu of less frequent washings, and we're more than happy to catch you up to speed. For one: You get to skip hitting snooze entirely and set your alarm for later in the morning. We don't know about you, but if there's one second of additional sleep to be had, we'll take it. Also? It's actually better for your hair (so much so, some say it actually aids in growing it longer, faster). Oil-prone scalps aren't being constantly stripped of moisture and forced to produce more in an effort to overcompensate, and dry scalps actually have the chance to breathe in between occasionally harsh shampoos. Finally? You'll tear through your fancy bottles of splurge shampoo and conditioner at a much slower rate. Consider us sold.
If there's any true indicator of skipping shampoo as a success story, though, it's that none other than the Kardashian-Jenner girls are purported to be fans of the plan. Say what you want, but in the hair department, those girls objectively
slaughter
—and we somehow feel less guilty about spritzing our roots full of dry shampoo for a third morning running, knowing that somewhere in the world (Dubai? Australia? Cuba? Las Vegas?), a Kardashian might just be doing the very same. And so, we wrote to
Justine Marjan
(an official member of the KJ Glam Team and
Mane Addicts
editorial director) all but begging her to break down what the ideal three-day, no-shampoo hair cycle looks like—because there's only so many messy topknots we can do.
---
---
Day 1
Wash + Blow-Dry + Natural Waves
"For the first day, we want to use volumizing products and styling products that are not very oily or won't cause buildup. I suggest lightweight, dry products that won't weigh the hair down.
Wash hair with a clarifying or volumizing shampoo at the root to remove any buildup. I suggest Kevin Murphy Detox Shampoo or
OUAI Volume Shampoo
. Then, use a mask or moisturizing conditioner only on the ends. I like Marula Oil Hair Mask.
After washing, gently squeeze out moisture, then apply a volumizing spray like
Davines Volu Mist
from root to ends. Blow-dry with a Sedu Blowdryer and Ibiza brush, creating lift at the root—flip your head upside down for added volume. Wear your hair with a bouncy blowout, or use a 1
1⁄4
" GHD Curling Iron to put a wave through the ends. Finish with a small amount of
Sally Hershberger 24k Texturizing Paste
through the ends."
---
Day 2
Textured Pony
"Re-use the texture created on the previous day by gathering your hair into a super-high flirty ponytail and securing with a hair bungee. First, prep your hair with
Aveda Shampure Dry Shampoo
to remove buildup and create lift at the root. Then use your hands to gather hair at the top of the head and secure it with a hair bungee. Use your fingers to pull loose any stray hairs around the face, and grab a brush and lift up the length of the pony, then back-brush it down to create more volume. Spray it with more dry shampoo throughout the ponytail for added lift."
---
Day 3
Slick Braids
"By this point, your hair is probably feeling full of buildup. Use that to your advantage, and coat your hair in
Kardashian Beauty Black Seed Oil
prior to styling. I suggest braids for day three because you won't need to apply heat to the hair and the hair has a chance to absorb the oil. After coating your hair generously from root to tip, decide what kind of braid you want to do. A sleek low braid is great for longer lengths, and two Dutch braids on either side of the head work great for all lengths. Use the
Ibiza G7 Smoothing Brush
to work through your hair, then create your braids. Spray a toothbrush with
Moroccanoil Luminous Hairspray
to comb down any flyaways or baby hairs."