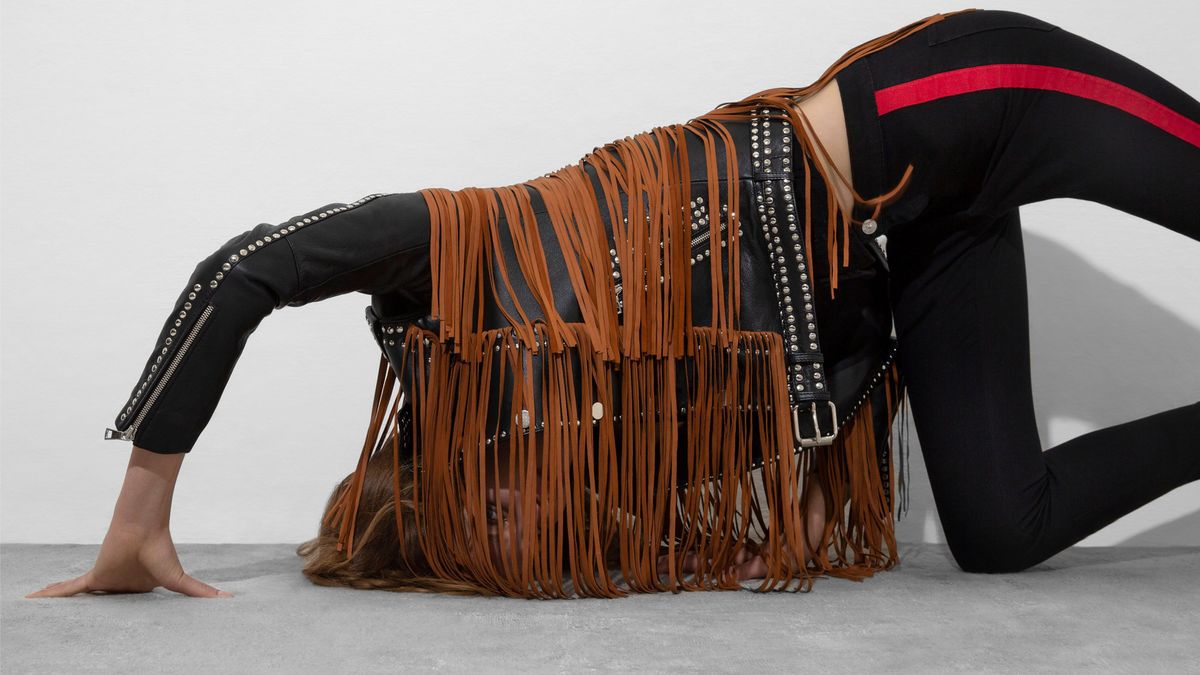 Designers
This Leather Jacket Brand Is Putting Fringe Back on the Map
Name the occasion, DanCassab has a jacket for that.
Drawing inspiration from modern-day styles and Mexico's deep culture in craftsmanship,
Daniela Cassab
has managed to put her small luxury leather jacket brand, Dan Cassab, on the fashion world map. Some of her first fans? None other than
J. Balvin
and
Maluma
. What's even more impressive is Cassab "owning" the leather jacket space in Latin America just two years after starting the brand. She's not only giving Mexican artisans a platform for their talent, but has also set the bar incredibly high for craftsmanship. Given her vast knowledge of leatherwork and inspiration from her Mexican roots, Dan Cassab has a jacket for nearly every occasion. If you've seen her famous
Geovana Fringe Jacket
on several
Instagram Influencers
, you may have thought it was fast fashion, but it's quite the opposite. Her method is based on traditional textile methods, and she
'
s proud to be at the helm of a "slow fashion" brand. Nothing is outsourced, and everything is Made In Mexico,
"
even my inspiration," she says.
More on her work and growing brand ahead.
---
How the brand came to be:

"My family worked in denim, so I was already familiarized with textiles. It was always something I had at an arm's reach. I believe that working with textiles and leather in particular is a skill you learn and eventually fall in love with. It's not ' second nature,' you have to learn it, and it's a whole process. Studying art history has also allowed me to really appreciate the storytelling of a garment. It's great to live in a country that has opportunities to create, because there's a lot of inspiration. It's a country with a lot of history, with a lot of culture. Lots of the pieces that you'll see from my collections are inspired by Mexico, so there's a lot of room for opportunity in that."

What it's like working with leather:

"All of our jackets are made from scratch by Mexican artisans. Their process starts by placing each material together, like a puzzle or sculpture almost, that they then sew together. Leather can come in damaged, with holes, etc. It has certain imperfections that makes the sewing process completely different than material like fabric. If you mess up a stitch, the entire material can't be used. But the craftsmanship in Mexico is like no other. It's very meticulous, with huge attention to detail. The leather is super soft and super lightweight. Most people have said that's their favorite part of the jacket. It feels so natural, like a second set of skin. It's not stiff, and you make it yours. The more you wear it (and it gets distressed), the more it becomes part of you."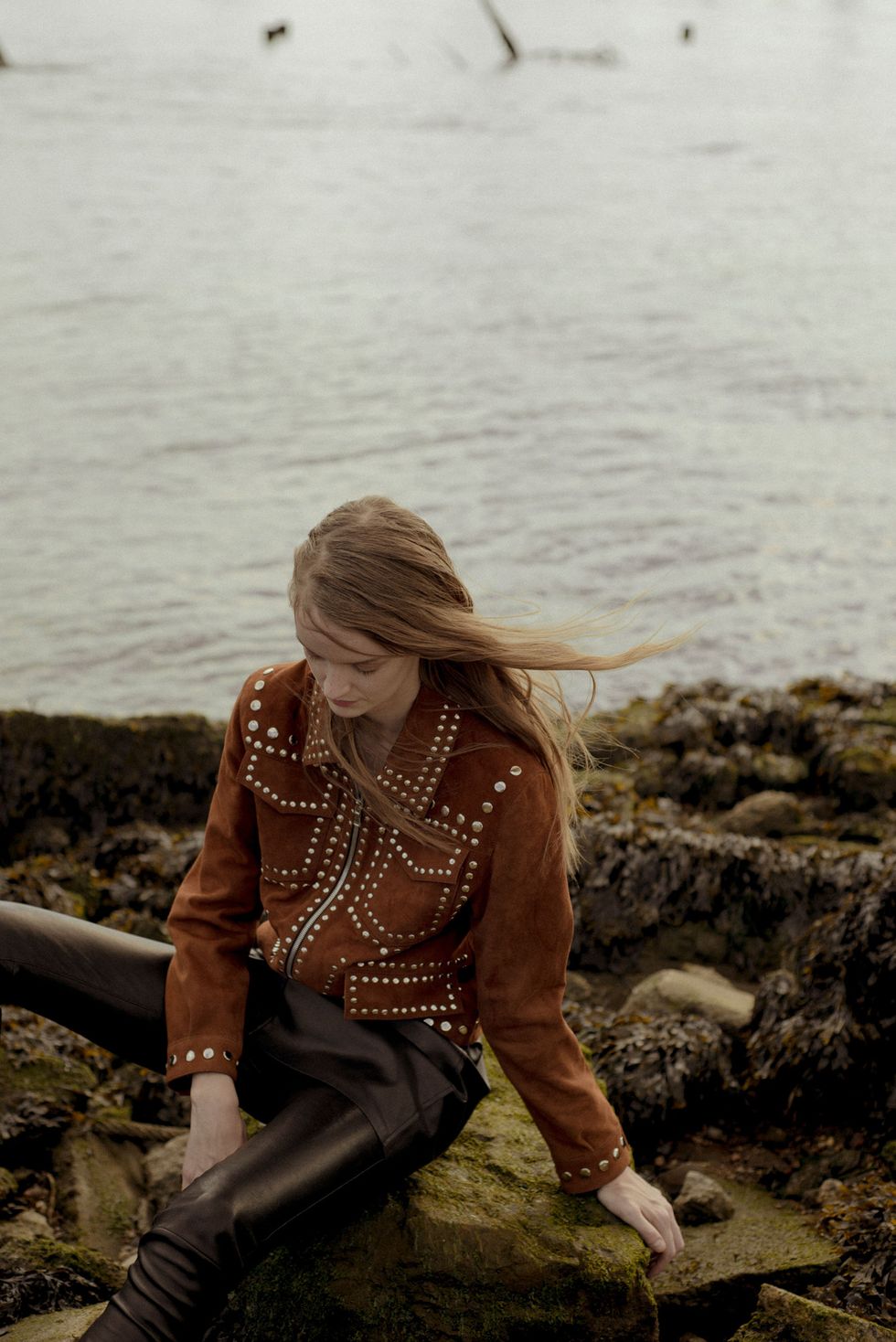 Photo: Courtesy of Dan Cassab
Why she chose jackets:

"I think there are already so many accessories out there (bags, boots, belts, etc) being made, but few focus on outerwear. Everyone needs to have a leather jacket, everyone! To me it's the most versatile item of clothing you can have in your closet. It's an item that should be considered heritage, luxury. It's craftsmanship, and our goal is for the client to see that. This isn't a jacket that was made quickly, or that you wear for two seasons. Quite the opposite. Apart from looking your best in it, I believe you feel your best wearing something that is so unique to you. And, I think now more than ever, it looks better for a brand to really focus on just one product, do it really well, master it, than doing lots of products. The concept is great too. It really makes your product feel like a high-end product, premium."

Why she likes to keep the brand transparent:

"Because we aren't fast-fashion, I have the ability and luxury to show my consumers what the process of making their jacket is like. And more importantly, who is making them. Instagram can be a beautiful way at showing BTS (behind-the-scenes), and that's exactly what I use it for. We've profiled each artisan on our IG, and the process is constantly being shown on our stories. They do have a face. They have a family, and their work is impeccable. It's showing the world who made their jacket. The majority of what we wear, we don't know who made it. I'm essentially making 'behind-the-scenes' my brand."


What the design process is like:
"I take inspiration from anything, a conversation, a trip, a song. Most of these (designs) are named after songs because that's what inspired this recent collection. But I personally think that observing is what inspires me. After that comes the outsourcing, but it really begins with starting with the 'why?' Why is it important? After that, the process of creating something is much easier."
How she incorporates traditional methods into her work:
"I recently did a show at
Diseñado México 32 (#DMX32) Tamaulipas
, it's probably been my favorite project thus far. I learned the traditional Tamaulipan methods of making leather and added my modern twist to it. It was a lot of research, and I worked with different people in Tamaulipas to make sure I got it right. It was an ode to the culture that started this leather treatment, this was only my interpretation of it. By doing my research and combining these methods, I'm really able to to shine light at this particular culture's history. And that's always the goal."
Her end goal:
"Working on a piece that is timeless. Leather will always be here, and I'm here to give it my own twist."
Photos: Courtesy of Dan Cassab
Want more stories like this?
The New Natural Fragrance Brand That Makes Your Vanity Instantly More Chic
Introducing Inactive Wear and the Coziest Marshmallow Coat Ever
The New Luxe Sneaker Brand You Should Get Familiar With