New Wave
It's Going to Be Impossible to Avoid Saint Jhn This Year
We sat down with the singer and songwriter to chat musical inspirations and what we can expect from his next album, Ghetto Lenny's Love Songs for Christians.
Alec Kugler
Spend just five minutes with singer and songwriter
SAINt JHN
, and you'll be smiling from ear to ear, completely enamored with the Brooklyn
–
born artist. We speak from experience, recalling the Friday afternoon he spent jumping off picnic tables, playing with fire, and standing on the desks at Coveteur HQ, cheerfully waving around a bottle of champagne.
His personality and cinematic hip-hop music are equally magnetic (we're still listening to
Collection One
on repeat, you?), and while he may seem all fun and games, the artist—who refers to himself as the Ghetto Lenny Kravitz—doesn
'
t joke around when it comes to his craft. Just take the facts that he's successfully released all of his music without a label, and that Roc-A-Fella's co-founder, Kareem "Biggs" Burke, came out of
music industry retirement
to manage him, as proof of his dedication.
Between SAINt JHN dancing across our desks (in metallic red boots, might we add) and giving us what felt like our own mini-concert, we sat down to discuss how he went from stealing his older brother's raps to preparing for the release of his second album,
Ghetto Lenny's Love Songs for Christians
, out in April. Here
'
s what he shared. 
---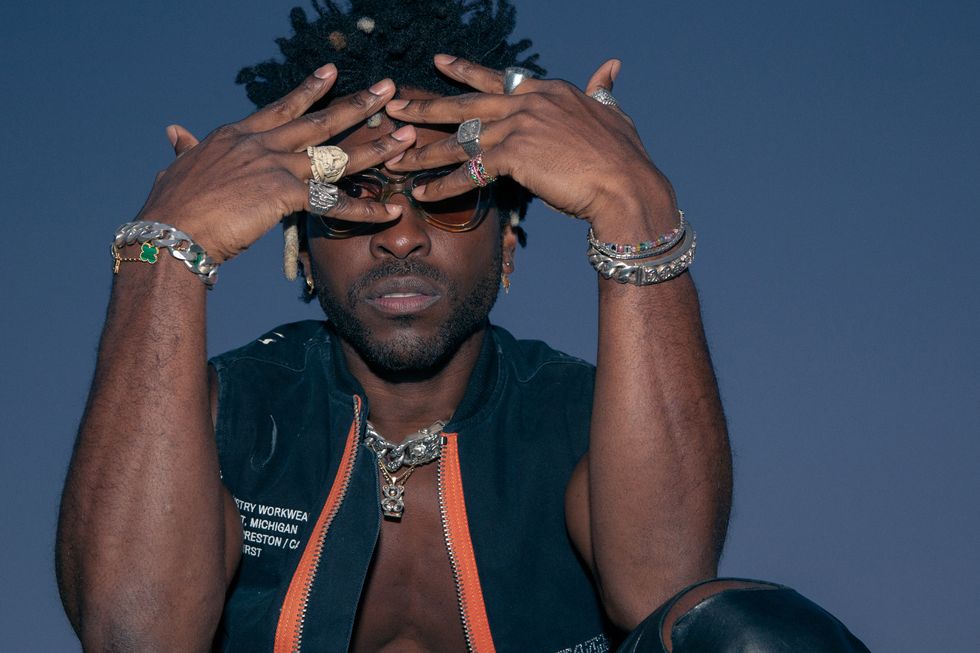 He knew from a young age that he wanted to make music:
"My very first memory is coming home from school and watching my brother on the corner in Bushwick in a rap battle. It wasn't a battle, it was a cypher—him and six other guys in a circle rapping. It just happened to be his turn—the timing could not have been better—and I remember walking past him and I was like,
Oh shit.
At the time I didn't have the word 'cypher' in my vocabulary, so I didn't know what was happening, but I understood it. I knew it was impressive, and I was like,
I want in. I want that
.
"At first I started stealing my brother
'
s raps. He was a couple of years older than me, so I would steal his raps and go rap in school. Imagine I'm in class, I'm rapping, I'm 11 years old, and I've got these older raps, so I'm brilliant. It was fantastic."
He found his voice through trial and error:
"It took a while, it came through exploration. I made a lot of mistakes. When I say mistakes, it just wasn't good enough. I made a lot of songs, and they didn't quite achieve what I wanted them to. It took understanding rhythm and melody. I didn't know I had a voice that could carry a message in the form of a melody. I discovered that by being adventurous in the studio."
He dedicated himself to songwriting shortly after:
"I was writing my own music and gaining a little momentum. I put out two mixtapes; the first had 500 downloads, and the second one—I waited six months and developed a strategy—got 20,000. I had developed a way to do outreach to websites and blogs to gain support. A friend of mine was the producer I was working with, and he was a singer. I [wrote a record for him], and his one song took off further than my two bodies of work in like, seven hours. An executive invited me to L.A., and he said, 'Write these songs for an artist'—a specific artist with a huge name. Of course they didn't take the songs, of course they weren't good enough—who has a story like that? That's not my story. But I understood that from that point there was opportunity. It was the first time anybody in the business had asked me for anything. I knew that meant something, so I pursued writing. It was me understanding that I had a value to offer."
What he's currently working on:
"
Ghetto Lenny's Love Songs for Christians
. That's my next collection, and that comes out remarkably soon. And I'm working on
Christian Sex Club
. Christian Sex Club is a lifestyle brand, but the truth is, it's an extreme sportswear brand because life is an extreme sport."
What we can expect from Ghetto Lenny's Love Songs for Christians:

"Collection One was remarkably honest, but it was just scratching the surface. I didn't give you everything I had, I wanted to start the story. Collection One is the equivalent of me walking into the bar in a blue mink, you're sitting by the bar, and I walk up to you and I buy you a drink. You like how I look at you, you like how it feels. I don't introduce myself, I just leave. The impression was made. [Ghetto Lenny's Love Songs for Christians] is when I come back and reintroduce myself. I tell you my name and I ask you yours."

His musical inspirations growing up:

"Beanie Man, Jay-Z, Jadakiss, Fab, Spragga Benz and Buju, Capleton—man, there's lots. It's not fair because there's not enough time for me to tell you how robust the list is. I get inspiration from moments. There might be an artist that has just a verse, and that verse is so profound that I'm inspired."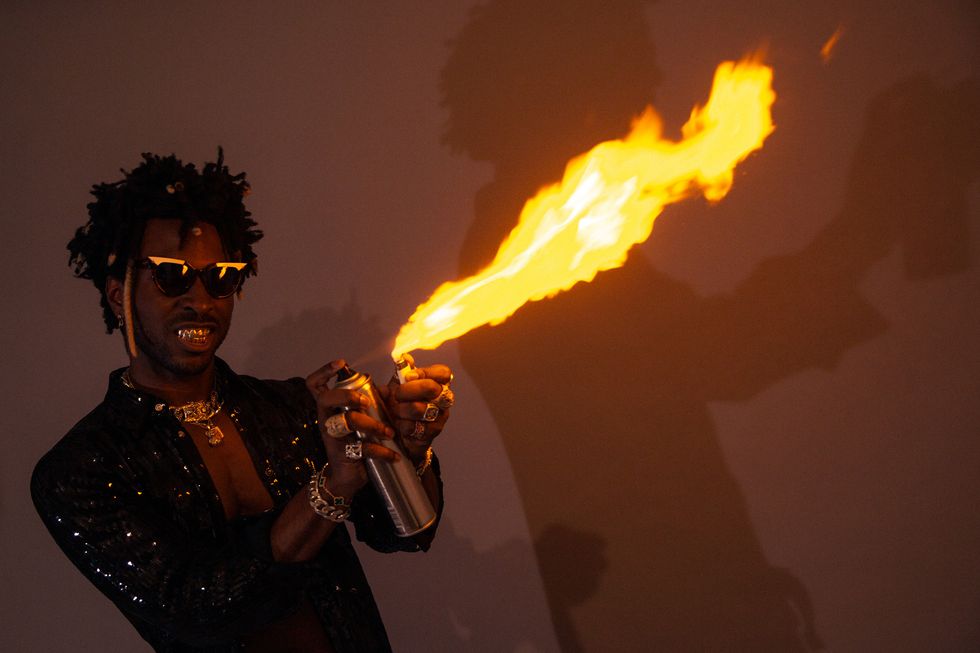 His favorite song depends on his mood:
"Off of
Collection One
, one of my favorite songs is 'God Bless the Internet,' but one of my favorite singles is 'I Heard You Got Too Lit Last Night.' Absolutely. I make all the music I like, so it's sort of unfair, you're just catching an emotion that's current right now. If you ask me tomorrow morning at 6:00 AM and I'm driving down the Westside highway with a Porsche, I'm going to tell you 'Reflex.
'
"
What he wants to be remembered by:
"My integrity and my willingness to push forward. My unsettling desire to go faster and further. We can do [the next interview] in my McLaren 10 years from now—one of the 30 that I own. But it's not really a McLaren, it's Porsche, let's be honest."
Want more stories like this?
Gunna's Drip Is Here to Stay
Stylish Couple Alert! Getting Ready with GoldLink and Justine Skye
Exclusive: Everything That Happened on Rae Sremmurd's Recent Tour