Nails
Everything You Can Do at the Nail Salon Besides Gel
The ultimate 101 on your claws.
In all honesty, I feel naked without long, pointed acrylic nails. They're the sole beauty ritual that I *cannot* live without. Almond, coffin, stiletto—you name it, I've done it. And while I usually commend myself for being up-to-date on the latest in all things manicure-related, I was completely unaware of the many trends circulating throughout nail salons today. Besides the traditional polish and top coat, there are a multitude of different methods you can use to achieve your dream look, including gel, acrylic, and the lesser known SNS.
This got me to thinking—first of all, what in the world is SNS? It stands for Signature Nail Systems and is a method of powder dipping for a long-lasting finish. So what else was my manicurist hiding from me? Was I really missing out by not knowing anything but my beloved acrylic nail extensions?
So I reached out to two of the best in the biz—Gracie J. of  
The Editorial Nail
(and lead manicurist for the show
Claws
), and
Elizabeth Garcia
, celebrity nail artist and owner of the
The Nail Room
in Astoria, Queens—to get the lowdown on everything manicure-related so you can make the right decision the next time you need to accessorize your talons.
---
What is SNS, and how does it differ from acrylic?

Gracie J: "SNS is the Signature Nail Systems brand using a dipping-powder method, which requires an adhesive or gel base to bind the powder to the nail. An acrylic system requires a liquid monomer and powder polymer combined to create an overlay or extension, both on the natural nail."

Elizabeth: "SNS and acrylic are basically made out of the same chemicals. SNS is used with a special resin and activator to harden it, [whereas] acrylic is used with a liquid monomer and a brush to create a bead that you then shape."

What is gel, and how does it differ from Shellac?

Gracie J: "Gel is a polish that's hardened or cured using a UV or LED light. It's formulated to last longer than regular nail polish and soaked off using acetone. Shellac and gel are the same thing. Shellac is a brand from CND that makes gel polishes, but the Shellac brand differs from other gels in formula."

Elizabeth: "Gel is one of the many mediums that you can use to create an enhancement on your nail or to create nail art. Gel polish can last three to four weeks and is slightly thicker. Shellac is slightly thinner, soaks off faster, and does no damage to the natural nail. There should ideally be zero damage to the nail, regardless of the medium that one uses, if the gel is removed properly and not aggressively."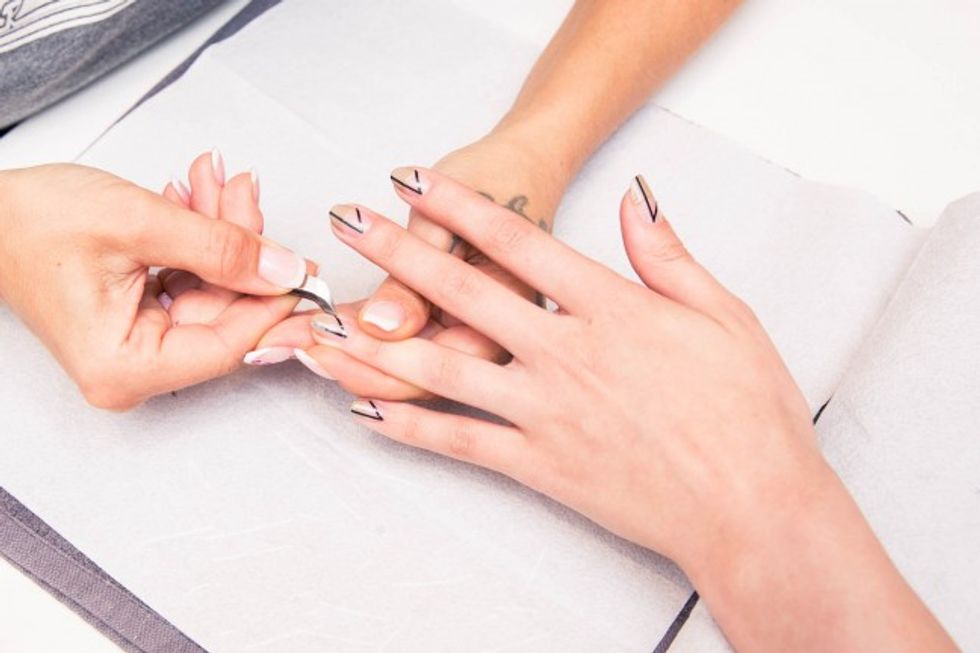 Which method is the best for nail art?

Gracie J: "Any of these methods can be used as a base for nail art, but nail art is best created when using gels with a thicker viscosity. That way you can manipulate the gel and work at your own pace because of the drying process."

Elizabeth: "The best method for nail art is gel, in my opinion. The artist is able to take the time that is necessary to hand-draw or use certain tools, without having to worry about the nail drying quickly."

Are nail extensions achievable with SNS or gel nails as well?

Gracie J: "Extensions can be achieved with either method. You can use a nail tip to apply over the free edge of the nail, then layering the SNS in increments. Or you can simply use a hard gel to achieve the same goal."

Which process is the longest-lasting?

Gracie J: "It depends on a few factors, such as what works best with the clients' nails? How well is the nail stylist prepping the nails? [What] is the quality of the product? Different things work for different people."

Elizabeth: "Most of the time, with my clients, it's a gel manicure. Gel lasts longest with the right quality products and techniques. I've been using some specific techniques for a few years, and it has definitely worked for me and many of my clients. If the nail technician preps the nail correctly and performs a dry manicure prior to gel, it will definitely make the life of the gel manicure last longer."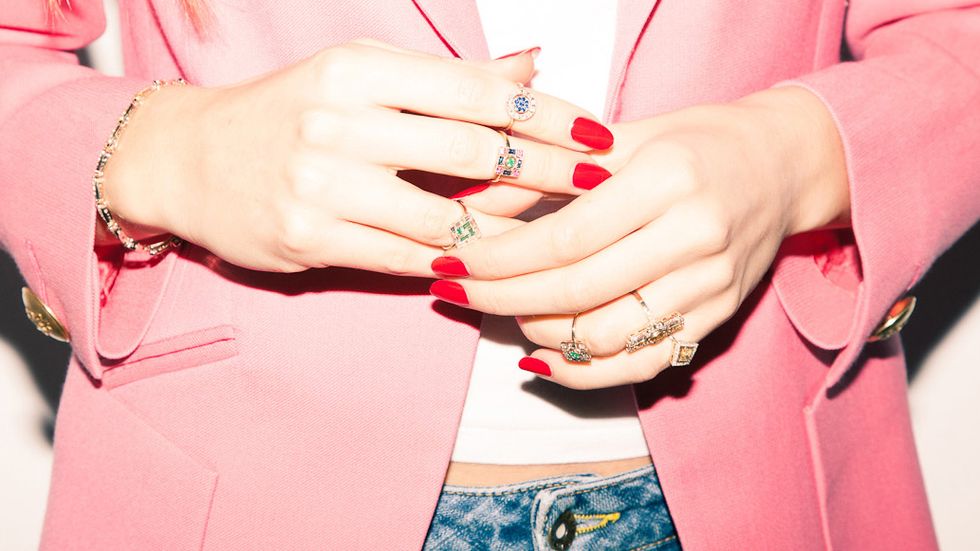 Which method causes the most damage to your nail bed?
Gracie J:
"It all depends on what product you're using, how the nail is being prepped and product removed, as well as how the client is maintaining their nails while they're out of the salon. I've seen both healthy and unhealthy nails from all types of products and methods. Who is your nail stylist? And also, are they educating you and themselves continuously?"
Elizabeth:
"The most damage done to your nail bed would have to be through SNS, since it dehydrates your nail more than the other methods."
Which method is your favorite?
Gracie J:
"I personally don't use acrylics because the smell is so unpleasant for me. But I use different methods for different clients depending on what works best for their nails. It's always good to be open to different products because no two clients are the same."
Elizabeth:
"My favorite method is the gel manicure, hands down. You're able to stretch it a week longer than Shellac. Sometimes you get caught up with work and life in general and can't make it to the salon. You're able to save up a little more, and who doesn't like that, right? It also allows me to be more creative with nail looks for my clients."
Want more stories like this?
How to Remove Glitter Nail Polish in Less Than 60 Seconds
Fashion's Favorite Manicurist Gave Us a Tour of Tokyo in NYC
The Best Nail Salons in New York City According to Ten Beauty Editors