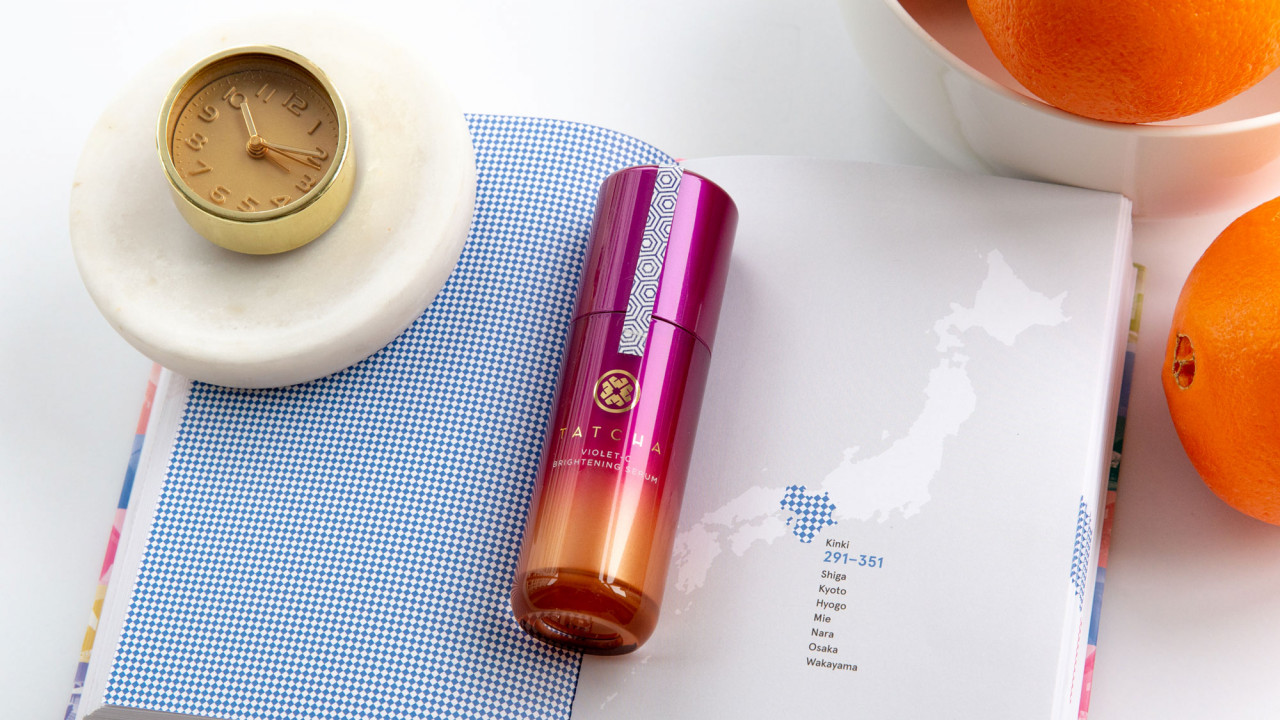 The Japanese Face Serum That Makes Your Skin Extra Glowy
And a visit to the hometown of a J-beauty cult brand.
With the shift in focus from K-beauty to J-beauty (Japanese beauty) in the last year, I've learned that the Japanese skin-care ethos is all about simplifying. Fewer layers of product with more purpose and science—each step as meaningful as possible. This is why I was particularly happy when Tatcha, the luxe J-beauty brand used by Meghan Markle, Kim Kardashian, Chloë Sevigny, and Chrissy Teigen, launched their Violet-C Brightening Serum last month. One of the only ingredients considered an uncontested gold-standard anti-ager is vitamin C. It can cancel out free-radical damage (those errant molecules that can age your skin faster after they get triggered by sun and stress), and it's also good at brightening your skin by blocking spot-causing processes between your cells. Simply put: It gets an A+.
But, like many overachievers, vitamin C is a finicky ingredient that only works when formulated with care (hence the higher price tag on good vitamin C products—along with Tatcha, I also recommend Revision Skincare, SkinCeuticals, and Drunk Elephant). Meant to be used at night to stay potent, Tatcha's serum has two different kinds of vitamin C, plus other antioxidants extracted from Asian plants and alpha hydroxy acids that make your skin super glowy while you sleep. Or, as they put it in perfectly Japanese succinctness, it's like sunrise for your skin.
Tatcha is from Kyoto, Japan, where I visited last fall and got my first Tatcha facial at the Four Seasons Kyoto. Indeed, the *extra* levels were running high that day. The treatment included gold face-massage wands, sheet masks, and a grand finale with a gold-flake-infused lip balm. It made my face look even and sculpted for about three full days, even though I was drinking and eating like mad and barely functioning in a time zone on the opposite side of the globe from my home in New York City. This is what they mean when they talk about J-beauty.
But this royal treatment is not how my day in Kyoto started off when I woke up in my creaky old Japanese AirBnb in Kyoto. Wind blew through the walls of the 100-plus-year-old building, and upon opening my eyes, I was already late to meet a local driver, Toide-San, who waited to show me the ancient city. Ahead of me lay his carefully constructed schedule that included hitting the Golden Pavilion and Bamboo Forest before the tourists, little-known shrines and zen gardens, a tea ceremony, and a lunch full of locals that looked at me in disbelief when I told them how much omokase sushi costs in New York. But maybe most interesting to me were the fortune-telling machines.
At one temple, Toide-San inserted some coins into an old apparatus that spit out a piece of paper with a fortune maybe five times longer than that from a cookie. He handed it to me still folded. It seemed like a decent enough prediction to me: I saw the words "good health" and "well-being" in there before he grabbed it from my hands. "This is not a good fortune," he said. "We'll do it again." Toide-San took the "not good" fortune and tied it around a long string nearby strewn with other abandoned prophecies. That the inherent goodness of my future was in my own hands was news to me, but considering that my profession typically insists that the earth stop turning altogether (anti-aging creams! wrinkle erasers! gravity-defying facials!), I guess I'm the last person to deny an opportunity to redirect fate. And my new fortune was indeed good. The first line says: "The moon is going down behind the mountainside, and the sky is getting brighter in the east." A sunrise, you say? Let's just hope that applies to the destiny of my skin, as well.
Want more stories like this?
I Wanted Crazy Glowy Skin This Winter So I Got a CBD Facial
I Always Get Compliments on My Skin—These Are the Products I Use
Summer Fridays Just Dropped Their Latest Face Mask to Make You Glow