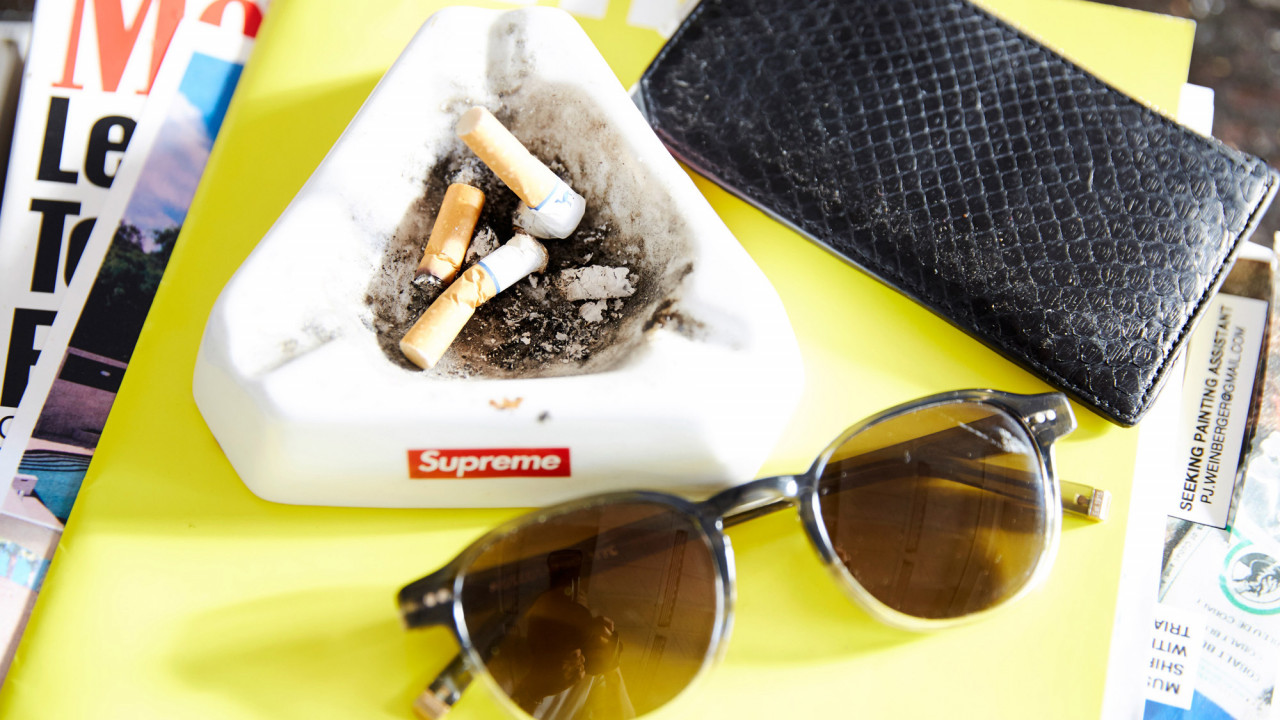 Cigarette Butts Are the Worst Plastic Pollutant
And the most littered item on the globe.
Straws have gotten a bad rap, even inspiring some luxury companies to produce upmarket sipping devices made out of sterling silver or adorned with crystal. Plastic bags are in the same boat, with countless alternatives made out of hemp, cotton, jute, and pretty much every other fabric under the sun. But the real plastic terror? Cigarette filters, stubbed out on sidewalks or flicked into gutters and forgotten.
This may sound corny, but though they may be out of sight, out of mind, for smokers who leave their butts on the street, they're not so easily forgotten by good old Mother Earth. Heaps of filters make their way into the water system through gutters daily, as CNN reports, and a whopping two-thirds of cigarette ends are not thrown out properly.
The worst part: Many may think cigarette butts are no big deal because they decompose. Though they do, eventually, the cellulose acetate that most filters are made of can take up to 10 years to break down. In the meantime, it leaches lead, arsenic, and other chemicals into the water or ground, which can cause serious problems for any wildlife caught in the crossfire.
Perhaps one of the most awful revelations comes from a study which soaked cigarette butts in water, then placed fish in the same water to see what would happen. After four days, half of the fish were dead.
The worst part of all is that plastic cigarette filters aren't likely saving smokers from any ailments. Though they first hit the scene in the fifties, as worries about lung cancer started cropping up, it was found that original filters were nixing the very tar and nicotine that draw people to smoke cigarettes in the first place. Today's filters let those through, and make it easier and smoother to inhale. Ultimately, filters increase certain toxins in the smoke. And though rates of the most prevalent lung cancer declined, rates of adenocarcinoma, another type of lung cancer, have grown.
Part of the problem is that so many smokers think butts biodegrade easily. In a piece in the New York Times from 10 years ago, one smoker on her break asked, "Aren't cigarettes biodegradable?"
No, unfortunately, most are not. And while we wait for the cellulose acetate to slowly decompose, fish and wildlife are collateral casualties. If you're a smoker, it might be time to invest in a pocket ashtray. They're not the most chic accessory, but if they're good enough to be handed out like candy at the Venice Biennale in 2013, they're good enough to keep in your pocket as you take a walk.
Want more stories like this?
How Sustainable Are Your Sneakers?
New Climate Report Predicts High Risk of Crisis by 2040
What to Do If You're Feeling Overwhelmed by Climate Change