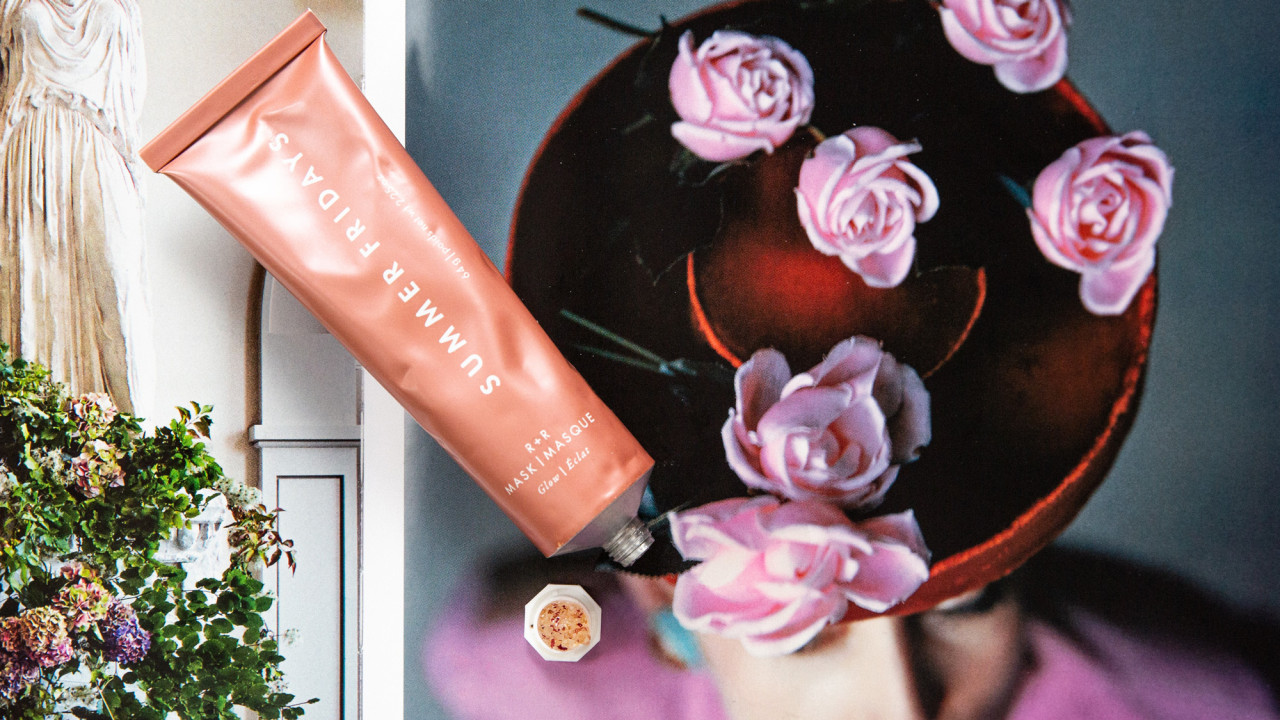 Summer Fridays Drops Their Latest Mask Designed to Make You Glow
It's scrubby and has little rose petals in it!
The new Summer Fridays R+R Mask—which most beauty junkies have already seen on Instagram, but officially launches at Sephora today—is one part scrub, one part face oil, and one part vitamin C serum, all with the purpose of making you glow. The oily clear gel mask comes in the now Insta-iconic Summer Fridays metal tube, and this one has a rose tone—the original cult Summer Fridays Jet Lag Mask was in cornflower blue, and the exfoliating follow-up, Overtime, came in gold. Inside the clear R+R mask, you'll notice pretty little rose petal flecks suspended inside, as well as little scrub granules made from rose powder and sugar. The flecks remind me of the Fresh Rose Petal Mask, but fans of Fresh should expect an entirely different experience.
While the rose theme makes this formula seem sweet and innocent, the scrub inside is no joke. And balanced with a bunch of hydrating ingredients like argan, safflower, avocado, and grape seed, it makes your skin super soft rather than dry and squeaky clean. The instructions say to leave it on for 10 minutes, remove with a warm, wet cloth (do this carefully to make sure all the scrub granules are gone), and then rub in the remaining oil. I would say it actually makes a great daily exfoliant because of how gentle it is, but for someone with dry skin, like myself, you'll need an extra dose of hydration on top. Long-term, the special version of oil-soluble vitamin C inside will make your skin extra bright.
Like the other Summer Fridays launches from the social-media genius founders, Marianna Hewitt (one of our amazing Coveteur Choice Awards judges!) and Lauren Gores, the launch is a visual masterpiece. The theme is rose, rose, and rose, and their Instagram is filled with luscious images of the flower. Even their launch event in L.A. was with Rosie Huntington-Whiteley, and, of course, the smell of the formula is soft, rose-y heaven—not too sweet, not too powdery. Indeed, everything's coming up… You know.
Want more stories like this?
You Might Be Taking Off Your Face Mask Wrong
J-Beauty Is Like Marie Kondo for Your Skin Care
8 Hydrating Hair Masks for Extremely Dry Hair