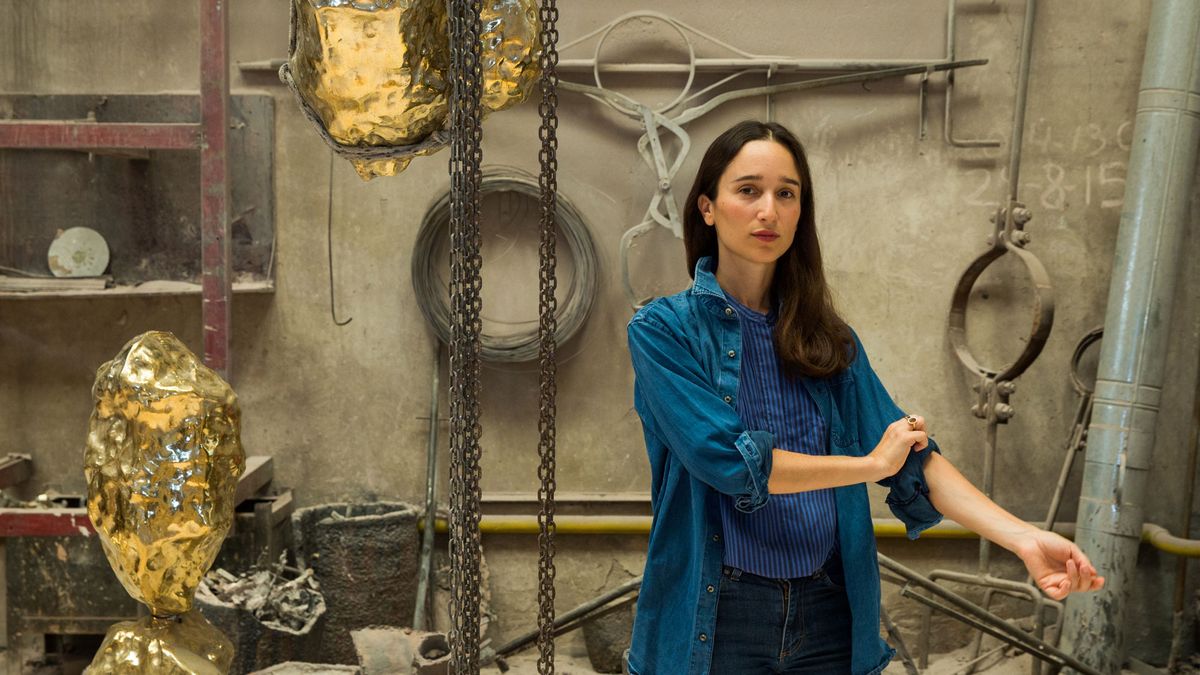 Culture
Meet the Sculpture Artist Hermès Commissions on the Regular
You've never seen anything like Luna Paiva's workshop.
Alec Kugler
We're going to put it bluntly: We've never seen anything like The Foundry before. And we've seen
a lot
in our day. Upside-down life-sized iron cattle are tethered to thick industrial chains, clay mermen torsos line shelves, and cement riderless horses tower over us as we follow artist
Luna Paiva
to her suspended gold-hued rock sculpture right in the center of it all. Paiva, who was born in Paris and resides in Buenos Aires, calls The Foundry—a fourth-generation workshop that creates commissioned statues for the Argentine capital (and private clients)—her creative home. It's where she casts her large-as-life objects—boulders and cacti have become her signature—in bronze. Her work is so striking, it's landed her a permanent exhibit at the Museum of Modern Art in Buenos Aires and to international art fairs like Art Basel Miami. Legendary luxury fashion maison Hermès even tapped her to create the whimsical window displays for their boutiques...twice!
But before she began forging glistening objects out of bronze, Paiva lensed editorial spreads in international glossies like
VogueItaly
and
L'officiel Art
. It isn't all that surprising when you note Paiva's strong connection to different media: her father, a painter, and her husband, world-renowned artist 
Leandro Erlich
. Now she's expanding, nay, shrinking her craft and collaborating with fashion label 
Acheval Pampa
to create sunburst pendants. 
---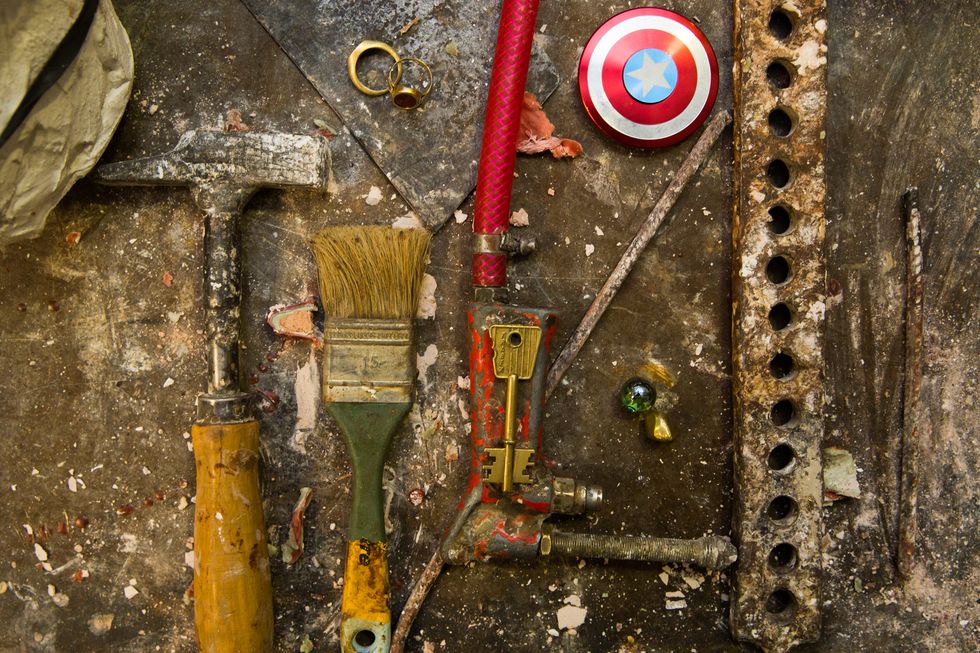 When was the first time you remember being exposed to art?

"I've dabbled in art since I was born. My father was an artist, my mother an art dealer. I would always draw. In fact, my father made a 400-page book with all of my childhood drawings. When my father was cooking, I would paint on top of his paintings. Of course, he always noticed."

Did you always know you wanted to be an artist?

"I studied art history and archaeology at La Sorbonne in Paris, film at NYU, theater at Studio Florent. I started out as an intern at the Marlborough Gallery in New York, and as assistant at the Théâtre National de Chaillot. I didn't know whether I was an artist or a gallerist. A creator or a producer."

Was there a moment you realized it could be a career?

"When I came back to Argentina, I was 23 years old, and I started working as a still photographer for films. That experience led me to put on an exhibition. I suppose that could be the beginning of a career—the first time you show your own point of view."

What was the first piece you ever sold?

"The photographs from that show, when I was 24 [years old]."


Do you have any pieces you will never let go?

"I can't let go of my drawings. Every time I do, I regret it."

So how did you get into sculpture?

"I was interested in clay, ceramics, and three-dimensional objects. But bronze really hit the spot. Suddenly I could reproduce reality—like in photography—but this way in an unbreakable, lasting, and precious medium. Like a kind of permanent negative."

Where do you find inspiration?

"The streets of Buenos Aires. Nature, when it's uncomfortable, out of context, surrounded by adversity. The history of art is always there somewhere in my head and, of course, the endless daily encounters that become an inspiration."

You've also done photography, set design, and direction; is there another art medium you're going to tackle next?

"I wish I could write!"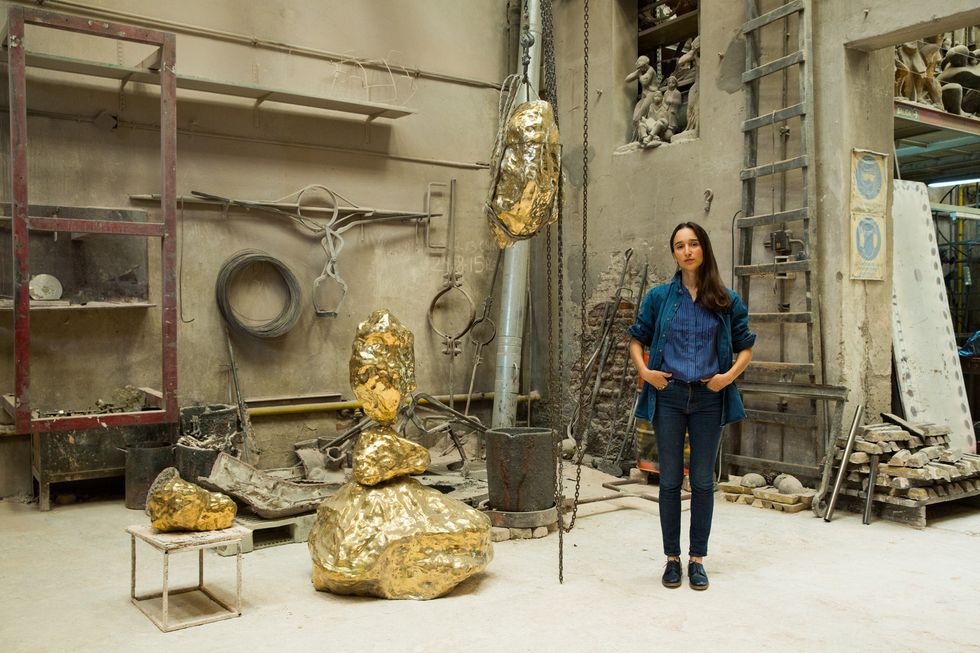 Describe the experience of creating Hermès' windows:

"I was selected by Hermès to make an art installation for their annual Artist's Windows. That experience pushed me into the three-dimensional realm, which then led me to take on the set design for the opera Hercules in Mato Grosso for the Teatro Colón."

What was the inspiration behind that?

"I explored the stories of Humboldt and Bonpland, two adventurers and naturalists who came to South America to investigate its flora and fauna."

What has been your most elaborate and difficult project?

"Building the set design for the opera in NY, where we were invited by the Americas Society. While I was building the set at the theater, I was also creating it at the same time. Throughout the process, I was able to integrate a lot of ideas, which then became monumental bronze sculptures a few years later."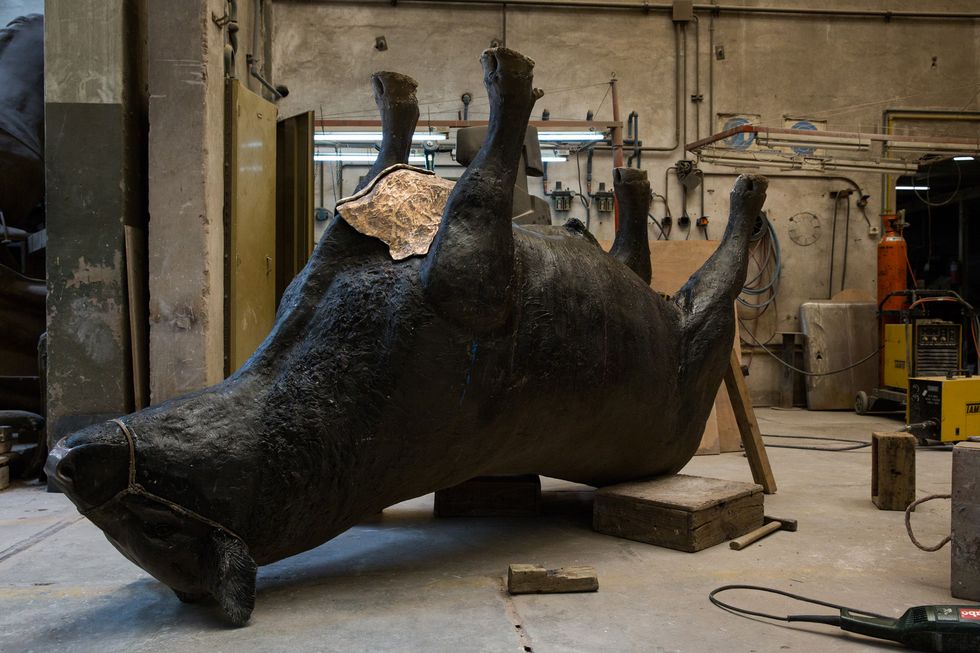 This space is incredible. When did you discover it?

"I was working on a series of photographs about apartment entrances, places where bronze (door fixtures and lamps, for example) coexist with plants in a kind of stoic continuum. Somehow these two subjects merged, and I started doing plants in bronze. Once I had the idea, the space, and the founders appeared—like the stars aligning.

"I discovered this foundry eight years ago. The owners represent the fourth generation of founders. It blew me away. I started learning the process [of lost wax casting], casting 30 species of cacti and succulents into sculptures. I was testing the material, its limits and incredible possibilities. Now I'm working on large-scale sculptures, an exploration between realism and abstraction."

There's really a special feeling here...

"For me, it's like a temple. Every time I walk in, it's like the first time. This may be as close as I will ever get to religion or faith."

Does it influence your creative process?

"I have a unique relationship with Rodolfo, the principal founder. He has the brightest mind and is a wonderful human being. This kind of relationship enhances the creative process."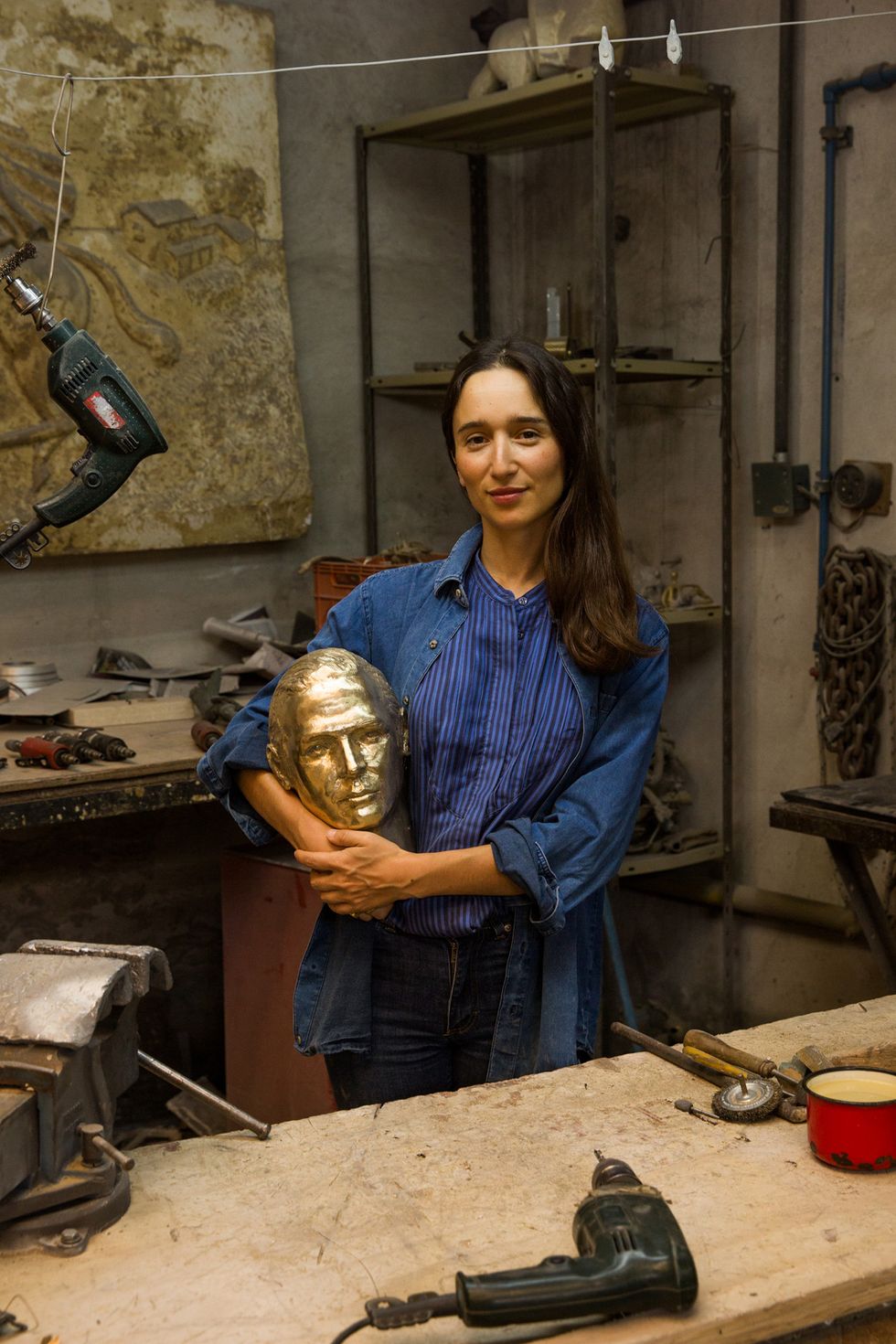 Can you walk us through your creative process?
"I start with a clay or plaster model. Then we make a mold in order to create a wax model that reproduces the original shape. Then we make a second mold on the wax, fire it, the wax melts, and we pour the liquid bronze into the cavity left by the wax. When it cools, we break the mold, and then the sculpture is there. After that comes the polishing or, eventually, a patina."
What's your favorite part of the casting process?
"It's the most beautiful artistic process. The fire, the transmutation of the material, the intensity, the danger, the skill it demands, the satisfaction when it all comes together. I also find it extremely attractive because of its reliance on real material, what we would call 'noble material' in Spanish. There's also something thrilling about the medium's volatility
—
the change in temperatures."
What was it like creating smaller fashion pieces for Acheval?
"I did jewelry for Acheval and a special collaboration for the Lafayette concept store in Paris. It's great to work on a very small scale. When I finish my work, it all fits in my pocket. That's freedom."
Want more stories like this?
Inside Sofia Achaval de Montaigu's Buenos Aires Closet
A Glamorous Closet That Proves Buenos Aires Style Can't Be Ignored
Delfina Blaquier's Closet Is an Homage to Argentina, Polo & World Travel