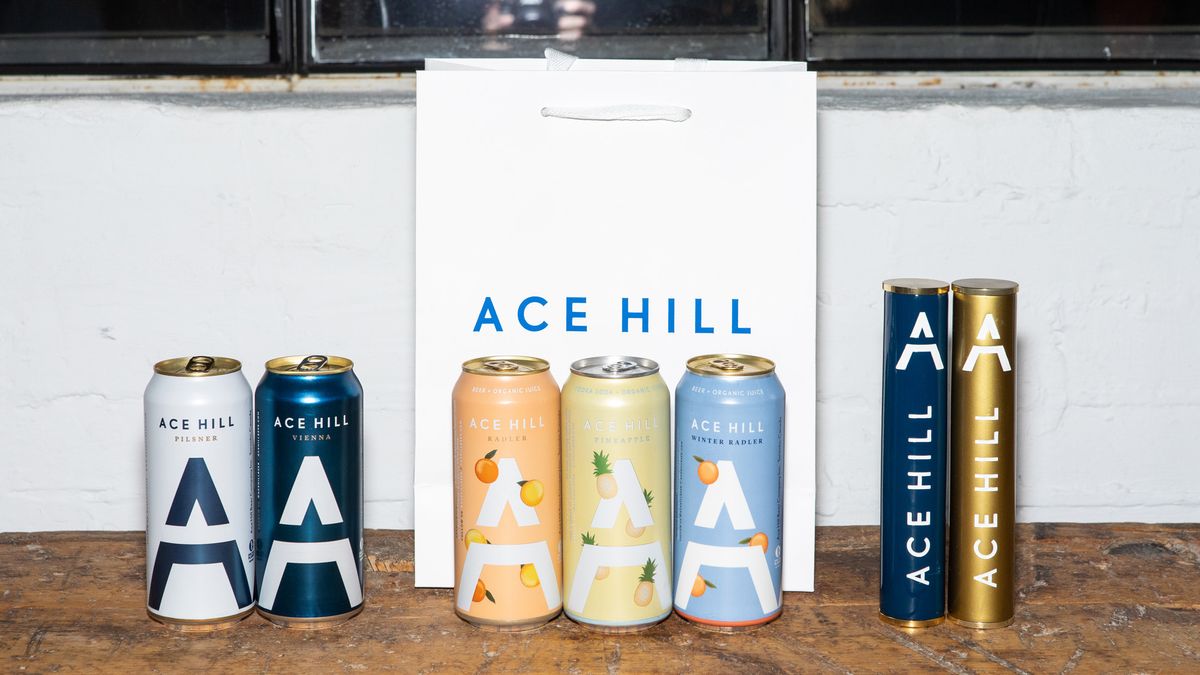 Career
Their cannabis brand is the number one seller of pre-rolls in Ontario, too.
Nathan Legiehn
Five men, one premium beverage brand, and one cannabis brand that has officially become the number one seller of pre-rolls in Ontario. Meet
Ace Hill
 and their counterpart,
Ace Valley
. Beginning as a beverage brand with one lager and one pilsner, Ace Hill quickly morphed into a larger brand, expanding their product line and distribution to practically every bar in Toronto and becoming 
Porter Airlines

'
 official beer. With the impending legalization of marijuana in Canada, the Ace Hill team quietly worked on their cannabis label, Ace Valley, for a couple of years before officially launching the day legalization went into effect.
To get a little more insight into the two brands, we met up with Brand Officer Noah Gill and CEO Mike Wagman, cracked open a beer, and talked about how the two brands got started, what the secret to marketing strategy is, and their plans for 2019.
---
Where the idea for Ace Hill came from:

Mike Wagman: "Our co-founder, Blake Anderson, was brewing beer in his garage for a few years and inspired us to come together to create a lifestyle-brand approach to easy-drinking craft beer, which has now grown into other beverage alcohol products like radlers and ready-to-drink spirits, as well as cannabis products."

How they got the word out:

MW: "Getting a new brand off the ground is a leap of faith full of hard work and some luck. We knocked on a lot of doors to get our products carried, and consulted with tons of creative types in our community to build support and early feedback for the brand."

Noah Gill: "We have deep roots in the city, but it wasn't easy. We put together a great team that had strong relationships and experience in Toronto. Also, our product strategy focused on crisp, easy-drinking beverages at a time when most craft beers were all about hops and IPAs."


How they tackled branding and marketing:

NG: "Our strategy focused on beautiful design, innovative products, social proof through authentic influencers, locking down key lifestyle and cultural partnerships (Porter Airlines, Bar Raval, Danforth Music Hall, Sony Centre, etc.), and epic brand experiences. Our most recent experience was a Halloween Disco Party at East Room featuring Pat Mahoney from LCD Soundsystem."

A breakdown of the beverages:

NG: "We started with our Pilsner, a crisp, easy-drinking craft beer. We quickly got excited about other products that we thought our customers would love. We currently have lagers (pilsner, Vienna lager, Mexican lager), radlers (grapefruit and a seasonal winter radler), and a pineapple vodka soda. Our radlers and vodka soda use all-organic ingredients."

Soon you'll be able to sip on Ace Hill in the States:

MW: "We're launching Ace Hill in California in 2019. We're stoked to bring the brand to some great new places south of the border."


What made them decide to venture into the world of cannabis:
NG:
"We saw a once-in-a-lifetime opportunity to start a cannabis brand and jumped on it. We wanted to bring our philosophy of quality and simplicity to cannabis using a similar approach to Ace Hill."
MW:
"It's a fascinating and exciting new space. We've been fortunate enough to quickly become a top-selling pre-roll brand in Ontario and are developing several other new products for the future, including vapes, drinks, and edibles."
It was a few years in the making:
MW:
"We started working on Ace Valley a year or two ago. We noticed at our large summer parties that a lot of customers were consuming cannabis, but that there were really no cannabis brands. So we got excited about delivering high-quality products to our community. In Canada, certain of the
'
value-add
'
products like vapes, edibles, and drinks aren't legal until October 2019. To start, we wanted to develop premium pre-rolls, and we found a great partner for this in Flowr, a super-premium cannabis producer out of the Okanagan Valley in British Columbia. They have an exceptional pedigree when it comes to growing high-quality flower so were a natural fit for our brand."
A few hurdles they've faced within the space:
MW:
"There's still a stigma around cannabis, and we expect that will take some time to evolve. So far in Ontario, all the distribution has been online, and the shopping experience has had some bumps in the road. That, combined with strict packaging regulations, has meant it will take some time to really build trusted brands."
What they're currently offering in the cannabis space:
MW:
"Currently our cannabis products are grown in two curated strains, designed with premium quality and consistency in mind. Ace Valley Sativa (a moderate THC strain) and Ace Valley CBD (a high-CBD strain). They are available in Ontario and British Columbia as pre-rolls and in jars. We've got vape, edibles, and drinks in the pipeline."
The most surreal moment of the two brands so far:
NG:
"Seeing strangers enjoy our beer or cannabis is always a trip."
What's in store for 2019:
MW:
"Lots. We've got our heads down as we work on exciting new stuff for our customers
—
new markets where people want us, new products we think people will love, some more special experiences for our fans."
Want more stories like this?
How Weed Went From High-Times to High Class
20 Chic Smoking Accessories That Double as Home Decor
12 Powerful Women Who Are At the Forefront of the Cannabis Industry