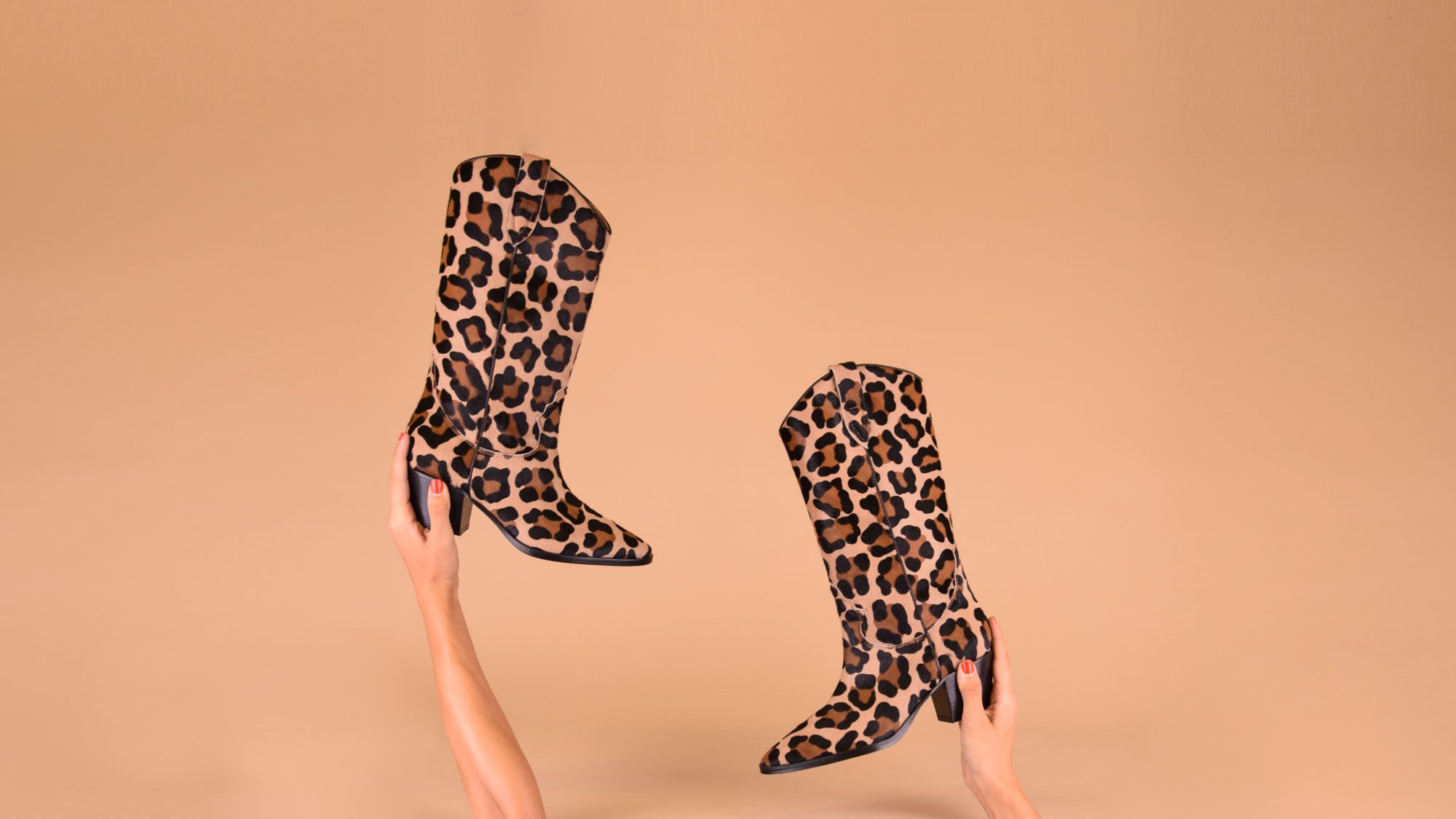 Designers
Consider Paris Texas your one-stop shoe shop.
Italian sisters Anna and Margherita Brivio are here to solve your day-to-night dressing woes, mainly by telling you that you never need to change for after-work drinks again. All thanks to their insanely comfortable shoe brand,
Paris Texas
, which was born out of their need for comfortable heeled shoes to pair with their go-to denim-and-sweater outfits.
Both studied economics but dove headfirst into fashion after hanging up their graduation caps. Anna learned the ropes while buying for an Italian multibrand store, while Margherita joined Self Portrait in London. By the time Margherita graduated (she's a few years younger than Anna), her sister had already opened her own multibrand store, Norrgatan, where she decided to dabble in footwear. "We realized that we were missing great shoes with great prices," Anna says. "So in 2012, we decided to create a few exclusive styles of shoes for the store. We started with suede booties in a variety of colors, and they turned out to be a great success, [so] we decided to create a collection." Now the likes of
Emily Ratajkowski
,
Eva Chen
, and
Aimee Song
can be seen wearing the bright, colorful snake-print leather boots and tartan mules on a regular basis.
More on how Paris Texas came to life, ahead.
---
The Brivio sisters' first fashion memories:

Anna Brivio: "My obsession with fashion started very early, with my grandmother—she was incredibly stylish and had a love of shoes (which I have inherited!). I remember her pumps very clearly, which she would always wear. She was a lover of color, which I took on from an early age."

Margherita Brivio: "I've definitely taken my fashion obsession from Anna. There are a few years between us, and I started to breathe fashion [when] I was young thanks to her. Our family is very fashion-focused, so it was only natural we would both end up in the industry."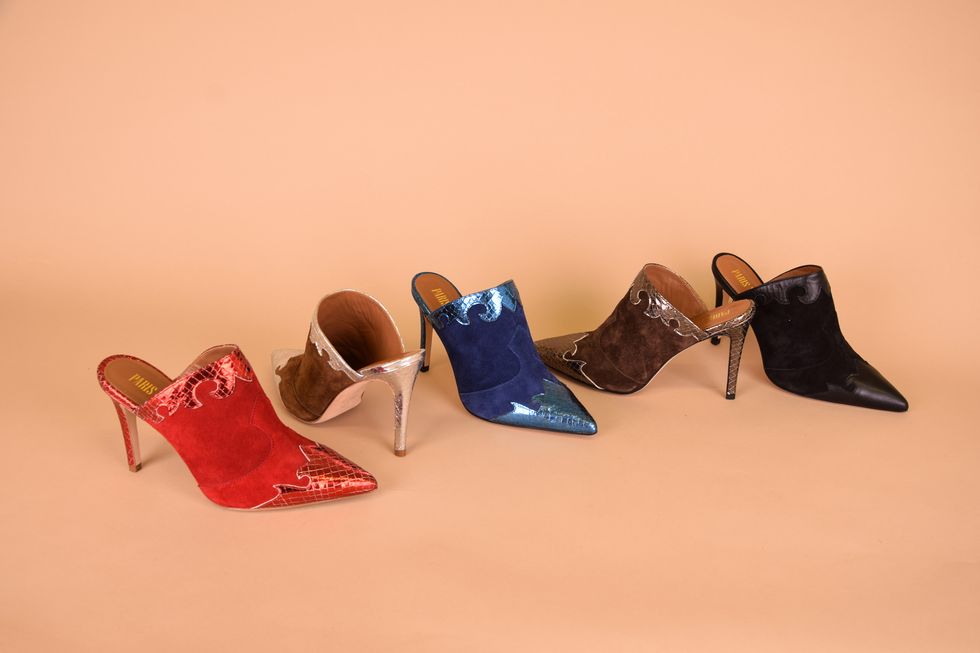 They created shoes for their day-to-night lifestyle:
AB:
"My signature look is a pair of jeans, a good sweater, and comfortable shoes that look cool. I don
'
t have time to go home and change after work before meeting my friends for drinks, and I prefer not having to change outfits, so I had to create a shoe that worked in this context. For comfort, the chunky heel is very important."
MB:
"We are denim-obsessed! Jeans are my favorite, and I love to style them with unique and eye-catching shoes like ours. Comfortable shoes are a necessity, especially as we wear heels every day. It was hard for us to find nice, cool shoes that were comfortable, so that is why comfort was so important to us."
The name describes their designs:
MB:
"Our brand is based on the concept of contrasts, proving that dressing from day to night and work to leisure doesn
'
t require multiple shoes, just the right ones! Paris and Texas are two places that are very different; Paris is sophisticated, and Texas is wild and edgy. We have represented these contrasts through simple and sophisticated shapes in bold colors and fabrics."
The Paris Texas brand in three words:
AB:
"Stylish, simple, fun."
MB:
"Cool, eye-catching, comfortable."
A little bit about their design process:
AB:
"I love a lot of colors, trends, and materials, so for me, it is always quite a challenge creating a consistent collection. My office is like a living mood board, I keep so many photographs and clippings there. I find inspiration from something as small as [a] color or fabric, to a memory or place I have recently visited. We are lucky because within our collections we have the flexibility to create capsules with our factory. For example, SS19 includes an iridescent capsule—the styles remained the same, but the color is an exclusive. This allows us to have fun with colors and trends without letting them dominate the collection too much."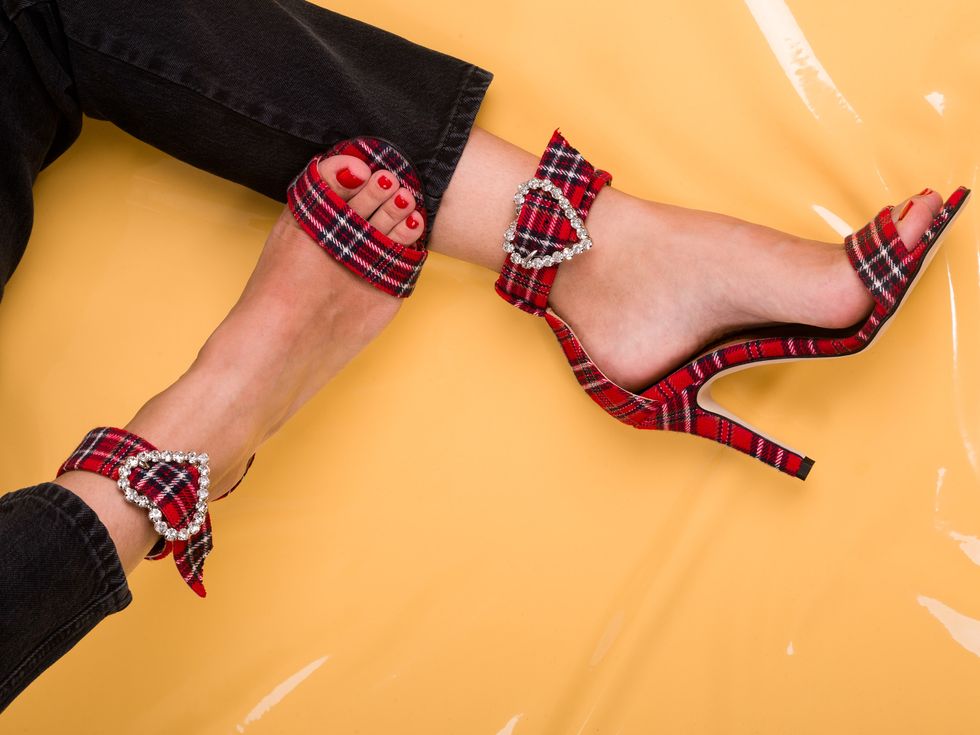 The most surreal moments of the brand so far:
AB:
"Whenever we see our shoes worn by celebrities, style influencers, and women we love, we get so excited.
Emily Ratajkowski
wearing our mock croc boots during
Paris Fashion Week
in September 2018 was a real high point for us and for the brand!"
MB:
"When we started seeing the impact of the brand around the world with customers, press, influencers, and our followers. After PFW, when Emily wore our shoes, we received so, so many requests, it was quite unreal."
Who they'd love to see wearing their designs:
AB:
"
Carine Roitfeld
, my forever icon Kate Moss,
Rosie Huntington-Whiteley
, and of course, Kim Kardashian."
MB:
"I would die for Carine Roitfeld, too. I love her French, effortlessly chic style. Rihanna,
Bella Hadid
, Rosie Huntington-Whiteley, and Lena Perminova. And I would die also to see both
Cindy Crawford
and
Kaia Gerber
wearing Paris Texas."
What they're currently working on:
AB:
"Designing our AW19 collection—my favorite season."
MB:
"Working on an amazing AW19 collection. Stay tuned!"
Want more stories like this?
Madhappy Is the Optimistic Lifestyle Label You All Need to Know
Templa Makes Alpine Outerwear You'll Want to Wear Off the Slopes
A New Body-Care Line Prioritizes Whole Body Health & Sexual Wellness