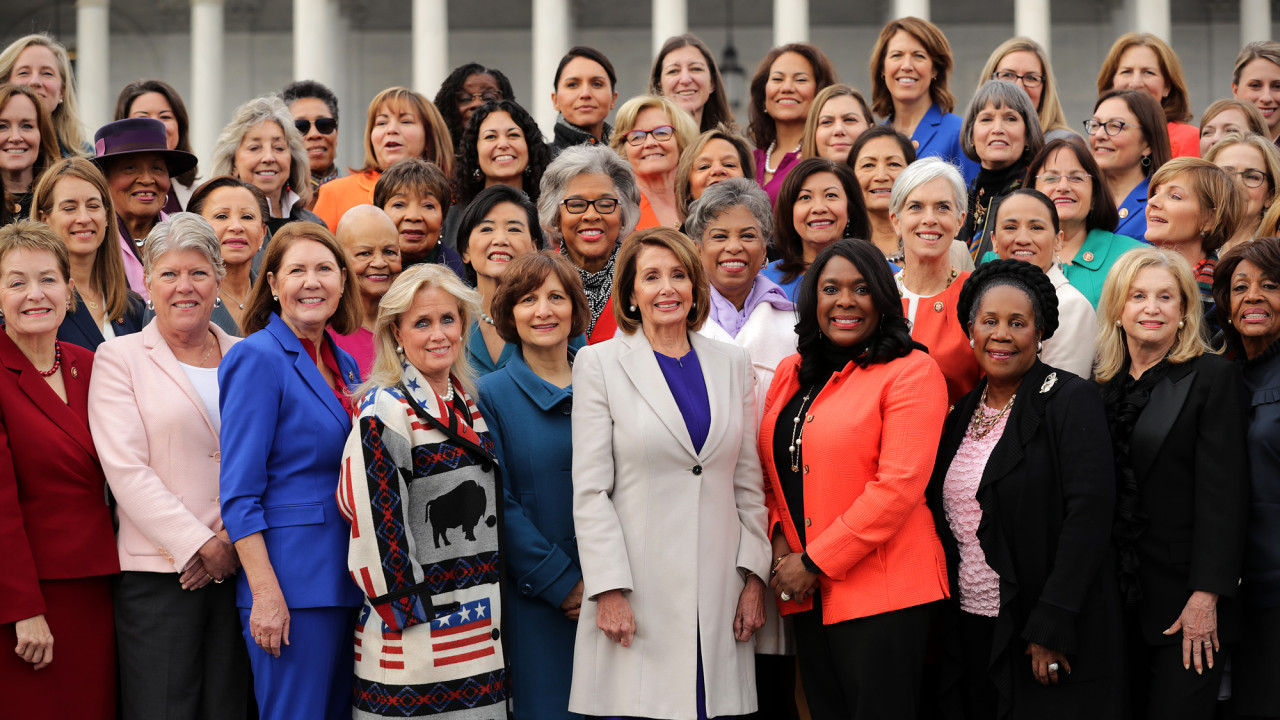 These Portraits of the 131 Women Serving Congress Are Stunning
Women comprise almost 25 percent of our current Congress.
In a perfect world, Congress would have way more women, and we wouldn't be applauding the fact that they comprise almost a quarter of the House and Senate. But—baby steps. After all, it was only 102 years ago that the first woman was elected to the House of Representatives: Jeannette Rankin of Montana, as the New York Times points out. To commemorate how far we've come (and how much farther we need to go), the Times took it upon themselves to photograph 130 of the 131 women elected to Congress this year—and the result is inspiring. (Rep Liz Cheney of Wyoming "was not available" to sit for a portrait.)
The Times' portraits challenge any pre-existing ideas of what power looks like by placing women of all generations and ethnicities in the spotlight and letting their dignity and grace shine through. Photographers Elizabeth D. Herman and Celeste Sloman chose to light the women gently, letting their features take the spotlight. In a few portraits, lush yellow or red curtains hang in the background, evoking and redefining President Dwight D. Eisenhower's official portrait. In all instances, the women's eyes seem to say: "This is what power looks like."
The 2019 Congress is not just more inclusive of women than ever before—it also boasts the most racially diverse group ever to be elected to the House, including the first two Muslim congresswomen and the first two Native American congresswoman. It's an exciting time.
It's also a terrifying time. Perhaps one of the shiniest silver linings of this politically contentious time is that the pendulum is swinging ever more in the direction of progress; the country is divided, yes, but record numbers of voters are coming out in support of women, people of color, and people of varying sexual orientations. The definition of what a competent member of Congress looks like has shifted and will continue to change over time.
Keep in mind: The Senate elected its first woman of color in 1992, only 27 years ago, when Carol Moseley Braun was chosen to represent Illinois. She followed in the footsteps of Shirley Chisholm, who served seven terms in the House of Representatives, 1969 to 1983, for New York. Progress—but slow progress.
If all were fair and equal, the faces staring back at us from these portraits would become the norm, and not an exception to the rule. We're not there yet. But taking in these photographs, you can see how far we've come. It's written all over these congresswomen's faces.
Photo: Getty
Want more stories like this?
5 Women in Politics on the Importance of Female Leadership in the U.S. Government
5 Lesser-Known Impacts of the Government Shutdown
5 Women on What It's Actually Like to Work in Tech