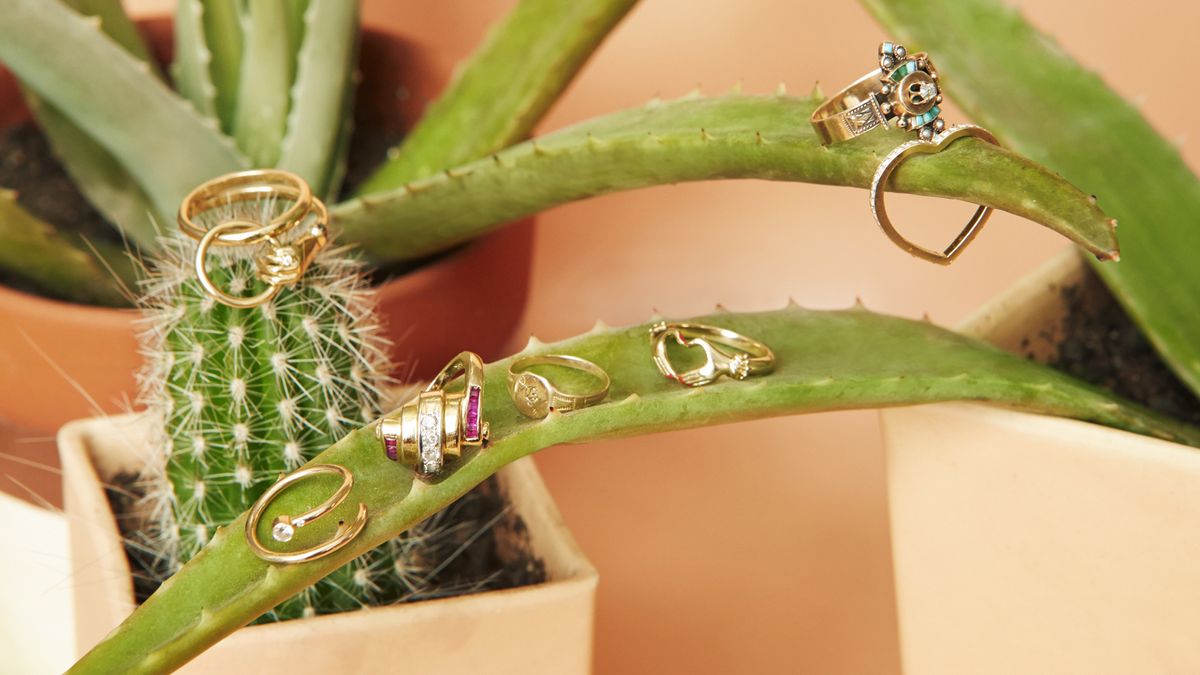 Designers
Introducing Shiffon Co.
When your jewelry is coiled around the fingers of goddesses like
Serena Williams
, Michelle Obama, and
Emma Watson
, you know you're doing something right. And if that same jewelry is helping female entrepreneurs all over the world succeed, well...shouldn't we all be wearing it?
Shilpa Yarlagadda certainly thinks so. The Harvard student navigates her way through demanding computer science courses as effectively as she does the Diamond District—now familiar territory since the 2017 launch of her fine jewelry brand, Shiffon Co. The adjustable design of the line's signature
Duet Pinky Ring
features two stones, symbolizing a cycle of mutual support among women that Yarlagadda believes is the foundation for a new generation of entrepreneurs. This brand ethos comes to fruition in the form of a social-minded business model, where up to 50 percent of Shiffon Co. profits directly fund seed grants for female-led or female-advancing startups.
Shiffon Co.'s network of powerful women who are "wearing the change"—Yarlagadda's motto—continues to expand, and you're invited to join. Here's how the little pinky ring that could found its way to the
Golden Globes
, the
Oscars
, and beyond.
---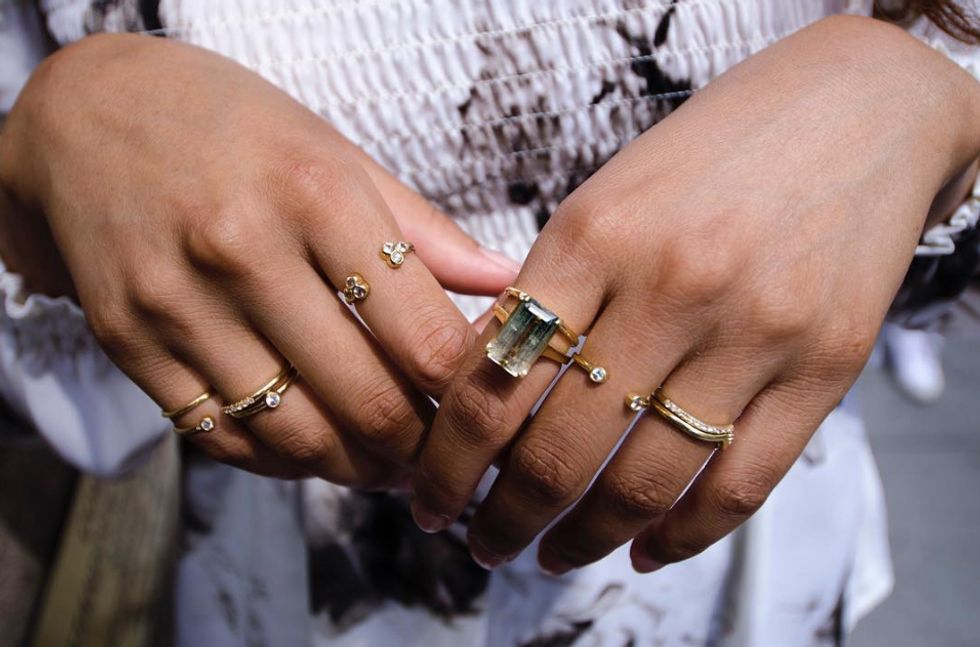 Photo: Courtesy of Instagram/@shiffonco
The idea for Shiffon Co. is rooted in female empowerment:

Shilpa Yarlagadda (Founder): "Fine jewelry is a powerful storyteller for women, and my team and I are on a mission to communicate something that we know is really important to young women right now: gender equality. This is something I've always been passionate about, and I wanted to do something to uplift women. In my mind, a social-enterprise fine jewelry line was the perfect way to make an impact and bridge the funding gap female entrepreneurs face."

This mission involves providing young entrepreneurs with capital to pursue their dreams:

SY: "When we created Shiffon Co., we also created The Startup Girl Foundation, our nonprofit arm, which is a 5013c dedicated to funding female entrepreneurs and companies empowering women. Every time the Startup Girl Foundation provides a seed grant for a company, it gets a very small percentage of equity in the company it has funded. Since this equity is held by a nonprofit, it can one day be converted to cash flow and fund the next generation of entrepreneurs empowering women. Essentially, the companies we are funding through the foundation are also paying it forward."

And people are really getting behind this message:

Sarah Slutsky (Creative Director): "The jewelry, specifically the pinky ring, is a symbolic piece that carries many of the values that millennials resonate with. It stands for mutual support, respect, love... When you see someone wearing the pinky ring, you immediately know that this is a person who cares about the greater good and values being a part of a network that enables others to achieve individual successes."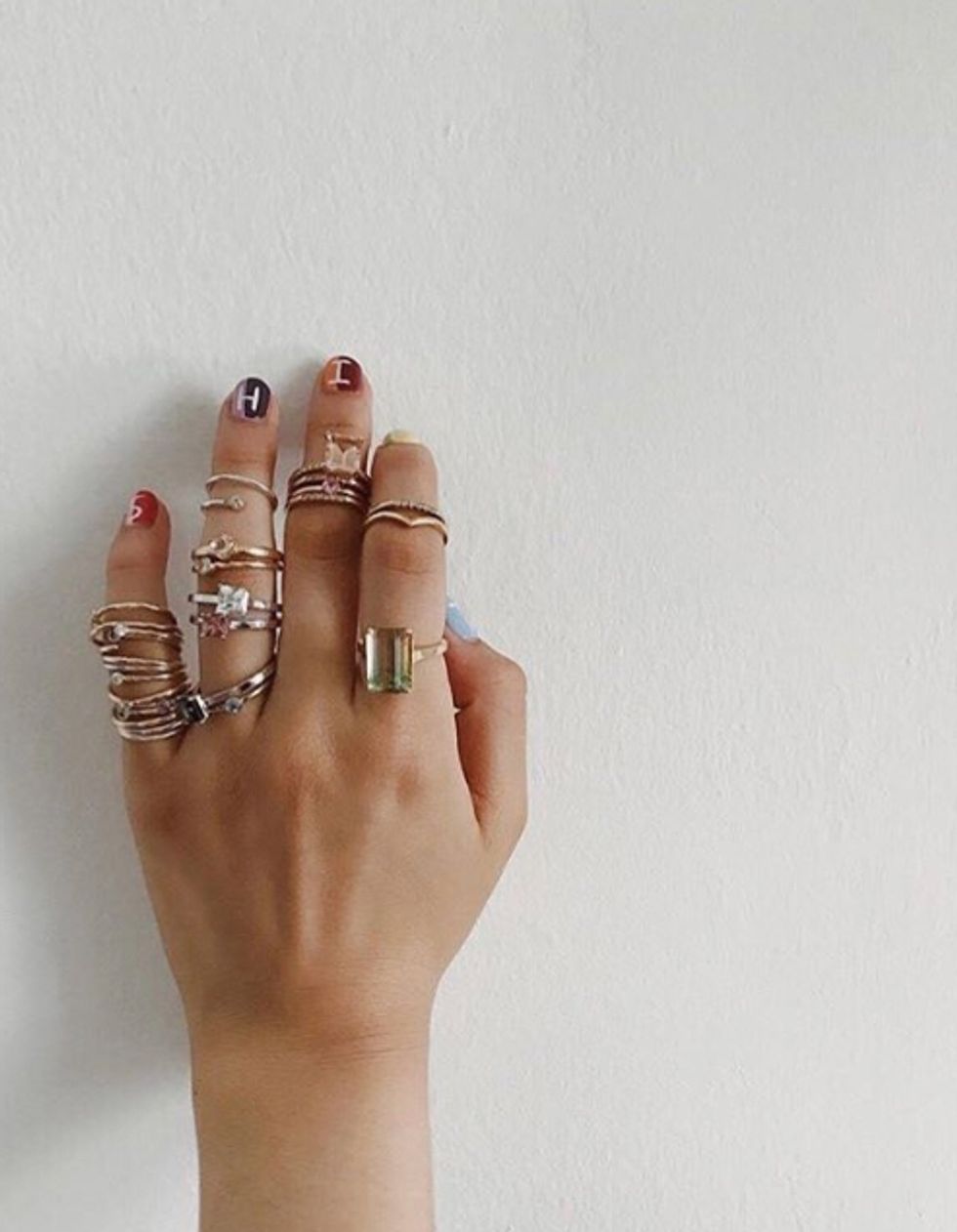 Photo: Courtesy of Instagram/@shiffonco
It also means they're in the Girl Gang:
SY:
"Our
Girl Gang
is the community of women who have Duet Pinky Rings and are wearing the change. We noticed how important it is for women to support one another and to foster this culture, so we set out to create a community for them."
SS:
"When you purchase a Shiffon Co. pinky ring, you are deciding to wear an outward symbol of love and support."
Serena Williams, Michelle Obama, Nicole Kidman, and Emma Watson are in it too, to name a few:
SY:
"Serena and Michelle have moved mountains for generations of women to use their voices and platforms to create more opportunities and honest conversations. They are such powerful women who care deeply about supporting other women, so I think the Duet Pinky Ring was an accessory that really aligned with their own values as global citizens. It was natural for them to join this movement and our Girl Gang when they heard about it."
SS:
"I believe we are living in a time when it is more important than ever to realize individual success is group success. The more we do to enable and empower others, the better our world becomes. Most successful women have had a team of people around who believe and support them. I think it is these women who already understand how valuable it is to lift others."
They were in a Home Depot when they heard about Emma Watson wearing a Duet Pinky Ring on her press tour for
Beauty and the Beast
:
SY:
"I was buying cabinets and a shoe rack for the home office with our founding team. We were at the front of the line at the Home Depot in Flatiron when we heard the news, and we shrieked so loudly in excitement that the store clerk actually asked us to step aside until we calmed down."
People they'd love to see join the gang:
SS:
 "I hope Michelle Obama keeps it on every day! Also:
Cate Blanchett
, Malala Yousafzai,
Oprah
, Elizabeth Warren, Nancy Pelosi,
Whitney Wolfe Herd
, Jen Rubio, my mom, my grandma."
Balancing entrepreneurship with a Harvard undergrad:
SY:
"My mentor, Celine Khavarani, once told me that she believes you can have it all, but you can't have it all at once. That's why it's important to prioritize based on what's important at that time. It's made me reflect on what I value most from my college experience and what I need to do to make sure Shiffon can be at its best. I know I can't have every part of the ideal college experience while also running the company, but I can have the parts of it I value the most."
Top photo: Courtesy of Shiffon Co.
Want more stories like this?
We're Officially Obsessed with Hair Accessories, Thanks to This Australian Brand
Templa Makes Alpine Outerwear You'll Want to Wear Off the Slopes
The Anti-Trend Bag Brand About to Blow Up Your Instagram