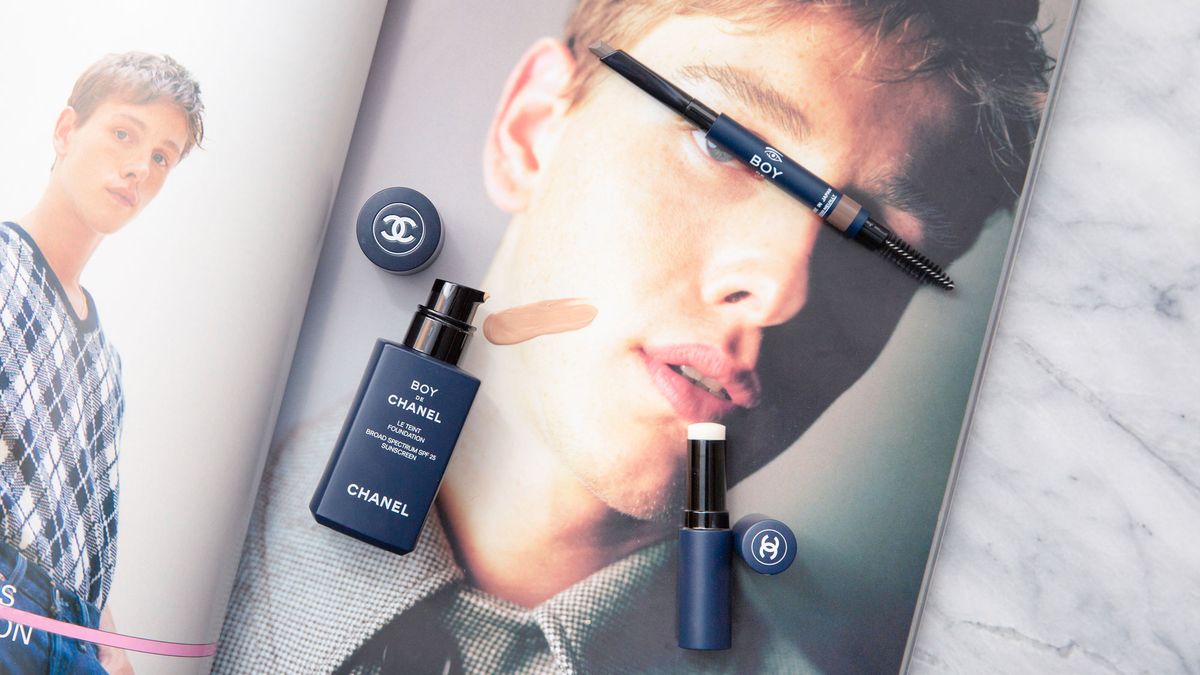 Makeup
A thorough review of CHANEL's new Boy de Chanel collection.
Alec Kugler
Let me start off by saying I do not wear foundation. Never have, and up until last week I thought I never would, but then CHANEL Beauty went and released a whole line of made-for-men makeup products, and before I knew it I was YouTube-ing the
best application techniques
in my bathroom. The three-piece collection, called Boy de Chanel, is comprised of a colorless lip balm, a waterproof eyebrow pencil, and the aforementioned foundation, all wrapped in vaguely masculine navy blue packaging. While I was anxious to try all three products, it was the foundation that piqued my interest the most. Would there be a discernible difference from women's formulas? What made this more suitable for boys than others on the market? Would I actually really like it?
As soon as the bottles arrived on my desk—which come in eight shades and retail for $65 dollars—I immediately began swatching on my wrist, where a brightly colored tattoo helps inform me of a product's coverage ability. The formula is lightweight and blendable, taking about 20-30 seconds to dry depending on how thick a layer you apply. Unsurprisingly, it's quite sheer, providing more of a blurring effect than any serious cover-up. Given that most of the men I know (but certainly not all of them) don't wear makeup, I would think that a heavy-duty-ish
concealer
would be more valuable to the occasional product-dabbling dude. I know I've had an ex or two who wished he could cover a particularly aggressive chin zit, despite my pleas to spackle over it with my favorite formula.
Considering my experience with foundation is on par with many men, I decided to add it to my weekday makeup routine for four days and see if anyone noticed my skin looking extra even, or, dare I say, manly. Because winter has made my
skin desert-cactus-level dry
, I added a full pump of foundation to my favorite moisturizer, sheering it out slightly more and making the otherwise matte finish quite dewy. And because I am a dedicated journalist, I also swiped on the balm and filled in my brows with the pencil, both pleasant experiences, if not so different than my typical routine. Truly, the only difference I could see between this brow product and the women's version were four available shades compared to six, longer and more substantial packaging (better for man hands to hold it, I guess), and it costs $7 more. Gender pay gap much?
I was excited to see that the men's foundation contained SPF 25 as well as
hyaluronic acid
to help keep the skin hydrated. For the record, the women's formulas at Chanel sometimes have SPF, but no HA yet. To my surprise, however, it was also heavily floral-scented, to the point that I noticed it hours after I applied. I'd imagine that this would bother someone, a man, who's unaccustomed to wearing any sort of makeup on his face. But aside from the fragrance, I was pleased by how even and glowy my skin looked throughout the day. My under-eye circles were nowhere to be found, and creasing (a telltale sign you're wearing product) was minimal. While I wouldn't classify the foundation application as foolproof—I did find using a beauty blender worked better than just my hands—it would be more suitable for someone who isn't an expert at using beauty products.
Given that there are *many* more makeup options marketed specifically for women, it's tough to say whether this collection can and should be used only by men. The hyaluronic acid is a welcome addition to the foundation, and a larger pencil and spoolie might be preferable if you have bushy brows. If the products agree with your skin, more power to you to use them. More than anything, I hope that a line of products advertised specifically for men will encourage any guy who has considered using makeup, but feared being judged for it, to test the beauty waters a little more confidently. As for me, I'm keeping a bottle in the back of my makeup cabinet, along with all my other emergency foundations and concealers, for rogue bad skin days or, you know, if I suddenly grow a beard.
---