2 Toronto Creatives Making Artwork That's Gaining International Attention
Catching up with Nicole Charles and Madeleine Gross.
Culture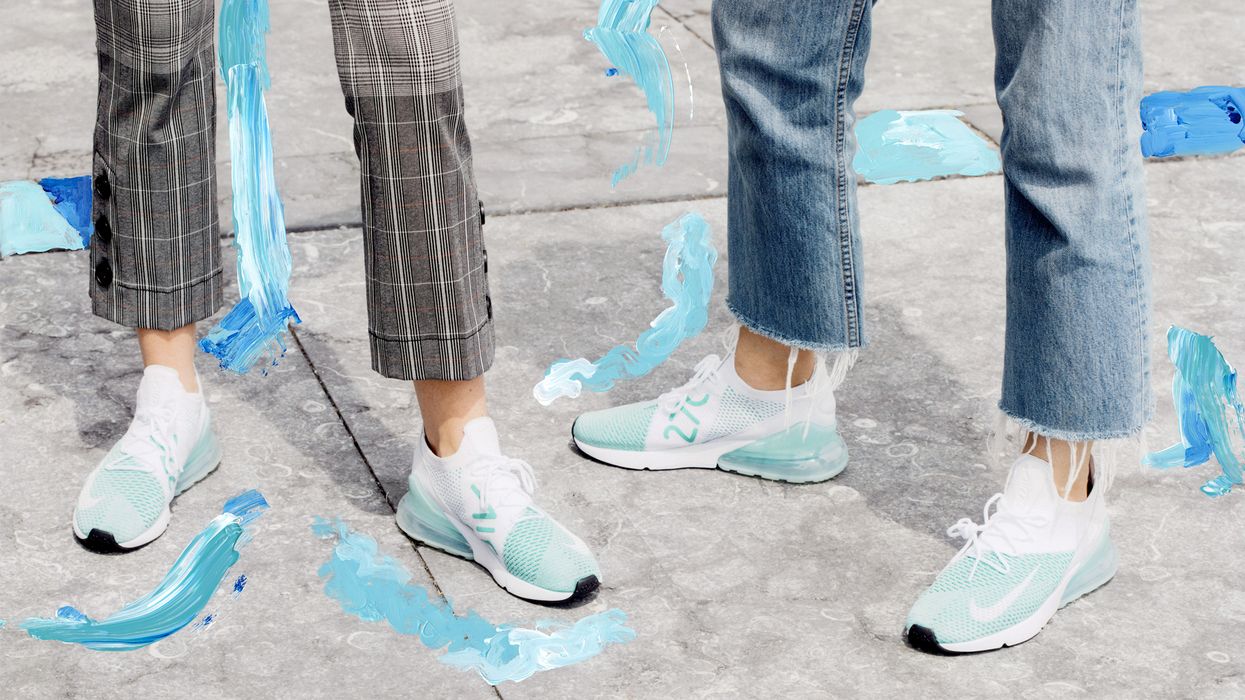 At this point, we don't have to tell you that Toronto is a hotbed of talent. It is the birthplace of Coveteur, after all. All kidding aside, we regress, because it's the other creatives that deserve the spotlight. Take
Nicole Charles
and
Madeleine Gross
, two budding visual artists who, when they're not exercising their craft with paint and film, are getting inspiration from their active lifestyles around the city. But since the weather in the Great White North isn't so hot right now, we thought it was the perfect time for a warm-weather throwback when we hung out with both women at the waterfront. Yes, Toronto has a waterfront. Equipped with their Nike Air Max 270 Flyknits, we went out on the pavement to eavesdrop while the two chatted career achievements, challenges, and finding inspiration in the city they call home.
---
Medium:
Acrylic ink on acrylic panels
Breakfast order:
Egg in a basket with avocado, aged white cheddar, olive oil, salt, and pepper
Zodiac Sign:
Taurus
Neighborhood:
Queen West
Most inspirational city:
Kyoto
A little about her career trajectory:

"After university, I moved to Japan and taught English for a couple years. When I came back to Canada, I worked in interior design for a bit, and now I work as a graphic designer at Indigo. I work on art and other creative projects as much as possible."

The first time she fell in love with art:

"I always loved crafting and making things. I remember making 3-D beaded animals with a friend, I think we were four years old. We used Hungarian instruction booklets—I could speak the language, but couldn't read it, so I remember looking at the diagrams."

When she realizes art could be a successful side hustle:

"When people wanted to purchase my work. It's a strange feeling when you realize someone wants to give you money for a thing you made."

How she ended up working with acrylic:

"It was an organic process. When I worked in interior design, the tactile quality of samples gave me the desire to experiment with new materials. After that, it was trial and error until I found these. I loved the way the acrylic ink interacted with the smooth acrylic surfaces and the shadows the paint cast on the back surface."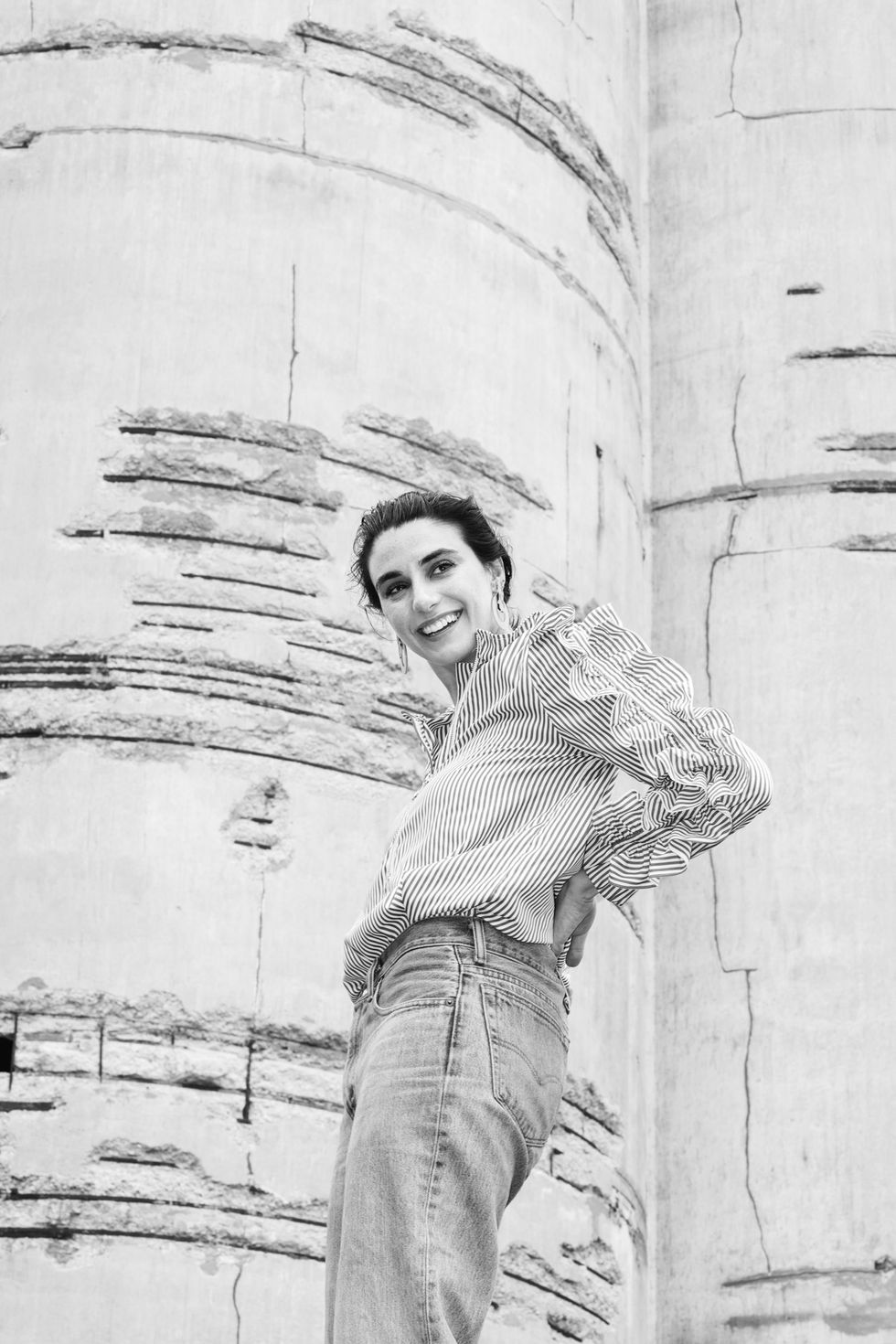 But there are challenges with that medium:

"Acrylic scratches easily, and acrylic ink can be scratched off the surface of the acrylic panels during production if I'm not careful. These pieces must be created on a horizontal plane, which means more studio or working space is required, since they are multi-paneled, especially when creating large pieces. Also, large pieces can get quite heavy and make the production process and moving around finished work more challenging."

What other artistic media she's looking to explore:

"Yes, I'm excited to explore sculpture and paint on canvas again. I've also been writing and illustrating more recently."

Where she finds inspiration:

"The shapes and colors of objects, a crack in the sidewalk that looks like a face, music, poetry, conversation, moments, a feeling, other artists."

How living a healthy lifestyle helps her creative process:

"When I am well rested, feel healthy and positive, I can better connect with my creative energy and have a greater desire to create. However, when preparing for shows (or procrastinating that), I can easily feel overwhelmed, overworked, and sleep deprived. It's hard to achieve the right balance sometimes. Also, the acrylic panels can be quite heavy, so it can be physically more taxing constantly moving layers around while making work."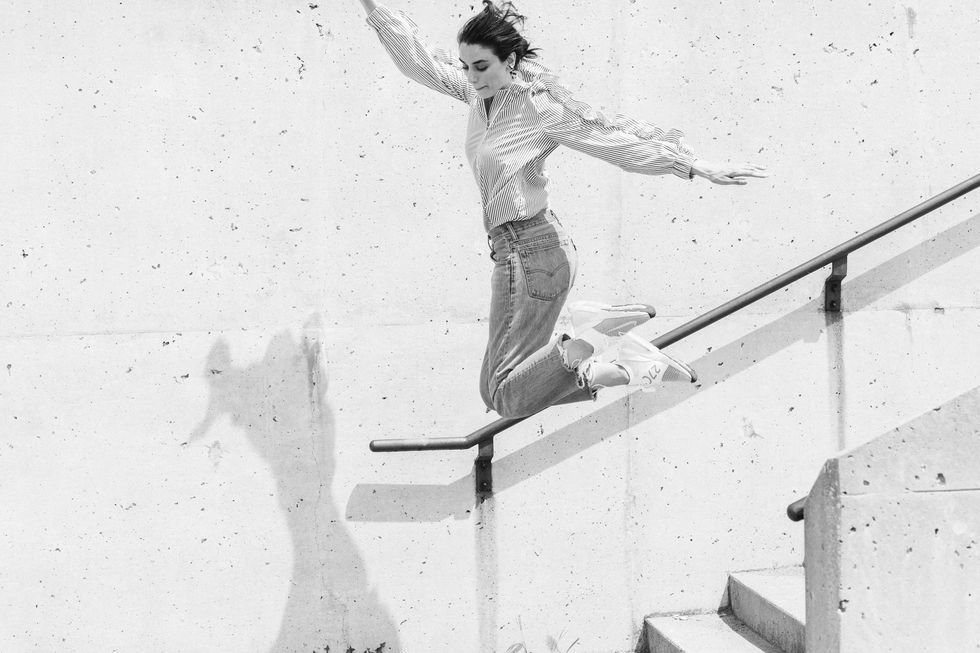 How an active lifestyle influences her style:
"I often choose comfort first, in terms of my personal style, so a great pair of sneakers is a staple in my wardrobe. The Nike Free RN sneakers I got are so comfortable, I wore them every day this summer."
How style influences her work:
"My personal style and the style of my working environment definitely influence my comfort level, productivity, and overall happiness when I work."
How she gets over a creative block:
"Go for a walk, hang out with friends, watch a movie. Do something unrelated, and go back with a fresh mind and perspective."
Her favorite snack to get over a 3:00 PM slump:
"Cheese and crackers."
What she has in store for 2019:
"I'm building an online shop,
averagesnacks.com
, which I hope to launch in the next month. It will be a departure from my fine art—products with illustrations that are fun, quirky, cheeky, in a more accessible price and aesthetic. You can
follow me on Instagram
for launch dates and products. I'm also working on a group project/exhibition, hopefully launching in the next few months, a potential art show in Tokyo later in the year, and I just started learning piano!"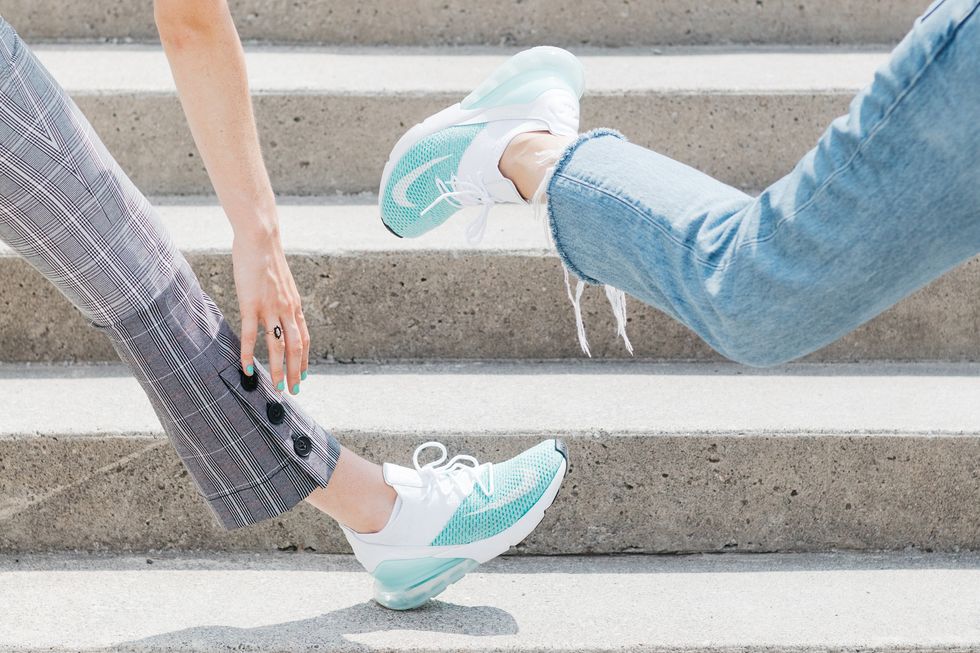 Medium:
Acrylic paint on (archival pigment) photo print
Breakfast order:
Blueberry pancakes with a smoothie, or the classic bagel, cream cheese, [and] lox combo
Zodiac Sign:
Aries
Neighborhood:
North York
Most inspirational city:
Paris
Her career has taken her in a few different directions:
"I studied photography at OCAD and graduated in 2015. I first experimented with this medium in 2014, and since then I have exhibited my work in Toronto, Miami, and New York. I sell my art independently across the globe and
on my site
, which has limited-edition prints. Some of my original pieces are also sold on Saatchi. I do commissioned work for magazines, custom paint on leather bags, and my work has been featured on a perfume bottle, as well as some skateboards. I've also worked as a product [and] e-comm photographer for a few retailers, including TNT x Farfetch and Elte."
When she first fell in love with art:
"I was always drawing and painting as a little girl. When I really discovered art, I was around six years old. I would draw self-portraits of how I imagined myself when I grew up; hair in two high ponytails, hot pink dress, and platform shoes—pretty much renditions of Baby Spice. I also loved drawing portraits of my family and friends. My mom would turn our kitchen into an art gallery, covering the walls with all my drawings, constantly changing it up for our viewers, aka my grandparents. It was the best feeling. My mom gave me the confidence to pursue art."
Where the idea to paint on photographs came from:
"I thought to combine the two mediums to abstract what we see every day and make it art. A way to abstract landscape without completely abstracting reality. I wanted to create a new narrative with the added paint strokes and, in a way, add a different perspective to photography."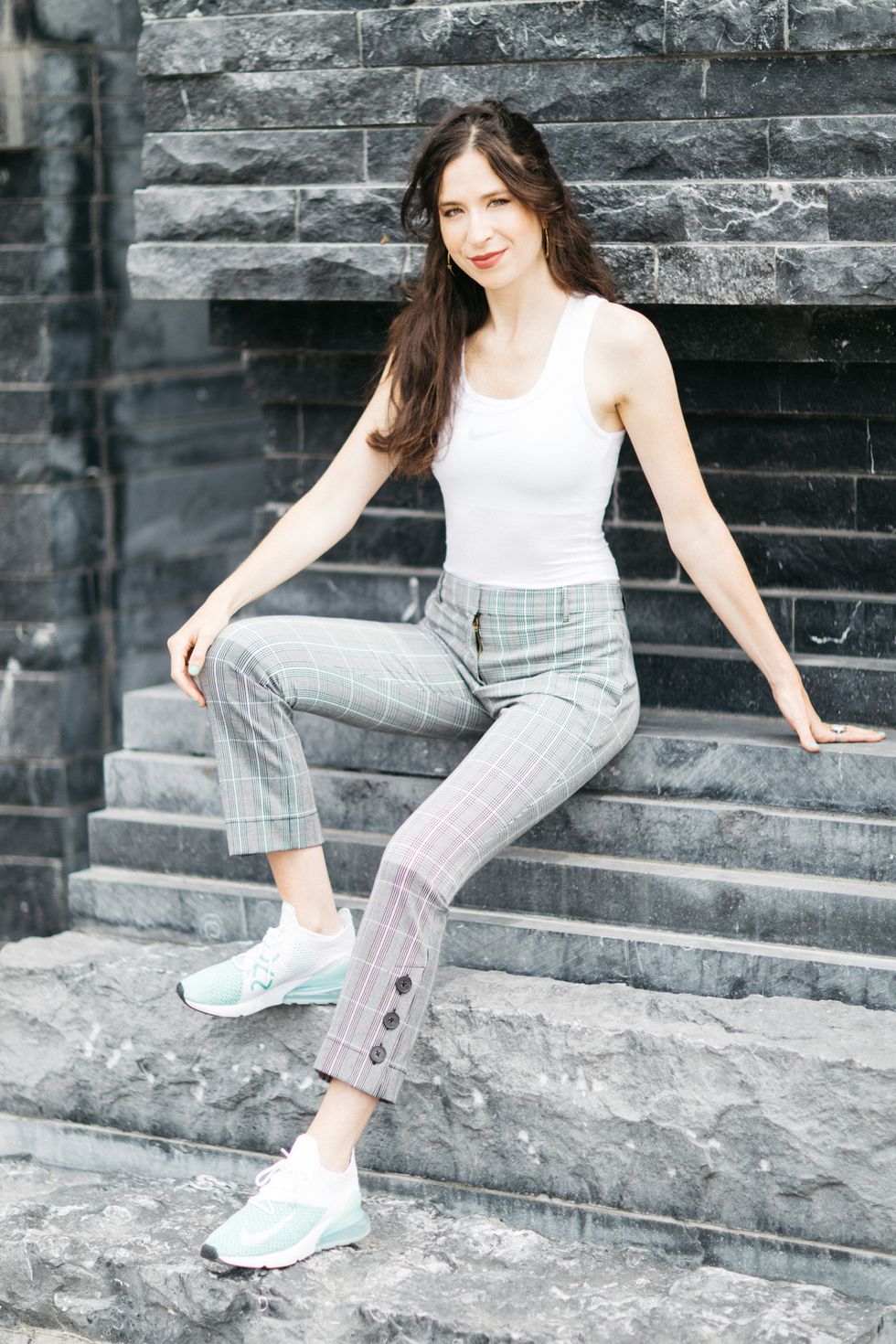 This particular medium can be tricky at times:

"You have to be pretty precise and know where you want to add the paint, because you can't really get that part of the photograph back after. I don't like to print the same photo twice—sometimes it loses the novelty for me. I don't like to overthink it too much. I get really excited and eager to start new prints."

Where she finds inspiration:

"I draw most of my inspiration from nature and light. I try to create textures and enforce movement. If it's a beach image, I'll mimic the waves in the ocean or the feeling of that fresh breeze on your face. I'm also fascinated by people-watching—it's interesting to catch someone in their natural state (especially in a state of a bliss). I want to take [the] viewer out of their head for a moment [so they can] stop and look at something beautiful.

"I believe the added paint strokes make the images more relatable by taking the identity out. It can spark old memories or daydreams of being in a similar setting. I try to emulate the movement of the setting and the people who were in it. Especially when I paint figuratively, I think back at how being there made me feel and have the abstracted figure represent that. I want to take that back to my viewer so they feel like they are in that setting."

Her favorite way to get over a creative block:

"I'll take a step back from a painting. Looking at it from a farther perspective helps from overdoing it or painting too impulsively. I like to take a break and go for a walk and come back to it with a more clear head. I also find changing up the medium can help with a creative block. I'll play with pastels or do some sketching in between and can [then] come back to the piece a little fresher."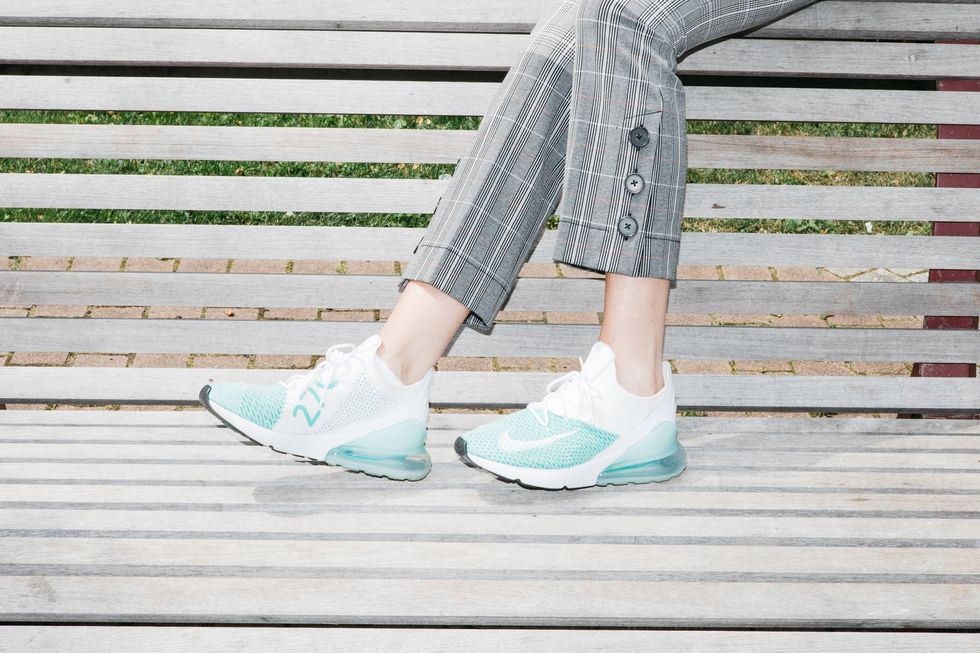 How fitness and wellness play into her art:
"I try to stay active as much as I can. In the summer, I love to bike, take long walks with my dog, and swim. It definitely helps my mental state. In the colder seasons, I try to go to the gym or fitness classes (yoga, spin). Sometimes it's a struggle to leave the house, so I put on these 20-minute workout videos from the
'
80s, which has proven to be great cardio and [are] also pretty funny.
"Art has always been an important factor to my mental wellness, and it has helped me get through a lot in my life. Grief, depression, and anxiety all get muted for a moment when I immerse myself into a new painting. Self-care is a high priority for me, as it should be for everyone.
"Recently I've stopped looking at social media first thing in the morning, and it has improved my mental state and start to my day. I've done some meditating in the past, and I'd definitely like to get into it more. I'm still working on a routine that works for my schedule."
What we can expect to see from her in 2019:
"I'm going to hopefully exhibit my work more and travel to new destinations. I'm also working on some collaborative projects."
Top photo: Painted by Madeleine GrossWant more stories like this?
Why Toronto Is the City to Visit Right Now
Consider This Artist the GQ of the Art World
Nike's Secret Archives House Sneakers You've Probably Never Seen Before