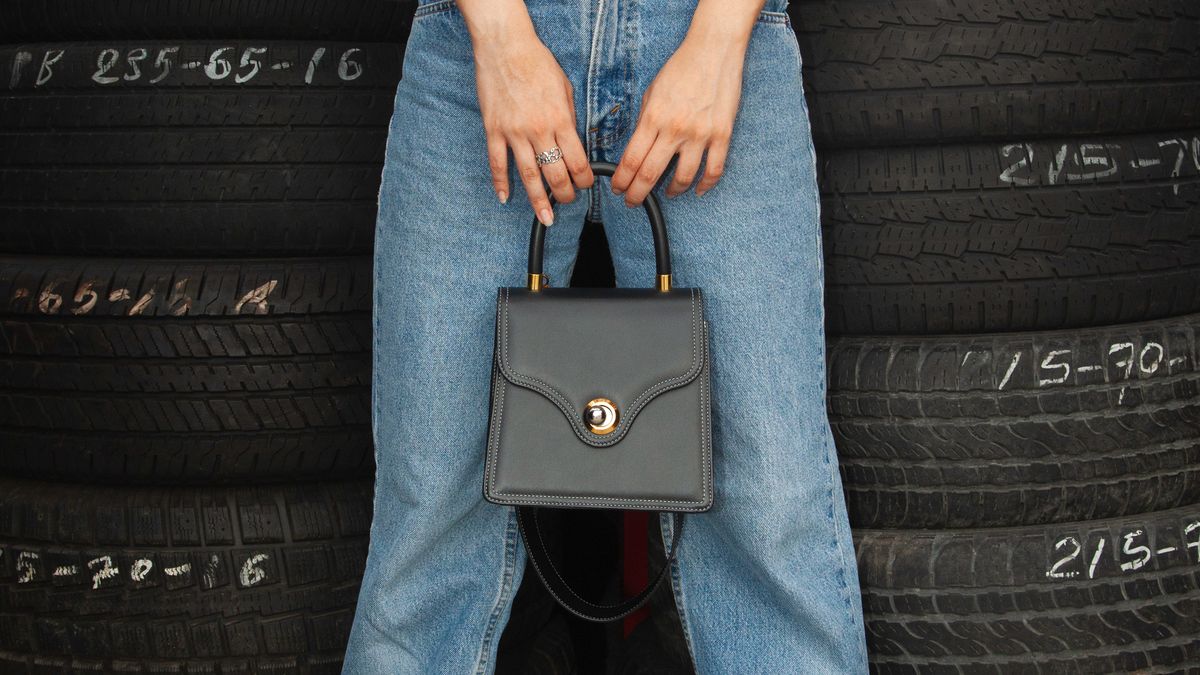 Designers
Meet Ratio et Motus.
When we first spotted a bag from new label
Ratio et Motus
, it was at
New York Fashion Week
, carried by a popular street-style star while exiting a show. The design was structured and ladylike in a luxe forest green, but it seemed as if another, smaller version was stuck to the front, like a matching coin pouch in equally beautiful taupe leather. A few Instagram deep dives and several weeks later, we finally tracked down the team behind the brand—Angela Wang and Daniel Li, a pair of veteran handbag designers—and they were more than willing to fill us in on their debut collection.
"We've always been inspired by each other in our aesthetics, lifestyle, and work ethic, which is why we decided to go on this venture together," the pair explains of the line. "We both seek to design for those who embody a balance in life between the two cerebral elements, sense and emotion." The Latin translation of that phrase is what inspired the brand's name and identity, and it makes perfect sense given the duality of the Twin Frame bag that first piqued our curiosity. "[That bag] was created based on the classic frame bag structure that was popular in the 1950s. Our version of it exudes more of a modern and versatile sensibility."
---
In truth, with the number of fuzzy, feathered, and over-the-top bags that have dominated the runways as of late, Ratio et Motus' designs stand in stark but refreshing contrast. There are only four styles in a handful of colorways—a periwinkle leather is about as wild as it gets shadewise. Subtle hardware in the form of petite silver snap locks toughen up the forthcoming Disco bag design without minimizing the vintage-inspired silhouette. And if you had any doubt that these bags, timeless as they are, are catering to a millennial and Gen-Z audience, just take a peek at the Juul holder in the back of this particular bag. For those who crave more obvious wow factor with the demure top-handle Lady Bag, a detachable rope chain in gold will toughen up the look. "As the accessory market keeps getting more and more competitive, we didn't want to create a brand that's chasing trends season by season," explain the founders of their classic handbags. "We wanted to create something that has a solid attitude with unique design and premium quality."


For now, Wang and Li are focused on slowly growing their customer base, who, like us, probably appreciate their refusal to follow trends in favor of a more refined aesthetic, while still providing a few design Easter eggs (again, Juul pocket) to keep the brand feeling modern. And it's not just bags that they're developing—elbow-length lace-up gloves in oxblood and taupe leather are available for the more sartorially daring. "[They] are a kind of experiment of expanding our product category. Gloves used to play an important role in a woman
'
s outfit in the past decades, [and] we wanted to bring it back with a more modern design and practical details." That means the gloves are touch-screen-friendly, naturally.
So, with fashion week approaching in just a few weeks and the brand launching exclusively on Net-a-Porter next month, we predict we'll see more than one Ratio et Motus bag—and hopefully a pair of Opera Gloves—on the arms of many a showgoer soon. After all, good taste and an eye for luxury are always in style.
Photos: Courtesy of Ratio et Motus
Want more stories like this?
The New Natural Fragrance Brand That Makes Your Vanity Instantly More Chic
Introducing Inactive Wear And The Coziest Marshmallow Coat Ever
The New Luxe Sneaker Brand You Should Get Familiar With