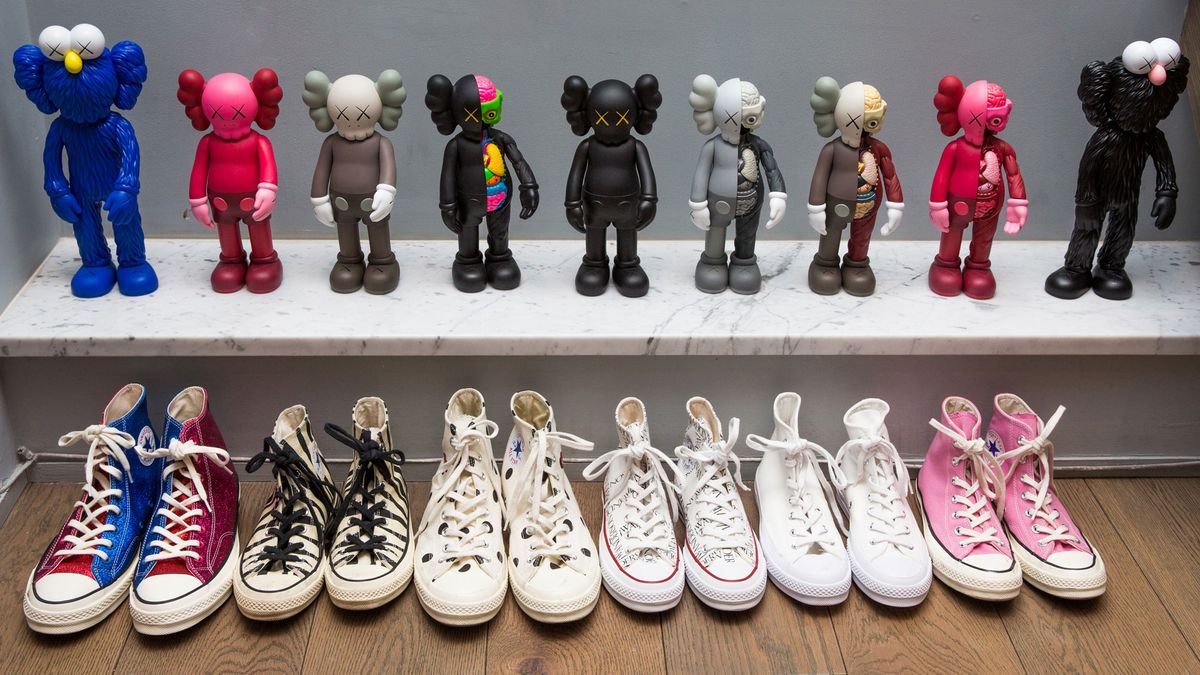 Fashion
Nine sneaker brands raise the curtain on their sustainable practices and goals.
It's 2019, guys. Aka time to wake the f*ck up and be mindful of the materials you're putting on your body and how they're affecting the environment. Start scrutinizing the companies whose names frequent your credit card bills; are they adopting sustainable practices? How much waste do they create in a year? Do they even care to make a change?
The climate report released at the end of 2018 made it clear: If we don't seriously start changing things, we're
screwed by 2040
. Considering it's our Earth and, you know, our entire existence and all, everyone needs to
get on board and help out
.
Sneakers have been one of the most profitable sectors of the fashion industry in recent years, so we felt it necessary to do a deep dive into their practices. A few things we know so far: Reebok's Cotton + Corn program focuses on creating sneakers from, you guessed it, corn and cotton (and
other things that grow
), adidas
partnered with Parley for the Oceans
to produce a pair of sneakers out of plastic water bottles, and Nike
uses more recycled polyester
than anyone else in the industry. Obra became the first footwear brand to be invited into the
New Museum incubator program
for the Social Impact track, and newcomers
Allbirds
came on the scene to challenge everyone with their rigorous sustainable practices. We reached out to some of your favorite brands to get their thoughts on sustainability and to hear how they're doing their part. Find out what they had to say below.
---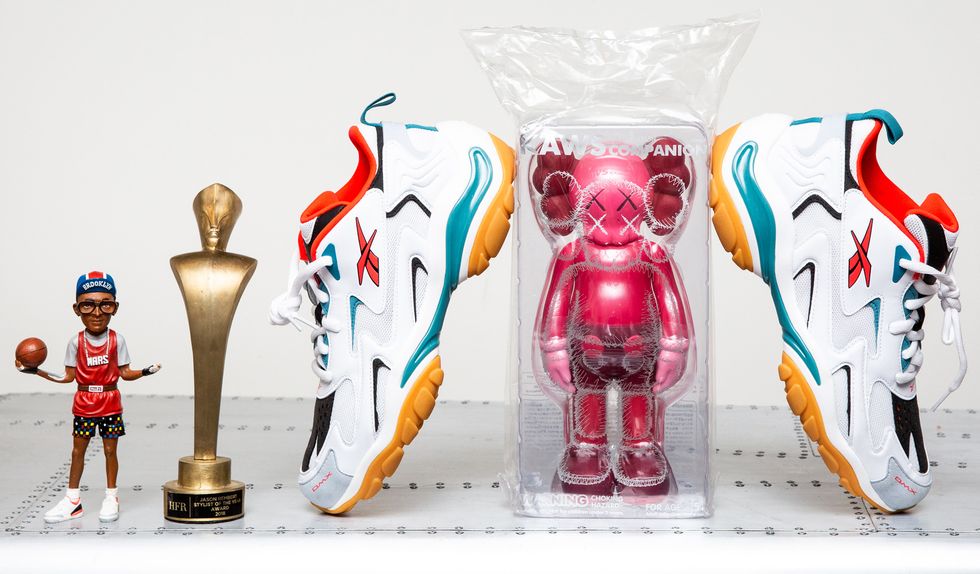 WHY IS IT IMPORTANT TO CREATE SUSTAINABLE GOODS?
"It's not merely about creating sustainable goods, it's important to be sustainable as a company [and] brand in order for our children, and generations after them, to enjoy the fruits of our beautiful world." —
Filling Pieces
Team
"There are more than 20 billion pairs of shoes manufactured each year, emitting 700 million metric tons of CO2 into the atmosphere. When my co-founder [Joey Zwillinger] and I started Allbirds, the footwear industry hadn't undergone significant changes for almost a century, relying primarily on synthetics and cheap leathers." —Tim Brown, Co-founder of
Allbirds
"In short, it's just the right thing to do. In our industry, the plastics and synthetic rubber used in athletic footwear manufacturing are made using petroleum, which is a finite resource at the front end and an even larger problem on the disposal end. Any step in this direction—whether it's sustainable sourcing, recycling, or faster breakdown—is a positive step in improving how products are produced." —Bill McInnis, Head of
Reebok
Future
"The importance of creating sustainable goods goes without question, as the availability of sustainable goods empowers consumers to make responsible purchase decisions. Too many brands today still make shoes in low-wage labor environments, where people work 80+ hours per week under terrible conditions and often, the end product has a very short lifecycle. We're dedicated to offering timeless shoes, constructed by craftspeople that are fairly compensated, receiving their rightful share of the value that's created." —Chris Wichert, Co-Founder and Co-CEO of
Koio
HOW CAN BRANDS CREATE A SUSTAINABLE PRODUCT THAT IS ALSO PROFITABLE?
"Build a strong consumer following. Consumers will agree to higher price points if they feel they are making a positive impact with their dollars by supporting a company that is aligned with their own values and interests. Build sustainable product that is part of the overall aesthetic of the product." —Arnaud Delecolle & Dave Cory, Founders of 
Obra
"We're a certified B-Corp and were established as a Public Benefit company, which means that the environment is a key stakeholder in our business. Because of this, we're willing to invest in the research and development needed to find greener solutions for our products. Though this requires a greater upfront cost and at times means spending more on natural or recycled materials, our direct-to-consumer business model allows us to absorb that difference without putting it back on the consumer. We've also found that over time, as we grow in scale, we're able to bring costs down, making sustainable options even more affordable for our customers." —Tim Brown, Co-founder of Allbirds
"We determined the best way to allocate more funds for our sneakers without compromising on quality was to instate a no-ad policy. Seventy percent of the cost of sneakers from major brands is related to advertising. By eliminating ads, marketing costs, brand ambassadors, and billboards, we can invest in the production chain, our team, raw materials, factories, and our planet. While our sneakers are five times more expensive to make, they cost the same price as the big brands in the stores." —Sébastien Kopp, Co-founder of
Veja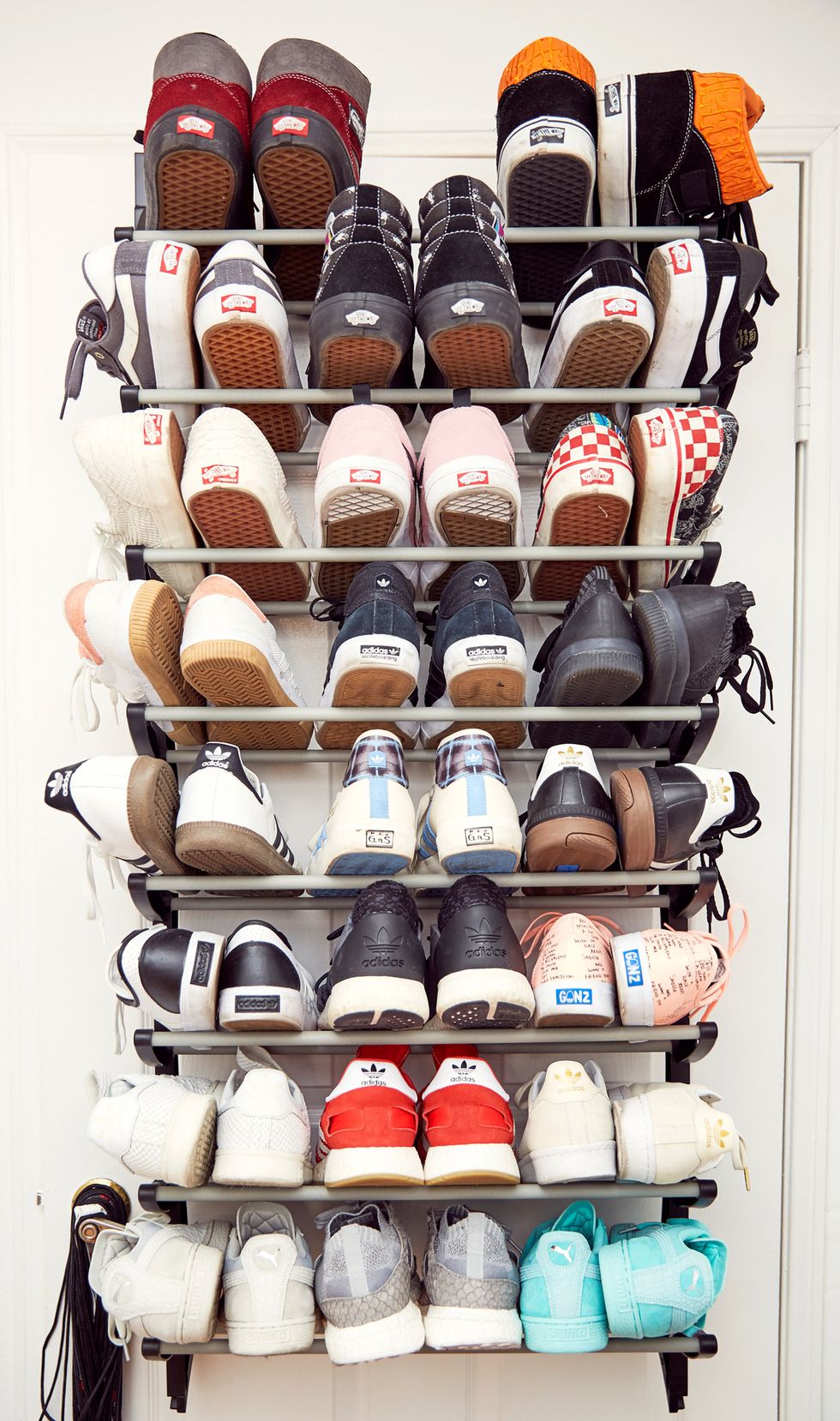 WHAT ARE YOUR SHORT- AND LONG-TERM GOALS TO BECOME MORE SUSTAINABLE?
"As a brand, Filling Pieces is currently assessing our supply chain and processes and looking at how we can reduce our environmental footprint. From the tanning of our leathers to researching where the rubber comes from that we use for our soles, to the transportation of products from factory to warehouse. We're also looking at opportunities to recycle or reuse/repurpose worn products and making vegan shoes on the design and development front." —Filling Pieces Team
"Our knitting processes are becoming more advanced, which allows us to limit our waste to a bare minimum. In addition to that, we introduced an incredibly sustainable fiber (our proprietary merino wool blended yarn) that we worked on collaboratively with Woolmark to develop. It took us nearly 18 months in R&D to create our new Merino Wool Breeze, which is our most sustainable shoe to date and is the first shoe ever certified by The Woolmark Company." —Adam & Ryan Goldston, Founders of
APL
"We ethically manufacture our shoes in Brazil, where Amazon natural rubber exists. We have the opportunity to engage with small communities and/or tribes to source this material and build a business that not only uses natural rubber, but makes a social impact on the local industry. [Our long-term goal is] for Obra to become a Certified B Corporation. Certified B Corps meet the highest standards of verified social and environmental performance, transparency, and accountability." —Arnaud Delecolle & Dave Cory, Founders of Obra
"We [recently launched] our SweetFoam soles, which are made from the world's first carbon-negative, sugarcane-based green EVA foam. While it took us nearly three years to develop SweetFoam with the help of Braskem, a Brazilian green energy company, we're open-sourcing the technology so any business in the footwear industry or beyond can easily make a more sustainable choice. Our hope is that this innovation will spur an industry-wide change and shift one of the dirtiest and most widely used materials to be more sustainable than ever before." —Tim Brown, Co-founder of Allbirds
"By experimenting with sustainable textiles, we're able to introduce new ecological materials and styles every season. For example, our canvas is made from organic agro-ecological cotton, [and] since 2004, we've bought more than 265 tons of it. Agro-ecology doesn't use water or pesticides—it is preserving the soil and makes it more fertile. The B-mesh we launched in 2014 is made entirely out of recycled plastic bottles that have been collected from the streets of Rio de Janeiro and São Paulo. We source wild rubber directly from Seringueiros communities in the Amazon forest. Collecting rubber from the hévéas offers a better salary than cutting trees to raise cattle. Since 2004, we've purchased 200 tons of wild rubber, which has enabled us to preserve 120,000 hectares of the Amazon forest.
"We don't have just one vision of sustainability, but instead we embrace all possible solutions and follow every avenue. We came up with leather that is much more ecological than what's generally used, [and] for the past five years we've been researching leather alternatives, and we've discovered a sustainable vegan leather that will launch in 2019. We haven't established sneaker recycling yet, but we're actively looking for solutions to devise a 'cradle-to-cradle' solution and reach 100 percent recycling." —Sébastien Kopp, Co-founder of Veja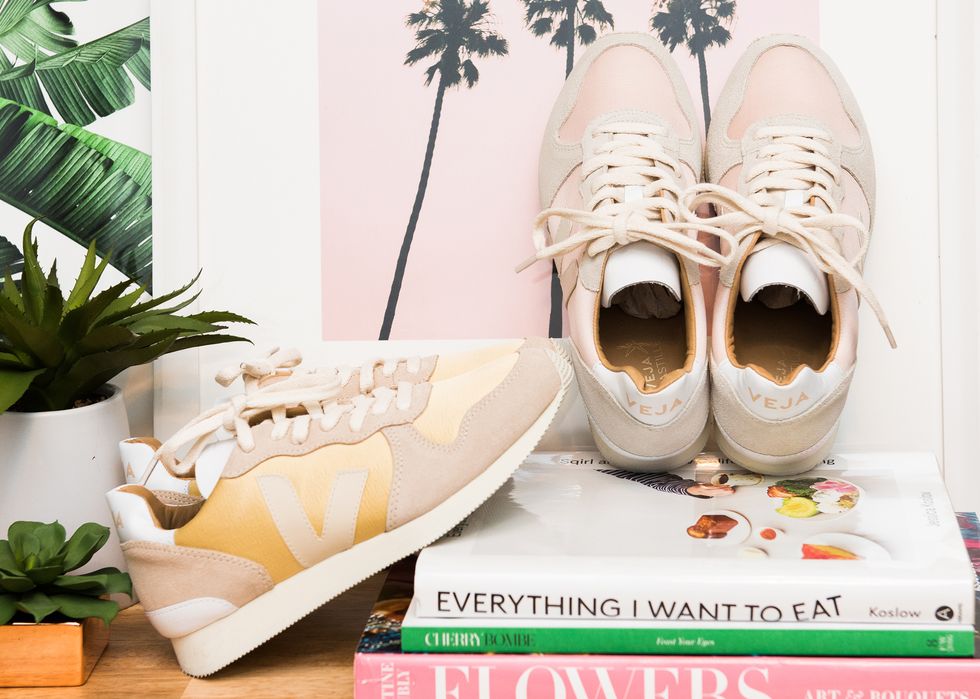 "We've environmentally scored our product creation process to measure the environmental impact and sustainability down to the material to understand the impact of water, waste, energy, and chemistry of each process. In our physical footprint (our offices, stores, and manufacturing), we are eliminating more of the waste we create—we compost, recycle, and reduce down to 100 percent composting of the coffee grinds in each of our offices.
"The most impact you'll see from our brand in terms of waste reduction can be easily identified on our most iconic product, the Chuck Taylor All Star. Comprised of mostly rubber and cotton, we're ensuring that we source cotton more sustainably and [are] incorporating recycled rubber into our sneakers. We'll have some more to share in terms of material and process innovation for the Chuck [in the] spring." —
Converse
Spokesperson
"Adidas teamed up with Parley to help spread awareness and transform ocean plastic pollution into high-performance sportswear, spinning the problem into a solution. We have already taken the first steps to reduce and ultimately eliminate virgin and single-use plastic from our products. We want to create a global movement to help save the oceans from the threat of plastic waste. At the heart of our brand is the belief that, through sport, we have the power to change lives. With the
Run for the Oceans
, we're using this power of sport to inspire action." —Eric Liedtke, Executive Board Member, Global Brands at
adidas
"The Cotton + Corn product is a from-the-ground-up initiative that we've been working on with partners like Dupont Tate & Lyle for several years. We also did a footwear partnership with an organization called Thread that sources rPET (recycled plastics) from materials collected in countries like the Dominican Republic. We're also a part of adidas, and we join them in partnering with BCI Cotton and other initiatives. The sourcing initiatives are really the fastest path. We'd like to be able to offer sustainable alternatives to everything we make. That's coupled with broader factory initiatives across the entire organization. Ultimately, we'd like the entire product life cycle to incorporate more sustainable methods." —Bill McInnis, Head of Reebok Future.
"Because our sneakers are already offered at the best possible price, Koio sneakers are never marked down. At the same time, we still always want to find ways to engage consumers. For instance, we [did] a one-for-one giveback where we donated one pair of our sneakers to people in need, for each pair purchased [on Black Friday]. We are also making it easier for our customers to access information and products to best care for their sneakers and extend the product's lifespan." —Chris Wichert, Co-Founder and Co-CEO of Koio
A LOT OF CONSUMERS HAVE THE IDEA THAT SUSTAINABLE SNEAKERS MAY LACK IN TECHNOLOGY OR FUNCTIONALITY—THOUGHTS?

"In terms of functionality, there are numerous ways of producing perfectly functional products that are sustainable, it's just due to human convenience and cost savings that today there's [this] perception." —Filling Pieces Team

"The opposite. In order to make a perfectly sustainable product, a lot of research and development has to be done in order to know not only short-term, but also the long-term effects a product has on the environment. It's part of the companies' responsibility that are using these benevolent materials to educate the consumer and demonstrate that the intersection of sustainability, technology, and functionality is entirely possible. In regards to functionality, something like natural rubber can have equal or even higher abrasion resistance than highly processed rubbers." —Arnaud Delecolle & Dave Cory, Founders of Obra

"While most people would say they care about sustainability, it still doesn't drive purchasing decisions. That's why we focus on creating great-looking and incredibly comfortable products first and foremost, then work out how to make them as sustainable as possible." —Tim Brown, Co-founder of Allbirds

"We use silk—a fabric with an extremely low carbon footprint. The silk has been manufactured in a specialized factory located in the South of Brazil for more than 70 years. We believe that with the proper research and experimentation, we can find the best sustainable materials that are both functional and stylish." —Sébastien Kopp, Co-founder of Veja

"They used to be right, and in some cases they continue to be correct. Our Cotton + Corn product is casual footwear, for example. It's tested as a casual shoe to hold up, look good, and feel good over hundreds of hours of wear. However, it's not a performance running shoe that you're going to run 300 miles in. Right now, that's because we haven't created a sustainable performance cushioning system that can compete with the foams on the market today. That's part of what we're working on right now. The job won't really be done until a consumer doesn't have to sacrifice performance to get sustainability." —Bill McInnis, Head of Reebok Future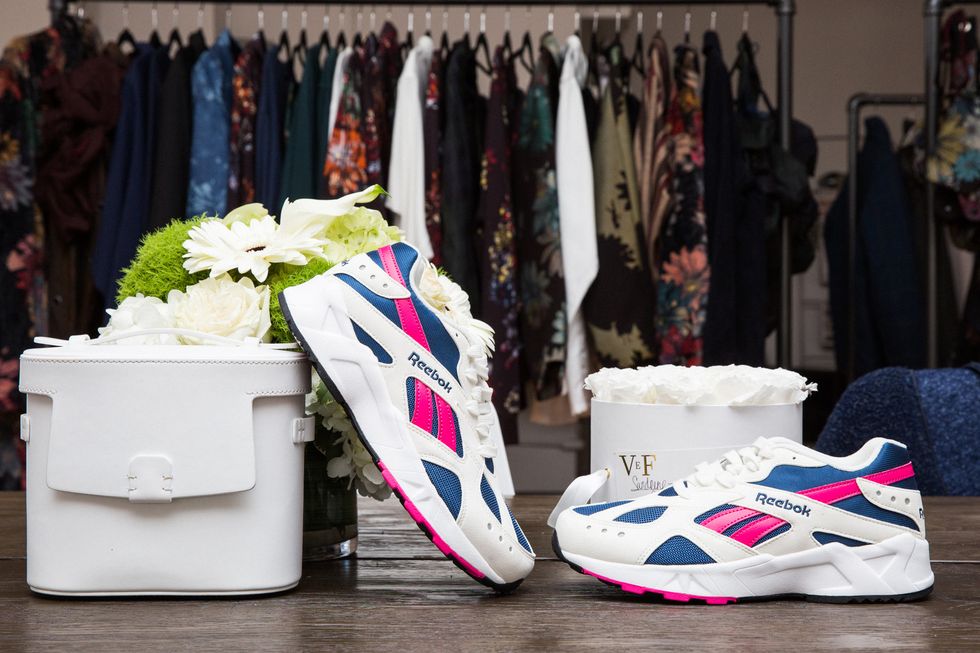 HOW CAN WE CHANGE THIS CONVERSATION AND BETTER EDUCATE THE CONSUMER?
"The law of diffusion of innovation. It takes time. At the end of the day, the mass of consumers just want to buy product that looks good. The fashion industry as a whole has to re-evaluate the supply chain and find ways to improve step-by-step. Transparency is key. Brands should be completely open about their processes." —Filling Pieces Team
"By providing a product that isn't what they would expect. Being sustainable doesn't mean you have to be 'crusty.' Product can be beautiful, modern, and relevant for the market, all while supporting earth and community. Allow for a level of discovery, and engage with consumers on a human level." —Arnaud Delecolle & Dave Cory, Founders of Obra
"We as brands need to offer consumers great products that don't compromise on sustainability. Consumers shouldn't need to sacrifice on quality or design to buy green products. Empowering consumers to ask questions about what products are made from and how they were developed is the first step towards a widespread demand for more sustainable and ethically made items." —Tim Brown, Co-founder of Allbirds
"We want to draw more attention to social sustainability. People often look at environmental aspects only—and they are very important—but we believe that social sustainability needs to be more in focus. We are constantly working to shift this conversation to make people more aware of our work by taking them behind the scenes at our factories to demonstrate how the sneakers are made. Working and partnering with education-focused organizations, promoting inclusivity and humaneness through our collabs have also, proven successful for growing consumer awareness." —Johannes Quodt, Co-Founder and Co-CEO of Koio
CURRENT STEPS BEING TAKEN TO BECOME MORE SUSTAINABLE:
"We're currently researching our supply chain and looking at repurposing worn product. In terms of manufacturing, currently all our products are made in Europe under European law." —Filling Pieces Team
"Our two newest silhouettes [Bliss and the Breeze] are our most sustainable yet. Because of the way we dynamically create our stretch rebound TechLoom (the uppers of the Bliss and the Breeze), we are able to create our desired silhouettes with as little waste as possible." —Adam & Ryan Goldston, Founders of APL
"In addition to our sustainable hero materials (wool, tree, and SweetFoam), we use a number of other natural and recycled elements in our shoes: laces made from plastic bottles, insoles made from vegetable oil, bio-based eyelets, and more. Our shoebox packaging is made from 90 percent recycled cardboard with soy-based ink and doesn't require an additional box for shipping." —Tim Brown, Co-founder of Allbirds
"This year we're going to make five million pairs with Parley Ocean Plastic. But that's not enough. There's always the next step." —Eric Liedtke, Executive Board Member, Global Brands at adidas
Want more stories like this?
This French Sneaker Brand Will Make You Rethink The Fashion Industry
What to Do If You're Feeling Overwhelmed by Climate Change
Over Plastic Straws? There's a Luxury Solution to That