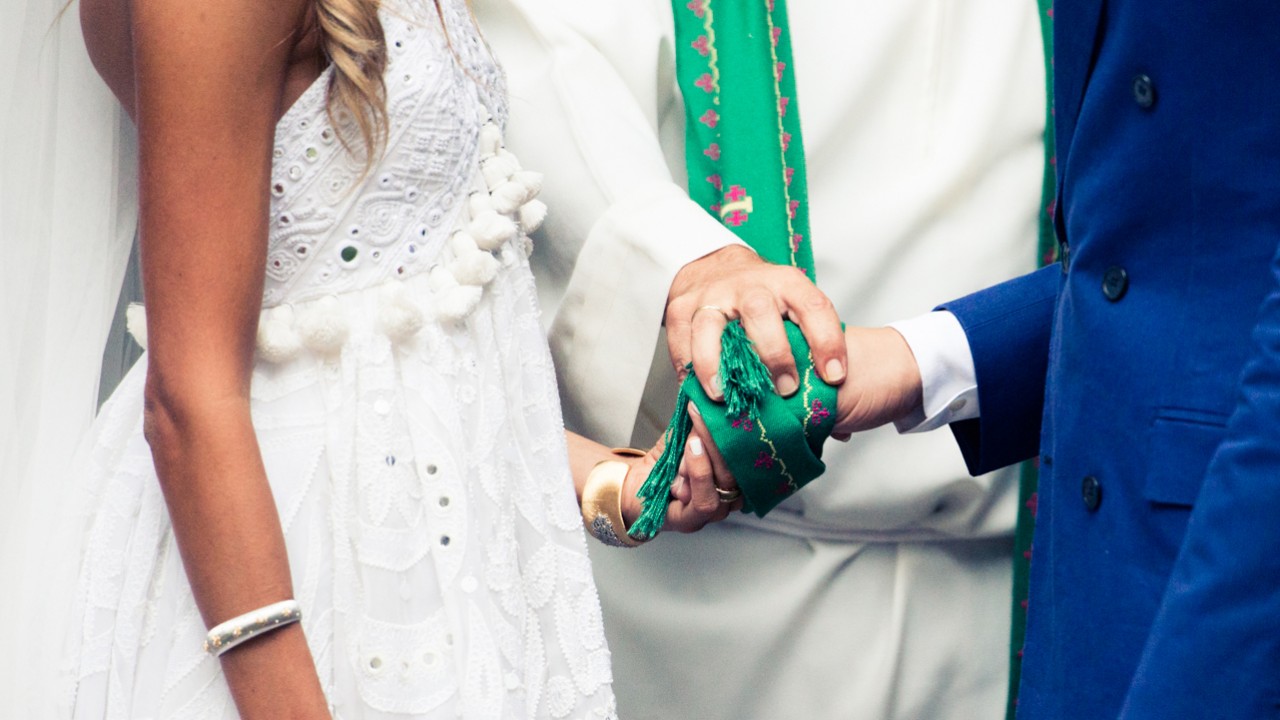 You Should Have This Conversation Before Walking Down the Aisle
A handy guide to getting a prenup.
Few things can top the whirlwind of getting engaged. You're in love, you've got killer new jewelry, and there's a whole celebration to plan with your friends and family. What could possibly pop your new prenuptial bliss? Calling up a lawyer to discuss what to do if your marriage fails will probably do the trick. Yes, the prenup conversation—significantly less sexy than deciding where to spend your honeymoon, but important just the same.
Imagining that your marriage might come to an irreparable end is uncomfortable, especially before it's even begun, but forethought and preparation will actually save you both a lot of heartache, time, and money in the long run. A prenuptial agreement really is one of the best options for engaged couples, just in case the happily-ever-after falls short of ever after. To get the lowdown on everything that goes into getting a prenup, and figuring out whether or not it's the right choice for you and your partner, we asked Elona Kukaj, an attorney and partner at Bauman & Kukaj here in New York, some of our most burning questions. A little legal advice never hurt anybody!
Are prenups actually that common?
"Absolutely. In the past, prenups were primarily used by the wealthy or by couples who had children from prior marriages. [Since] marriage norms have changed and non-traditional marriages or blended families [are] more common, there becomes more need for prenups to protect children from those previous marriages. Another factor is the advancement of women in the workplace. I think this has led to two things—women now have greater assets (meaning money, property, stocks, etc.) of their own prior to the marriage, and they are waiting longer to get married. The fact that people are waiting until later in life to get married and are simultaneously accumulating more assets means that there becomes more of a need to protect those assets. And that's where the prenup is an effective tool."
What are the steps a couple should take to get a prenup?
"Having frank conversations with your partner as early as possible helps alleviate the anxiety [of getting a prenup]. Once both sides are on board, they should each retain separate legal counsel to help draft the prenup and negotiate the terms. This will help ensure that each party was properly advised and there was no conflict of interest. It's vital that each person discloses what his or her assets and liabilities (meaning student loans, credit card debt, mortgages, etc.) are, so both sides will prepare a statement of net worth. Without full disclosure of all assets and liabilities, [or] if there is evidence of fraud, duress, or unfairness, even the best-drafted prenup can be found to be invalid. Couples should be honest with each other and have the prenup signed well before walking down the aisle."
What does a prenup cover for a couple?
"A prenup may address how assets that were acquired before the marriage will be divided. In most states, [they] are typically considered premarital and, in most cases, 'separate' property. Many people can't trace back what was theirs or what was joint property, especially after a long-term marriage, so a prenup can offer protection of those assets. A prenup can also address how assets acquired during the marriage will be divided, and spousal support/maintenance. Some couples also have 'infidelity' clauses, which address what happens if one person cheats on the other."
Would you advise couples to complete a prenup before getting married?
"They certainly are very useful. While no one is really thinking about divorce when they're getting married, the fact of the matter is that about one-half of marriages in the United States end in divorce. It's prudent to at least consider a prenup, as it can help a couple avoid costly and emotionally draining litigation in the event of a divorce. I think it gives people a great sense of relief knowing they have something in writing to address all of these issues."
Are millennials more likely to get a prenup than their parents' generation?
"There has been a rise in younger couples getting prenups. I've represented many young clients who are interested in protecting family assets or inheritance. I'm also seeing clients who are entering the workforce and may not have many assets at the outset of the marriage, but would like to address property division, spousal support, or even pre-marital debt. In general, I think many millennial couples are being very pragmatic and preparing themselves in the event of divorce."