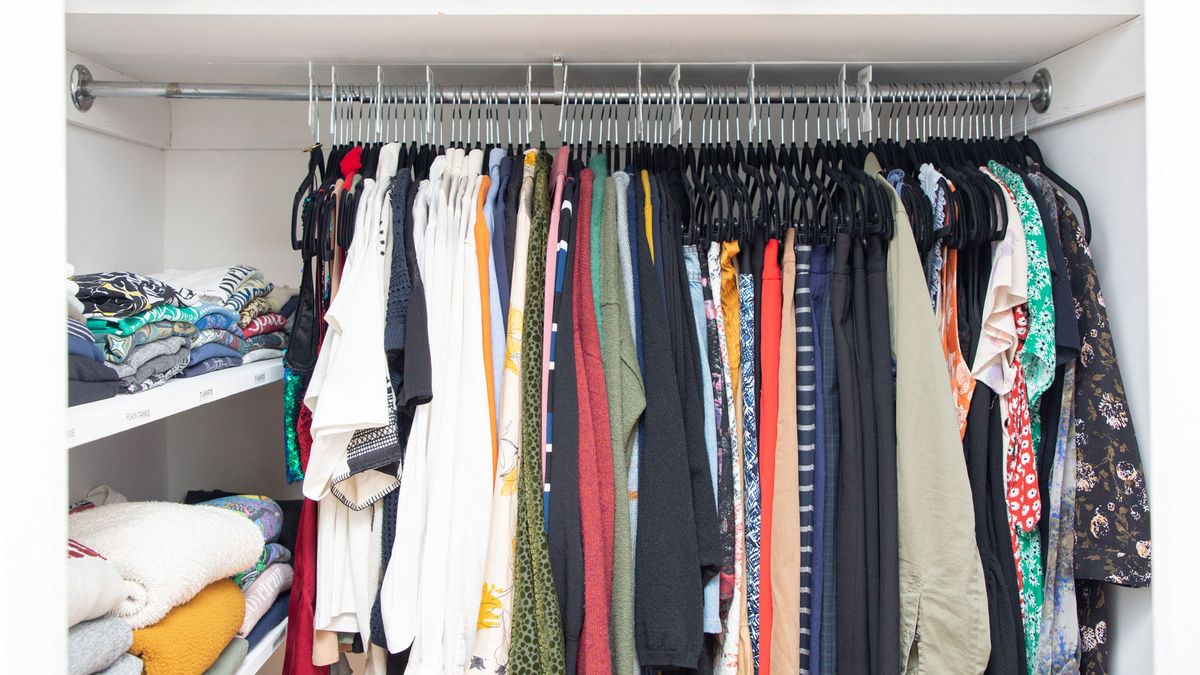 Living
Adventures in designing one giant shelfie wall.
Alec Kugler
This fall I moved into my sixth apartment in New York City since I arrived 11 years ago. Each time I move, the newly painted white walls and empty
closets
make my spirit feel Windexed, and I relish the deep breath that is a fresh start (maybe this is healthy, maybe it's escapism—either way I've tortured myself with this city's rental market enough times to be an expert). However, the biggest issue in any New York apartment, no matter how many you've lived in, is the closet space, which is why this is the second time I asked Jamie Hord and her husband, Filip, of the organizing company
Horderly
to come help make my new place as storage-efficient as possible. (If you're addicted to before-and-afters, like me, you'll appreciate their
Instagram
.)
---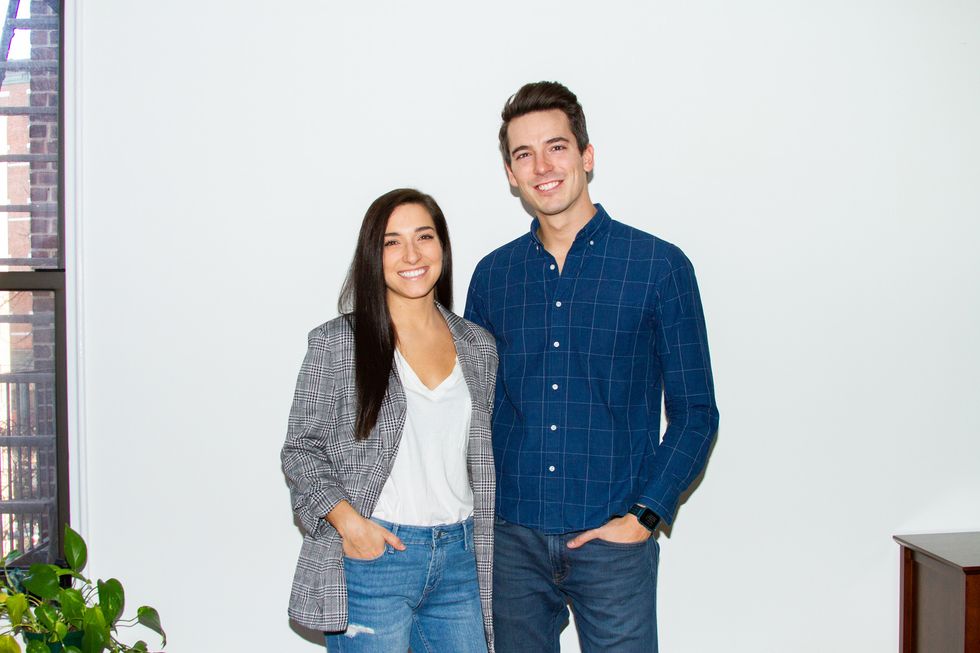 Organizing my stuff, in particular, is an extra-daunting task because, as beauty director, I have
a lot of products to take home and try
. I also want the new place to be photogenic because I'm often shooting something about my beauty routine for Coveteur's social media. The main vision that I was dead set on executing was using the one big empty wall in the bathroom to install these
white wall shelves
from The Container Store so I could put all my products out on display like one huge floor-to-ceiling #shelfie.
And on top of all this, since I also loath getting dressed in the morning (there's a reason I'm not a fashion editor), I needed Jamie's help to streamline the two closets in my new place so I can get ready faster and with less heartache. Below, find the step-by-step for how we organized my closets and beauty stash in my new apartment.
1. Put Everything (Everything!) into Piles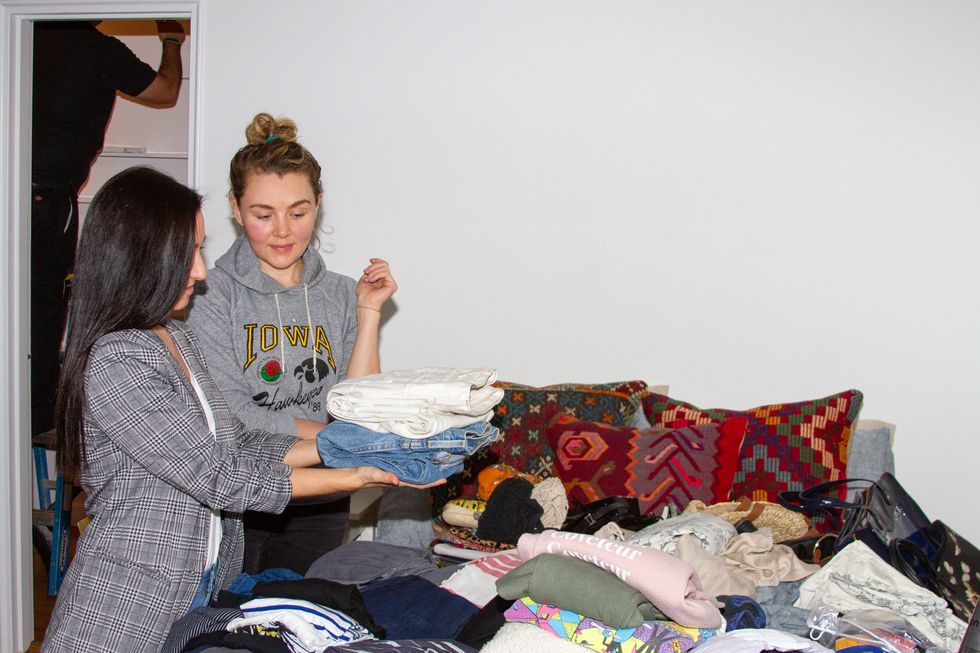 Jamie's first step is editing, so, without exception, you have to put everything you own into categorical piles no matter where you currently store them in your home. That means every single pair of jeans in one pile. Every serum in a pile. Every nail file. Every face gadget. Every magazine. Every pillowcase. Then label every pile with a Post-it.


2. Assess and Purge
Once I had every single item in my whole apartment in front of me—hair masks, eye creams, cozy old sweatshirts—I had to get honest about what was ever really going to get used. Japanese organizing expert
Marie Kondo
says you should keep whatever makes you feel a spark of joy when you hold it, but even simpler than that, I found that once you line up and rank the quality and usefulness of every single, say, canvas tote bag you've collected over the years, it becomes really clear what's worth keeping. But it's only when you have the context of the *entire* pile that the decision becomes clear. From there, everything falls into three categories: keep, toss, donate.
3. Order Organizers and Furniture
This is where Jamie's talent shines: She has an uncanny ability to visualize exactly where everything will fit. When she left my place after a very long day of editing, she emailed me a list of organizing products and furniture ideas that would help save space by using it more efficiently. This included plastic separators for all my clutches, baskets for my linens, an LED light for my light-less front closet, and super-skinny matching hangers.

The hardest part was finding a small chest of drawers for my closet for lingerie and socks. May you never be cursed with finding a dresser that is less than a foot deep. The only one I could find was from Ikea. Next, I found a dresser of exactly the right size to act as my vanity in a specific nook right across from the shelfie wall. Finally, I visited The Container Store on 6th Avenue to design the shelfie wall.

While I waited a few weeks for everything to arrive, all the beauty products in my life continued to live in Post-it Noted piles around the apartment in roughly the spot they would end up being stored. It wasn't the most graceful way to live, but the upside is I had to face alllll the things that I own eeeeeevery single day as I tiptoed around them, and I ended up purging even more stuff.


4. Put Everything In Its Place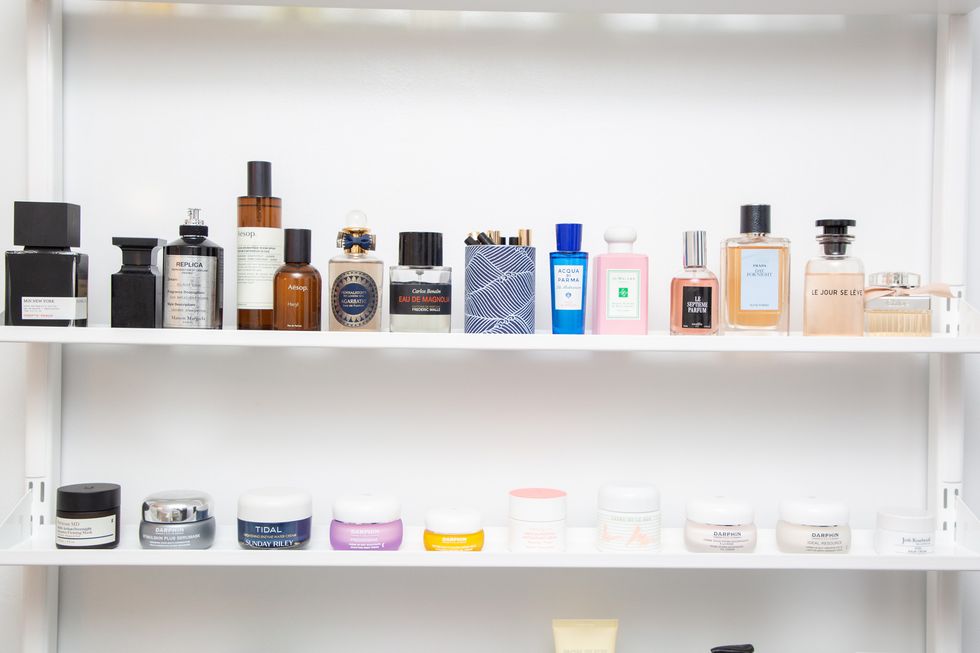 Finally, all the bins, labels, matching hangers, lights, mirrors, drawers, and shoe shelves arrived in my lobby, as did an installer from The Container Store for my shelfie wall. Jamie and Filip came over again and put everything away with perfectly printed labels.
All my makeup, hair tools, and skin tools live in the three-drawer dresser with the large Glamcor Riki Tall vanity mirror on top (the mirror has perfect lighting for doing makeup and is also a favorite of makeup artist
Katie Jane Hughes
when she does her daily videos). This is the station where I get ready every day, and the shelfie wall makes for a nice backdrop when I'm shooting images for social. All my fragrances, skin care, and hair care live on the wall.
My clothes, dress heels, lingerie drawers, purses, and linens live in the clothing closet. I have long shelves in the closet where casual and athleisure clothes sit in folded stacks. The size of the fold is key because it determines how many stacks you can fit across each shelf. (You can see
Jamie's folding video here
.) My coats, everyday shoes, and suitcases live in the front closet, with hats, scarves, tote bags, and my extensive collection of makeup bags (I love them all!) nestled into their own baskets above.
So far, about a month in, I'm just amazed it all fits. And the fact that every item has a designated spot makes it easier to keep things tidy, even when I don't have Jamie penciled in. I promise, though, this time I won't be moving for a long while.