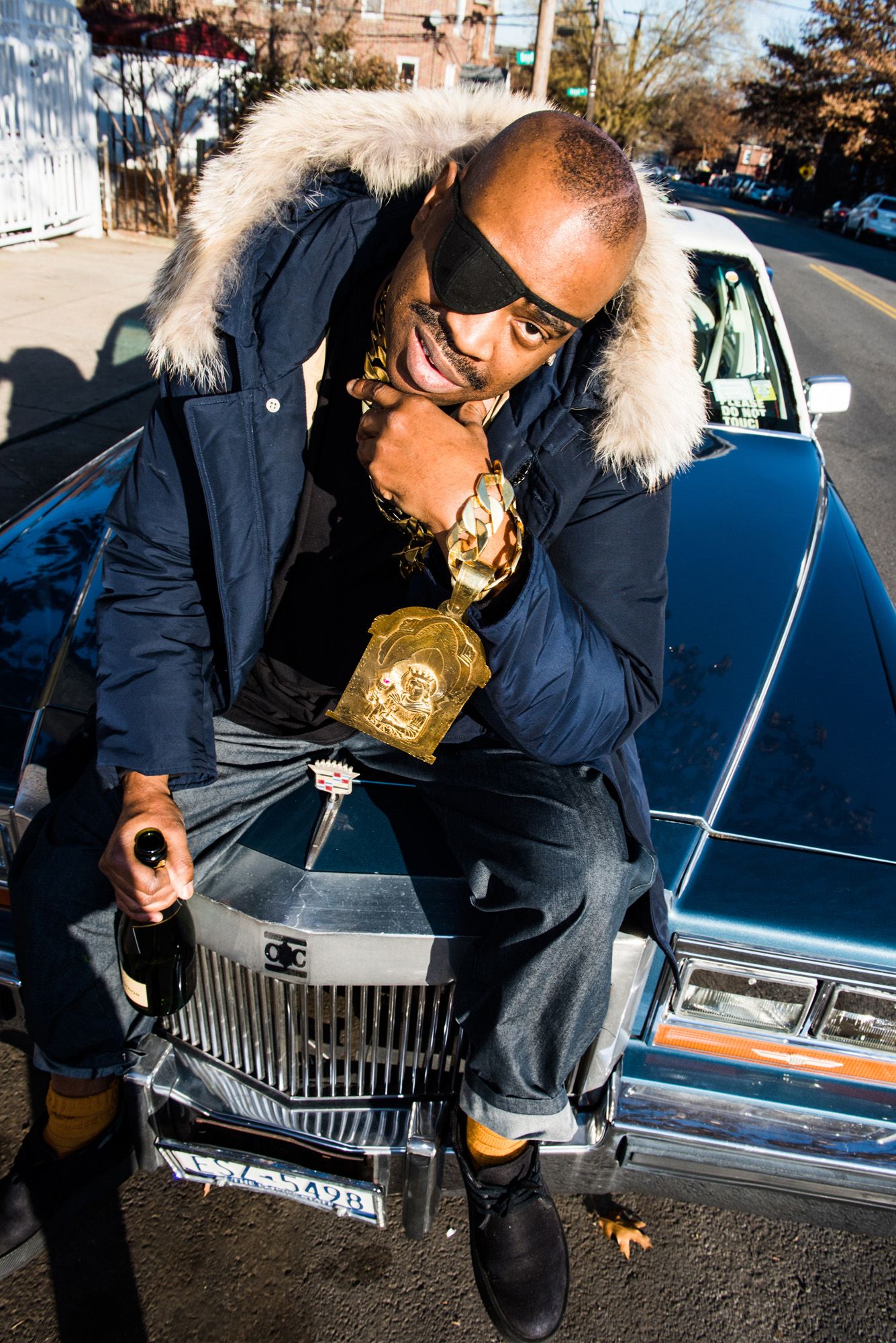 Closet
And chains and diamonds. New York.
Jodi Taylor
Four albums, 47 features, one Grammy nomination, a handful of nicknames, and a street sign on the Bronx Walk of Fame later, rap legend
Slick Rick
(originally known as MC Ricky D) is celebrating three decades of hip-hop storytelling. The British-born, Bronx-bred artist (who was part of Doug E. Fresh's Get Fresh Crew before becoming the third artist ever to sign to Def Jam) has always turned heads with both his music and style. In addition to his famous eye patch (which often is encrusted in diamonds), the rapper was always known for stepping out in luxe fur jackets, colorful suits, Kangol hats, and piles of gold chains. Excess was his modus operandi. We made our way to Slick Rick's home of 20 years in the Bronx. "A Children's Story"—the hit single off his debut (and now platinum) album,
The Great Adventures of Slick Rick—
was stuck in our heads. The moment we stepped into his house, he handed a couple of glasses of Rosé Moët in champagne flutes tastefully inscribed with his nicknames. He kept the bottle to himself, occasionally taking a swig of the bubbly en route to his closet. And there, we saw the culmination of his style over the years: clear containers piled high revealing the adidas, Clark's Wallabees, and Fuda boots inside. A mustard-yellow Bally shearling jacket was snuggled up next to a Fendi button-up wool coat, and as we admired Slick Rick
'
s brand-new MCM duffle, he pulled out a few of his most prized possessions: diamond and gold chains, each weighing more than the next. As we rummaged through stacks of old floppy discs (more on that if you keep reading through the below), demo cassettes, and photos around the house, Slick Rick told us about his childhood fashion memories, the craziest thing that's ever happened to him, and the new music (
a new vinyl included
) he
'
s released this year and more that
'
s to come.