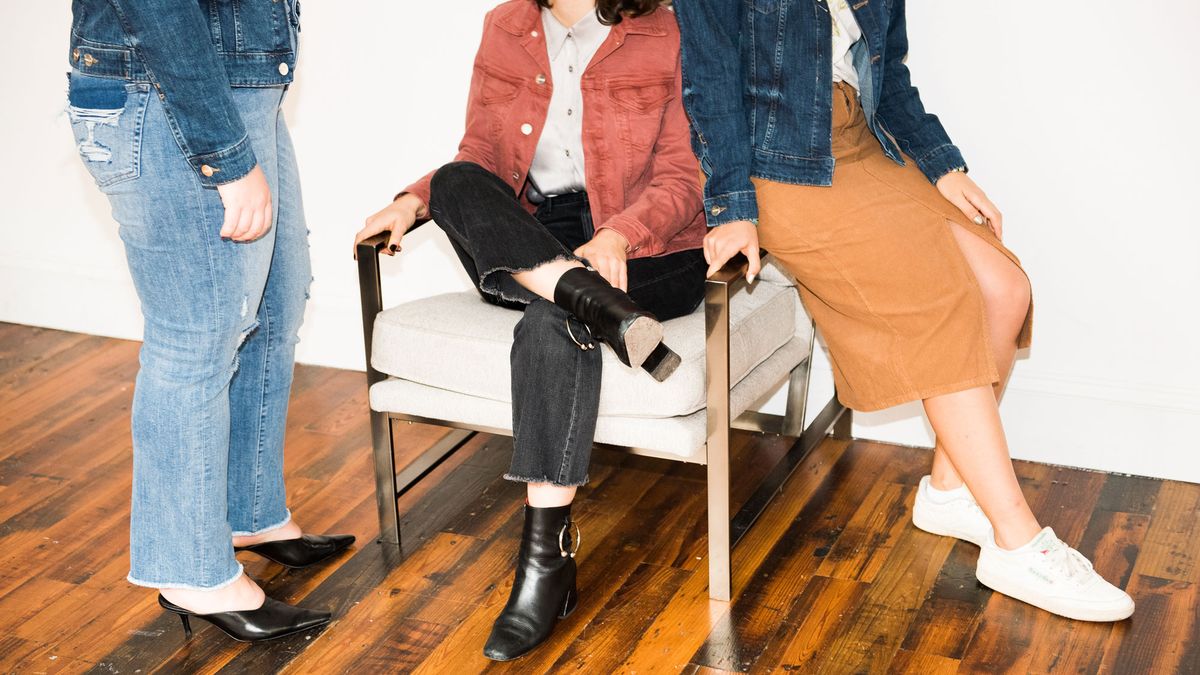 Fashion
Head-to-Toe Looks for Every Holiday Occasion
You got this. Trust. In collaboration with Warp+Weft.
Designer
Ashley Combs
As much as we love the holiday season (as in, starting November 30 our playlists are exclusively Mariah Carey and you can smell the scent of pine wafting from every nook in our apartment), there's no denying that it comes with a bit of stress. As if securing the pitch-perfect list of curated gifts isn't overwhelming enough, holiday party dress codes can be a headache to navigate. Luckily, with a little inspiration and the teensiest bit of considered planning (which, tbh, we've done most of for you right here), you can consider this just another ticked-off box on your to-do list.
As for the unexpected MVP of your holiday wardrobe? This season we've found ourselves relying on the backbone of our day-to-day looks more than usual: denim. Specifically pieces from
Warp+Weft
's range of sustainable (did you know conventional denim can require 1,800 gallons of water to create just one pair? W+W's requires a whopping 95% less) and size-inclusive jeans. While in the past jean shopping may have been right up there with Brazilian waxes in terms of enjoyable activities, the brand's wide range of sizes, incredibly flattering cuts, and figure-hugging fabrics make it, dare we say...enjoyable? The variety of cuts and fabric finishes also means there are options for even the dressier moments on your calendar. We told you this would be a cinch.
---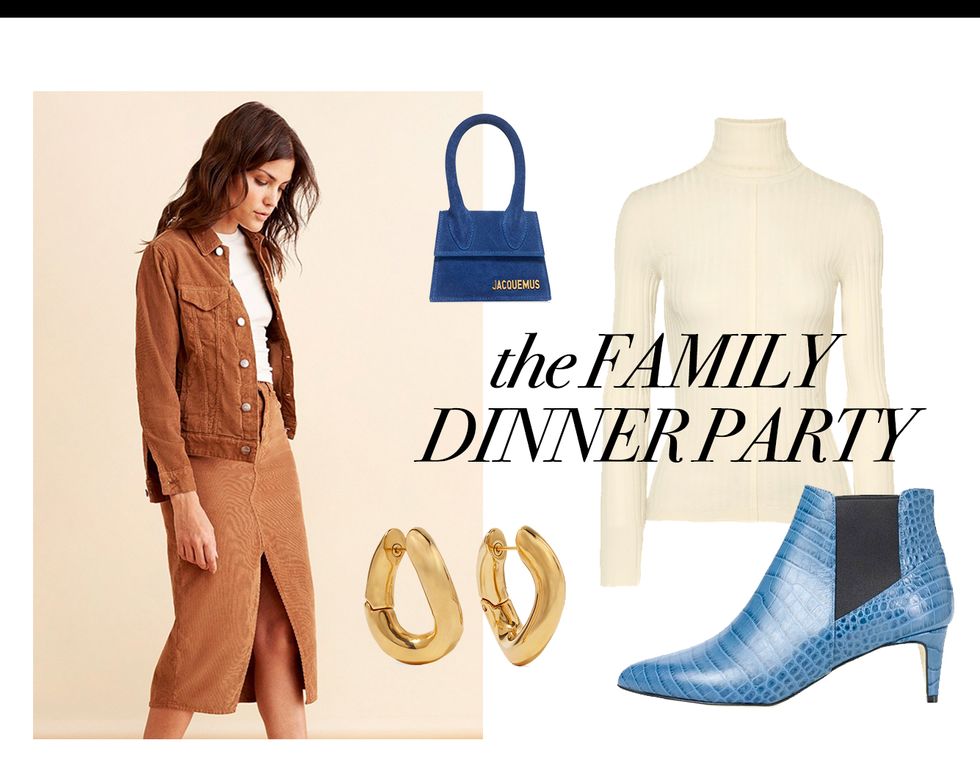 While quality time over the holidays spent with fam more often than not calls for tacky sweaters or the tattered sweats you've been sporting since high school, eventually you may have to join the real world and put on actual clothing. Enter our top choice for looking perfectly pulled together with approximately zero effort: a coordinating look. This
Warp+Weft
corduroy-feel cinnamon-hued
denim skirt set
is just the ticket. Add a cozy, neutral sweater underneath (
this Chloé number
's on sale!), then add a punchy color with your accessories: a fun
blue mini bag
, and playful
printed ankle boots
.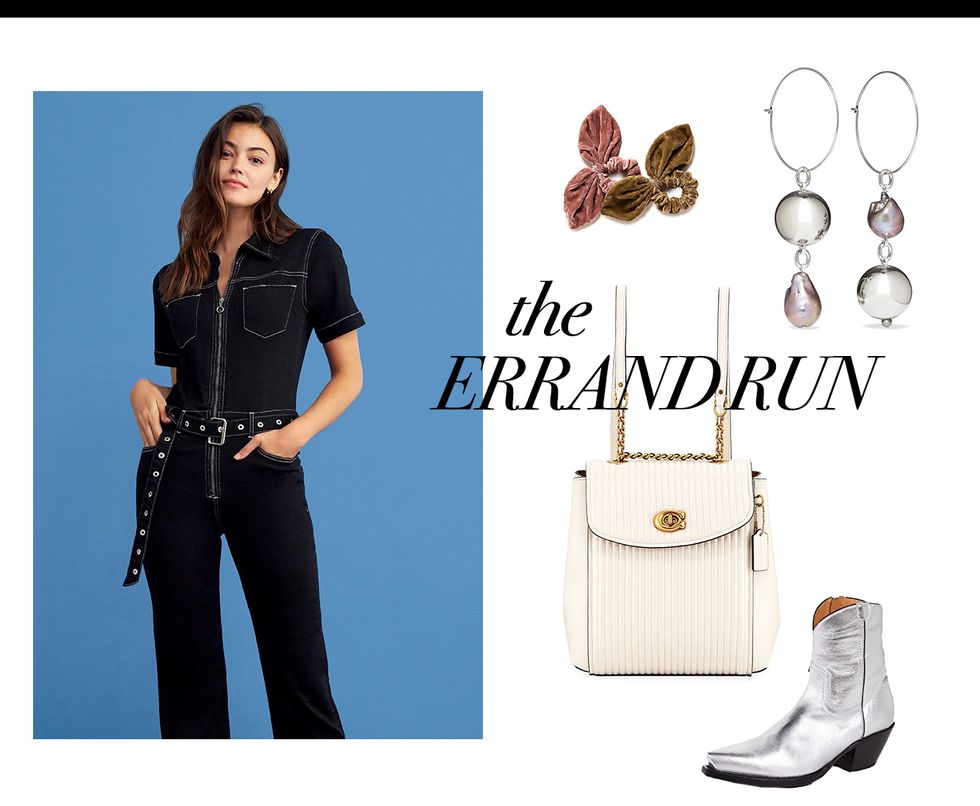 Of course you don't realize until the day before you're due to leave for family festivities that you need approximately 51,902 essential items before you set foot on a plane. Enter the ideal errand-running outfit: a simple, stylish
jumpsuit
that you can frantically run around the city in (we speak from experience—pockets are key here). Dress it up with a pair of
metallic cowboy-style boots
you can stomp all over town in, comfortably.
Statement earrings
means everyone will ignore your two-day hair topknot (speaking of, there's a fancy
scrunchie
for that). A
quilted leather backpack
helps keep your sh*t together on the go—literally and figuratively.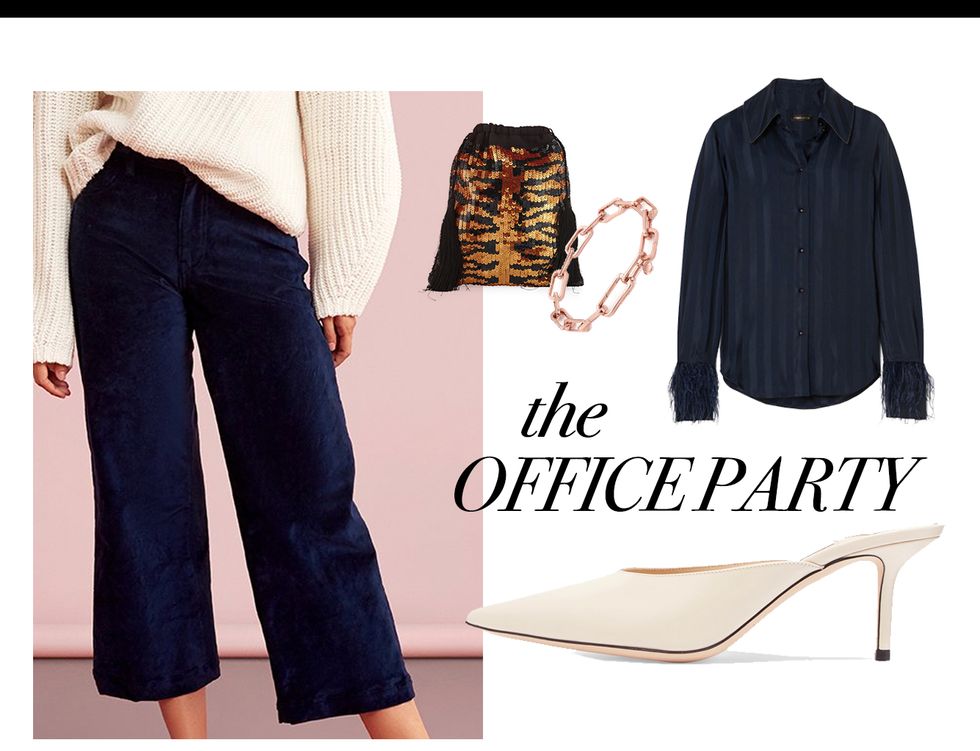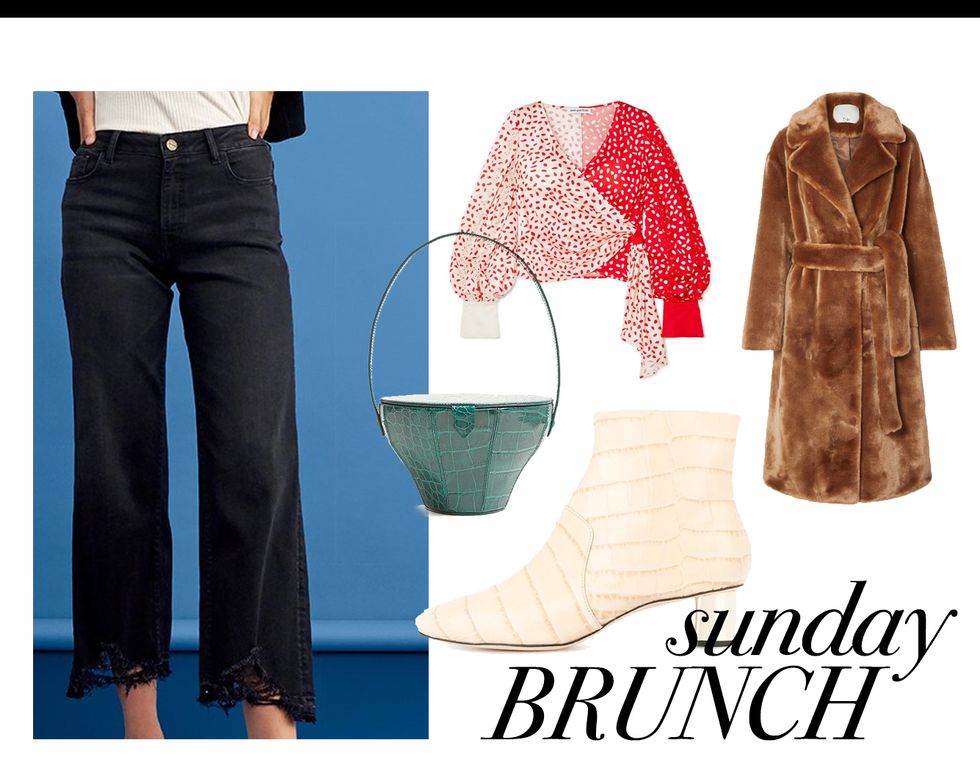 One of our favorite holiday gatherings is, without fail, a gift exchange with friends and family over a boozy brunch. A boldly
printed voluminous blouse
adds drama and a dressy feel (in other words, gives the effect of concerted effort, even when you didn
'
t try). A pair of high-rise 
wide-leg dark denim
goes with everything and often ends up looking more pulled-together than classic blues. Cool
cream boots
with embossed texture and a shiny little block heel lend some lift without the potential for a stumble after you imbibe, while a
faux fur
still looks (and feels!)
luxe
 and is incredibly comfy, too.
Use promocode Coveteur30 for 30% off
.