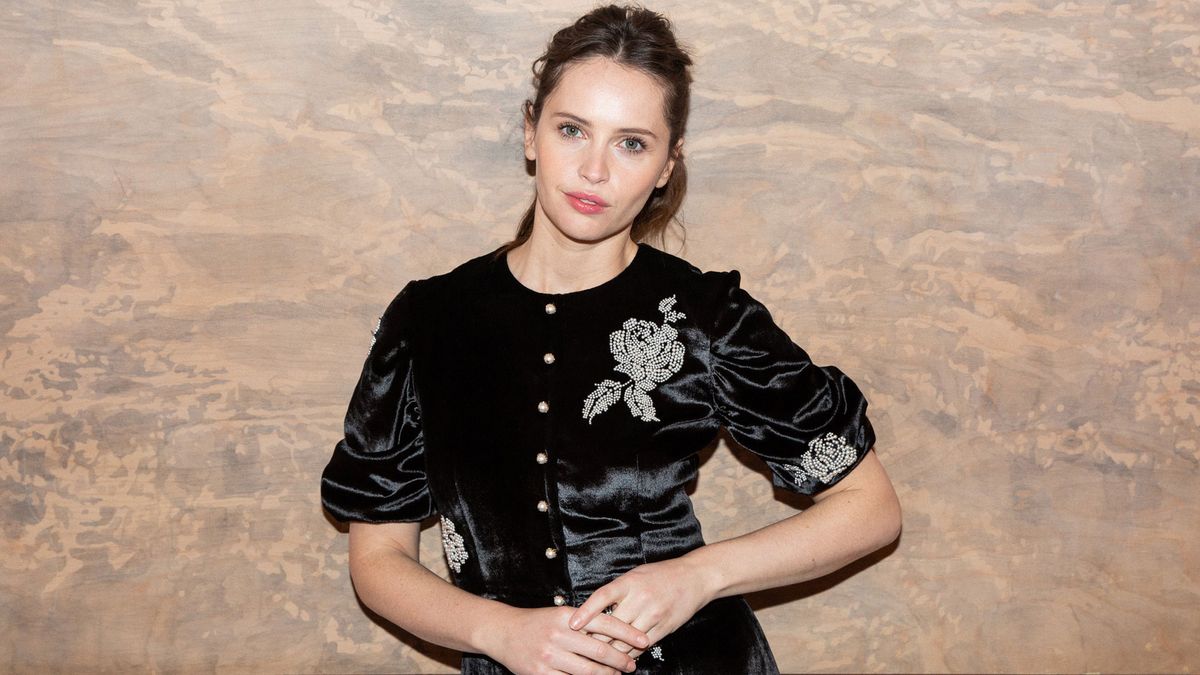 Celebrity
Felicity Jones on Playing Ruth Bader Ginsburg and the Importance of Hair Scrunchies
Plus the skin-care tool she can't live without and her favorite way to spend a lazy Saturday.
Alec Kugler
Aside from being a sitting Supreme Court justice, the founder of the
ACLU's Women's Rights Project
, and paving the way for thousands of young women to take their seats at the proverbial table, Ruth Bader Ginsburg is an undeniable fashion and beauty icon. Take it from actress Felicity Jones, who plays the Notorious RBG in the upcoming biopic
On the Basis of Sex
. Capturing the essence of one of the most influential and revered justices involved a lot more than throwing on a lace jabot or pulling her hair back into a scrunchie (although there are plenty of those in the film). Jones watched hours of footage and spent as much time as possible with RBG in order to create a depiction that would make her proud—and Jones is happy to report that Bader Ginsburg is, in fact, a fan of the film.
"She's seen it three times," laughs the Clé de Peau Beauté ambassador when we sit down with her in New York. "We watched it with her in Washington a couple of days ago, and it was fantastic to see her joy for it. Her nephew keeps saying, 'You don't have to keep watching it,' but she's like, 'No, I love it!' That's the only person whose opinion I really cared about, so the fact that she's embraced the film and is very supportive of me means a lot."
Jones also revealed all the fashion and beauty tricks it took to transform into RBG (hint:
contouring
is not just for the Kardashians), as well as her own skin-care and makeup routine. Plus, find out how she prefers to spend a self-care Saturday when she's not working, the skin-care tool she discovered in Tokyo and always keeps in her bag, and the most surprising moment of her first meeting with Justice Ginsburg. 
---
You've played a variety of characters, from Star Wars to historical figures—which prep work is harder, and which do you prefer to play?

"They demand really different things from you. Obviously doing something like Star Wars is really physical, and for that film I spent a good few months in training, working with a stunt crew, learning how to do martial arts. That character, Jyn Erso, so much of her identity is physical. She fights her way through things—she's not the most verbally articulate person. And then obviously with someone like RBG—who I have to say also has the Force in her [laughs]; she definitely could be a Star Wars character—it's a different process in the sense that you're trying to understand, How did this person become who they are today? What are the forces on them that have made them make some decisions?"

What did you do to get into her head for the role?

"It was definitely meeting her and spending time with her. When we first went to meet her at her office, her eyes lit up when she saw Armie Hammer [laughs]. So you could see how much love there must be between her and her husband. You're looking at those constant non-verbal clues to build an image of the character. I studied English literature and language at university, which is so much about the psychology of characters and character creation. I love that side of acting. You're doing a bit of a brain scan on someone. With Justice Ginsburg, a huge influence was her mother, and her mother's death at a young age, and her mother being very ill, which then, when she takes on the case in the film, is also about a man looking after his very sick mother. So that case for her resonated because of being in a very similar situation. She was able to have empathy for his case."

What kinds of things did you talk about?

"I asked a lot of questions about her family, what it was like growing up. I asked her how she felt about everything and the project. She was deeply involved. Actually, when Daniel, her nephew, originally asked her, 'Would you mind if I wrote a screenplay about your life?' she said, 'Well, if that's what you want to spend your time doing, go ahead.' She has a very dry sense of humor, but she has an incredibly sharp mind, and I obviously saw that instantly."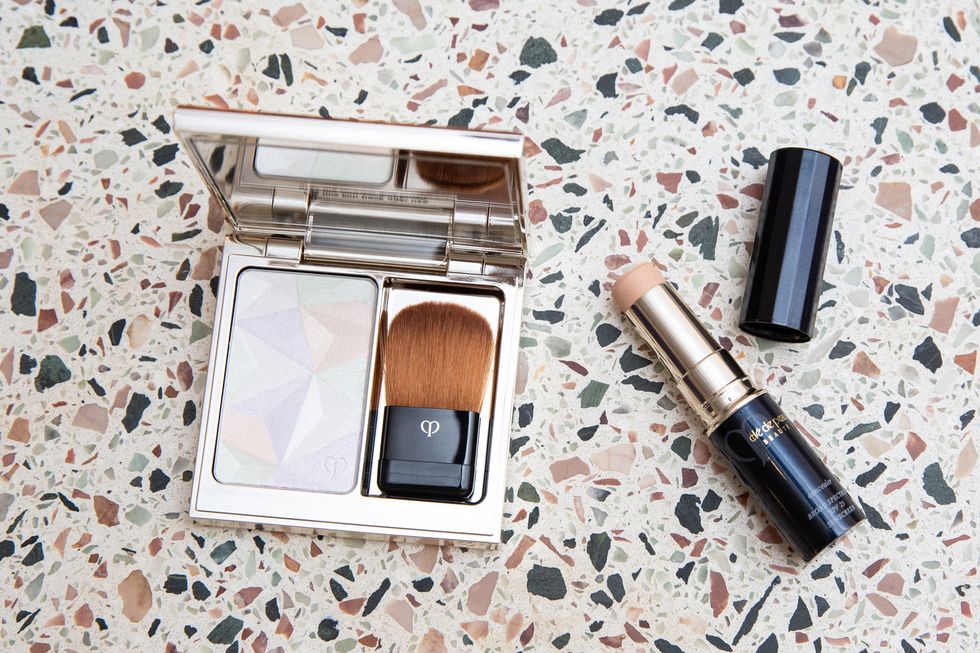 Do you think your relationship to feminism and the women's movement evolved over the course of doing this film?

"I think it made me feel a lot stronger. There are so many moments where you get really disheartened, and you're like, 'What's the point, should I keep going on?' And I always think of her. She comes back to me continually, and I think that if she can do it, if she managed to make it work, then it gives me the hope that I can. So she's had a huge, profound impact."

What was really important to capture for the physicality of RBG?

"I was just fascinated by her. I watched extraordinary footage of her from 1993, when she first is in the public eye, and she's walking to the podium about to give a speech. She almost walks like a model on the catwalk. It's very precise, and she walks very slowly, and everything she does, she takes the utmost care with it. She can totally focus on something and not be distracted, which is why she, again, is able to spend so long working on cases. And her humor, that is something that was so important to her and Marty, and tapping into that."

What about the hair in the film? The hair accessories are so signature to her:

"That was a huge part of it because she's such an icon. She is like Anna Wintour or Karl Lagerfeld—those people are iconic because they haven't changed their look for 25 years. RBG, similarly, she started putting her hair back in a ponytail in the 1970s, because she didn't need to use hair curlers anymore—that old-fashioned idea of how a woman should look was truly put to bed. It worked best for her, saved time in the morning, and she stuck with it for 40 years. The hair is such a feature, there's always a form to it. It becomes a character in itself. She has a deep love of style. There are wonderful pictures of her on boating holidays, and she looks like Jackie Kennedy. Very sharp style, very sophisticated, a love of jewelry, love of a hair scrunchie. It was a pivotal moment in her fashion evolution [laughs]. It's something that comes so naturally to her and something she enjoys."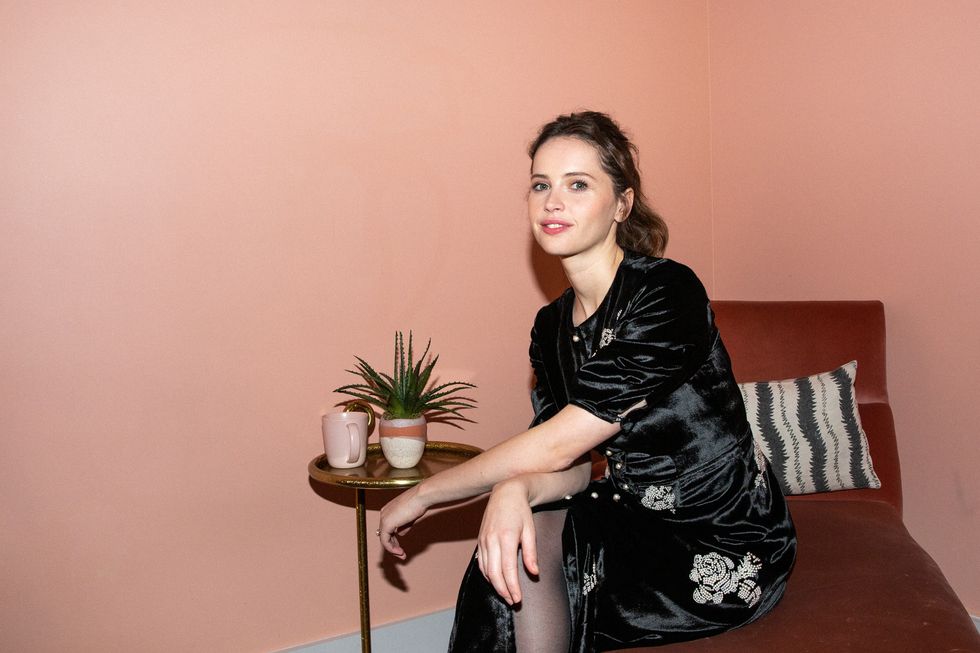 What makeup was used to turn you into RBG?
"Makeup was a huge part of how we found the character. I wanted it to be very subtle. I didn't want her characterization to become an
SNL
sketch. It all had to be really careful and almost imperceptible. We had contact lenses because she has these very open grey-blue eyes, and then I had my teeth capped temporarily, because I have very British, gnarly teeth, so we had to make them a little more attractive [
laughs
]. Then we were using contouring—it's not just for Kim Kardashian—to give shape to the face. I'm obsessed with eyebrows, they tell you so much about a person. [RBG's] come into quite a high point around three-quarters of the way through, and they're darker."
What's your own daily skin-care routine?
"I do so much traveling that I've had to be a really good student in skin care. I enjoy that level of self-care, so when I'm flying I'll often do a mask. I'm devoted to
Clé de Peau La Crème
, which is a lifesaver. The major thing is dehydration, so it's about bringing moisture to the skin. Then I use
Clé de Peau

'

s Le Serum
at night. Your skin is an organ, so it really does need looking after, especially when you're doing long working hours and that sort of thing."
What makeup products do you like to use on a daily basis?
"I use
Clé de Peau concealer
, which is fantastic particularly because I have very dark circles, so I find it really useful for making me look like I've had a good night's sleep. Also, their
eyeliner
. I hunted for ages because I wear contact lenses, and it's the only eyeliner that actually stays in place that doesn't drip halfway down my face by the end of the day. Then I'll always do a little bit of mascara as well."
How do you prefer to wear your eyeliner?
"It's filling in the lash line, just to give more of a pop and definition. It's more on the top than in the waterline. I don't like a big flick, but just a little bit angled up from the outside of the eye, and then bringing it across because I don't necessarily want to be too girly-girly. I want there to be something a little bit graphic, and you know, I'm British, so there has to be something punk in there somewhere."
When you're having a super-chill self-care Saturday, what do you like to do?
"That sounds like heaven [
laughs
]. I will get up really late, [have] a late breakfast or brunch. I'll make sure all my makeup has been taken off from the night before. I'll have a long bath. I will often use a mask and watch a movie and keep it on. I'll put a deep conditioner in my hair. I sort of go a bit Frankenstein on it. Then I love watching movies, so I'll just kind of lie around watching films all day."
Are you a coffee or tea girl?
"I vary. When I'm working, I do like to have a coffee, because often when you're shooting, you're up sometimes at 4:00 AM, so if you've got to get your brain in gear, then coffee is great. But when I'm not working, I tend to go more so hot water, honey, and lemon. My body definitely responds when I look after it. Obviously drinking lots of water, eating healthy, going slightly more vegetarian, vegan, early nights, and not drinking so much, cleansing my skin. You do notice it when you take care of yourself."
What do you always keep in your bag?
"I recently went to Tokyo, which was a revelation, and I bought one of those facial massagers, and I cannot go anywhere without it now. It wakes me up in the morning. I absolutely love it. The
Clé de Peau Intensive Eye Contour Cream
, I put on religiously. I like to have a black and a brown eyeliner with me. Then a mask, an eye mask, a bottle of water, and I'm quite obsessive about hair brushes, actually. I have a really fine-needled wooden hairbrush that I bought from a country shop in England."
What do you think RBG carries around in her bag?
"A few cases, briefs, and files [
laughs
]. There will definitely be a spare hair scarf or scrunchie in there. Also, there's a
Clé de Peau lipstick
that I know RBG would definitely have carried around with her. It's inspired by the film, and the proceeds of it go to the ACLU. It's called Legend; it's a red that's very similar to the red I wear in the film. It's the perfect name in honor of a true legend, RBG herself."
Want more stories like this?
Teyonah Parris on Black Representation in the Media
A Walk Around the Block with Amy Schumer and Leesa Evans
Troye Sivan Had a Very Different Coming-Out Story Than His Character in Boy Erased