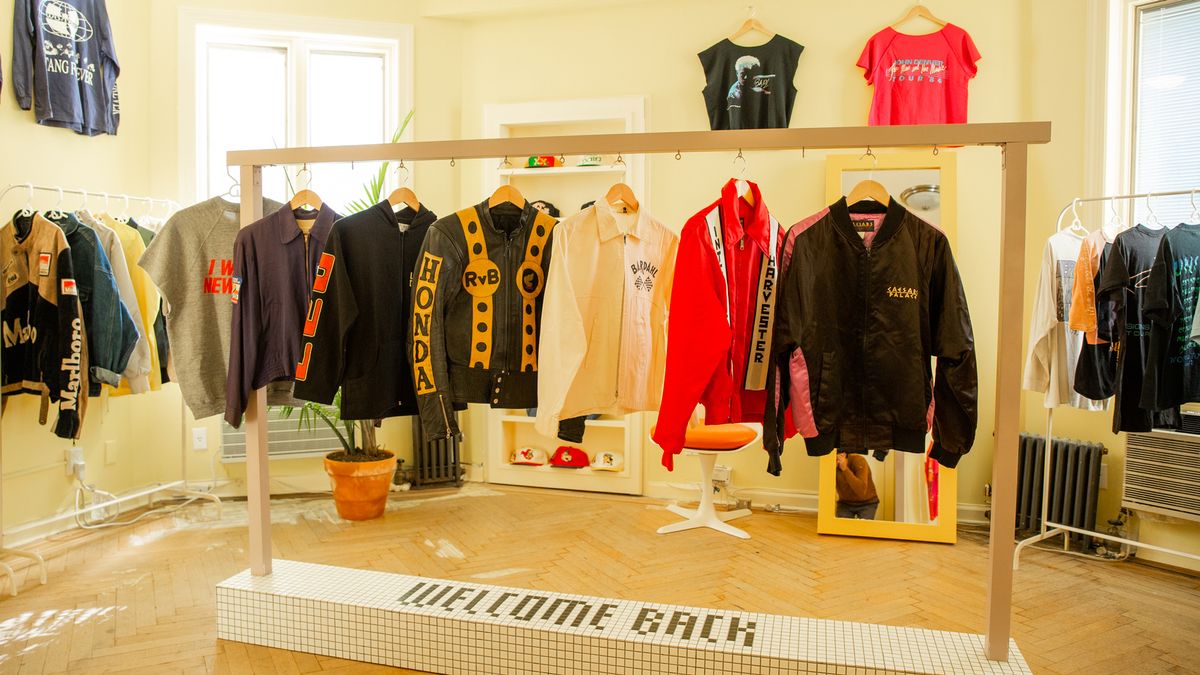 Career
It's the brainchild of two restaurateurs with a passion for classic Americana.
Alec Kugler
There are only so many times you can luck out at your local Goodwill or Housing Works and find that oh-so-special t-shirt or jacket that makes your heart go gooey. But sifting through mountains of secondhand clothing can be frustrating, which is why discovering a perfectly curated shop is like hitting the fashion jackpot. That's why we can't stop dreaming about our next visit to
Welcome Back Vintage
in New York, aka your new must-visit store for gems like Leonardo DiCaprio fan tees, 1970s Seven Eleven uniforms, and Neil Young tour sweatshirts.
To our surprise, the shop's founders, Connor Cowden and Josh Foulquier, don't have the traditional fashion background. Partners at recently minted Michelin star restaurant Sushi Noz, they combined forces to create a curated store that celebrates American iconography through clothing, shoes, and accessories. "We're very interested in the idea of Americana and the way American culture has shifted," Cowden explains when we stop by Welcome Back Vintage's Upper West Side showroom. "You sort of think of the West and James Dean and Marlboro cigarettes, but so much has elapsed since that time in American culture, and we want [Welcome Back Vintage] to encapsulate all of it."
---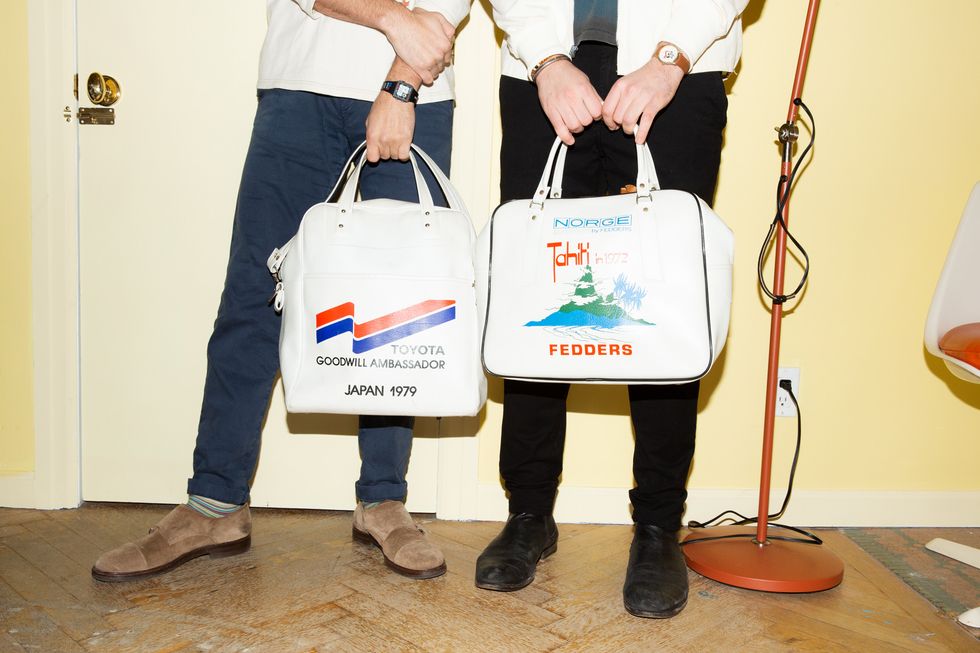 With that signature musty aroma of secondhand clothing in the air and its bright yellow and blue walls, the Welcome Back Vintage showroom has a kitschy colorful vibe that perfectly mirrors the vibrant inventory. Cowden's particular personal style, which he developed while working at Sushi Noz, inspired the idea to select these unique pieces and sell them in a cohesive collection. "Off-beat, super vintage, but not necessarily the commercial stuff that you see," Foulquier says of his business partner's one-of-a-kind outfits. "Really weird stuff that just looks so good. It was so expressive of a specific style, and it was so Connor. It was something that I thought could on the one hand be totally self-exploratory, but also reflect something bigger about culture. I thought it
'
d be cool if we could have other people looking like Connor."
From there, the two conceptualized the branding for Welcome Back Vintage as if the business was a real, living person. They thought through what personality this "Welcome Back" person would take on, what their values would be, and which way their taste would sway in order to merchandize the ultimate vintage shopping experience. "Once we answered those questions, it became very clear that we had more than just a clothing company."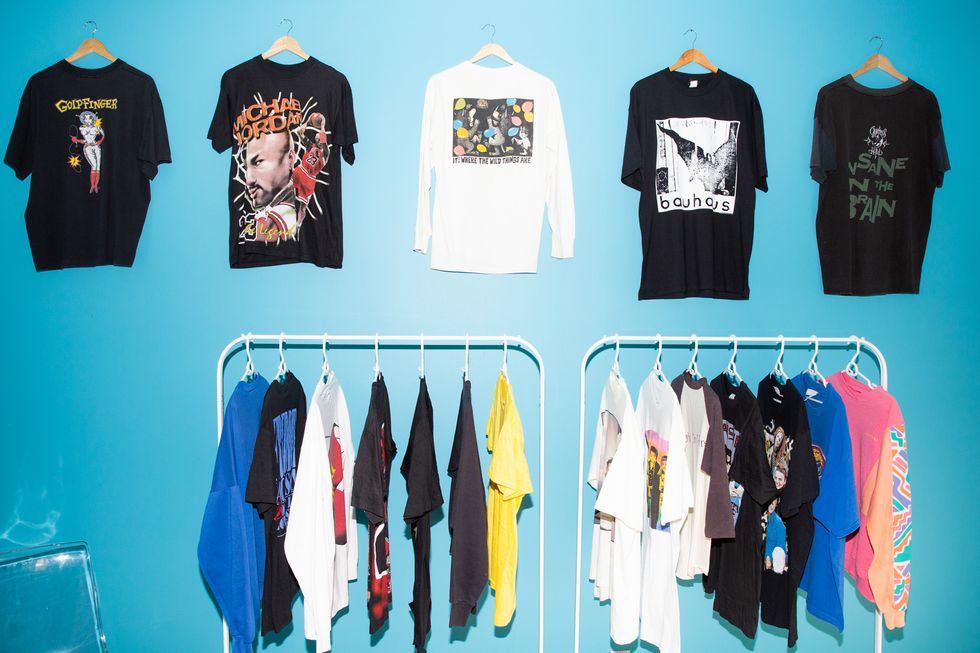 Cowden explains that since quality vintage has become highly desirable, it usually takes more than a light search on eBay to find a piece for their by-appointment-only store. The founders source their stock in the sometimes overlooked corners of the world, like estate auctions and the Japanese vintage market. "What we've done is try to really carefully curate a special selection of items," he says, motioning toward a McDonald's uniform with the words "Marijuanald's" printed in big red letters. "A lot of these things lived in the
'
70s and
'
80s and have been sitting in someone's suitcase for 30 years, [but] when people walk in, they can trust that everything they see is great and of the highest quality."
We can't help but sift through the numerous racks, oohing and aahing at pieces like the Seldon Tyson
'
96 fight tee, Wu-Tang merchandise, and the Grateful Dead t-shirt that took Foulquier almost a lifetime to find. As Cowden says, "We really try to stock things that were made for a specific person or a specific group, like a mechanic jacket from the 1950s from a very specific auto body shop in the middle of Missouri—that kind of thing that people could easily [identify], especially if there's a name embroidered or some insignia [from the] last one person to be able to wear it." Foulquier adds, "I think the most interesting thing for me is when we order something and [it's] sort of a surprise [to unbox it]. It becomes a tangible thing."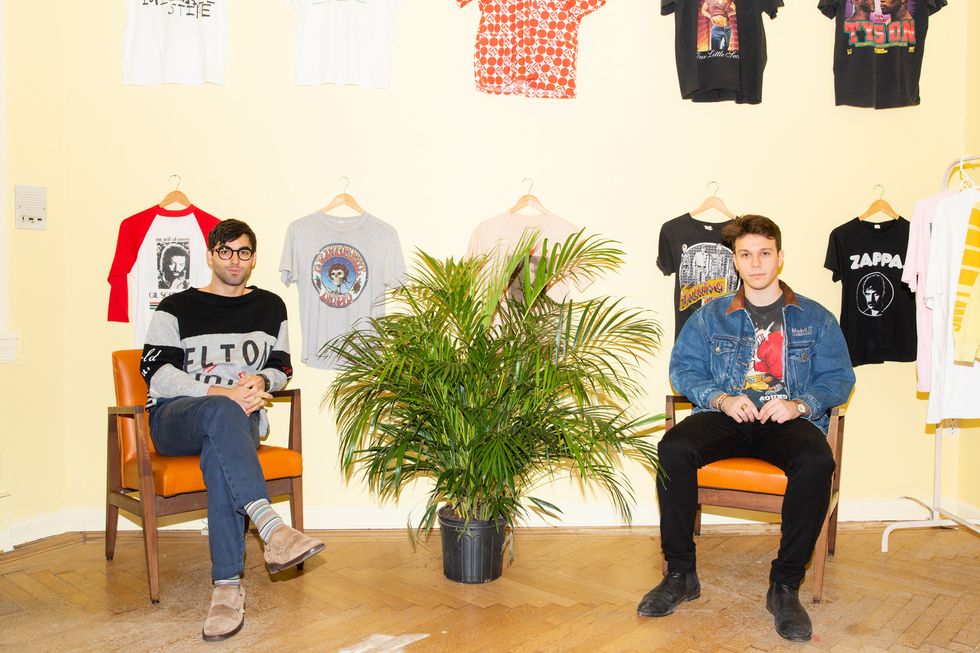 To say there is competition within the vintage market is an understatement, one that both Foulquier and Cowden recognize constantly. But with their previous experience and success at the restaurant, the two partners understand that it's a mix of chemistry and collaboration that make ideas come to life. "A big lesson I learned with Connor is accepting that even if one of us thinks something isn
'
t great, [if] the other one [does,] we can trust it. The same is true with my partners at Sushi Noz. There are obviously always disagreements, but there's an incredible amount of cohesion in our philosophy of how things should get done."
Cowden adds that starting your own business from scratch is a constant uphill battle, one that requires both determination and a passionate team. "Having a team that makes you excited to continue working and hypes you up, especially in a startup phase where things can go very wrong or get very slow, [is essential]." Cowden says. As we exit the store, eyes still wide from the impressive selection of secondhand treasures (and a promise to return soon), it's clear that their goal to create the best new vintage destination in New York is well under way.
Want more stories like this?
How to Take the Perfect Food Photo, According to Bon Appètit's Michele Outland
Dreaming of Your First Birkin? Caitlin Donovan Can Help with That
Why Herschel Was Always Going to Be a Runaway Success