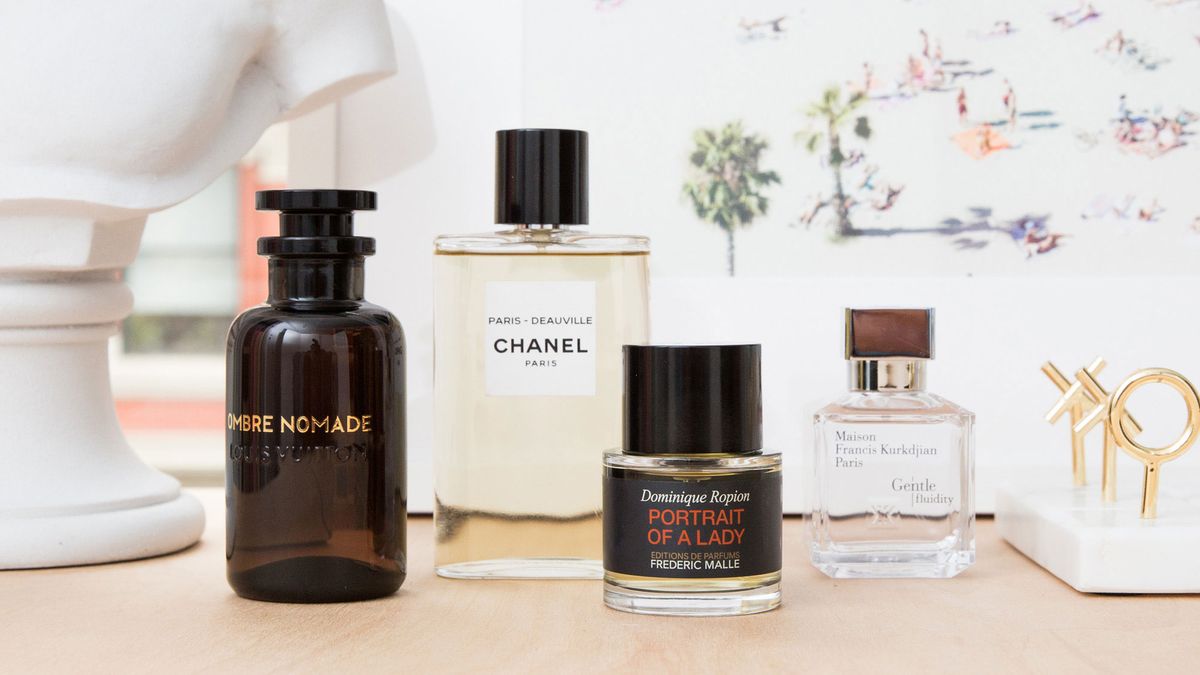 Beauty
Our Favorite New Gender-Neutral Fragrances and the Art of Making a Statement
Andrew Bevan came over, and we perfume-bombed the office.
Alec Kugler
While it goes without saying that assigning
fragrances
to genders is really just a social construct, we still live in a world where separating men's and women's fragrances, for the most part, is a "thing." Musks in blue bottles for men, white florals in peach bottles for women seem to be the clich
é
s. For a long time, it was only ever the cool fashion girl that would proudly share her subversive preference for men's cologne.
This is changing very quickly, however, and with new fragrances and fragrance brands underscoring the point: CHANEL's new
Le Eaux de CHANEL
travel-inspired range and
Francis Kurkdjian
's upcoming Gentle Fluidity. Or even
Louis Vuitton
's simple, neutral bottle designs. And these fragrances are not breaking out of the gender boundaries through marketing alone—with gender clich
é
s pushed to the side, there's a whole new level of fragrance artistry and sophistication. For a few weeks this fall, my friend, writer 
Andrew Bevan
, and I both wore some of these scents. Below, our conversation about the fragrances we wore way back when, now, and how the world of gendered fragrances is changing. 
---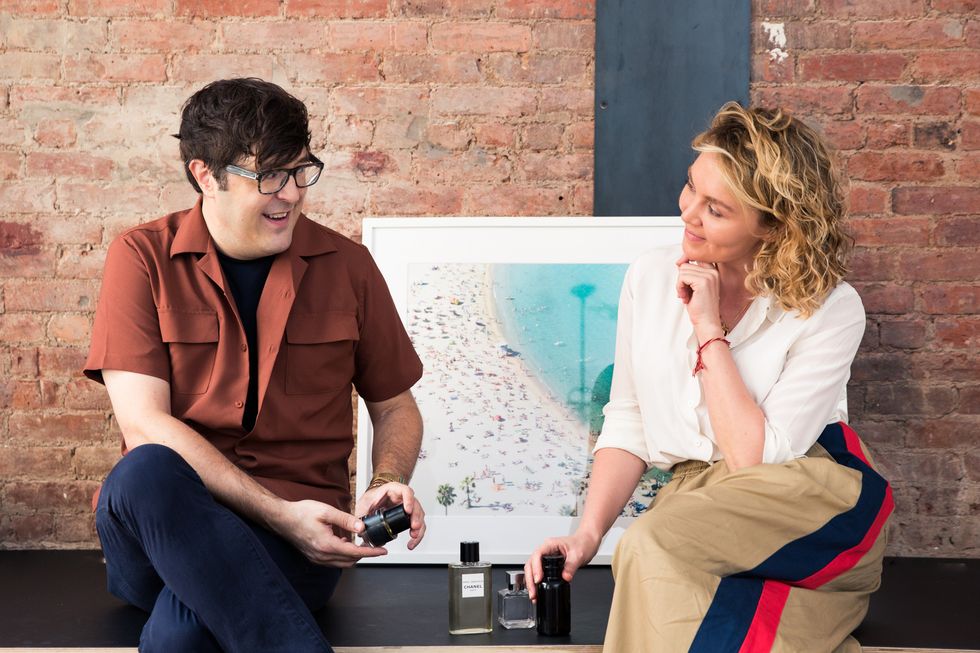 Katie Becker: "Have you always worn fragrances marketed to men?"

Andrew Bevan: "As a child of the '80s and '90s, I was a product of this strong, masculine-like Polo Safari. I still kind of secretly love it. Only because there is something that's so dude-like about it, but I am from Colorado, so it sort of harks back. And there was like, the Acqua Di Gio in college. But I was thinking back to my first adult fragrance, and it was back when I was 12 or 13 and I got Paloma Picasso Minotaure. Apparently it has a cult following."

Katie: "When you were 12?!"

Andrew: "When I was 12, I was asking for it for my birthday!"

Katie: "So precocious. I didn't wear perfume until I was 16. It was Anna Sui, which was very sweet and girly."

Andrew: "I wanted to live in New York, I wanted to be friends with Diane Keaton in Baby Boom. I remember when CK One was called the first unisex fragrance. I don't think I was ready for it; Ellen DeGeneres wasn't even out of the closet then. But it was a true testament to Calvin Klein because it was sort of a pop-culture, fashion reference in my head as something that was unisex."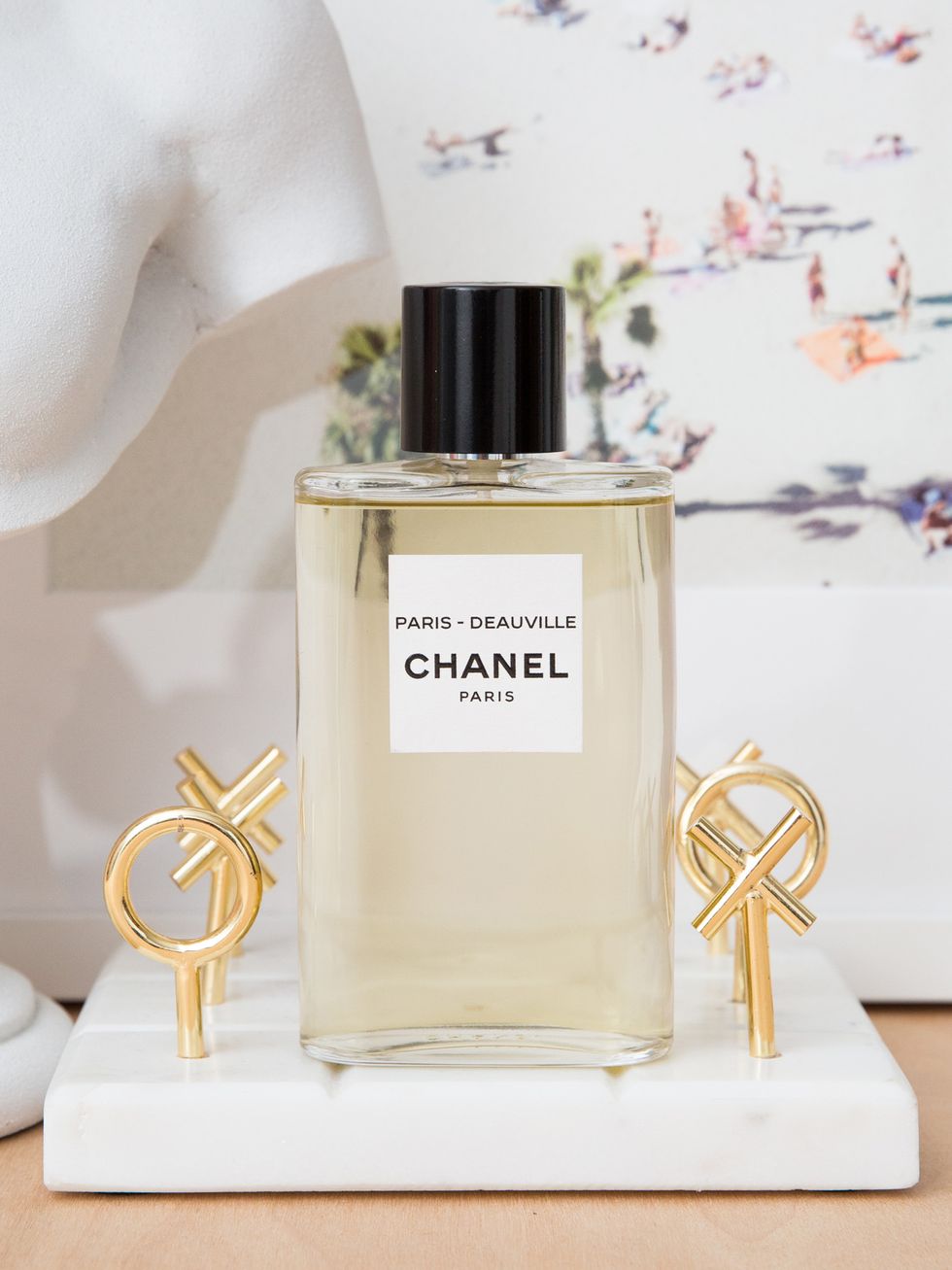 Katie:
"I never thought that men's fragrances were an option for me until I was a full adult. It wasn't until I was working for
Jane [Larkworthy]
and she was wearing Le Labo before everyone else that I started realizing that it's cool to wear these more unexpected fragrances, and I think that was around the same time that a lot of women were feeling that, too. Then we sort of started to see the marketing start to shift."
Andrew:
"With the new CHANEL Le Eaux fragrances, it has kind of the hush undertone like 'Oh, this could be for anyone,' and I feel like that needs to be the new thing. When you separate things by gender, it's almost like saying a certain
wine
is for women, and a certain one is for men. It doesn't make any sense."
Katie:
"What makes a fragrance likable to a lot of different people? What I've been seeing a lot more lately in fragrance is really interesting statements. I give
Le Labo
a lot of credit for popularizing that. There were just so many great fragrances they had that were like, 'What is that? I love that.' Which might have been personal associations, or I'm not sure what it was."
Andrew:
"I think fragrance has a lot to do with storytelling, like these descriptions will say, 'A woman enters a party, takes her fur coat off, waltzes towards the center of the room.' They all have such amazing descriptions, and you can get carried away. I like this
CHANEL Deauville
because I just went to Deauville for the first time. There is a specific seaside scent, and it's not like a California or a Hamptons scent, it's more of a moody, foggy scent."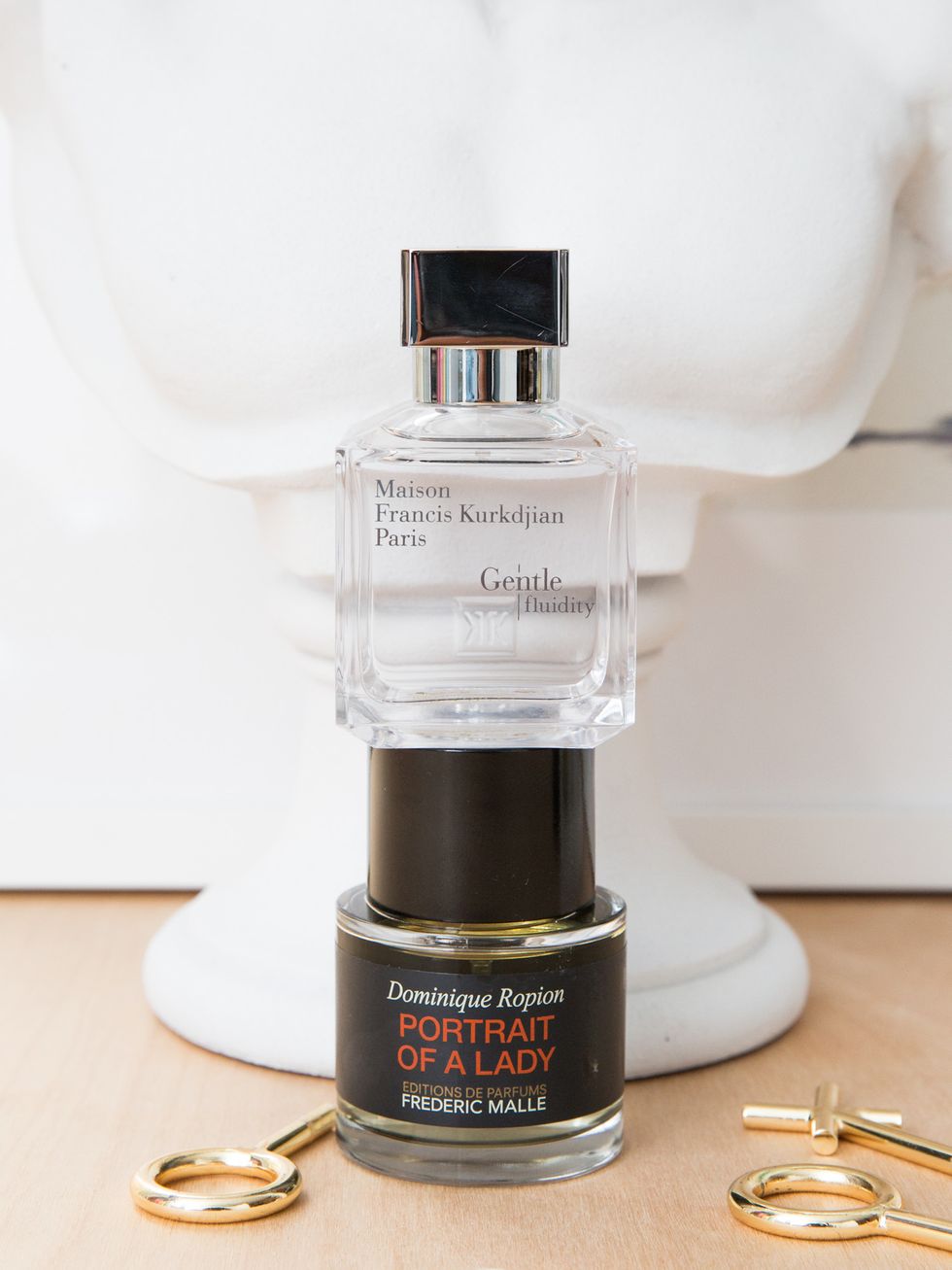 Katie: "What about this Frederic Malle Portrait of a Lady? I've been told it has a lot of male fans. There's a lot to dig into with this one, but that's what's cool about Frederic Malle in general is all their fragrances are very courageous."

Andrew: "I read Portrait of a Lady, and the main character, Isabella Archer, she's very easy to describe but hard to figure out, and she's a walking contradiction of being relatable and remote and lovable and infuriating, fragile and tough. When I read back and did the nerdy homework and remembered that heroine in that book, it informed me more about the fragrance. I don't know if they slapped that name on at the last minute, but for me, who loves turn-of-the-century literature, I was like, 'Oh yeah, now I really get it.' This is somebody who really wants to break the barriers but still has to be a little proper."

Katie: "OK, so the Francis Kurkdjian fragrance Gentle Fluidity, which is coming out in the new year. I got the most compliments on when I wore this one. There's something about it that smells like laundry. And I love the smell of laundry, it's a total turn-on for me for some reason. I don't know why."

Andrew: "I find that there's nothing sexier and cooler than personal hygiene."

Katie: "I like wearing scents that smell like someone I'm attracted to. Speaking of which, we haven't gotten to play with the new Louis Vuitton as much, but I like it because it's more of a stereotypical masculine scent. But it's that sort of deep, woodsy scent. It smells like Nick Offerman from Parks & Recreation chopping wood."

Andrew: "It smells almost ashy, like wood fire. I'm really into candles with scents that many people may not like, scents that are maybe a little mustier. I like a very strong, funky red wine. This is almost like that. I can see people maybe not committing to this fragrance, but they should because it's so distinct."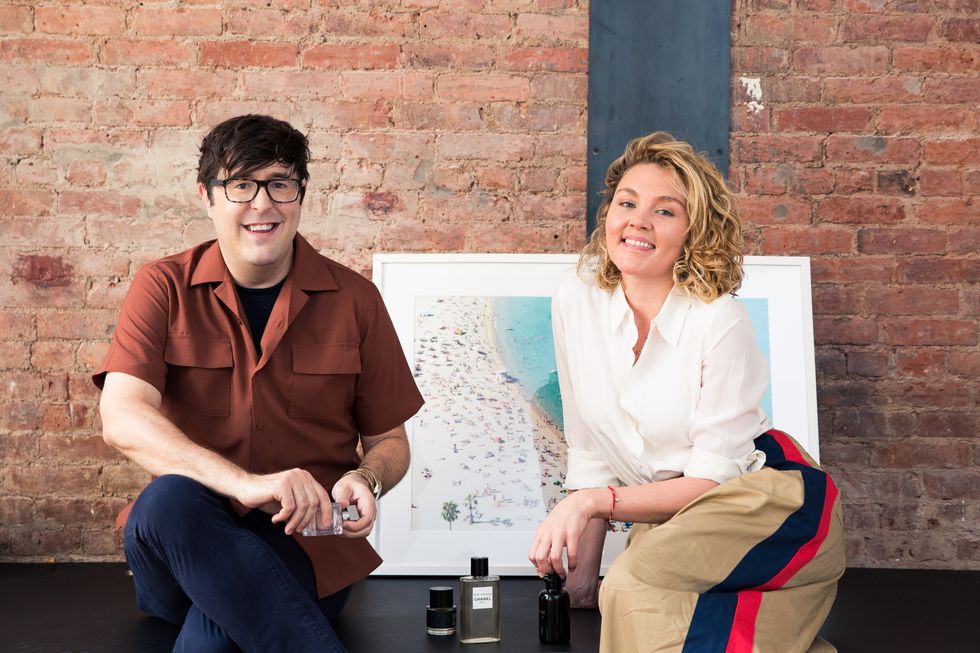 Katie:
"It's a
signature scent
kind of thing. It sort of goes back to choosing a fragrance that's a statement. That said, I do think that commercial scents are going to continue to be male or female. It's a marketing gimmick, but up to this point it's worked for them, so I can see brands continuing with it. But at some point isn't it going to start to look silly to come out with fragrances that are
men's
and
women's
? And especially for luxury brands, where their customer is the kind of person who is going to buy this sophisticated of a fragrance."
Andrew:
"You're almost doing yourself such a disservice by saying 'pour femme' or 'pour
homme.'"
Katie:
"Perfumers should now have the freedom to just make a statement, which was Frederic Malle's whole thing. I'm curious as to whether or not 'men's' and 'women's' are going to keep going. But isn't it funny that we've been trained to think that anything is gendered, like certain flowers, like roses? Like men wearing rose fragrances sounds so weird, but why? Or women wearing a heavy musk seems weird, but it shouldn't. But the question is, when everything is changing so quickly, what will seem unusual five years from now?"
Andrew:
"I guess it depends how long Trump stays in office."
Katie:
"That's a whole other discussion."
Want more stories like this?
Les Bains New Fragrances Make Us Feel Like the Coolest Parisian Girl
What Does a Diamond Smell Like?
5 Candles Every Fashion Girl Owns