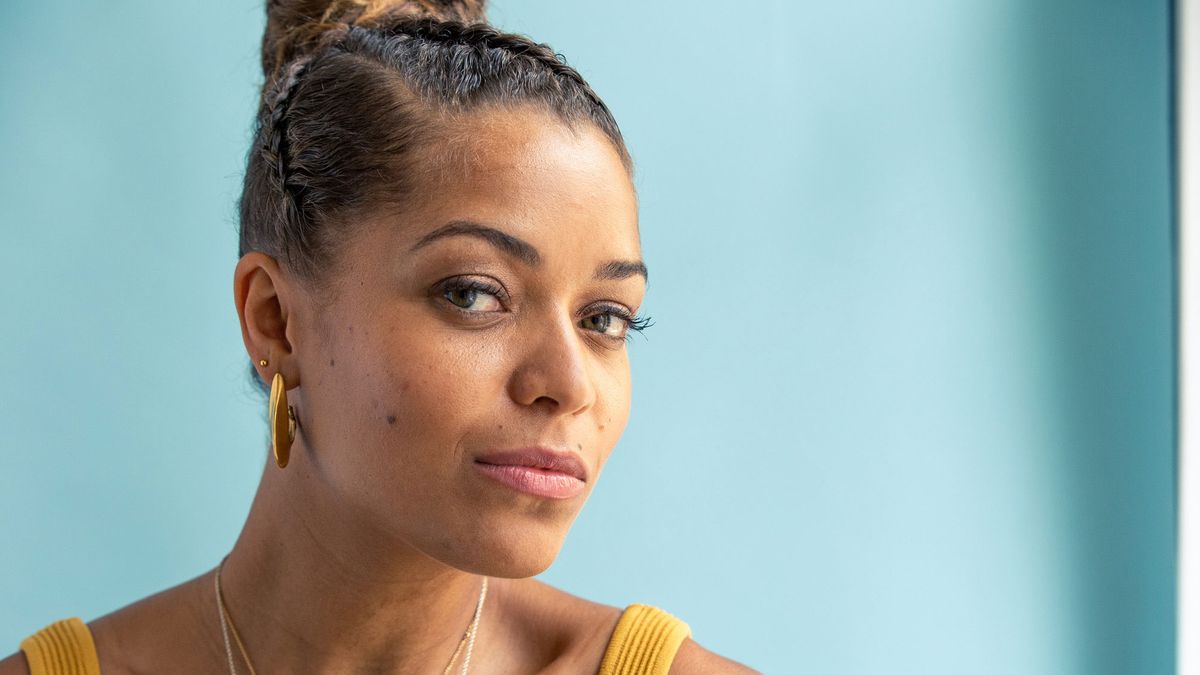 Celebrity
Plus, her little trick to memorizing lines.
Alec Kugler
We first noticed actress
Antonia Thomas
during a Hulu binge session of
The Good Doctor
, which is currently in the middle of its second season. The show is about a young autistic surgeon with savant syndrome whom Thomas's character, Claire, protects and befriends. But
TV watchers
with a better eye might remember the Brit from her role in the TV show
Misfits,
where she played a character with the superpower to make people really, really attracted to her. Well, we fell victim to this in IRL.
Thomas—whose skin is truly that amazing up close, as we learned when she visited Coveteur's studio—brings together the poise of classical theater training, the fun of pop television, and the forward-thinking nature of someone on a show with one of the the most diverse casts on TV and an autistic character as the lead. Below, more about how Thomas came up in the industry and the importance of taking chances.
---
What were things like at the beginning of your career?

"I come from a theatrical family. My father is a recently retired opera singer, and my eldest sister is an actress. Hannah, my sister, encouraged me to join the National Youth Music Theatre. I auditioned when I was 14 and did a play that went on tour to Japan. Basically that's what gave me the bug. From 16 to 18, I took time out and did school, and it was great to get good marks and do my work, but I really wanted to be singing and acting. Then I ended up going to drama school and spent three years at Bristol Old Vic. I thought I wanted to end up doing Shakespeare and have a really classical career, but the first audition that came about was this show called Misfits, which is the complete opposite of a classical training. That kind of launched me—it was a job that I was scared of because the role was kind of out-there. But had I not, I wouldn't be doing what I'm doing now."

Is that something that you advise to younger actors now, taking that kind of leap?

"Absolutely, absolutely. For me, mainly the jobs that have propelled me and pushed me forward have been the ones that I have been unsure of. They've always been the ones that I've been like, 'I don't know, I don't know if I can do that!' and my agents will be on the phone going, 'This is the one, do it! Take this leap of faith.' And it's always been because of fear. It's always fear in one way or another."


Do you still get nervous?

"I definitely still get nervous. It's funny because the fear comes from different places. I, more than anything now, want a greater challenge, especially in a role. The more different the role is to myself, the more I kind of want to do it even though that's terrifying, too. With The Good Doctor, for example, it was scary, but it was scary in a different way. It was a big life change for me; it was my first American project, it was up and leaving London and my friends and family and living on the other side of the world for a job. Eight months of being here. For ages, I kind of rejected the idea of that. Even though I was dipping my toe in the audition pool in America because I knew the work was there for me, I was still frightened of it. So yeah, there's always fear, but I think that fear is a good thing!"

Tell me about The Good Doctor and how that role came about:

"I was in L.A., and it was the first time I'd been there for pilot season. I'd sort of been slightly avoiding it because everyone had told me how difficult pilot season is, going on all the runs, getting the noes over and over again. We don't have anything like pilot season back home in England. They're making hundreds of pilots, and you arrive ready to work, but it's extremely daunting because you can get three scripts and have meetings for all of them the next morning and then have to memorize six pages of dialogue for each of those meetings. You turn up and hope to do a good job and hope that it's not just a line-learning exercise where you're just trying to get the words out right. And then you have to hope to book a job! And that's every day that week. It's exhausting and crazy. I've never quite done it like that because luckily I have a wonderful team of agents and they have gotten slightly more specific about things they wanted me to go in for, but it was still intense."


But then you got a job?

"I was staying with my girlfriend in L.A., and she was also doing it, and we were just like, Let's go out, let's have a cocktail, let's forget about the week, and we were sat at this cocktail bar, and my phone rang, and it was my agent. He said, 'We do have this meeting for tomorrow morning at 9:00 AM, and we think it's a good one and you should do it.' I was sort of already halfway through my drink like, I'm not going to finish that. I went home and learned the material and went in, and it was for The Good Doctor. I was expecting it to just be with the casting director, which it normally is, but it was with the whole team—the director and all the producers. I kind of just did my best. The thing about it is that the role just jumps off the page, and the script was so good and so well written. It's one of those ones that it's just sort of a no-brainer to go in."

When you're doing a last-minute preparation, do you have any routines?

"Sometimes I find that learning lines in the bath is a good one. It's sort of relaxing. If you're learning the lines just before you go to bed, when you sleep on it, you wake up and you know it—it's so weird. It's foolproof."


Is this role important to you personally?
"The show is a vessel. It's interesting because it's obviously highlighting autism as a condition, and the positive side of it. People with autism can do very wonderful things. Also, I've never played a young professional woman who has got her shit together, essentially. I think what's so amazing about this role is that since season one, she's been put through the rigmarole as a professional, like having killed someone by mistake as a doctor, which actually kind of blows my mind and is something you don't ever think about when you think about surgeons. There were a few episodes where we tackled sexual harassment in the workplace. It was kind of crazy when that episode came out, because it was just around the time of the #MeToo movement and that all exploding. The writers wrote this before it happened, it was really weird. But I was then able to explore that, which is such a gift and so important to be a voice at that time. And I'm really excited about what's coming up for the character. Many more obstacles, sort of being assertive and learning how to be assertive and be a strong woman in the workplace without being labeled a bitch. Which is really exciting."
Want more stories like this?
Cleo Wade Reflects on Her "Courageous Love" Tour
Celebrity Stylist Laura Polko on How to Get Perfect Waves
O Magazine's Editor-in-Chief on Keeping Inbox Zero and Why Print Isn't Dead