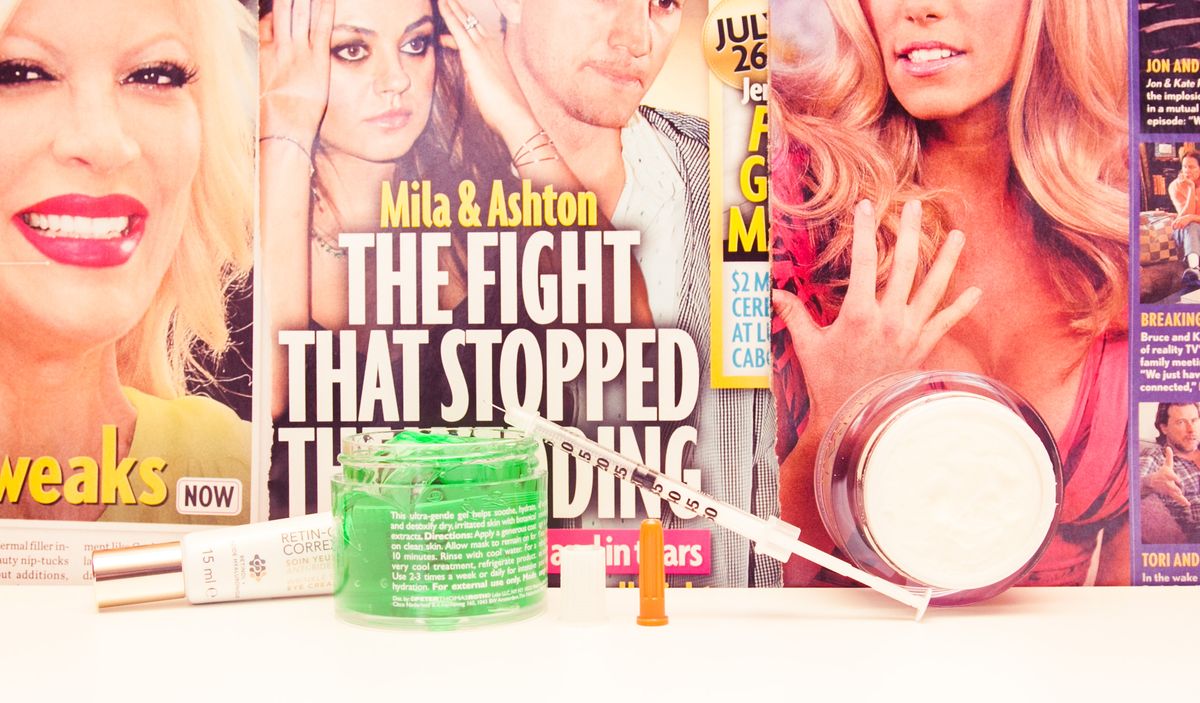 Skin
It's not just skin deep (ba-dum-tiss).
As is clear from
previous articles
, I am not a stranger, or averse, to trying new things for the sake of beauty or convenience. Keratin treatments, laser eye surgery, waxing, dyeing, threading, microdermabrasion, I've done it all and always want to do more. The only thing I was timid about was injectables. There was something about putting fillers or Botox into my body that didn't sit well. And while I was proudly announcing all the treatments I did, there was a part of me that secretly judged people who did those
other
 types of treatments. I would always scold my friends who showed up to dinner with plumper lips or slightly less facial expression. I'd be the one saying they were "too young" or "didn't need it." What I didn't realize is that soon I would be on the other side of the table.
---



"What I didn't realize is that soon I would be on the other side of the table."



In the spirit of full disclosure, I recently started to feel self-conscious about my appearance. Constant travel (red eyes, time zone changes, dehydration), job stress, moving to a new city and life, in general, had really started to take a toll on how I looked. No matter how many creams I used, gallons of water I drank, or facials I tried, nothing could get rid of how tired my eyes looked. I was suddenly really aware of that area and always looking at other people—trying to see if their problem was as bad as mine.
So much of what I do is outward-facing, whether it's meeting with clients, doing interviews, or running around fashion week, and I began to get serious about finding a solution that would allow me to feel like the best version of myself. I want to clarify that I wasn't looking for a solution to please anyone else—just to feel good about myself and put my best foot forward.
All of this culminated with me singing my woes to none other than
Dr. David Colbert
. After explaining that I was feeling self-conscious, he suggested a combination of fillers and Botox. As the chair reclined, a bunch of thoughts started to run through my head: Was this actually what I wanted to do? Was this the right solution for me? Why did I feel like Goldie Hawn in the opening of
First Wives Club
? But let me tell you—the minute I looked in the mirror ANY sense of doubts I had vanished. In the span of 10 minutes, the bags and the puffiness were gone just with the addition of a bit of filler in my cheekbones. Several days later when the Botox kicked in in my forehead and chin, I looked like I had just woken up from the most restorative sleep of my entire life. I looked 100% like myself, but just fresher. I knew right then and there that I was a convert.



"I looked 100% like myself, but just fresher."



When people asked what was different in the following weeks I was always totally honest. The answer usually went along the lines of  "Oh, I went to see Dr. Colbert and got fillers and Botox," and while some people were taken aback, almost everyone who I told emailed me after asking how they could get an appointment. That got me thinking—why don't we talk about things like this? Women should encourage each other to feel like their best selves. Pretending that they look naturally flawless each and every day promotes a culture of everyone feeling self-conscious or not worthy. If people were more candid about the procedures they had done I do believe women would begin to feel better about themselves, realizing no one is perfect.