WWWRN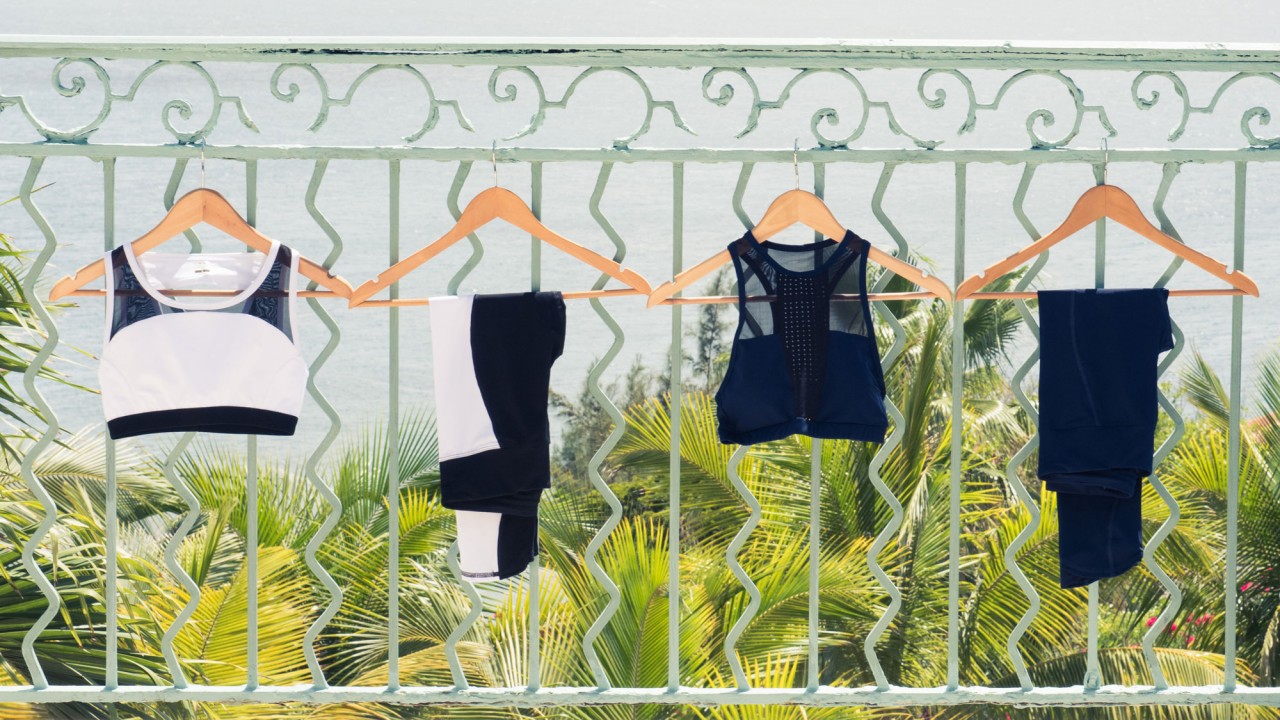 What Our Editors Wear to Work Out
Sweat in style in these 7 outfits.
Like it or not, we live in the age of the post-workout selfie, which means people are paying more and more attention to what their gear looks like. Even if you don't enjoy sharing your triumphant, sweaty face on social media (we certainly don't), a cute outfit can act as a source of inspiration to get your butt up off the couch and onto the Pilates machine, treadmill, or in a Crossfit gym (if you're extreme like that). As you probably know, not all sports bras and leggings are created equal, so we took an office poll to determine the best athletic wear. Check out our 21 favorite pieces of workout gear below.
---
Hannah Baxter
Editor
1. Richer Poorer Boxy Crop Tee: I swear by Richer Poorer for my cotton basics. I wear their cut-out bralette pretty much every day, and when I work out, I prefer to layer a plain tee over a sports bra. This cropped style is just as cute with jeans as it is with leggings, so I'll be stocking up on every color.
2. Girlfriend Collective Toasted Apricot Compressive High-Rise Legging: Compression leggings used to be the bane of my existence, but then I discovered how much better my legs felt post-workout, and I was sold. I'm obsessed with Girlfriend Collective's beautiful minimalist design, and this burnt orange color is my new fave for fall.
3. Nike Air Max 97 SE: Unless I'm doing yoga barefoot, the only thing I need workout sneakers for is a brisk walk on the treadmill at the highest incline. So I might as well snag a pair that I want to wear in my everyday life, too. I see you, Air Max 97.
---
Leah Faye Cooper
Editorial Director
1. Lululemon Principal Dancer Corsetry Bra: I'm a huge fan of ballet and ballerina style (I would live in tulle and leotards if it were considered business casual), so I was immediately struck by the Lululemon collab with Francesca Hayward, principal dancer of the Royal Ballet of London. This is just the type of motivation I need to make it to yoga at 7:00 AM.
2. Cushnie Multi Color Miles High Waist Legging: I'm not at all surprised that Carly Cushnie makes such great activewear, but I am surprised that I've refrained from buying the entire collection. These are so good—it's doubtful that I'll be able to hold out much longer.
3. Year Of Ours Studio Tank: As much as I like to look great while I'm working out, my main priority is comfort. Enter this tank, which allows for both.
---
Katie Becker
Beauty Director
---
Carolina Dalia Gonzalez
Editorial Fellow
1. Outdoor Voices 3/4 Warmup Leggings: I usually shy away from loud colors in athletic wear, but these bright pink leggings from Outdoor Voices hit my soft spot. They have character and grab your attention in the best way possible. Look at me working out, world!
2. WE/ME The Universal Reversible Stretch-Jersey Sports Bra: This WE/ME sports bra is basically a two-for-one deal, so it's already in my shopping cart.
3. MZ Wallace Medium Metro Tote: This has become the new It workout bag, and for good reason. The tote comes in every color you can think of, plus it has space for all of your gym needs and more.
---
Daniella Deutsch
Producer
1. Athleta Gigi Bra: I can't resist a sports bra that lends a bit more coverage. As I am bigger on top, I appreciate the extra support when it comes to a cardio-heavy class. The mesh detailing on this style is an added bonus!
2. Veronica Beard x Bandier Rhonda Legging: Turns out the only motivation I need for a morning workout is a fun patterned legging. With animal prints trending this season, it's only fitting to incorporate these cheetah bottoms into my workout wardrobe.
3. Cole Haan Zerogrand Oxford: My workout these days primarily consists of hot yoga. The studio I attend is a bit of a walk from my apartment, so I'm always in search of the perfect to-and-from sneaker. This Cole Haan pair is the right mix of functional and cute.
---
Jodi Taylor
Associate Editor
1. Ernest Leoty Louise Shortie: I've only recently forayed into the workout onesie space, but now that I'm here, I'm fully committed. And let me tell you, nothing feels more luxurious than Ernest Leoty's Shorties.
2. Balenciaga Track Trainers: While I wasn't personally a fan of the Triple S, I'm low-key obsessed with these Balenciaga track sneakers. I've yet to find out if you're actually meant to work out in them, but I'm not sure I really care?
3. Kappa x K-Way Le Vrai Leon: It's a Kappa and K-Way collab—what more is there to say? Besides the fact that this jacket is ideal for warming up at the gym.
---
Ivanna Martinez
Social Media Associate
1. Avocado Air Leggings: I recently got these and have been LIVING in them. I love the thick stretch fabric, and it really cinches everything so you're comfortable doing any activity. I like the marble-like pattern, and they are honestly so flattering on anyone!
2. APL Techloom Breeze Sneakers: These babies brought me back to the gym. After a bit of a workout plateau, I was trying to find ways to motivate myself. Of course, I chose to go shopping for new sneakers, and these APL sneakers did not disappoint! They really do make me feel like I'm running on clouds.
3. Eleven by Venus Williams Core Pursuit Long-Sleeve Tee: I mean, if you want to make sure your athletic gear is up for any crazy activity, why not buy it from an actual athlete? Venus' line is all you ever need for tennis, running, biking, you name it. I also like the pricing—it's affordable! This long-sleeve shirt is going to make me want to play tennis again.
Want more stories like this?
A Full-Body Workout You Can Do Anywhere
A 20-Minute Ab Workout You're Going to Get Addicted To
We're Calling It—This Is the Most Popular Coat of the Season
Part of the series:
WWWRN