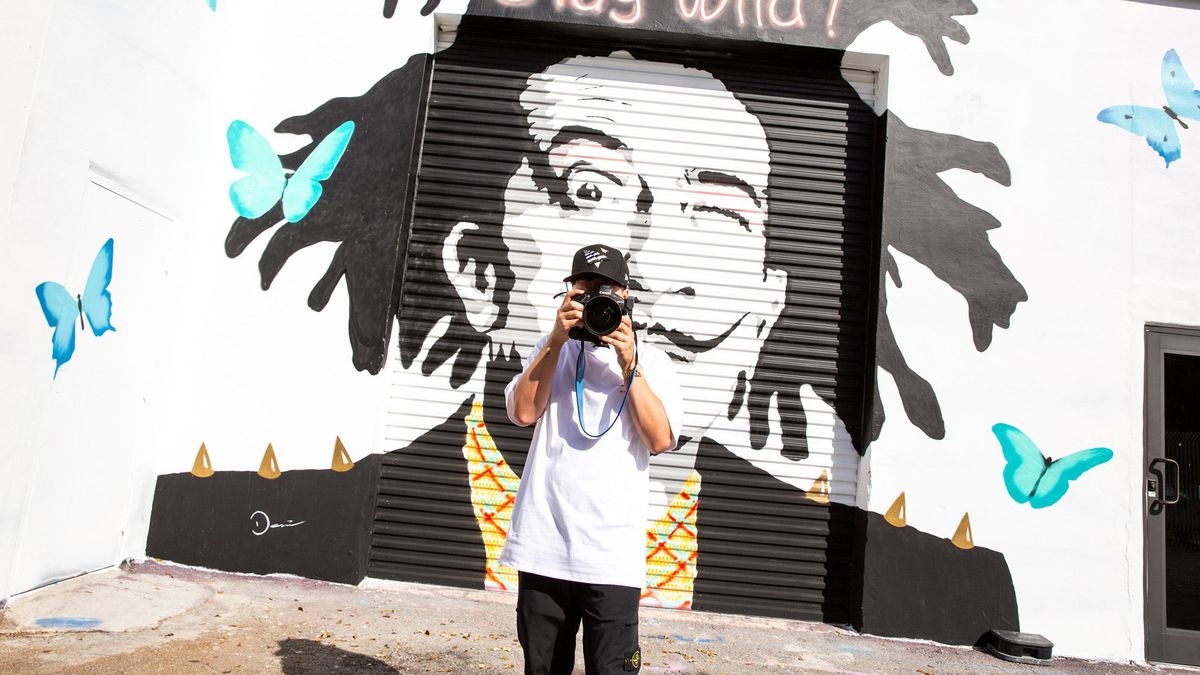 Culture
The photographer and video director talks working with the biggest names in hip-hop and what he plans to do next.
Alec Kugler
One minute he
'
s buying a camera for fun, the next he's touring alongside DJ Khaled, Jay-Z, and Beyoncé. Photographer and video director
Ivan Berrios
has quite the career story, and when we met up with the Miami native in his hometown last month, we were eager to get the details.
Berrios pulled up to the studio and wasted no time in unloading his trunk of Jordans, chains, and equipment. He was immediately cracking jokes and didn't stop for the entirety of the shoot—you can say we became fast friends (to the point where we got invited to go Jet-Skiing the next time we land in his city). We're guessing that it's this exact charm we witnessed, paired with his talent, that has helped Berrios get to where he is today. Earlier this year he went on tour with both Demi Lovato and Jay-Z and Beyoncé, and the list of celebrities he
'
s worked with is
long
. We sat down with Berrios to discuss how he got started, what it's like to tour with the biggest names in music, and what's next for his career.
---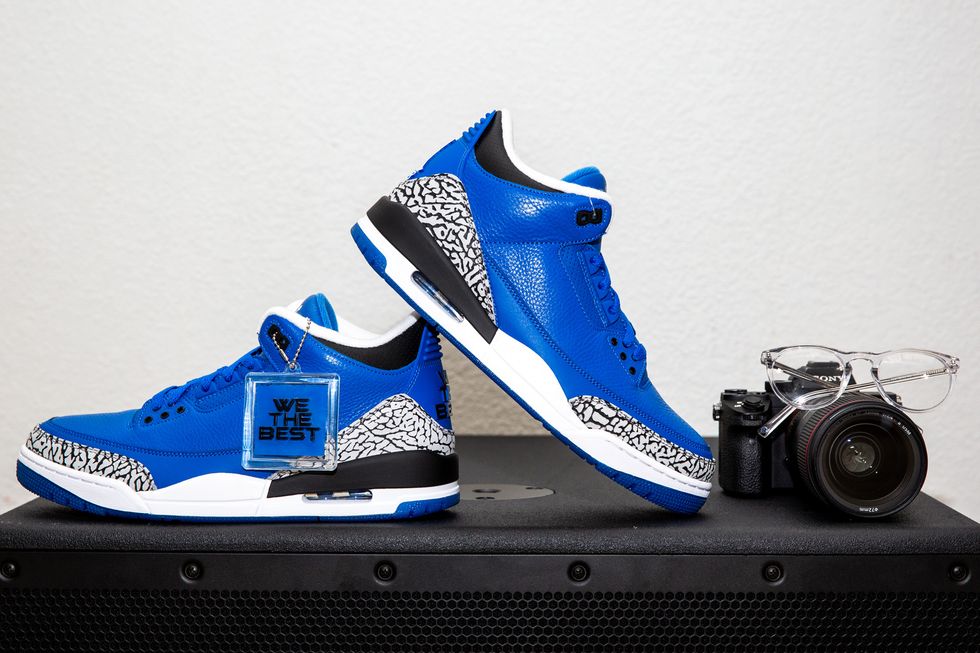 How he got into photography and videography:
"As soon as I graduated high school, I had some friends who were photographers and video directors, and I was just kind of like,
'
All right, I'll buy a camera, too.
'
I would go around shooting a bunch of photos, and I [became] really interested in it, I loved it. The images that I took, people were like, 'You're very good at what you do.' I was like, damn, I'm just working at a shoe store and taking photos, and you're telling me that I'm good at what I do? Whaddup! I kept doing it to a point that people started hiring me to do shoots, [and] I was making enough money to quit my job at the mall and do that full-time.
"I always liked movies like
The Fast and the Furious
and
Transformers
, and I ended up doing some car videos with friends, and I really enjoyed it. I would go on sets with my best friends who were doing music videos, and I would learn from them. Then I did a free music video [for this artist], and I did it so well that friends of that guy started hollering at me. From there, I started doing videos. I start working and networking and started meeting the right people who put me in different positions and gave me new opportunities."
He got connected with DJ Khaled, and the rest was history:
"Khaled was watching my work, and Kiko, the vice president of We The Best, was like, 'Hey, man, Khaled is looking for a camera guy if you want to go talk to him.' So I sat down with Khaled, and he was basically like, 'I want you to go on tour with me and start doing all my videos and photos.' I was 21, 22, didn't have a job, but I was going to college for criminal justice, and the tour was two months. These opportunities don't always come around, and school was always going to be there, so I stopped school and went on tour. We've kept it going ever since.
"My first official tour was the Formation tour in 2016 with Beyoncé. Not bad, huh? This year we did two tours. We were on tour with Demi Lovato, and then we did the On The Run tour."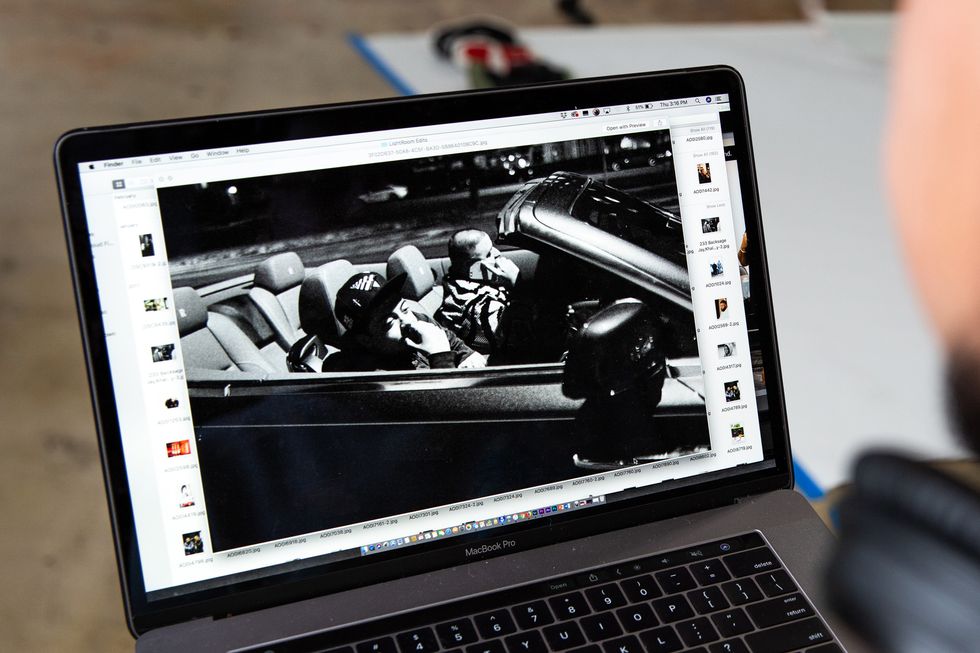 What a typical tour day looks like:

"Wake up, I make sure all of my batteries are charged up, my lenses are clean, make sure my computer is charged up. We leave the hotel usually around 4:00 or 5:00 PM, we jump in the SUV, [and] we go straight to the arena or stadium. I make sure everything is working, the card is empty, and then once [the performer] goes onstage, I'll start shooting; I'll be onstage, in the crowd doing photos and videos. It's usually about the same thing for the 30 shows [laughs]. It's fun though, I really love doing it, so it's not really work for me. I get to meet all of these legendary artists and people I never thought I'd meet, you know? You're in a room with Jay-Z, Beyoncé, or having a conversation with Demi Lovato. It's dope."

What a day off looks like:

"I just do the regular things, the little things that you kind of take for granted. When I go back home, I go Jet-Skiing, I go to the bar with friends, I go to movies—I get to catch up on all of the movies I wanted to see the month before—hang out with family, those types of things."


The most surreal part of his career so far:

"Coming from where I came from, from shooting photos and videos out here on the streets of Miami to working with the biggest artists in the world, I would have never thought I'd be able to do this. I'll be home in my room, and I have a bunch of frames of photos of me and Justin Bieber looking at my camera, me and Jay-Z on my laptop, me talking to Quincy Jones, me and Julia Roberts. I see these and I'm like, Wow, I've done a lot. To a point where it's like, man, I'm really up there. When you're in the mix and working all the time on the road, it feels normal and you get used to it, but when you're back home with family and friends and it slows down, [you] see the progression of where you came from. It's an unbelievable feeling."

What he's currently working on:

"I finally finished up a Booking.com commercial with Khaled. We're thinking of concepts and ideas right now to start shooting music videos for [his] album. This month we've been over there brainstorming ideas [and] getting the budgets ready so that we can start shooting in November, December.

"An hour ago, I got off the phone with Busta Rhymes, and he's like, 'You're hiding, man! We need to make a treatment for the video, when can you get the treatment done? We're trying to shoot this ASAP,' so I just got another boatload of stuff to do."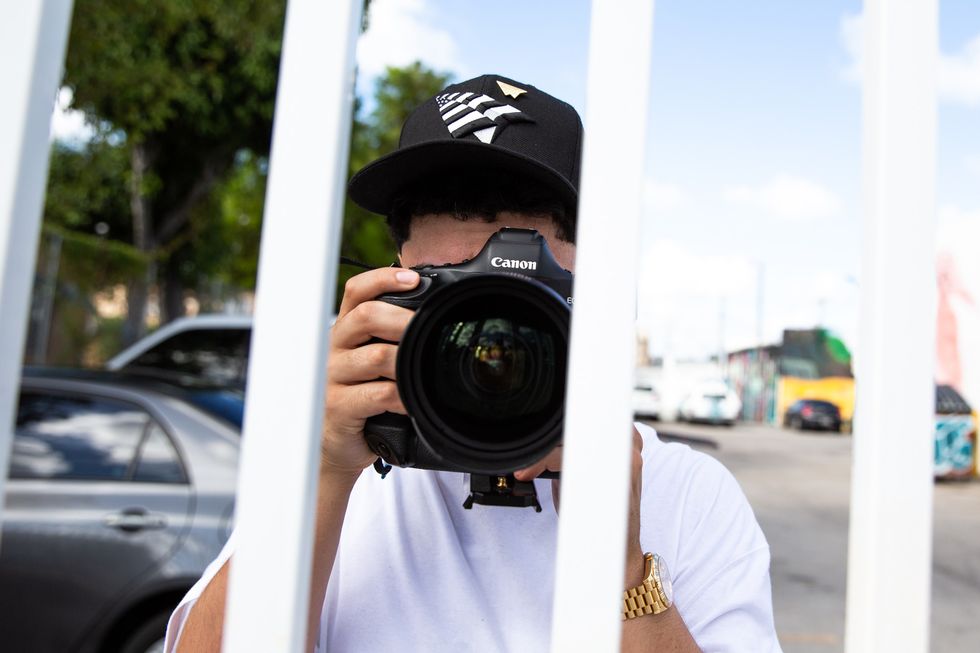 His plans for the future:
"My future goal is to be a movie director. Right now I am doing commercials, and I'm 27, I think by my early 30s I want to start doing movies. Movies and commercials, and that's it.
"I want to work with Robert de Niro, Al Pacino, and Denzel Washington. I think that would be so dope. Director-wise, my inspirations are Martin Scorsese, Michael Bay, Steven Spielberg. My dream is to be able to be on one of their sets of their movies throughout the whole process.
"Growing up I would watch
James Bond
,
A Bronx Tale
,
The Equalizer
,
Taken
—I love movies like that. I think I would definitely get into that. Car chases, explosions, guns going off, you know what I mean? That fast-paced stuff, I don't like the slow stuff.
The Notebook
wouldn't really be my style [
laughs
]."
His advice to those looking to get into the industry:
"Don't burn any bridges, take every opportunity that is given to you, and make the best out of everything. That's so important in this industry. Be humble, always be humble. That's number one, [and] I think that got me very far in this industry. Be funny if you can! Go out and be funny. Sometimes people are like, 'Ivan, you should be a comedian, you're very funny,' but nah, I'm not doing all of that. I can't be in front of crowds, I get stage fright. I can be shy sometimes too, as crazy as it sounds. But for the most part I can be very uplifting."
Want more stories like this?
Why You're About to See Renell Medrano's Photography Everywhere
Meet the Man Who Has Your Favorite Artists on Speed Dial
Inside J Balvin's Closet