WWWRN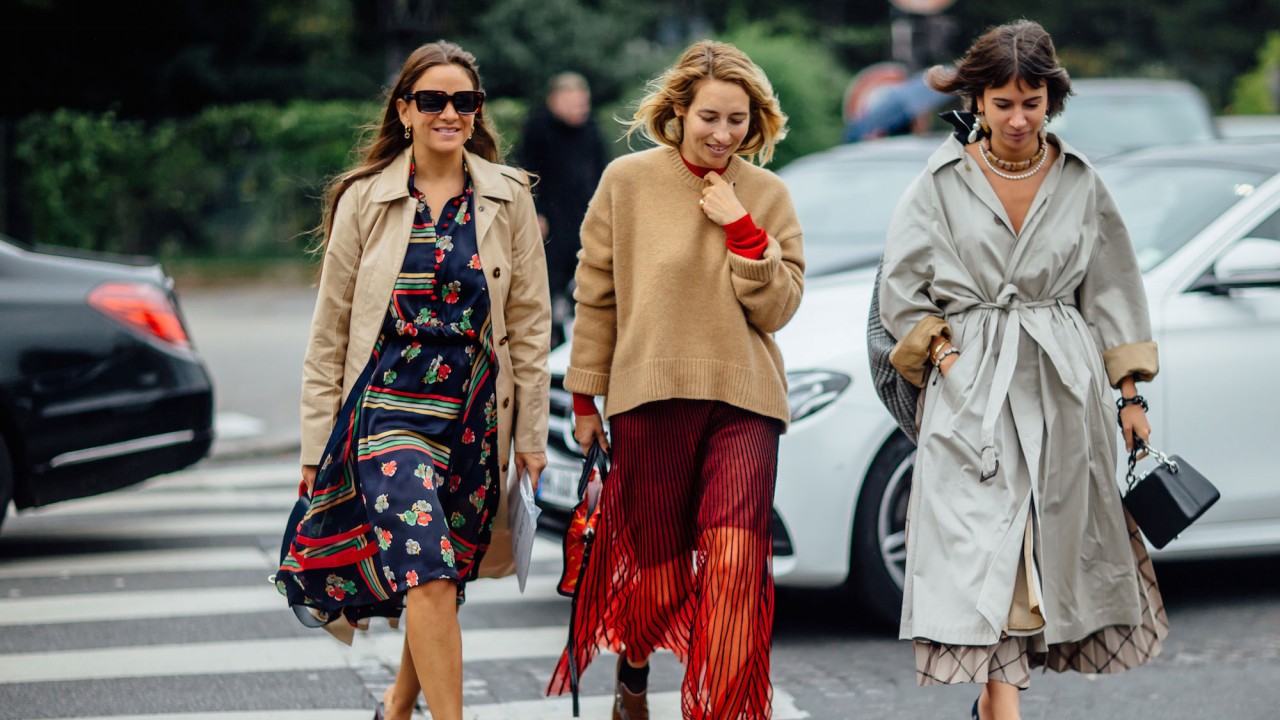 If You Haven't Mastered Layering Yet, Check Out These 5 Outfits
Not too hot, not too cold, but just right.
Getting dressed in the fall is confusing, to say the least. When it's chilly in the morning but sunny and warm in the afternoon, you might find yourself staring into the depths of your closet with dismay. But don't worry—we've come to master the art of seasonal outfits, and more specifically, layering. When that cashmere turtleneck just won't cut it, or you're sweating by the time lunch roles around, a few strategically layered pieces can be your sartorial savior. Check out the 15 pieces our editors are picking up this fall.
---
Hannah Baxter
Editor
1. Acne Studios Ribbed Striped Merino Wool Turtleneck Sweater: As much as I *love* an oversized slouchy sweater, it's not the most conducive to layering. But a body-conscious turtleneck in soft merino wool steals my heart every time. I love the muted stripes on this Acne style—it will go with pretty much everything I own, making it well worth the investment.
2. Frankie Shop Tortoise Button Brown Double-Breasted Blazer: This blazer hurts me it's so good. While I'll never have enough jackets to satisfy my obsession, this brown double-breasted style is great for throwing over that turtleneck for chilly mornings and nights. I might even wear it belted as a dress with tights if I'm feeling some type of way this fall.
3. Mara Mac Wide Trousers: Wide-leg trousers are my favorite, but they come in especially handy once it gets colder. It's easy to look sophisticated—rather than overly bundled up—when you can just slip on a pair of leggings (I like these from Uniqlo) underneath and nobody's the wiser.
---
Leah Faye Cooper
Editoral Directer
1. Yummie Long-Sleeve Thong-Back Bodysuit: I consider myself the president of the bodysuit fan club, and this one ranks high on my list. It's really sleek and flattering on its own, but also great for wearing under a sweatshirt or cardigan when you need an extra layer.
2. Tre Miki Oversized Cashmere Cardigan: If I have to endure dropping temps, I might as well do it in a massive yellow-and-hot-pink cardigan, right?
3. Derek Lam Leather-Trimmed Checked Wool-Blend Tweed Poncho: I live for fall days that aren't cold enough for a coat, but still require an extra layer. I'm currently eyeing this poncho, which is painfully chic and would look great over a bodysuit or a turtleneck sweater.
---
Nandi Howard
Editorial Production Fellow
1. Char Workroom Cropped Mongolian Fur Coat: I am obsessed with any fur jacket, and now that I have moved from Texas to NYC, I can finally live out my obsession without judgment. Char Workroom is an emerging collection, and I already want to purchase everything. I am first starting off with this neutral cropped Mongolian fur, which will go with basically everything in my closet.
2. Supreme Sherpa Lined Denim Shirt: During undergrad when I studied abroad in London, I visited the Supreme store, spent my entire FAFSA refund there, and fell in love with the iconic streetwear brand. This denim shirt is perfect for layering on top of your fit for a final finish, or can be worn as a shirt—with my own personal touch of an obnoxious amount of gold jewelry.
3. Unif Debbie Pants: Do I need a reason to buy cheetah pants? Not really! *adds to cart*
---
Jodi Taylor
Associate Editor
---
Daniella Deutsch
Producer
Part of the series:
WWWRN